Are you a Siebel Consultant looking to create an effective resume? If so, you've come to the right place! This guide provides a comprehensive overview of the different elements of a successful Siebel Consultant resume, with examples to help you craft your own. From identifying the key components of a great resume to understanding the importance of having a clear and concise format, this guide provides all the advice you need to create a resume that will help you stand out from the competition. Additionally, you'll get tips on how to choose the right words, format your information, use keywords, and showcase your achievements in the most effective way possible.
If you didn't find what you were looking for, be sure to check out our complete library of resume examples.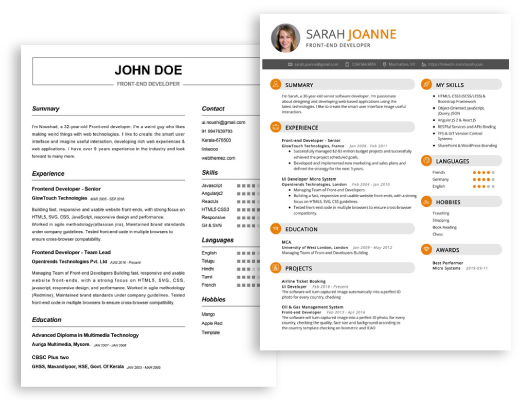 Start building your dream career today!
Create your professional resume in just 5 minutes with our easy-to-use resume builder!
Siebel Consultant Resume Examples
John Doe
Siebel Consultant
123 Main Street | Anytown, USA 99999 | Phone: (123) 456-7890 | Email: john.doe@email.com
A highly motivated and organized Siebel Consultant with 9+ years of professional experience and a Computer Science degree. Proven history of success in providing technical and functional expertise across multiple areas of Siebel CRM products. Excellent communication, organizational, and technical skills with a passion for problem solving and creating solutions.
Core Skills:
Siebel Configuration and Administration
Oracle SQL and PL/SQL
Requirements Analysis and System Design
Data Analytics and Visualization
Business Process Mapping and Design
Project Management
Customer Relations
Quality Assurance
Java, JavaScript and HTML
Professional Experience:
Siebel Consultant for XYZ Corporation, San Francisco.
Provided technical and functional expertise for the successful implementation of Siebel CRM applications.
Developed and implemented customized solutions for clients using Siebel configuration and administration.
Ensured data accuracy and integrity by performing extensive data analysis and validation.
Coordinated with the project team to ensure successful project execution and deliverables.
Monitored and managed data security and privacy protocols.
Developed and maintained detailed technical documentation.
Education:
Bachelor of Science in Computer Science, University of California – San Francisco
Siebel Consultant Resume with No Experience
Recent graduate with a Bachelor's degree in Computer Science and ambition to start a career as a Siebel Consultant. Knowledgeable in software development principles and a strong communicator capable of discussing complex topics with non- technical people. Possesses excellent organizational and problem- solving skills with a track record of successful projects.
Skills
Software Development Principles
System Architecture
Database Design
Siebel Configuration
Siebel Scripting
Business Analysis
Project Management
Troubleshooting
Data Modeling
Requirements Analysis
Problem Solving
Agile Methodologies
Responsibilities
Demonstrate technical proficiency in Siebel configuration and scripting
Analyze business requirements and develop Siebel solutions
Design, configure and customize Siebel software applications
Support and maintain existing Siebel applications
Generate end- user documentation and provide user training
Monitor system performance and troubleshoot any issues
Collaborate with stakeholders to ensure successful implementation
Identify opportunities for improvement and develop strategies to optimize process flow
Siebel Consultant Resume with 2 Years of Experience
A Siebel Consultant with 2 years of experience in Siebel CRM. Expertise in designing, configuring, and implementing Siebel solutions. Experienced in analysis, customization and extension of Siebel CRM & EAI technologies. Hands- on knowledge of Siebel Tools and experience in debugging and troubleshooting applications. Excellent communication, problem- solving, and technical skills.
Core Skills:
Siebel architecture, administration and deployment
Siebel Tools, Configuration, scripting and eScript
Siebel EAI (Enterprise Application Integration)
Siebel Open UI design and development
Knowledge of Siebel Business Objects
Siebel data migration and integration
SQL and Oracle database design and development
Excellent communication, problem- solving, and technical skills
Responsibilities:
Analyzing and customizing Siebel applications.
Developing and implementing custom solutions for Siebel applications.
Debugging and troubleshooting applications.
Designing, configuring and deploying Siebel solutions.
Writing and executing test scripts and analyzing the results.
Developing applications and solutions using Siebel Tools, Siebel Configuration and scripting and eScript.
Developing and integrating applications using Siebel EAI and Open UI.
Developing data migration and integration solutions.
Creating and maintaining reports and dashboards using SQL and Oracle database.
Siebel Consultant Resume with 5 Years of Experience
I am a Siebel Consultant with 5 years of experience in the IT sector. I have a strong understanding of and hands- on experience with various aspects of Siebel CRM and EIM, including data mapping, system configuration, and troubleshooting. I have worked on a variety of projects involving both onsite and remote implementations, and have developed a comprehensive technical knowledge of the Siebel product. I have excellent communication skills and am able to effectively collaborate on cross- functional teams.
Core Skills:
Siebel Configuration, Administration, and Troubleshooting
Data Mapping and Data Migration
Business Process Modeling and Analysis
Systems Integration and Implementation
Requirements Gathering and Analysis
Technical Documentation
Project Management
Responsibilities:
Configured, administered, and maintained Siebel CRM and EIM systems
Developed data mappings, migrated data, and tested system integrations
Analyzed and modeled business processes, identified areas for improvement, and proposed solutions
Developed technical documentation, including system design documents, user manuals, and process flows
Collaborated with cross- functional teams to ensure successful system implementations
Acted as the primary contact for user support, resolving system issues and responding to user inquiries
Siebel Consultant Resume with 7 Years of Experience
An experienced Siebel Consultant with a proven track record in successfully implementing Siebel CRM solutions and a sound knowledge of all aspects of the Siebel product. A highly organized, creative and resourceful problem- solver possessing excellent communication skills and a deep understanding of Siebel products and solutions. With 7 years of experience in the industry, this professional is capable of designing, developing and implementing Siebel solutions to meet customer requirements.
Core Skills:
Expert in Siebel CRM solutions and strategies
Experienced in Siebel Development, Configuration, and Scripting
Familiar with the full software development life cycle
Proven ability to quickly learn and apply new technologies
Excellent communication and problem- solving skills
Ability to work in a fast- paced environment
Highly organized, creative and resourceful
Responsibilities:
Developing, configuring, and scripting for Siebel solutions
Collaborating with customers, stakeholders, and developers to define and develop solutions
Designing and implementing extensibility solutions, such as data and screen customization
Troubleshooting and resolving issues with existing solutions
Assisting in defining system and business requirements
Developing integration solutions for Siebel and external systems
Creating unit and integration tests and scripts
Analyzing and optimizing system performance
Developing technical documentation
Siebel Consultant Resume with 10 Years of Experience
An experienced Siebel consultant with 10 years of experience in information systems, customer relationship management, and enterprise software implementations. Utilize a strong technical background and technical aptitude to develop custom solutions within Siebel in order to enhance customer experience. Possess excellent communication and organizational skills to ensure smooth implementations for a variety of clients. Able to work independently or collaborate as part of a larger team.
Core Skills:
Siebel Tools
Siebel Configuration
Siebel Scripting
SQL
Oracle
HTML
JavaScript
CSS
Cloud Migration
Responsibilities
Developed and implemented Siebel solutions, including reports, customization, configuration, and development of business logic
Performed system integration, data migration, and testing to ensure successful implementations
Created reports in Siebel Analytics to provide valuable insights and track performance
Collaborated with business stakeholders to develop and maintain integration points between third- party systems and Siebel
Configured Siebel views, workflows, and business components to meet customer requirements
Developed custom scripts in JavaScript, HTML, and CSS to bring additional functionality to the application
Created new reports and modified existing reports to meet customer needs and requirements
Migrated on- premises applications to the cloud to improve scalability and reduce cost
Siebel Consultant Resume with 15 Years of Experience
A Siebel Consultant with 15 years of experience in system analysis, design, development and implementation of Siebel applications. Proven record of success in designing and delivering solutions to meet business needs and requirements. Expert in troubleshooting applications and resolving any technical issues. Experienced in leading teams and providing guidance to development teams on best practices. Skilled in using object- oriented design principles, development methodologies and coding standards.
Core Skills:
Siebel Application Development
System Analysis
Object- Oriented Design
System Troubleshooting
Project Management
Business Requirements Analysis
Database Design
Coding Standards
Responsibilities:
Developed and implemented various Siebel applications with an emphasis on scalability, performance and usability.
Analyzed business requirements and led the design, development and testing of Siebel applications.
Lead the development teams and provided guidance on best practices in design, coding and implementation.
Assisted with system troubleshooting and resolving any technical issues.
Designed and implemented efficient databases and object- oriented designs.
Adhered to coding standards and development methodologies.
Participated in project planning and managed project resources.
In addition to this, be sure to check out our resume templates, resume formats, cover letter examples, job description, and career advice pages for more helpful tips and advice.
What should be included in a Siebel Consultant resume?
Having a solid resume is the key to standing out in the job market and getting hired as a Siebel Consultant. A well-crafted Siebel Consultant resume should include a variety of relevant skills, experience, and accomplishments that demonstrate your aptitude as a Siebel Consultant.
Here is a sample of what should be included in a Siebel Consultant resume:
Experience with Siebel products, including installation, configuration, customization, and setup
Knowledge of data warehousing, reporting, and analytics
Hands-on experience with object-oriented development and SQL queries
Ability to develop and implement plans for system performance optimization
Expertise in writing technical specifications, test plans, and system documentation
Knowledge of software engineering principles and techniques
Strong problem solving, analytical, and decision-making skills
Proven track record of successful projects and implementations
Experience working with stakeholders to identify, prioritize, and execute requirements
Excellent written and verbal communication skills
By emphasizing these skills and qualifications in your resume, you can make a strong case for yourself as a premier Siebel Consultant.
What is a good summary for a Siebel Consultant resume?
A Siebel consultant is a specialized software professional who is responsible for developing and integrating Siebel software applications. The primary job duties of a Siebel consultant include configuring, designing, and customizing Siebel databases, analyzing customer requirements, and providing technical support. A good summary for a Siebel consultant resume should focus on the individual's technical skills and experience in the Siebel software, as well as any other software development or integration experience. Additionally, the summary should emphasize the individual's ability to work well with customers and other teams to ensure that all software implementations are successful. The summary should also include details on the individual's past successes and challenges, as this is a valuable insight into how they approach and solve problems. Lastly, the summary should include the individual's professional goals and passions, which will help potential employers determine whether they are the right fit for their team.
What is a good objective for a Siebel Consultant resume?
The Siebel Consultant resume objective is a critical part of any successful job search. This is your chance to grab the attention of potential employers and showcase your skills and experience. A well-crafted objective statement will tell employers that you have the qualifications and experience they need to fill their Siebel Consultant position.
Here are some tips to help you craft an effective objective statement for your Siebel Consultant resume:
Highlight your experience: Start by highlighting your experience as a Siebel Consultant. Include any projects you have worked on, as well as any certifications or qualifications you possess.
Showcase your success: An effective objective statement should showcase your successes. Showcase any awards or recognitions you have received in your role as a Siebel Consultant. This will show employers that you are a leader in the field and have had success in the past.
Detail your strengths: Make sure to include any skills, abilities, or personal characteristics that make you a great fit for the position. This could include knowledge of certain technology, excellent problem-solving skills, or a passion for customer service.
By following these tips, you can create an effective objective statement for your Siebel Consultant resume that will grab the attention of employers and help you stand out from the competition.
How do you list Siebel Consultant skills on a resume?
When listing your Siebel Consultant skills on a resume, it is important to clearly and concisely highlight the skills and experience you possess in order to provide potential employers with an accurate representation of your work history. A well-written resume can be the difference between getting the job you want and missing out on a great opportunity.
To showcase your Siebel Consultant skills on your resume, you should include:
Detailed knowledge of Siebel architecture and technical components, such as eScript, SQL, and Web Services
Proven ability to perform data migrations, upgrades, and system integration
Expertise in troubleshooting, designing, developing, and maintaining Siebel applications
Experience in creating user-friendly interfaces and conducting user training
Proficiency in using Siebel Open UI to optimize user experience
Ability to analyze user requirements and design effective solutions
Strong communication and organizational skills to manage multiple projects and prioritize tasks
Skilled in working independently and within a team environment
What skills should I put on my resume for Siebel Consultant?
A Siebel Consultant is a professional who specializes in managing the implementation of software applications from Oracle's Siebel software suite. When applying for a Siebel Consultant job, it is important to ensure that your resume includes all of the necessary skills and experience that employers are looking for. Below are some of the key skills to include on your resume for a Siebel Consultant position:
Technical Knowledge: As a Siebel Consultant, you must have a thorough knowledge of the Siebel software suite, including Siebel analytics, customer relationship management (CRM), and ecommerce applications. You should also be familiar with other software tools, such as SQL and Java.
Analytical Skills: Siebel Consultants must be able to analyze business requirements and develop solutions that meet the needs of the organization. You should have the ability to troubleshoot technical issues, identify and resolve problems efficiently, and create reports and other documentation.
Teamwork: Siebel Consultants must be able to work collaboratively with other members of the team, including developers, project managers, and other IT professionals. You should have excellent communication and interpersonal skills, as well as the ability to manage multiple projects and deadlines.
Organizational Skills: Siebel Consultants must have excellent organizational skills and be able to handle multiple tasks and complex projects. You should also be able to prioritize tasks and keep track of progress in order to ensure that projects are completed on time and within budget.
Leadership: As a Siebel Consultant, you may be responsible for leading teams and managing the implementation of the Siebel software suite. You should have the ability to motivate, inspire, and guide other team members in order to achieve successful outcomes.
By ensuring that your resume includes the above skills, you can stand out among other applicants and demonstrate your expertise in Siebel Consultancy.
Key takeaways for an Siebel Consultant resume
A Siebel consultant resume needs to feature the right combination of technical and interpersonal skills in order to stand out in the ever-growing field of consulting. Here are some key takeaways for creating a winning Siebel consultant resume:
Highlight your Siebel skills and experience. Make sure to detail your experience with the Siebel platform and any specific technical skills you may possess. Provide a list of the projects you've worked on and the roles you've played in each.
Demonstrate your soft skills. As a consultant, interpersonal skills are just as essential as technical skills. Showcase your problem-solving, communication, and organizational abilities to make your resume stand out.
Show off your business acumen. If you have experience in any other areas of business, such as marketing or finance, make sure to include that information. This will show potential employers that you have the ability to think holistically about the challenges their business may face.
Include relevant certifications and awards. Highlighting any certifications or awards you have received will show employers that you are committed to staying up-to-date with the latest technology and trends in the industry.
By carefully incorporating these takeaways into your Siebel consultant resume, you can make sure that your skills and experience stand out to potential employers.
Let us help you build
your Resume!
Make your resume more organized and attractive with our Resume Builder