Are you looking for a way to stand out among the competition for project leader roles? Writing a tailored and well-crafted resume is crucial. This guide will provide examples and tips to help you write the best project leader resume for the job you're applying for. We'll go over the core components of a project leader resume, from including the right information to formatting it in an organized and professional way. With these tips, you can ensure that your project leader resume stands out from the crowd and is one step closer to landing the job of your dreams.
If you didn't find what you were looking for, be sure to check out our complete library of resume examples.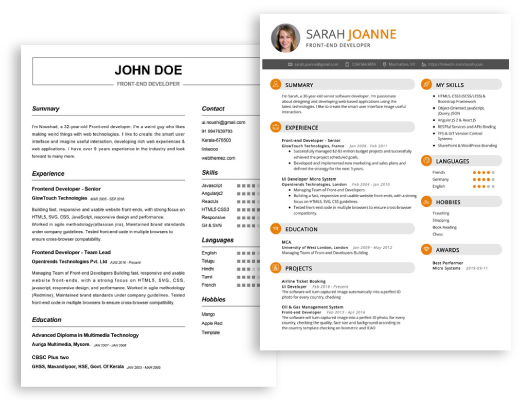 Start building your dream career today!
Create your professional resume in just 5 minutes with our easy-to-use resume builder!
Project Leader Resume Examples
John Doe
Project Leader
123 Main Street | Anytown, USA 99999 | Phone: (123) 456-7890 | Email: john.doe@email.com
A motivated and driven individual with 10+ years of experience as a Project Leader in the Construction and Mining Industries. Possess excellent problem- solving skills, strong communication skills, and the ability to lead large teams and projects. Determined to deliver projects on time and to the highest quality.
Core Skills:
Strong Leadership Skills
Project Management/Planning
Relationship Management
Risk Management
Budget Management
Conflict Resolution
Teamwork and Collaboration
Attention to Detail
Professional Experience:
Construction Project Leader, ABC Construction and Mining, 2012 – Present
Leading a team of 20+ staff to complete large- scale projects, including overseeing project planning, budgeting, and scheduling.
Project Manager, XYZ Corporation, 2010 – 2012
Responsible for managing complex projects and teams of up to 15 people, with a focus on meeting deadlines and budget targets.
Project Coordinator, ABC Corporation, 2008 – 2010
Assisted with the coordination and management of multiple projects, ensuring that projects were completed on time and to the highest standards.
Education:
Bachelor of Science in Construction Management, ABC University, 2005 – 2008
Project Leader Resume with No Experience
Highly motivated recent college graduate seeking a Project Leader role to utilize my effective communication, organizational and problem- solving skills.
Thrive in a fast- paced environment and possess the ability to work both independently and collaboratively to achieve project goals.
Adept at implementing effective strategies to ensure successful outcomes.
Skills
Strong organizational and multitasking abilities
Excellent communication and interpersonal skills
Leadership, coaching and mentoring skills
Ability to build relationships and work collaboratively
Proficient in Microsoft Office applications
Highly organized and detail oriented
Analytical and problem- solving skills
Time management and prioritization skills
Responsibilities
Plan, organize and lead projects from inception to completion
Ensure projects are on track and within budget
Develop project plans and timelines
Monitor project progress and provide regular updates to stakeholders
Identify, assess and manage risks
Resolve project issues and conflicts in a timely manner
Develop and maintain relationships with stakeholders
Provide direction, guidance and support to project teams
Identify opportunities for process improvement
Project Leader Resume with 2 Years of Experience
Proactive and results- oriented project leader with two years of experience driving successful project execution in the software development and IT services industries. Adept at delivering projects on time and on budget by coordinating with key stakeholders and overseeing teams of up to 20 members. Skilled at handling multiple projects simultaneously, identifying areas of improvement, and analyzing project performance.
Core Skills:
Problem Solving
Team Management
Project Planning & Execution
Risk Management
Requirements Gathering
Stakeholder Communication
Documentation & Reporting
Time & Resource Management
Responsibilities:
Established project objectives and timelines in conjunction with key stakeholders and team members
Coordinated with multiple teams and stakeholders to ensure successful project delivery
Developed risk management plans and monitored project performance
Identified and addressed areas for improvement in project delivery
Monitored and reported on project progress, including budget and timeline
Oversaw teams of up to 20 members, including assigning tasks and managing timelines
Ensured project documentation was accurate and complete
Project Leader Resume with 5 Years of Experience
I am a Project Leader with 5 years of experience in managing and coordinating projects for clients. With my specialized skills in project development and implementation, I am able to provide clients with the best in project management services. I am knowledgeable in project resource planning and budget management, and I am able to work effectively with colleagues and clients at all levels. I am a motivated and reliable team player who is committed to delivering high quality results on time and on budget.
Core Skills:
Strong leadership and management skills
Excellent communication and interpersonal skills
Proficient in project planning and resource management
In- depth knowledge of project management methodologies
Ability to analyze and solve complex problems
Proficient in project budgeting and forecasting
Ability to manage multiple tasks simultaneously
Responsibilities:
Developing project plans and timelines to ensure successful and timely completion of projects
Leading teams in the planning, design, and implementation of projects
Assigning staff to specific tasks and monitoring their progress
Monitoring project costs to ensure they remain within budget
Collaborating with clients and stakeholders to ensure successful outcomes
Managing and resolving conflicts arising from different stakeholders
Providing timely and accurate reports to management on project progress
Project Leader Resume with 7 Years of Experience
Experienced Project Leader with 7 years of expertise in delivering successful projects within budget and on- time. Proven ability to create high- performing teams and manage multiple projects simultaneously. Highly organized and detail- oriented with a deep commitment to achieving and exceeding goals.
Core Skills
Project planning and execution
Risk management
Quality control
Team leadership
Process improvement
Communication
Problem- solving
Budgeting
Responsibilities
Responsible for developing and implementing effective project management processes
Managed project planning, resource allocation, budgeting, and scheduling
Created and maintained risk management plans to identify, analyze, and mitigate risks
Utilized strict quality control methods to ensure projects are delivered on- time and within budget
Established clear objectives to drive project execution and measured performance against established targets
Developed and managed teams to drive successful completion of projects
Developed and maintained strong relationships with key stakeholders
Ensured projects are completed on- time and within budget
Project Leader Resume with 10 Years of Experience
A project leader with 10 years of experience in software engineering and project management, I have a proven ability to lead teams of software engineers and other technical experts to complete projects on time and under budget. My core strengths are my problem- solving skills, analytical thinking, project planning and management, and ability to communicate effectively with all stakeholders. Furthermore, I am comfortable working in high- pressure and deadline- driven environments, and have a well- rounded understanding of software development techniques and project management best practices.
Core Skills:
Project Planning and Management
Problem- Solving Skills
Analytical Thinking
Software Development Techniques
Project Management Best Practices
Communication Skills
Deadline- Driven Environment
Responsibilities:
Establish and maintain relationships with stakeholders, business partners, and clients
Develop project plans, and ensure the successful execution of projects
Monitor projects and timescales, identify areas of risk and devise solutions
Review and approve project deliverables, ensuring they meet quality and design requirements
Guide, mentor, and motivate the project team
Identify and facilitate process improvements to ensure project success
Analyze and report project progress and results
Provide technical expertise and guidance to the project team
Monitor and manage project budget, ensuring cost- efficiency and compliance with financial objectives
Negotiate with stakeholders and vendors to secure project resources and goals
Project Leader Resume with 15 Years of Experience
Seasoned project leader with over 15 years of experience driving successful projects and managing cross- functional teams. Proven track record of developing and executing project plans, ensuring successful product launch, and delivering results on time and within budget. Adept at building relationships with stakeholders and optimizing business processes to maximize efficiency.
Core Skills:
Agile/Scrum Methodology
Project Scope Management
Risk Assessment & Mitigation
Resource Planning & Allocation
Project Scheduling & Tracking
Quality Assurance & Control
Stakeholder Management
Budgeting & Cost Control
Conflict Resolution & Negotiation
Process Improvement & Automation
Technical Documentation & Reporting
Responsibilities:
Lead the planning, design and execution of projects, ensuring successful delivery within budget and timeline.
Develop project plans, budgets, and schedules to ensure successful completion.
Identify and manage issues, risks, dependencies, and roadblocks.
Monitor project progress and performance, providing timely feedback to stakeholders.
Establish and maintain relationships with key stakeholders to understand business requirements and develop project plans that meet their needs.
Analyze current processes, identify areas for improvement, and develop and implement process optimization strategies.
Monitor project costs and budget, controlling expenditures and initiating corrective actions as needed.
Develop project documents, such as user stories, workflows, technical specifications, and technical reports.
Lead and mentor project teams, providing guidance and support to ensure successful completion of tasks.
In addition to this, be sure to check out our resume templates, resume formats, cover letter examples, job description, and career advice pages for more helpful tips and advice.
What should be included in a Project Leader resume?
Project leaders are responsible for overseeing, directing and planning the development of projects. They must have a variety of skills and knowledge in order to be successful. Therefore, there are certain key elements that should be included in a Project Leader resume.
Education:
List any relevant degrees and certifications.
Include any specialized training related to project management.
Experience:
Highlight your previous project management experience.
Mention any successful projects you have completed to showcase your skills.
Skills:
Demonstrate your ability to lead a team and manage multiple tasks.
Showcase your problem-solving and conflict resolution skills.
Demonstrate your knowledge of project management software.
Other:
Include any other relevant skills you may have such as communication, organization, and attention to detail.
Showcase any awards or honors you have received.
Include any volunteer activities or memberships to professional organizations that demonstrate your commitment to the profession.
What is a good summary for a Project Leader resume?
A good summary for a Project Leader resume should outline the candidate's experience and skillset as a leader in project management. It should emphasize their ability to think strategically, manage teams, and deliver successful projects on time and within budget. It should also include their ability to identify and resolve conflicts and drive collaboration and team performance. Lastly, the summary should highlight their capacity to use project management tools and methodologies, such as Agile, Scrum, and Waterfall, to ensure optimal project outcomes.
What is a good objective for a Project Leader resume?
A project leader is a professional in the field of project management. They are responsible for heading and managing projects and working with a team of professionals to ensure successful completion of projects. A project leader's résumé must reflect their qualifications, skills, and experience.
The following is an example of a good objective for a project leader's résumé:
To use my seven years of project management experience to lead teams and manage projects to ensure successful delivery on time and within budget.
To leverage my expertise in project planning, budgeting, resource allocation, and risk management to maximize efficiency and ensure project success.
To collaborate effectively with stakeholders to ensure their needs are met and projects are completed to their satisfaction.
To utilize my problem-solving and decision-making skills to develop creative solutions and drive projects to successful completion.
To utilize my communication and team management skills to motivate and inspire team members to excel.
How do you list Project Leader skills on a resume?
When applying for a position as a project leader, your resume must list the skills necessary to handle the role effectively. These are often divided into two categories: soft skills, such as leadership and communication, and hard skills, such as technical or project-specific knowledge.
Soft Skills
Excellent communication: Ability to listen to and understand others, convey complex ideas clearly, and effectively mediate disputes.
Leadership: Ability to provide clear direction to project teams, delegate tasks, and provide feedback to ensure quality of results.
Problem-solving: Critically analyze situations and develop effective solutions.
Adaptability: Ability to adjust to changing circumstances, unexpected problems, and shifting priorities.
Teamwork: Collaborate and cooperate with team members to achieve shared goals.
Hard Skills
Project planning: Define project objectives, set milestones, and develop strategies to meet targets.
Risk management: Analyze and mitigate risks to ensure timely delivery and successful completion of projects.
Budgeting: Allocate and manage resources to maximize efficiency and minimize costs.
Technical knowledge: Understanding of software, hardware, and other technical components needed to complete projects.
Documentation: Ability to document project information, milestones, and changes.
What skills should I put on my resume for Project Leader?
One of the most important aspects of a successful career as a Project Leader is having the right skills on your resume to show potential employers that you are the right fit for the job. Here are some of the skills you should include when crafting your Project Leader resume:
Leadership: Project Leaders must be able to effectively lead teams, motivate them, and reach project goals in a timely manner. Demonstrate your leadership skills on your resume by highlighting any leadership roles you have taken on in the past, such as team captain, class president, or club leader.
Communication: Excellent communication is essential for Project Leaders, as they must be able to effectively convey ideas, instructions, and reports to team members and management. Show off your communication skills on your resume by mentioning any public speaking roles you have taken on, or any awards you have won for writing or communication.
Time Management: Project Leaders must be able to manage their time effectively to ensure that projects are completed according to the timeline set out. Show recruiters that you have the skills to manage your time by mentioning any awards or recognitions you have received for completing tasks on time.
Problem Solving: Project Leaders must be able to identify and solve any problems that arise during the course of a project. Demonstrate your problem solving skills on your resume by citing any examples of when you have identified and solved a problem while managing a project or team.
Attention to Detail: To be successful as a Project Leader, you must be able to pay attention to details and ensure that tasks are completed properly and accurately. Show recruiters that you have the skills to pay attention to the small details by mentioning any jobs you have held in the past that required great attention to detail.
By including these skills on your resume, you will be able to make a strong case for yourself as a potential Project Leader. Good luck with your job search!
Key takeaways for an Project Leader resume
As a project leader, it is important to highlight your skill set in order to make an impression on employers. Your resume should highlight any project management experience you have, as well as any related certifications and qualifications. Additionally, you should include any relevant education or training, important accomplishments, and any successes you have achieved throughout your career. Here are some key takeaways for a project leader resume:
Focus on project management experience: Make sure to list any project management experience you have, such as leading project teams, managing projects from start to finish, or managing budgets and resources.
Highlight important qualifications: List any certifications or qualifications that you have received, such as PMI or Agile certifications, or any university degrees or diplomas that are related to project management.
Emphasize your accomplishments: Include any key accomplishments or successes that you have achieved in your career. This could include launching successful projects, meeting deadlines, or saving money through innovative approaches.
Include relevant education and training: List any relevant coursework or training that you have taken, such as project management courses, or any seminars or workshops.
Demonstrate soft skills: Include any soft skills you have that are related to project management, such as communication, conflict resolution, and problem-solving.
By following these key takeaways, you can create an effective project leader resume that will help you stand out from other applicants and get the job you desire.
Let us help you build
your Resume!
Make your resume more organized and attractive with our Resume Builder