Writing a professional resume can be a daunting and intimidating task, especially if you are a recent graduate or are looking to break into a new industry. However, a professional resume is a key component in building a successful career and can be the difference between getting an interview or being passed over for the job. This guide is designed to help IT professionals create a resume that will help them stand out from the competition and make sure they land the job they are targeting. We will provide clear and concise instructions on how to create a resume, provide examples of resumes from IT professionals and discuss the best practices to make sure your resume stands out from the pack.
If you didn't find what you were looking for, be sure to check out our complete library of resume examples.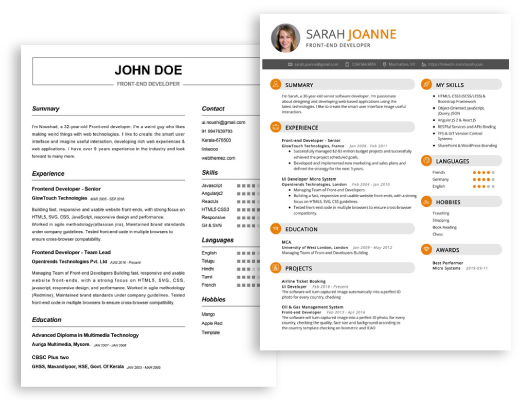 Start building your dream career today!
Create your professional resume in just 5 minutes with our easy-to-use resume builder!
IT Professional Resume Examples
John Doe
IT Professional
123 Main Street | Anytown, USA 99999 | Phone: (123) 456-7890 | Email: john.doe@email.com
I am an experienced IT professional with more than 10 years of experience in the IT industry. I have a proven track record of success in the development, implementation and management of IT solutions with a focus on customer service and effective communication. I have extensive experience with a wide range of technologies and applications, including software development, customer support, system administration, network engineering, database design and management, and project management. I am a highly organized individual with excellent problem solving and analytical skills.
Core Skills:
Software Development (C++, Java, HTML, JavaScript, CSS)
Systems Administration
Network Engineering
Database Design & Management
Project Management
Customer Service & Support
Team Leadership & Collaboration
Problem Solving & Analytical Skills
Professional Experience:
Senior IT Engineer, ABC Company, 2018- Present
Developed and implemented a wide range of IT solutions to meet customer needs.
Provided technical support and troubleshooting assistance to customers.
Managed customer accounts and resolved customer inquiries.
Designed and maintained databases.
Created comprehensive documentation for all IT projects.
Established and maintained strong relationships with customers.
IT Engineer, XYZ Company, 2012- 2018
Designed and developed software applications.
Provided technical support and troubleshooting assistance to customers.
Configured, monitored and maintained network systems.
Managed customer accounts and resolved customer inquiries.
Developed and implemented system maintenance and security protocols.
Participated in the development of new IT solutions.
Education:
Bachelor of Science in Computer Science, University of Technology, 2011
Associate of Science in Computer Science, College of Technology, 2009
Certified Information Technology Professional, International Institute of Information Technology, 2010
IT Professional Resume with No Experience
Recent college graduate seeking to leverage strong analytical skills, knowledge of IT systems, and passion for technology in a junior IT professional role.
Skills
Demonstrated leadership skills and ability to work in a team setting
Proficient in Microsoft Office suite and other business software
Excellent problem- solving and analytical skills
Strong written and verbal communication
Ability to understand and apply technical concepts
Responsibilities
Identify and troubleshoot technical problems and provide solutions
Develop and implement technology strategies to improve user experience
Design, install, and configure computer systems, networks, and related hardware and software
Monitor and maintain IT systems, ensuring optimal performance and security
Perform system maintenance and software updates as needed
IT Professional Resume with 2 Years of Experience
An ambitious, motivated IT Professional with 2 years of experience in developing innovative, cost- effective information technology solutions to meet the needs of customers. Committed to providing reliable technology services, efficient problem resolution and effective support. Accustomed to working in fast- paced environments and completing multiple tasks with limited supervision.
Core Skills:
Systems Analysis
Software Development
Database Design & Optimization
Network Security
Technical Troubleshooting
Cyber Security
Responsibilities:
Provided technical support and troubleshooting for a wide range of computer hardware, software and network systems.
Developed innovative solutions for customers to increase efficiency and productivity.
Managed the implementation and maintenance of computer systems, including setting up hardware and software, configuring networks, managing databases and optimizing performance.
Designed and implemented security procedures for protecting data and systems from unauthorized access.
Designed and developed custom software applications to meet the unique needs of customers.
Ensured compliance with applicable regulations and standards.
IT Professional Resume with 5 Years of Experience
I am a highly organized IT professional with 5 years of experience in IT project management and software development. My core skills include project management, software development, problem solving, and strong communication. I have a proven track record of successful project delivery and customer satisfaction. I am also an effective team leader, with a collaborative and results- oriented approach. My responsibilities include developing technical solutions, managing project timelines, coordinating software releases, and resolving complex customer issues.
Core Skills:
Project Management
Software Development
Problem Solving
Communication
Team Leadership
Technical Solutions
Responsibilities:
Developed customer- facing software applications and managed the complete software development lifecycle.
Maintained complex technical infrastructure and provided on- site technical support.
Assisted in the design and development of web applications and websites.
Collaborated with stakeholders to ensure customer satisfaction and successful project delivery.
Resolved customer inquiries and escalated critical issues to the appropriate teams.
Developed project plans, managed timelines, and tracked project progress.
Coordinated software releases and implemented quality assurance processes.
IT Professional Resume with 7 Years of Experience
Objective
To obtain an IT Professional position in a challenging and dynamic environment, where I am able to utilize my existing skills and experience, while continuing to develop my knowledge and techniques.
I am an experienced IT Professional with 7 years of in- depth expertise working in a variety of IT- related settings. I have an excellent track record of providing highly effective problem- solving, as well as a proven ability to troubleshoot and maintain complex IT systems. I am also able to develop and maintain positive working relationships with clients and associates alike. I have a solid understanding of project management and have been able to successfully deliver projects on- time and on- budget.
Core Skills:
Problem- solving
Project management
Troubleshooting
Network and system maintenance
Client relations
Documentation
Technical support
Responsibilities:
Ensuring that all IT systems are running efficiently and effectively.
Resolving technical issues in a timely and accurate manner.
Maintaining and updating hardware and software as needed.
Developing and implementing IT policies and procedures.
Providing technical support to clients and staff.
Creating user guides and IT training materials.
Managing projects from inception to completion.
IT Professional Resume with 10 Years of Experience
Experienced IT professional with 10 years of experience in providing technical and administrative support to corporate systems and network operations, as well as developing and implementing IT solutions. Skilled and knowledgeable in multiple areas including hardware and software installation, troubleshooting and maintenance, server and network management, and system and system security. Adept at creating documents and other materials needed to support and maintain system operations, as well as providing user support and training.
Core Skills:
Network Management
System Security
Hardware and Software Installation
User Support and Training
Troubleshooting and Maintenance
System and Data Analysis and Design
System Documentation
Quality Assurance
Vendor Management
Server Maintenance
Responsibilities:
Develop, implement, and maintain IT solutions, systems, and networks to meet current and upcoming business requirements.
Analyze and diagnose system errors and malfunctions, and take appropriate corrective actions.
Create and maintain system and network documentation.
Monitor performance of systems and networks, and provide technical support and troubleshooting.
Install and configure hardware, software, and related components, and perform system updates and upgrades.
Ensure all systems and networks are operating within established security policies and procedures.
Provide user training and support for system and network operations.
Monitor service requests, and respond to user inquiries in a timely and professional manner.
Coordinate with vendors to ensure all system and network components are functioning properly.
IT Professional Resume with 15 Years of Experience
A highly experienced IT professional with over 15 years of experience and a proven track record of success in system installation and maintenance, network security, technical support, and project management. Possesses an expert- level understanding of the IT landscape, with in- depth knowledge of operating systems, network security, and technical support. Adept at troubleshooting systems and finding practical solutions to difficult technical problems. Skilled at managing IT projects, developing and implementing effective security protocols, and delivering timely and reliable IT services.
Core Skills:
Operating Systems: Windows, Linux, Mac OS
Network Security: Firewalls, Intrusion Detection, Antivirus
Network Troubleshooting: Routers, Switches, Servers
Technical Support: Desktop, Server, Application
Project Management: Planning, Scheduling, Implementation
Scripting Languages: Python, Bash
Responsibilities:
Installed and maintained operating systems, applications, and networks
Monitored and tested performance of computer hardware and software
Developed and implemented effective security protocols and procedures
Troubleshoot systems and resolve technical problems
Managed IT projects and monitored project progress
Provided technical support to users and responded to incidents
Implemented system patches and upgrades to ensure system security
Performed system backups and maintained data integrity
Analyzed and reported performance metrics and system utilization
In addition to this, be sure to check out our resume templates, resume formats, cover letter examples, job description, and career advice pages for more helpful tips and advice.
What should be included in a IT Professional resume?
A resume for an IT professional should contain all of the key components of a successful resume. To ensure that your resume stands out, you should include the following sections:
Contact Information: Make sure to include your name, email address, and phone number so potential employers can easily contact you.
Professional Summary: A brief description of your qualifications and experience that outlines your biggest accomplishments and the value you can bring to the employer.
Work Experience: This is where you will include any past IT jobs you have held, along with a detailed description of the duties and responsibilities you had at each position.
Education: Include the degrees, certifications, and courses you have completed related to IT.
Technical Skills: List your IT-related skills, such as coding languages, software development, and networking.
Soft Skills: Include any interpersonal skills you possess that will be beneficial for an IT job, such as communication, problem solving, or team management.
Awards and Honors: Include any achievements or awards you have earned related to IT.
Professional Development: You can include any professional development activities you took part in such as conferences, boot camps, or seminars.
By including all of the above information in your IT professional resume, you can create a great resume that will help you stand out from other applicants.
What is a good summary for a IT Professional resume?
A good summary for an IT Professional resume should provide an overview of the candidate's professional experience, technical knowledge, and qualifications in the IT field. It should also include any special skills, certifications, and other achievements. The summary should be tailored to the position the candidate is applying for, highlighting experience and qualifications that will make them stand out from other applicants. It should be concise, to the point, and demonstrate the candidate's enthusiasm for the job. This summary should provide employers with a clear picture of the candidate's abilities and qualifications, and be tailored to the position they are applying for. Ultimately, a good summary for an IT Professional resume should make it clear why the candidate is the best person for the job.
What is a good objective for a IT Professional resume?
A successful Information Technology (IT) professional should have a resume objective statement that clearly outlines their experience and technical skills. A potential employer should be able to quickly understand what makes the job applicant an ideal candidate for the role.
A well-crafted resume objective for an IT professional should include:
Professional experience: Outlining any relevant experience in the IT field that is pertinent to the role, including specific platforms, systems, software, and languages.
Technical skills: Highlighting the specific technical skills and qualifications that make the applicant a good fit for the job.
Career goals: Showing a keen interest in the position by highlighting any long-term goals or ambitions that the applicant has in the IT field.
Professional growth: Demonstrating that the applicant is open to learning new skills and has the ambition to expand their expertise.
An effective resume objective for an IT professional should provide the employer with an indication of the candidate's ability and ambition within the IT field. By outlining the necessary technical skills and qualifications, as well as professional experience and goals, the applicant can create a well-rounded resume objective that is sure to grab the employer's attention.
How do you list IT Professional skills on a resume?
When writing your resume, it is important to highlight the IT professional skills you bring to the table. Even if you do not have a specific IT-related job title, you may still have the necessary skills, experience, and knowledge to work in a tech-related field.
Here are some tips on how to list IT professional skills on a resume:
Research the job you are applying for: Before you list any IT skills on your resume, research the job to determine which skills the employer is looking for. Make sure to tailor your resume to the specific job you are applying for.
List any certifications or degrees you have: Highlighting any certifications or degrees you have obtained in the IT field can help you stand out from other applicants. Include the name of the certification, the issuing organization, and the year you obtained it.
Use industry-specific keywords: Use the same language and terms that are used in the job description to make sure your resume stands out. This will help recruiters and employers to see that you have the necessary IT skills.
List any software or technology experience you have: Include any software or technology experience you have. For example, you can list programs you have used, such as MS Office Suite, Adobe Creative Suite, or database software.
Describe projects you have completed: Describing any projects you have completed that allowed you to showcase your IT skills can help you stand out to potential employers.
By following these tips, you can ensure that your resume effectively highlights your IT professional skills.
What skills should I put on my resume for IT Professional?
An effective resume for an IT professional should highlight a combination of technical skills and soft skills. In addition to showcasing your understanding of computer systems and programming languages, it is important to demonstrate your problem-solving capabilities, communication skills, and the ability to work in a team.
Technical Skills:
Operating Systems: Windows, Mac OS, Linux
Programming Languages: Java, C++, Python, HTML, CSS
Databases: MySQL, Oracle, MongoDB
Networking: LAN, WAN, TCP/IP
Soft Skills:
Communication: Excellent verbal and written communication
Problem-solving: Ability to identify and resolve hardware and software problems
Interpersonal: Ability to work well with people of all backgrounds
Adaptability: Ability to quickly adjust to changing environments
Time Management: Ability to prioritize tasks and manage time effectively
Leadership: Ability to lead projects and delegate tasks effectively
By emphasizing both your technical and soft skills on your resume, you will demonstrate that you are a well-rounded IT professional with the qualifications and experience needed to be successful in the industry.
Key takeaways for an IT Professional resume
Whether you are a recent IT graduate or an experienced professional, writing a resume can be a daunting task. For IT professionals, there are unique elements that should be included on a resume to best showcase your skills and experience. Here are some key takeaways to keep in mind when crafting an IT professional resume:
Highlight your technical skills and experience. As an IT professional, your technical skills and experience should be the focus of your resume. Make sure to list specific technologies, software, and hardware you have expertise in. Demonstrate your ability to adapt to new technologies and showcase a depth of knowledge in the field.
Showcase your communication and management skills. While technical skills are important, IT professionals must also be able to communicate effectively and manage projects. Highlight any leadership roles you have had in the past and any experience you have in customer service or problem-solving.
Emphasize your attention to detail. IT professionals must be detail-oriented and conscientious. Showcase any projects or tasks that demonstrate your attention to detail or problem-solving abilities.
Include industry certifications and qualifications. Any certifications or qualifications you have received in the IT field should be included on your resume. This will demonstrate your level of expertise and knowledge in the field.
Include volunteer and extracurricular activities. If you have participated in any volunteer activities or extracurricular activities that are related to the IT field, make sure to list them on your resume. This will show potential employers that you are committed to the profession and have a passion for IT.
By following these key takeaways, you can create an IT professional resume that highlights your unique skills and experience and makes you stand out to potential employers.
Let us help you build
your Resume!
Make your resume more organized and attractive with our Resume Builder