Writing a resume for a position involving a message broker can be daunting, especially if you don't know exactly what skills and experience employers are looking for. However, a well-crafted resume is a great way to showcase your qualifications and demonstrate why you are the ideal candidate for the job. This guide will provide you with an overview of the key qualifications employers look for in a message broker resume and provide you with examples of resumes that have been successfully used to secure roles in the past. With the right information and a few helpful tips, you can be sure your resume will stand out from the competition and get you on the path to a successful career in the message broker industry.
If you didn't find what you were looking for, be sure to check out our complete library of resume examples.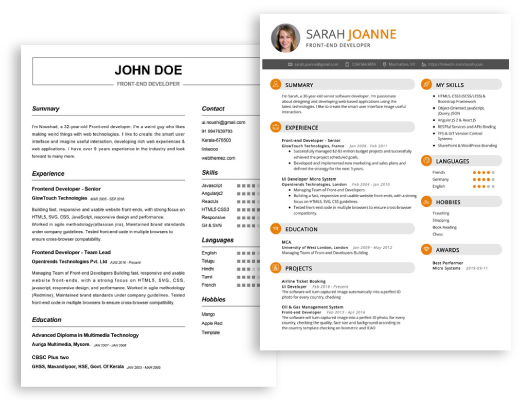 Start building your dream career today!
Create your professional resume in just 5 minutes with our easy-to-use resume builder!
Message Broker Resume Examples
John Doe
Message Broker
123 Main Street | Anytown, USA 99999 | Phone: (123) 456-7890 | Email: john.doe@email.com
I am a Message Broker with 5+ years of experience in developing, testing and maintaining messaging solutions. My expertise includes working with IBM WebSphere MQ Series, IBM Integration Bus and Apache Kafka. I have strong leadership, team collaboration, problem- solving and communication skills. My solid technical background in message broker technology, combined with my customer service and business acumen, has enabled me to provide effective solutions to customers.
Core Skills:
Message Broker technologies (IBM WebSphere Message Queue Series, IBM Integration Bus, Apache Kafka)
Problem solving and troubleshooting
Performance optimization
System analysis and design
Database design and development
Software development life cycle
Technical documentation and writing
Professional Experience:
IBM WebSphere MQ Series, IBM Integration Bus and Apache Kafka
Developed, configured and maintained messaging solutions for internal and external clients
Developed automated tests for message broker solutions
Performed system analysis and design to identify and address performance issues
Developed and maintained technical documentation
Provided customer support and issue resolution
Education:
Bachelor of Science in Computer Science, University of California, Berkeley
Message Broker Resume with No Experience
Motivated and enthusiastic IT Professional with a solid background in Message Broker and a desire to succeed and grow in the Message Broker industry. Looking to learn and contribute to a dynamic message broker team.
Skills
Strong knowledge of IBM Websphere Message Broker
Familiar with IBM Websphere MQ
Good understanding of IBM Integration Bus
Familiarity with different message broker environments and technologies
Proficient in XML, XSLT, and JavaScript
Excellent troubleshooting and problem solving skills
Able to work independently and as part of a team
Responsibilities
Design and develop message broker solutions
Manage message broker environments
Create and maintain message flows
Develop message broker mappings
Write and execute unit tests
Deploy message broker solutions
Provide technical support for message broker solutions
Message Broker Resume with 2 Years of Experience
I am an experienced Message Broker professional with 2 years of experience working with message brokers and web services. I have experience with designing, developing, and delivering messaging platforms, which are the primary means of communication between software applications. My experience ranges from designing and developing interfaces, maintaining and troubleshooting existing solutions, and developing solutions that provide high performance and scalability. I am highly reliable, dedicated, and have the ability to work efficiently to complete tasks in a timely manner.
Core Skills:
Experienced with message broker technologies such as IBM MQ and RabbitMQ
Experienced with web service technologies such as RPC, SOAP, and REST
Knowledge of scripting languages such as JavaScript, PHP, and Python
Experienced in designing and developing high- performance messaging architectures
Knowledge of databases such as Oracle, MySQL, and PostgreSQL
Experience in troubleshooting and maintaining existing solutions
Responsibilities:
Developing, deploying, and managing message brokers and web services
Designing, developing, and debugging messaging architectures that provide high performance, scalability, and reliability
Managing and troubleshooting existing messaging solutions
Writing scripts and programs to automate application integration processes
Defining, documenting, and testing message broker and web service APIs
Participating in the design, development, and testing of new messaging- related technologies and applications
Collaborating with other members of the development team to ensure successful delivery of projects
Message Broker Resume with 5 Years of Experience
A results- driven message broker with 5 years of experience in developing and deploying messaging solutions. Expertise in leading large- scale messaging projects, managing and developing messaging applications, and overseeing messaging architecture. Proven ability to quickly identify and solve complex problems related to messaging deployment, performance and availability. Possess strong communication and collaboration skills, excellent organizational and problem solving abilities.
Core Skills:
Message Broker Architecture
Messaging Protocols & Standards
Message Routing & Delivery
Problem Solving & Troubleshooting
Network & System Security
Responsibilities:
Developed and implemented messaging solutions using IBM WebSphere Message Broker and IBM WebSphere MQ
Analyzed message flows, design and develop message flow logic based on business requirements
Developed, tested and maintained message flows, message sets and message models for messaging middleware
Configured and managed distributed queuing & publish/subscribe messaging models
Defined message routing, data transformations and exception handling
Assisted in troubleshooting and debugging of messaging issues
Monitored and maintained message flows, message queues, message sets, and message models
Implemented and maintained security policies and procedures for messaging systems
Message Broker Resume with 7 Years of Experience
Dynamic and motivated Message Broker professional with 7 years of experience in providing technical support to messaging systems and troubleshooting to enhance system performance. Experience in project management, problem resolution, and system implementation while working with different database technologies. Skilled in managing and developing message broker applications to provide effective solutions to complex problems.
Core Skills:
Message Broker Application Development
Technical Support and Troubleshooting
Database Technologies
Problem Resolution
Project Management
System Implementation and Administration
Responsibilities:
Developed and maintained message broker applications
Administered message broker applications and provided technical support
Troubleshot issues related to message broker applications
Implemented and maintained messaging system
Assisted in the development of database systems
Monitored system performance and identified areas of improvement
Designed and implemented solutions for complex problems
Worked with various database technologies
Developed message broker solutions for different business needs
Developed test plans and test cases for message broker applications
Documented processes and procedures related to message broker applications
Message Broker Resume with 10 Years of Experience
A highly skilled and experienced Message Broker professional with 10 years of experience delivering exceptional messaging solutions to a variety of organizations. Demonstrated ability to provide services ranging from the installation of IBM WebSphere Message Broker, to the development of complex message flows. Possesses extensive knowledge in design, development, and implementation of a wide variety of messaging solutions. Committed to providing secure and reliable solutions while understanding and adhering to organizational policies and standards.
Core Skills:
Expert knowledge of IBM WebSphere Message Broker
Extensive experience developing and deploying message flows
Understanding of object- oriented programming concepts
Comprehensive knowledge of enterprise messaging architecture
Skilled in analyzing business requirements and developing messaging solutions
Proven ability to troubleshoot and optimize messaging operations
Expertise in messaging protocols such as HTTP, MQ, SOAP, etc.
In- depth understanding of message security concepts
Ability to implement message brokers in distributed systems
Responsibilities:
Install, configure, and maintain message broker systems
Develop complex message flows using integration brokers
Develop and implement messaging solutions to meet specific business needs
Monitor message flows to ensure proper operation
Troubleshoot and resolve messaging issues
Design and develop message models to support enterprise messaging requirements
Monitor and maintain message security
Implement message brokers in distributed systems
Design and develop interfaces and adapters for enterprise applications
Train and mentor junior team members on message broker technologies
Message Broker Resume with 15 Years of Experience
Highly experienced Message Broker with 15 years of experience in building, managing and troubleshooting messaging systems. Expert in integrating middleware solutions into existing systems and providing technical support to ensure smooth operations. Proven track record in developing, testing and delivering best- in- class solutions that meet business objectives. Skilled in designing, developing and testing messaging systems for various clients.
Core Skills:
Strong understanding of message broker and middleware platforms, including IBM WebSphere, WebSphere MQ and MQSeries
Solid experience in developing messaging solutions using various languages such as JAVA, C++, SQL, HTML and XML
Excellent troubleshooting and problem solving skills
Strong communication and interpersonal skills
Proficient in developing and deploying message broker solutions
Responsibilities:
Designing, developing and deploying message broker solutions
Integrating middleware solutions into existing systems
Performing troubleshooting and debugging of messaging systems
Testing messaging solutions and ensuring quality
Providing technical support and maintenance of message broker systems
Developing and implementing messaging systems for various clients
In addition to this, be sure to check out our resume templates, resume formats, cover letter examples, job description, and career advice pages for more helpful tips and advice.
What should be included in a Message Broker resume?
A Message Broker resume should include a summary of your experience as a message broker and demonstrate your knowledge of the field, as well as the technical and business skills you possess. Here are some tips for crafting a strong Message Broker resume:
Include a descriptive summary that showcases your specific knowledge and experience with message brokers, highlighting the key skills and qualifications that make you an ideal candidate.
Detail your experience and accomplishments, including the specific technologies you have worked with and the size and scope of any projects you have been involved in.
Demonstrate proficiency in a variety of programming languages, including JavaScript, Java, Python, and C#.
Showcase your knowledge of messaging protocols and application integration techniques, such as REST, SOAP, and gRPC.
Feature your experience with distributed systems and cloud computing platforms, such as AWS, Azure, and Google Cloud Platform.
List any certifications or courses you have taken related to message brokers and application integration.
Highlight your ability to troubleshoot and find solutions to complex problems.
Describe any experience you have had leading teams or mentoring other professionals.
By including these details in your Message Broker resume, you can prove to potential employers that you have the technical chops and business acumen needed to be an integral part of their team.
What is a good summary for a Message Broker resume?
A Message Broker resume should provide a summary of the applicant's experience and skills in working with message-oriented middleware (MOM) software, including experience working with specific message broker technologies. It should also include any certifications related to message broker technologies, such as those from IBM or Apache. The resume should also demonstrate the applicant's ability to design, develop, and deploy message broker solutions, as well as their knowledge of software engineering principles and best practices. Additionally, the resume should include any other relevant experience, such as working with other software systems, programming languages, and databases. Finally, the resume should also demonstrate the applicant's communication and customer service skills, as well as their ability to work as part of a team.
What is a good objective for a Message Broker resume?
A message broker is a software architecture that simplifies communication between different applications and services. It is important for message brokers to have a well-written resume that outlines their skills, experience, and objectives.
The following are some good objectives for a message broker resume:
To secure a position as a message broker and utilize my extensive knowledge of messaging technologies and software architecture
To help develop and maintain a reliable and efficient messaging infrastructure
To ensure maximum uptime and scalability of messaging services
To collaborate with technical and non-technical teams to identify and resolve any messaging issues quickly
To contribute to the development of innovative messaging solutions that are secure, cost-effective, and reliable
To provide exceptional customer service and problem-solving skills
To stay up-to-date on the latest messaging technologies and trends
To consistently strive for excellence and exceed customer expectations
How do you list Message Broker skills on a resume?
Adding message broker skills to your resume will demonstrate that you are knowledgeable in the different components of message brokers and how they work. Message brokers are a type of software that allows applications to communicate with each other and to transfer data between them.
Demonstrate knowledge of message broker technology, including the various components, architecture, and features
Have an understanding of how different applications and systems can be interconnected using message brokers
Experience using message broker tools such as Apache Kafka, RabbitMQ, or IBM MQ
Able to configure and deploy message broker components
Understand and write scripts/programs to facilitate message broker operations
Demonstrate ability to troubleshoot and resolve message broker issues
Ability to work with multiple message broker types, configure them for different applications, and maintain them
Knowledge of the security implications of using message brokers and how to implement secure message transmission
Having message broker skills on your resume will show potential employers that you have the technical skills and knowledge to use and maintain message broker technology. It can help you stand out from other applicants and demonstrate that you are familiar with the latest trends in software development.
What skills should I put on my resume for Message Broker?
A Message Broker is a tool used to facilitate communication between different applications. In order to be successful in this role, there are certain skills that you should highlight prominently on your resume. Here are the key skills you should look to include:
Knowledge of message brokering solutions such as IBM MQ, Apache Kafka and RabbitMQ: It is important to demonstrate your understanding of existing message brokering solutions and their features.
Familiarity with message brokering protocols: Your experience with various message brokering protocols such as AMQP, JMS and STOMP is also important to highlight.
Ability to manage multiple message queues: You should demonstrate your ability to create, maintain and monitor multiple message queues in order to ensure efficient communication.
Familiarity with web services: Knowledge of web services such as SOAP, REST and JSON will be beneficial in order to facilitate integration with other applications.
Troubleshooting and problem solving skills: Being able to identify potential issues or errors in the message broker setup and troubleshoot them is essential.
Communication skills: It is important to be able to communicate effectively with other team members in order to ensure successful message brokering.
By including these skills prominently on your resume, you will demonstrate your expertise in message brokering and make yourself an attractive candidate for the role.
Key takeaways for an Message Broker resume
When writing a resume for a Message Broker, there are certain key takeaways that you should include that will help you stand out from the competition.
Technical skills: Include technical skills such as knowledge of databases, programming languages, scripting, and message brokers. List out any specialized tools you have experience with, and highlight any relevant certifications or qualifications.
Experience with Message-Oriented Middleware: Provide examples of your experience working with message-oriented middleware (MOM). Explain how you have implemented MOM technologies such as Apache Kafka, Apache ActiveMQ, RabbitMQ, and/or other message brokers and event streaming platforms.
Understanding of Messaging Patterns: Demonstrate your understanding of messaging patterns such as request-reply, publish-subscribe, and store-and-forward. Show how you have used these patterns to design and implement message-based solutions.
Knowledge of Security: Describe how you have ensured secure communication of messages between systems. Highlight your experience with authentication, authorization, encryption, and securing message queues.
Ability to Troubleshoot: Show your experience in identifying and resolving problems related to message brokers and other related technologies.
By highlighting these key takeaways in your resume, you will be able to demonstrate your qualifications for a role as a Message Broker. This will help you stand out from the competition and increase your chances of getting an offer.
Let us help you build
your Resume!
Make your resume more organized and attractive with our Resume Builder