Writing a resume as an integration specialist can be a difficult and time-consuming task, but it's essential to make a good impression on potential employers. As an integration specialist, you are expected to have a deep understanding of the technical aspects of software and systems, as well as the ability to communicate and collaborate with colleagues. A well-crafted resume that highlights these skills and qualifications can help you land the job you're looking for. In this guide, you'll find tips and examples to help you create a winning integration specialist resume.
If you didn't find what you were looking for, be sure to check out our complete library of resume examples.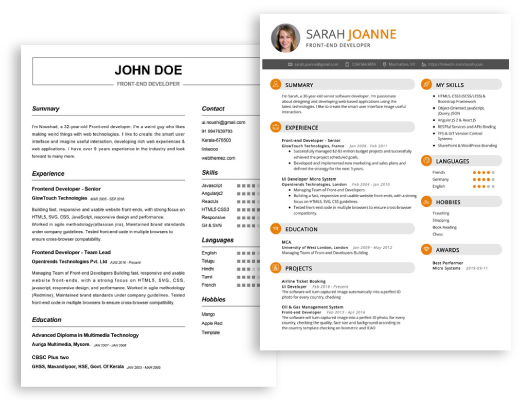 Start building your dream career today!
Create your professional resume in just 5 minutes with our easy-to-use resume builder!
Integration Specialist Resume Examples
John Doe
Integration Specialist
123 Main Street | Anytown, USA 99999 | Phone: (123) 456-7890 | Email: john.doe@email.com
Highly experienced Integration Specialist with 8 years of experience in the IT field. Expert in developing and deploying integration solutions, diagnosing and resolving technical integrations issues, and analyzing customer requirements. Skilled in working with a variety of integration tools and technologies, including SQL, XML, Java, and C#. Knowledgeable in leading integration projects and teams and delivering successful outcomes.
Core Skills:
Integration Solutions
SQL, XML, Java, and C#
Technical Troubleshooting
Project Management
Business Analysis
Data Analysis
Requirements Gathering
Team Leadership
Professional Experience:
Integration Specialist, XYZ Company, 2017- Present
Created and implemented integration solutions by using SQL, XML, Java, and C#
Resolved technical integration issues, such as data mapping, data synchronizing, system upgrades, and network connectivity
Analyzed customer requirements and data structures to develop suitable integration solutions
Collaborated with developers, project managers, and stakeholders to ensure successful outcome of integration projects
Led integration teams and guided them in accomplishing their objectives
Software Engineer, ABC Company, 2012- 2017
Developed software applications and wrote code following the customer's requirements
Performed maintenance and troubleshooting of software applications
Tested software applications and reported issues to senior members
Conducted training sessions for new employees
Education:
Bachelor of Science in Computer Science, XYZ University, 2011
Integration Specialist Resume with No Experience
A recent graduate with strong data and analytics skills, as well as an eye for detail and problem solving. Looking to leverage my technical skills as an integration specialist and grow my professional career.
Skills:
Profound understanding of software integration and integration platforms
Strong data and analytics skills
Capable of working in a fast- paced environment
Excellent communication and interpersonal skills
Excellent problem- solving skills
Highly organized and detail- oriented
Responsibilities:
Perform integration tasks for various business systems
Develop and maintain testing protocols for software integration
Analyze and troubleshoot any integration issues
Provide technical support for integration issues
Identify opportunities for system improvements
Collaborate with development teams to provide cross- functional solutions to integration challenges
Create documentation for integration processes and procedures
Integration Specialist Resume with 2 Years of Experience
Highly- motivated and goal- oriented Integration Specialist with 2 years of experience in Information Technology and development. Proven track record in understanding, analyzing and integrating multiple systems into a single cohesive platform. An accomplished professional with a strong understanding of modern technologies and techniques. Possesses excellent communication, problem- solving and project management skills.
Core Skills:
Knowledge of integration technologies, such as REST and SOAP
Understanding of software development lifecycle
Proficiency in coding languages such as Java and Python
Experience with database management systems and SQL
Ability to troubleshoot and debug integration issues
Good communication, interpersonal and customer- service skills
Attention to detail and a drive for success
Responsibilities:
Design and develop integration solutions to meet specific business requirements
Create technical documents, such as requirements, use cases and user stories
Develop and maintain integration processes and components
Test and validate integration solutions to ensure quality
Monitor and troubleshoot integration issues to ensure system stability
Develop strategies to improve integrations and identify areas of improvement
Collaborate with stakeholders to identify integration points and opportunities
Provide customer support to address customer issues and concerns
Integration Specialist Resume with 5 Years of Experience
Highly- skilled and accomplished Integration Specialist with 5 years of experience in designing, developing, and managing integration solutions. Thorough understanding of various integration frameworks and protocols. Experienced in working collaboratively with cross- functional teams to ensure optimal integration performance. Proven success in identifying, analyzing, and implementing integration solutions to increase product compatibility and performance.
Core Skills:
Integration framework & protocol expertise
Software development
Troubleshooting & debugging
System maintenance & support
Database & system architecture
Cross- functional team collaboration
Quality control & testing
Responsibilities:
Developed & implemented integration architectures & plans to ensure compatibility with existing systems.
Monitored & administrated integration systems to ensure optimal performance & availability.
Designed & developed integration solutions for various software & hardware applications.
Performed troubleshooting & debugging tasks to identify root causes & resolve integration issues.
Analyzed & optimized applications to enhance performance & reduce latency.
Collaborated with cross- functional teams to define & implement integration requirements.
Implemented quality control & testing processes to ensure accuracy & reliability of integration solutions.
Integration Specialist Resume with 7 Years of Experience
Dynamic and detail- oriented Integration Specialist with 7 years of experience in server engineering, cloud- based architectures, and software development. Proven track record of successful projects in a variety of industries and organizational sizes. Skilled in developing custom solutions, integrating and maintaining system infrastructures, creating system processes and procedures, and providing technical support. Adept at managing multiple projects while keeping a clear overview of their progress. Possesses strong leadership and communication skills.
Core Skills:
Server Engineering
Cloud- based Architectures
Software Development
Data Analysis
Project Management
Systems Integration
Technical Support
Leadership
Communication
Responsibilities:
Developed and implemented server infrastructures for multiple organizations
Redesigned and maintained existing cloud- based architectures
Created and maintained custom software solutions for various clients
Conducted data analysis and provided technical support
Managed multiple projects to ensure timely completion
Integrated and maintained system infrastructures
Created system processes and procedures to improve efficiency
Provided leadership and guidance to team members
Monitored and reported on project progress to stakeholders
Integration Specialist Resume with 10 Years of Experience
Highly experienced Integration Specialist with more than 10 years of experience in system integration, project management, and solution development. Proven ability to coordinate cross- functional activities and lead successful projects. Possess strong technical skills and excellent communication and organizational skills. Able to work in fast- paced environments and adhere to deadlines.
Core Skills:
System Integration
Project Management
Solution Development
Cross- Functional Activities Coordination
Technical Skills
Communication
Organizational Skills
Deadline Adherence
Responsibilities:
Coordinated cross- functional activities for successful project completion
Developed and implemented integration solutions for various systems
Assisted in the identification of potential integration opportunities
Managed system integration projects from beginning to end
Ensured all projects were completed on time within the allotted budget
Collaborated with various departments to ensure successful system integration
Monitored system performance and conducted regular maintenance
Provided technical expertise and troubleshooting for integration issues
Developed processes and procedures for the system integration process
Integration Specialist Resume with 15 Years of Experience
I am an experienced Integration Specialist with over 15 years of experience in defining integration strategies, deploying integration architectures and maintaining data management systems. I have a proven track record of successful integration projects for large- scale enterprises. My technical proficiency includes expertise in Enterprise Application Integration, Enterprise Service Bus, Web Services, SOA (Service Oriented Architecture), Java/JEE and XML technologies. I am also well- versed in the development of data integration and business process integration solutions. I am committed to providing clients with reliable and cost- effective solutions that will enable them to achieve their business objectives.
Core Skills:
Enterprise Application Integration
Enterprise Service Bus
Web Services
Service Oriented Architecture
Java/JEE
XML Technologies
Data Integration
Business Process Integration
Deep Understanding of Requirements
Excellent Troubleshooting Skills
Excellent Communication Skills
Project Management
Responsibilities:
Developing integration plans for clients
Designing and building integration architectures and solutions
Deploying and managing integration solutions
Defining and implementing data integration strategies
Developing, testing and deploying data integration solutions
Monitoring and maintaining integration systems
Investigating and resolving integration issues
Troubleshooting integration problems
Identifying integration process improvements
Creating user manuals and end- user support documents
Working closely with internal and external stakeholders
Researching and recommending new technologies to improve integration capabilities
In addition to this, be sure to check out our resume templates, resume formats, cover letter examples, job description, and career advice pages for more helpful tips and advice.
What should be included in a Integration Specialist resume?
A resume for an integration specialist should reflect your experience and qualifications in the field. To ensure that your resume stands out as a top candidate, make sure you include some of the most important points in the following areas:
Professional Summary: Summarize your experience, qualifications, and accomplishments in a concise statement that emphasizes the value you can bring to the role.
Technical Skills: List all software, hardware, and programming language skills you have that are relevant to the role.
Experience: Include past positions and any projects you have completed in integration, as well as any certifications or training you have in the field.
Education: Note any relevant educational background you have, such as a degree in information systems or computer science.
Achievements: Highlight any noteworthy success stories or career accomplishments that you have achieved during your time in the field.
By emphasizing these aspects of your experience in your resume, you will be in the best position to advance your career as an integration specialist.
What is a good summary for a Integration Specialist resume?
A resume for an Integration Specialist should accurately summarize the individual's experience, skills and accomplishments. It should showcase the candidate's ability to successfully analyze, design, develop, test, document and deploy applications that enable smooth and efficient business operations. It should clearly demonstrate the individual's ability to apply pertinent technologies such as middleware, databases, scripting and programming languages, while also providing evidence of a comprehensive understanding of the project lifecycle. The resume should also highlight any specialized trainings or certifications obtained related to integration technologies.
What is a good objective for a Integration Specialist resume?
A Integration Specialist is an individual responsible for the successful coordination and installation of IT systems and software. An effective Integration Specialist resume should illustrate the applicant's understanding of IT systems and ability to seamlessly integrate new technology with existing infrastructure. A good objective for a Integration Specialist resume should highlight these core competencies and skills.
Demonstrate knowledge of complex IT systems and comprehensive understanding of hardware and software installation and maintenance
Proven experience in successful integration of new technology with existing systems and applications
Skilled in creating and implementing successful integration strategies
Ability to coordinate and manage integration projects while meeting tight deadlines
Highly organized and attentive to detail with excellent problem-solving skills
Motivated and goal-oriented, with the ability to work independently and in a team environment
How do you list Integration Specialist skills on a resume?
When writing a resume for an Integration Specialist position, it is important to highlight the technical skills necessary for the job. Not only does this show your potential employer that you are qualified for the role, but it also demonstrates your expertise in the field. Below is a list of skills to include when listing Integration Specialist skills on your resume.
Familiarity with cloud-based technologies
Proficiency in software development, coding, and debugging
Knowledge of integration tools, such as Web Services, SOAP, REST, and XML
Experience using development frameworks, such as Java, .Net, and Node.js
Ability to write scripts in languages like JavaScript, PHP, and Python
Understanding of data modeling, data mapping, and data transformation
Ability to develop, deploy, and maintain integration projects
Knowledge of standard integration patterns and best practices
Familiarity with version control systems, such as GIT and SVN
Ability to troubleshoot and debug complex integration issues
By including specific skills related to Integration Specialists on your resume, you can demonstrate to potential employers that you have the knowledge and experience necessary for the job.
What skills should I put on my resume for Integration Specialist?
When creating a resume for an Integration Specialist, it is important to highlight the relevant skills and qualifications needed for the role. The following are essential skills to include on an Integration Specialist resume:
Familiarity with Integration Platforms: As an Integration Specialist, you should have extensive knowledge of integration platforms such as MuleSoft, Dell Boomi, and TIBCO. Being able to configure and deployment common integration patterns like file transfers, web services and APIs is essential.
System Architecture Knowledge: To be successful in this role, you should have a strong understanding of system architecture, with experience in designing and developing solutions that integrate applications and systems.
Programming Skills: This role requires programming skills such as Java, JavaScript, Python, Ruby, and HTML. Having the ability to develop custom APIs and applications will also be beneficial.
Data Analysis: As an Integration Specialist, you should be able to analyze and interpret large data sets, as well as understand how to effectively store and manage data.
Troubleshooting: You should be able to quickly identify and resolve any integration issues or errors.
Technical Documentation: Having the ability to create technical documents, such as user guides, is another important skill to possess as an Integration Specialist.
By highlighting these skills on your resume, you can demonstrate that you have the knowledge and experience necessary to be successful in this role.
Key takeaways for an Integration Specialist resume
An Integration Specialist resume should be concise yet comprehensive enough to convey their work experience and expertise in a clear and concise way. Below are some of the key takeaways for creating a great Integration Specialist resume:
Focus on your technical skills: Integration Specialists need to be knowledgeable about the integration technologies they use. Make sure to highlight your technical skills and any certifications you have for the specific integration tools you use.
Showcase your experience: An Integration Specialist should be able to demonstrate their experience across different projects. Make sure to include any past projects you have completed and how they were successful.
Demonstrate problem-solving skills: Integration Specialists need to be able to troubleshoot and solve technical issues. Make sure to highlight your ability to solve technical problems on your resume.
Highlight any additional skills: An Integration Specialist should have additional skills that can help them in their roles. These can include database management, software development, or customer relations.
Keep your resume organized: A well-organized resume is essential for any job seeker, especially an Integration Specialist. Be sure to keep your resume organized with relevant information and easy to read formatting.
By following these tips, you can create a well-crafted Integration Specialist resume that will help you stand out from the competition. Make sure to highlight your experience, technical skills, and additional talents to show prospective employers that you are the ideal candidate for the job.
Let us help you build
your Resume!
Make your resume more organized and attractive with our Resume Builder