Having a good resume is the first step to finding a job. As an IT instructor, you need to make sure your resume stands out and effectively communicates your skills and experience. Writing a great resume is an important skill to master, and this guide will provide you with a step-by-step process to help you create an IT instructor resume that will land you a great job. From highlighting your skills, to showcasing your qualifications and experience, we have included examples and tips to help you write the perfect resume.
If you didn't find what you were looking for, be sure to check out our complete library of resume examples.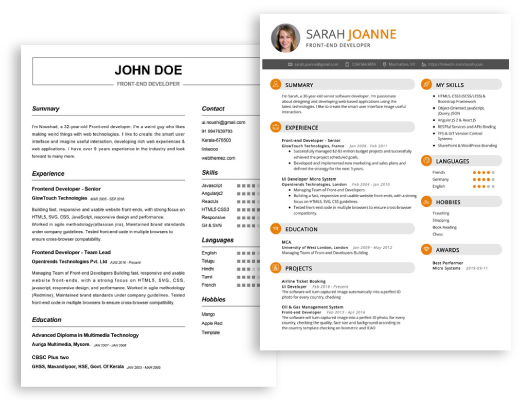 Start building your dream career today!
Create your professional resume in just 5 minutes with our easy-to-use resume builder!
IT Instructor Resume Examples
John Doe
IT Instructor
123 Main Street | Anytown, USA 99999 | Phone: (123) 456-7890 | Email: john.doe@email.com
I am an experienced IT instructor with over 8 years of experience teaching students of all ages. I have a passion for technology and am very knowledgeable in different areas such as troubleshooting, networking, programming, and database management. My teaching style is interactive and engaging, and I have a strong record of helping students learn and reach their goals.
Core Skills:
Networking
Troubleshooting
Programming
Database Management
Teaching
Training Delivery
Project Management
Communication
Leadership
Professional Experience:
IT Instructor, ABC Technology Institute, 2014- present
Designing and delivering IT training sessions to students of all ages
Developing course materials and lesson plans
Troubleshooting computer issues and providing technical assistance
Mentoring students to help them create projects and reach their goals
Assisting with the implementation of new technologies
Creating reports to track student progress
Education:
Bachelor of Science in Computer Science, XYZ University, 2010- 2014
Graduated with honors
Relevant coursework: Operating Systems, Database Design, Software Engineering
IT Instructor Resume with No Experience
Talented IT instructor with experience in teaching, mentoring, and problem solving.
Highly knowledgeable in computer technology and software development.
Strong communicator with the ability to effectively train, instruct and motivate a wide variety of students.
Skills
Excellent communication and interpersonal skills
Strong leadership and organizational skills
Computer literacy in Microsoft Office Suite and other software
Proficient in troubleshooting and technical support
Knowledge of HTML and JavaScript programming
Responsibilities
Developing and delivering computer courses
Assessing student progress and providing feedback
Guiding students to improve their knowledge of computer systems and technologies
Instructing students on the principles of software development and programming
Conducting practical demonstrations and tutorials
Creating lesson plans and other educational materials
Providing technical support to students as needed
IT Instructor Resume with 2 Years of Experience
I am an IT instructor with two years of experience teaching IT courses to students of all levels. I am passionate about helping students develop the necessary skills to succeed in the ever- changing IT field. I am a patient and creative teacher who can adapt my lessons to meet the needs of my students. I have a thorough knowledge of IT systems and concepts and am committed to providing quality instruction.
Core Skills:
Knowledge of IT systems and concepts
Ability to customize instruction to student needs
Expertise in teaching and training
Excellent communication and interpersonal skills
Strong problem- solving and critical thinking abilities
Responsibilities:
Developed syllabi and lesson plans for IT courses
Taught classes in the areas of computer programming, web development, and software engineering
Assisted students with homework, projects, and research
Supported students in mastering complex concepts
Mentored students in developing their IT skills
Led group discussions and activities to reinforce learning
Evaluated student progress and provided feedback on performance
IT Instructor Resume with 5 Years of Experience
An experienced and highly- skilled IT instructor with 5 years of professional experience providing quality instruction and support to students in a corporate setting. Possesses exceptional knowledge in network design and implementation, networking systems and software, and troubleshooting computer hardware and software. Excels in teaching and facilitating effective learning for students of all levels, with the ability to create comprehensive lesson plans and assessment plans.
Core Skills:
Network Design and Implementation
Network Systems Administration
Computer Hardware and Software Troubleshooting
Learning Facilitation and Instruction
Lesson and Assessment Plan Development
Student Support
Classroom Management
Risk Management
Responsibilities:
Collaborated with instructors, subject matter experts, and other stakeholders to develop and implement comprehensive lesson plans and assessment plans.
Provided instruction and support to students in a corporate setting, ensuring that instruction was tailored to the needs of each student.
Assisted with troubleshooting computer hardware and software, and resolving technical issues in a timely manner.
Monitored student progress and provided feedback on assignments and assessments.
Maintained detailed records of student attendance and performance.
Ensured a safe and secure learning environment by adhering to risk management protocols.
Developed and implemented strategies to encourage student engagement and foster a positive learning atmosphere.
IT Instructor Resume with 7 Years of Experience
A highly driven IT Instructor with 7 years of experience in the field of information technology. I have the ability to develop, design and implement effective IT learning strategies and solutions for various organizations. Possessing excellent problem solving and communication skills, I am able to handle multiple tasks successfully and build relationships with my students.
Core Skills:
Expert understanding of Information Technology and related topics
Strong teaching, training and mentoring skills
Proficient in software development, web programming and database management
Ability to identify and analyze students' learning needs
Excellent communication and problem solving skills
Responsibilities:
Develop and implement effective IT learning strategies
Design and build effective learning materials
Mentor and coach students on best practices
Create lesson plans and teaching aids such as videos, handouts and presentations
Monitor students' progress and provide feedback
Troubleshoot technical issues and provide support
Address student queries and concerns in a timely manner
IT Instructor Resume with 10 Years of Experience
A highly experienced IT Instructor with 10 years of experience providing top- notch IT training services to individuals, corporate and government organizations. Possessing an impressive knowledge of hardware and software troubleshooting and installation, I have developed an aptitude for anticipating and resolving technical problems before they occur. My expertise in customer service and technical support has enabled me to provide a pleasant and efficient training experience.
Core Skills:
Knowledgeable in Network Administration and Security
Proven proficiency in Windows, Linux, and Mac OS X
Experienced in software installation and maintenance
Excellent abilities in customer service and technical support
Proficient in interpreting and troubleshooting hardware and software problems
Skilled in delivering IT training
Adept in developing lesson plans, curricula, and other teaching materials
Responsibilities:
Imparting technical and practical knowledge about computer systems and applications
Assisting in building, maintaining and enhancing the current IT infrastructure
Instructing students in the use of computer systems, applications, and related technologies
Developing and delivering interactive and engaging lesson plans and course materials
Utilizing engaging teaching methods and technologies to enhance student learning
Evaluating and providing feedback on student learning and performance
Maintaining accurate records of student attendance and progress
IT Instructor Resume with 15 Years of Experience
A highly- qualified IT Instructor with 15 years of experience in developing, delivering, and managing classroom and online IT courses consisting of a variety of topics such as hardware and software, networking, system maintenance, networking security, and web development. Adept at preparing and delivering engaging, interactive lectures and lessons to foster student learning, comprehension, and retention. Holding a Master's Degree in Computer Science and certifications in SAP, Microsoft, CompTIA, and Cisco.
Core Skills:
Technology Teaching & Instruction
Course & Curriculum Development
Student Assessment & Evaluation
IT Training & Course Delivery
Classroom & Online Teaching
Student Learning & Comprehension
Technical Support & Troubleshooting
Networking & System Maintenance
Networking & Security
Software & Hardware Installation
Research & Documentation
Responsibilities:
Develop and deliver IT instruction that meets industry standards.
Develop and implement course curriculum, lesson plans, and assessments according to students' needs.
Instruct students in a variety of IT topics such as hardware and software, networking, system maintenance, networking security, and web development.
Provide hands- on technical training and instruction in lab environments.
Assist students with troubleshooting and network issues.
Monitor student progress and evaluate performance against established criteria.
Research and evaluate emerging technologies and software.
Provide technical support to faculty and staff as needed.
Ensure that all IT training materials and course content meet established standards and requirements.
In addition to this, be sure to check out our resume templates, resume formats, cover letter examples, job description, and career advice pages for more helpful tips and advice.
What should be included in a IT Instructor resume?
A strong IT instructor resume should reflect a wide range of skills, including computer software and hardware knowledge, instruction, problem-solving and communication. The following items should be included in a resume to adequately show a potential employer your qualifications as an IT instructor:
Educational background: Include any relevant degree and certification, such as a Bachelor's degree in Information Technology or a Master's degree in Computer Science, along with any certifications in specific software or hardware.
Experience: Include any past experience as an IT instructor, such as years of service, the topics taught and the age group of students.
Technology expertise: List any specific software, hardware or programs that you are knowledgeable in and can teach.
Teaching skills: Demonstrate your teaching skills, such as presenting information and engaging students, as well as any experience in developing curriculum or lesson plans.
Problem-solving: Show the potential employer how you can diagnose and solve IT issues.
Communication: Clearly communicate your qualifications and demonstrate how you can effectively communicate complex concepts.
Personal qualities: Highlight any personal qualities that may be beneficial in an IT instructor role, such as attention to detail, organization and creativity.
What is a good summary for a IT Instructor resume?
An IT Instructor resume should be a comprehensive document that highlights your professional skills and experience. It should include your educational background, certifications, and any awards or recognitions you have achieved in your professional career. It should also include a summary of the qualifications that make you an ideal candidate for the position. The summary should include your experience in the IT field, your expertise in teaching and training, and your ability to lead and motivate students. It should also detail your strong communication and problem-solving skills and any relevant specializations or certifications. Finally, it should highlight any unique qualifications or certifications that make you stand out from other applicants. A good IT Instructor resume should demonstrate your passion for the field and your commitment to helping others succeed.
What is a good objective for a IT Instructor resume?
A good objective for an IT instructor resume is one that clearly and concisely states the candidate's qualifications and experience, as well as their career goals. It should give potential employers an overview of the candidate's skills and the value they can bring to the organization. Here are some tips for writing a strong IT instructor resume objective:
Highlight relevant qualifications: An IT instructor resume objective should focus on the qualifications that make the candidate a strong fit for the job. This includes any certifications or credentials related to IT instruction, as well as any experience teaching in an IT classroom setting.
Demonstrate knowledge of industry trends: IT is a rapidly changing field, and employers want to hire instructors who are up-to-date with the latest developments in the industry. An IT instructor resume objective should indicate the candidate's knowledge and understanding of current IT trends.
Showcase problem-solving abilities: IT instructors are often called upon to troubleshoot technical problems or provide advice on best practices. A good IT instructor resume objective should emphasize the candidate's ability to solve technical issues and provide useful advice.
Emphasize enthusiasm for teaching: IT instructors must be passionate about teaching and helping others learn. An IT instructor resume objective should communicate a genuine enthusiasm for teaching and helping others.
Outline career goals: An IT instructor resume objective should include the candidate's long-term career aspirations. This can include a desire to stay at the same institution for the long-term, or to take on a more senior role within the organization.
How do you list IT Instructor skills on a resume?
When you list IT instructor skills on a resume, you should highlight the qualifications and experience that make you an ideal candidate for the position.
Have a deep understanding of current IT technologies and best practices
Possess strong analytical, problem-solving, communication, and teaching skills
Be adept in developing, delivering, and evaluating student learning activities
Be patient and able to adapt to student learning styles
Be able to manage and support student learning in an online environment
Be able to provide guidance and mentorship to students
Have a good understanding of the latest educational technologies and tools
Be able to stay up-to-date with the latest IT trends and advancements
Have experience in developing and implementing IT courses
Possess strong administrative and organizational skills
Have a commitment to professional and personal growth
Be able to effectively communicate IT concepts and ideas
Have the ability to work in a fast-paced environment
Have the ability to design, develop, and update training material
Have a strong customer service focus
Have experience in developing and delivering IT training programs
What skills should I put on my resume for IT Instructor?
Writing a resume for an IT Instructor can be a daunting task. Many employers will be looking for specific IT skills and experience, so you want to make sure you showcase the most relevant skills for the job. Here are some of the top skills you should include in your resume for an IT Instructor position:
Expertise with Computer Hardware/Software: IT Instructors should be knowledgeable about computer hardware and software, and know how to troubleshoot technical issues. Be sure to list any relevant experience or certifications you may have.
Instructional Design: IT Instructors need to know how to design effective lesson plans and instructional materials for their students. Demonstrate your instructional design skills by highlighting any courses or workshops you have developed.
Technical Writing: IT Instructors need to be able to write clear, concise documentation for their students. Showcase your technical writing skills by including any documentation writing experience you have.
Communication Skills: IT Instructors need to be able to effectively communicate complex technical concepts to their students. List any projects you have lead or presentations you have given that demonstrate your strong communication skills.
Patience: IT Instructors need to be patient and understanding when working with students who may not understand the concepts they are teaching. Show your potential employer that you possess this important trait by listing any volunteer work you have done or awards you have received for your patience and understanding.
By including these skills on your resume for an IT Instructor position, you can demonstrate your qualifications for the job. Be sure to tailor your resume to the specific requirements of the job to ensure that you stand out from the competition.
Key takeaways for an IT Instructor resume
When applying for an IT instructor position, your resume should highlight your experience with the relevant technology and your ability to effectively teach both technical and non-technical users. It should also demonstrate your understanding of the role and list your qualifications and certifications. Here are some key takeaways for creating an IT instructor resume:
Include a summary: Start off your resume with a brief summary of your relevant experience and qualifications.
List your qualifications and certifications: Make sure you list any qualifications and certifications you possess that are related to IT instruction, such as a degree in a related field or specific certifications for the software you are teaching.
Showcase your IT experience: Highlight your experience with the technology and software you will be teaching. Include any IT-related work experience and any volunteer or freelance experience as well.
Demonstrate your teaching abilities: Include examples of how you have successfully taught people to use IT systems, such as during workshops or team training sessions, to demonstrate your teaching abilities.
Showcase your communication skills: An IT instructor needs excellent communication skills to be successful. Demonstrate your ability to communicate technical information in a way that is understandable to non-technical users.
Include any additional certifications or qualifications: If you have any additional language qualifications or certifications, include these on your resume as well.
Following these key takeaways will help you create an effective IT instructor resume. Make sure to showcase your experience, qualifications, and teaching abilities in order to increase your chances of being hired for the job.
Let us help you build
your Resume!
Make your resume more organized and attractive with our Resume Builder