Searching for a job as an Infrastructure Analyst can be an exciting but challenging process. Crafting a resume that will stand out from the competition can be daunting, especially if you are just starting out and don't have a lot of experience. The good news is that there are certain strategies and tips you can use to optimize your resume and make sure it gets the attention of potential employers. In this guide, we will explain the basics of writing an Infrastructure Analyst resume and provide examples of what to include in each section. With the right approach you can create a resume that will propel your career forward and help you land the job you want.
If you didn't find what you were looking for, be sure to check out our complete library of resume examples.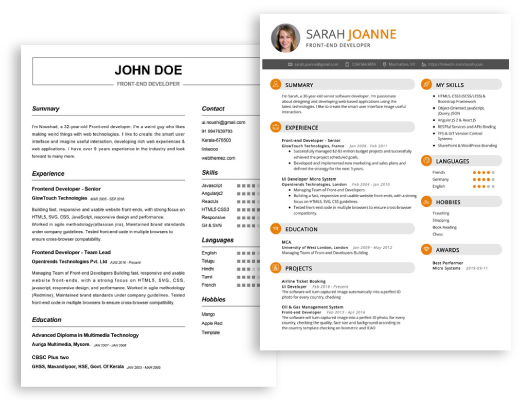 Start building your dream career today!
Create your professional resume in just 5 minutes with our easy-to-use resume builder!
Infrastructure Analyst Resume Examples
John Doe
Infrastructure Analyst
123 Main Street | Anytown, USA 99999 | Phone: (123) 456-7890 | Email: john.doe@email.com
I am an experienced Infrastructure Analyst with over 8 years of IT and technical support experience. In my previous roles I have worked on implementing, managing, and troubleshooting a wide variety of server, network, security, and storage systems. I am adept at providing excellent customer service, managing multi- site systems, and working independently on complex tasks. I have a proven track record of ensuring uptime, efficiency, and security of all systems.
Core Skills:
Server/Network/Security/Storage System Installation and Management
Complex Troubleshooting and Problem Solving
Multi- Site Management and Maintenance
Excellent Customer Service and Communication
System Documentation, Training, and Support
Professional Experience:
Network Engineer – ABC Company
Installed and managed server, network, security, and storage systems for multiple sites
Conducted regular audits for system uptime, efficiency, and security
Troubleshooted complex technical issues and provided solutions to customers
Developed and documented processes for system maintenance and monitoring
IT Support Technician – XYZ Company
Responded to customer tickets and inquiries promptly, professionally, and courteously
Resolved customer issues, ranging from software to hardware issues, efficiently
Trained customers on how to use various software, hardware, and network systems
Monitored system health and resolved system errors quickly
Education:
Bachelor of Science in Computer Science, University of California – 2016
Infrastructure Analyst Resume with No Experience
A motivated and determined individual seeking to launch a career in Infrastructure Analyst. Looking to gain in- depth knowledge of the role and provide assistance to the organization to reach its full potential.
Skills
Excellent problem- solving abilities
Highly organized
Strong communication skills
Ability to work independently or in teams
Proficiency with various software packages
Responsibilities
Identifying and solving infrastructure- related problems
Assisting with the installation and configuration of infrastructure components
Monitoring infrastructure performance and troubleshooting issues
Providing technical support for network- related tasks
Ensuring the security of data stored in the infrastructure system
Performing maintenance and upgrades on existing systems
Infrastructure Analyst Resume with 2 Years of Experience
A highly motivated and enthusiastic Infrastructure Analyst with 2 years of experience in providing technical support and IT solutions to corporate clients. Possesses excellent problem solving, analytical and troubleshooting skills, as well as outstanding customer service and communication capabilities. Proven ability to work well with cross- functional teams and handle multiple tasks simultaneously with strong attention to detail.
Core Skills:
Analysis and Troubleshooting
Customer Service
Networking Technologies and Protocols
Project Management
System Administration
Installation and Configuration
Hardware and Software Support
Windows Server Administration
Responsibilities:
Provided technical support and troubleshooting to identify and resolve various IT related issues
Performed installation, configuration and maintenance of hardware and software systems
Monitored and evaluated system performance, server utilization and network traffic to ensure availability and reliability
Developed strategies and plans for the deployment of new technologies, including network segmentation and system hardening
Coordinated with internal stakeholders, vendors and third- party suppliers to assess IT requirements
Provided guidance, training and technical support to end users in relation to hardware, software, systems and applications
Assisted in the development of IT policies and procedures to ensure compliance with industry standards and guidelines
Presented technical reports and recommendations to senior management and stakeholders
Responsible for the procurement of IT hardware, software and systems.
Infrastructure Analyst Resume with 5 Years of Experience
Dynamic Infrastructure Analyst with 5 years of experience specializing in analyzing, planning, designing and implementing complex systems of IT Infrastructure. Proven ability to collaborate with stakeholders and teams, develop technical solutions and solve issues. Skilled in troubleshooting, Windows Server, VMware, Linux, networking, and system security. Experienced in managing projects, developing documentation and providing technical support.
Core Skills:
Systems Analysis
Documentation
Project Management
System Security
Troubleshooting
Windows Server
VMware
Linux
Networking
Responsibilities:
Analyzing, planning, designing and implementing IT Infrastructure
Collaborating with stakeholders and teams
Developing technical solutions and solving issues
Troubleshooting systems
Supporting Windows Server and VMware
Developing system security
Installing and configuring Linux
Managing projects and developing documentation
Involved in network design and installation
Providing technical assistance and support
Infrastructure Analyst Resume with 7 Years of Experience
Highly motivated and creative Infrastructure Analyst with 7 years of experience in designing, developing, and implementing complex and large scale networks, systems, and solutions that help improve the efficiency of the organizational IT infrastructure. Achieved multiple awards and recognition in the previous role for exceptional design solutions that enabled significant cost savings. Possesses strong communication, problem- solving, and project management skills with the ability to perform under pressure and a knack for staying abreast of the latest technologies.
Core Skills:
Network Design & Administration
Network & Security Architecture
System Design & Administration
Datacenter Management
Project Management & Documentation
Vendor & Outsourcing Management
Cloud Computing & Migration
Budgeting & Cost Control
Responsibilities:
Designed, configured, and implemented enterprise- level networks and systems from the ground up
Provided expert- level advice and guidance to stakeholders regarding network and system design, scalability, and performance
Researched, evaluated, and integrated new technologies into existing systems for enhanced functionality and efficiency
Managed vendor and outsourcing relationships to ensure timely delivery of solutions and services
Developed and implemented security policies, procedures, and best practices
Performed budgeting, cost analysis, and cost control activities
Lead IT projects from initial design to final deployment, including resource management and project tracking
Infrastructure Analyst Resume with 10 Years of Experience
As a highly experienced Infrastructure Analyst with more than 10 years of experience in IT systems support, I am a proven problem solver and troubleshooter with a proven ability to implement and maintain complex systems and networks. I am an effective communicator and risk manager, who is known for staying up to date on industry best practices and technology trends. My expertise includes LAN/WAN technologies, IP routing, security systems, and I am also certified in Windows, Linux, and Microsoft Office. I am confident I can help deliver exceptional service and make an immediate contribution to your organization.
Core Skills:
LAN/WAN technologies
IP routing
Security systems
Windows
Linux
Microsoft Office
Problem solving
Troubleshooting
Risk management
Communication
Responsibilities:
Design, install, and maintain server networks
Monitor and analyze system performance to ensure optimal performance
Manage and maintain user accounts and access rights for different systems
Install, configure, and update software and hardware components
Identify and troubleshoot network and system related problems
Develop and implement effective security measures to protect network from unauthorized access and data loss
Perform system backups and disaster recovery operations
Provide technical support to users and other IT staff
Document network and system processes and procedures
Infrastructure Analyst Resume with 15 Years of Experience
Highly experienced Infrastructure Analyst with 15 years of experience in designing and managing complex networks and systems while providing exceptional technical support. Proven ability to develop and document IT strategies and procedures to ensure the availability, integrity, and reliability of mission- critical systems and services. Skilled in creating, implementing, and running automated job scheduling and batch job processing. Possesses advanced knowledge of system operations, networking, database, and security administration.
Core Skills:
Systems Design and Administration
Network Infrastructure Maintenance
Server and Storage Management
Disaster Recovery Planning
User Support and Troubleshooting
Data Center Operations
Scripting and Scripting Languages
Backup and Recovery Strategies
Security Policies and Procedures
Monitoring and Alerting
Responsibilities:
Design, build, and maintain a secure, resilient, and efficient IT infrastructure.
Troubleshoot and resolve IT infrastructure issues.
Monitor and analyze system performance and usage, and recommend improvements.
Install, configure, and manage software applications and security systems.
Create and maintain system documentation, policies and procedures.
Develop and implement disaster recovery plans.
Implement security measures to protect data and network resources.
Monitor system and network availability and utilization.
Implement performance tuning and capacity planning for IT infrastructure.
Provide technical support to users.
In addition to this, be sure to check out our resume templates, resume formats, cover letter examples, job description, and career advice pages for more helpful tips and advice.
What should be included in a Infrastructure Analyst resume?
When writing a resume for a position as an Infrastructure Analyst, it is important to include information about your technical skills and experience, as well as any certifications that may be relevant. Here are some of the key elements jobseekers should include:
Professional summary: A brief overview of your experience, qualifications and career aspirations.
Technical skills: Detail any specific technical skills you possess, such as familiarity with cloud computing, network security, scripting languages and operating systems.
Education: List any relevant degrees, certifications or training you have received.
Work Experience: Include any pertinent roles you have held in the past, such as systems administrator, network analyst or IT support specialist.
Projects: List any projects you have worked on in the past, such as the implementation of cloud-based systems or the development of network security protocols.
Leadership: If you have any experience leading teams or projects, be sure to include this here.
Certifications: Detail any certifications you possess, such as CompTIA Network+, Security+ or Microsoft Certified Solutions Associate.
Soft Skills: Include any soft skills you possess, such as communication and problem-solving.
By including the above information in your Infrastructure Analyst resume, you can help demonstrate to potential employers your knowledge and experience in the field.
What is a good summary for a Infrastructure Analyst resume?
A good summary for an Infrastructure Analyst resume should focus on the candidate's technical capabilities, as well as any certifications or experience they may have. It should also emphasize how their skillset can be applied to infrastructure management, such as server architecture, network security, virtualization, or cloud computing. Furthermore, the summary should include any relevant qualifications or credentials, such as a bachelor's degree in computer science or a certification in IT security. In addition, a successful summary should highlight the candidate's communication and problem-solving skills, as well as their ability to work with a variety of stakeholders. Ultimately, a well-crafted summary should demonstrate the candidate's value to the organization and ensure a successful application.
What is a good objective for a Infrastructure Analyst resume?
Infrastructure Analysts are responsible for managing and maintaining a business's networks, hardware, and software. A good objective for an Infrastructure Analyst resume should demonstrate the candidate's experience, technical knowledge, and organizational skills.
Detail-oriented professional with over 6 years of experience in designing, implementing, and maintaining IT systems
Proven ability to troubleshoot and resolve complex technical issues in a timely manner
Hands-on experience in setting up networks, installing hardware, configuring systems, and managing user profiles
Strong understanding of security protocols and data privacy regulations
Excellent communication and problem-solving skills with the ability to work independently and in a team setting
Proficient in Windows, Linux, and Mac operating systems, as well as a variety of hardware and software applications
How do you list Infrastructure Analyst skills on a resume?
Including the right skills on your Infrastructure Analyst resume can help you stand out from the competition.
When crafting your resume, emphasize your key skills that match the job requirements. Make sure to include technical, soft, and problem-solving skills that can help you succeed in the role.
Here are some of the top skills to include on your Infrastructure Analyst resume:
Knowledge of Cloud Computing: You should possess an understanding of how cloud computing systems work and how they interact with other on-premises components.
Ability to Manage Servers: You need to be able to install, configure, and maintain both physical and virtual servers.
Networking Expertise: You should have a comprehensive knowledge of network protocols, such as TCP/IP and DHCP, to ensure the secure and efficient flow of data in an organization.
Automation Experience: Automation is a key part of an infrastructure analyst's job, as you need to be able to use scripting and automation tools to manage an organization's networks.
Troubleshooting Abilities: You should have experience in debugging systems and networks and in resolving issues quickly and efficiently.
Strong Communication Skills: As an infrastructure analyst, you will need to be able to effectively communicate with all levels of the organization, from executives to IT support staff.
Problem-Solving Skills: You should be able to identify problems and develop solutions to ensure the company's systems are running smoothly.
Security Knowledge: You need to be familiar with security concepts, such as encryption and authentication, to protect the organization's sensitive data.
Project Management Skills: You should be able to manage projects from start to finish, ensuring deadlines are met and tasks are completed according to schedule.
Technical Writing Skills: You should have the ability to write technical documents, such as manuals and user guides, to explain how systems and networks are set up and
What skills should I put on my resume for Infrastructure Analyst?
Infrastructure Analysts are responsible for designing, implementing, and maintaining business systems for organizations. They are crucial for the success of a business because they ensure that all systems are secure, efficient, and working properly. To be successful in this role, there are several skills that must be included on a resume for Infrastructure Analysts. Here are some of the most important:
Network Administration: Infrastructure Analysts must have a thorough understanding of network administration, including configuration, troubleshooting, and maintenance of networks.
System Administration: System administrators are responsible for the management, maintenance, and secure operation of business systems. As an Infrastructure Analyst, you should be knowledgeable in system administration and able to install, configure, and troubleshoot various systems.
Security: Data security is of the utmost importance in an Infrastructure Analyst role. Therefore, it is essential to demonstrate an understanding of security principles, including authentication, authorization, and encryption.
Project Management: Infrastructure Analysts are often responsible for leading and managing various projects. As such, it is important to show that you have experience in project management and have managed projects from start to finish.
Analytical Skills: Infrastructure Analysts must be able to think critically and analyze complex systems. Demonstrating strong analytical skills on your resume is a must.
Communication: Infrastructure Analysts must communicate effectively with both technical and non-technical personnel. Therefore, showing that you have excellent communication skills is essential.
Including these skills on your resume will show potential employers that you have the necessary knowledge and experience to be a successful Infrastructure Analyst. With the right skills, you will be well on your way to landing the job of your dreams.
Key takeaways for an Infrastructure Analyst resume
When it comes to crafting your Infrastructure Analyst resume, there are a few key takeaways to keep in mind. Here are some of the things to consider when putting together your resume:
Highlight the technical skills you possess related to the job. As an Infrastructure Analyst, demonstrating your knowledge of servers, networks, and other related technologies is essential. On your resume, make sure to include any certifications or qualifications you have in these areas.
Showcase your problem-solving abilities. An Infrastructure Analyst must be able to identify and resolve any technical issues quickly and efficiently. So make sure to include any experience you have in troubleshooting and solving complex technical problems.
Demonstrate your experience in project management. As an Infrastructure Analyst, you will often be responsible for managing and coordinating projects. Therefore, make sure to include any project management experience you have on your resume.
Showcase your communication skills. As an Infrastructure Analyst, it's important to be able to effectively communicate with colleagues and clients. Make sure to include any experience you have in working with people in different departments and of various technical expertise levels.
By following these key takeaways, you can ensure that your Infrastructure Analyst resume stands out and helps you land the job.
Let us help you build
your Resume!
Make your resume more organized and attractive with our Resume Builder