Are you currently in the position of a Head of IT and looking for the right resume writing guide to create the perfect resume? You've come to the right place! Writing a resume for a Head of IT position can be challenging, but with the right approach, you can make sure that you get the right attention and land the job you're after. This guide will provide you with some great tips and examples of how to write an effective and eye-catching resume for a Head of IT position.
If you didn't find what you were looking for, be sure to check out our complete library of resume examples.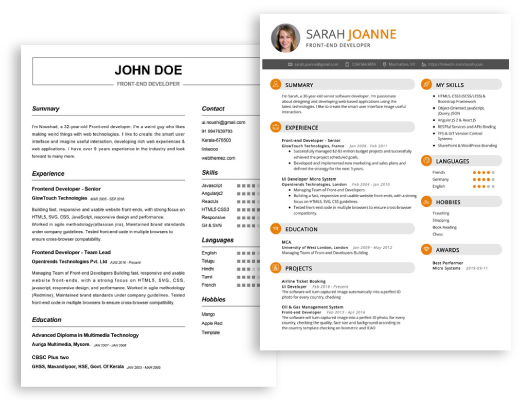 Start building your dream career today!
Create your professional resume in just 5 minutes with our easy-to-use resume builder!
Head Of IT Resume Examples
John Doe
Head Of IT
123 Main Street | Anytown, USA 99999 | Phone: (123) 456-7890 | Email: john.doe@email.com
Highly motivated and passionate IT professional with more than 15 years of experience in designing and developing successful IT solutions. Expert in managing IT teams, managing technical projects, and implementing innovative strategies to improve existing systems. An enthusiastic leader with a proven ability to build strong relationships with clients, stakeholders and various teams.
Core Skills:
Project and Risk Management
Team Leadership and Mentoring
Database Administration and Security
Network Design and Security
Systems Analysis, Design and Development
Enterprise System Design
System Integration and Testing
Professional Experience:
Head of IT, XYZ Corporation (2019- present)
Develop and implement IT strategies, policies, and procedures
Manage the IT team to deliver IT projects on time and within budget
Liaise with internal and external stakeholders to ensure all IT systems are running smoothly
Train and mentor the IT team to ensure that all team members are up to date on the latest technologies and trends
Monitor system performance and identify areas of improvement
Senior IT Manager, ABC Corporation (2015- 2019)
Developed and maintained all IT infrastructure across the organization
Managed and supported all IT systems, networks and security
Ensured all IT systems were compliant with industry standards and regulations
Developed and implemented IT policies and procedures to ensure security and continuity
Supervised and coached a team of 10 IT professionals
Education:
Bachelor of Science in Computer Science, ABC University (2011)
Master of Science in Computer Science, XYZ University (2015)
Head Of IT Resume with No Experience
Recent graduate with a Bachelor's Degree in Information Technology, eager to enter the Information Technology field and contribute my technical and analytical skills to the success of an organization.
Skills
Proficient in software installation, troubleshooting, and configuration
Strong knowledge of computer hardware, systems, and networks
Excellent communication, problem- solving, and customer service skills
Ability to analyze and interpret complex information
Capable of working independently or in a team setting
Proficient in Microsoft Office Suite and various other software applications
Responsibilities
Develop and maintain network security
Troubleshoot and resolve hardware and software issues
Install and upgrade hardware and software
Perform system backups and analyze system log files
Maintain and update hardware and software inventories
Provide technical support to users
Develop, implement, and enforce system security policies
Create and maintain user accounts and profiles
Monitor system performance and provide performance data
Head Of IT Resume with 2 Years of Experience
I am a motivated and experienced IT professional with over 2 years of experience in designing, developing, and maintaining IT systems. With a Bachelor's degree in Computer Science and expertise in a range of IT related fields, I have the knowledge and skills needed to ensure optimal performance and reliability for all IT systems. I have extensive experience in supporting and troubleshooting hardware and software issues, administering networks, and providing technical assistance. I am also highly proficient in developing web applications and developing IT strategies for businesses. With my strong communication and problem- solving skills, I am confident my contributions will benefit any organization.
Core Skills:
Network Administration
Software Troubleshooting
Web Application Development
IT Strategy Development
Database Management
Technical Support
Responsibilities:
Installing, configuring, and maintaining a wide range of software, hardware, and networks.
Troubleshooting and resolving hardware and software issues.
Developing and deploying web applications.
Administering networks and providing technical support.
Developing IT strategies and plans to meet organizational needs.
Creating and managing database systems.
Providing technical support and training to end users.
Head Of IT Resume with 5 Years of Experience
A highly organized and detail- oriented Head of IT with 5 years of experience managing IT operations in a range of industries. Proven track record of leading IT projects and initiatives to successful completion, while maintaining a focus on compliance and operational excellence. Possessing excellent problem solving and communication skills, as well as a hands- on understanding of the latest technologies and applications.
Core Skills:
IT Infrastructure Management
Project Management
Vendor Management
Service Delivery
Technology Leadership
Problem Solving
Networking
Data Analysis
Responsibilities:
Lead the design, development, and implementation of IT infrastructure and operations processes
Provide technical support and leadership to the IT team
Ensure compliance with relevant laws, regulations, and industry standards
Develop and implement IT policies and procedures
Monitor and analyze IT performance metrics
Manage vendor relationships and service delivery
Identify and resolve IT issues in a timely and efficient manner
Design and implement systems and network security measures
Provide technical guidance and training to team members
Perform regular maintenance and upgrades to IT systems
Head Of IT Resume with 7 Years of Experience
Successful IT Manager with 7 years of experience managing IT operations and teams. Proven ability to lead projects to successful completion while meeting deadlines and staying within budget. Adept in developing strategies and policies to maximize IT efficiency and minimize potential losses. Strong team builder with a track record of recruiting and retaining highly- skilled professionals.
Core Skills:
Proven IT management experience
Analytical and problem- solving skills
Network design and development
System security and optimization
Budgeting and cost- saving strategies
Team building and leadership
Project planning and management
Policy and procedure development
Responsibilities:
Directed overall IT operations and ensured proper functioning of IT systems.
Monitored IT expenditures and ensured that operations are cost- effective.
Developed and implemented IT policies and procedures to ensure efficient operation and control.
Developed strategies to evaluate and improve existing IT systems.
Managed projects and oversaw their successful completion within budget and timelines.
Recruited, trained and supervised IT staff to ensure that tasks are completed on time.
Ensured IT systems and networks are secure and monitored for potential security threats.
Liaised with vendors for procurement and repair of IT equipment to reduce costs.
Assessed and recommended new technologies to improve IT operations.
Head Of IT Resume with 10 Years of Experience
Highly experienced IT professional with over 10 years of expertise in IT management, application development and system engineering. Proven record of success in implementing high- performing IT solutions that improve efficiency and reduce operating costs. Demonstrated leadership ability in managing teams of IT professionals, while developing innovative solutions to complex technical challenges. Skilled communicator with a history of building and maintaining strong relationships with stakeholders, vendors and customers.
Core Skills:
IT management
Application development
System engineering
Networking
Database management
Technical analysis
Software development
Network security
Troubleshooting
Project management
Vendor management
Responsibilities:
Develop and maintain IT networks and systems.
Develop and implement new technologies and applications to enhance IT infrastructure.
Provide technical support and assistance to users.
Monitor and review systems performance and security.
Manage IT staff, including hiring, onboarding, training and coaching.
Develop and manage IT budgets, while controlling costs.
Develop and implement policies and procedures relating to IT systems.
Respond to technical inquiries and provide technical solutions.
Utilize agile methodology to develop, test and implement new applications.
Coordinate IT systems and services with vendors and customers.
Head Of IT Resume with 15 Years of Experience
With 15 years of experience delivering innovative IT solutions, John Doe is a proven IT Manager and leader. He has a strong track record of driving successful IT initiatives and creating stable, secure IT infrastructures. He is highly proficient in administering, configuring, and troubleshooting IT systems, networks, and applications. He is also experienced in leading, motivating, and developing teams to produce high- quality results.
Core Skills:
Leadership and Strategic Planning
Network Administration
Systems Troubleshooting
Application Installation and Maintenance
IT Security
Project Management
Vendor and Contract Management
Responsibilities:
Overseeing the day- to- day operations of the IT department
Developing and implementing strategies, policies, and procedures for the IT department
Managing and distributing IT resources, including hardware, software, and personnel
Ensuring compliance with data and security policies
Maintaining and configuring computer networks and systems
Installing and maintaining software and hardware
Troubleshooting and resolving IT issues
Keeping up- to- date with technology trends
Training staff on the use of IT systems
Creating and managing budgets, and monitoring expenses
Liaising with external vendors and suppliers.
In addition to this, be sure to check out our resume templates, resume formats, cover letter examples, job description, and career advice pages for more helpful tips and advice.
What should be included in a Head Of IT resume?
When preparing a resume for a Head of IT role, there are certain items that should be included to highlight the candidate's qualifications and experience as a technology leader.
Education: Include details of any qualifications relevant to the IT field, such as a Bachelor's degree in Computer Science or Information Technology.
Technical Expertise: Showcase relevant technical skills and any industry certifications that demonstrate proficiency in specific areas, such as network management or cybersecurity.
Professional Experience: Detail any positions that the candidate has held that are relevant to a Head of IT role, such as Senior IT Manager or Chief Technology Officer.
Management Experience: Provide details of previous management roles, including the size of any teams managed and any additional responsibilities held.
Project Management: Demonstrate an ability to plan and execute successful IT projects by highlighting any project management experience.
Leadership: Showcase examples of how the candidate has led teams and teams to success, such as developing IT strategies or introducing innovative solutions.
Results: Provide evidence of any significant achievements, such as cost savings or increased efficiency.
By including these items in a Head of IT resume, the candidate will be able to effectively showcase their experience and qualifications, allowing them to stand out from other applicants.
What is a good summary for a Head Of IT resume?
A Head of IT is a senior-level position that is responsible for overseeing all aspects of a company's information technology department. They are responsible for managing IT staff, directing technology initiatives, and overseeing the implementation of IT solutions and projects that are designed to meet the company's business needs.
A good summary for a Head of IT resume should include a concise description of the candidate's relevant experience, IT skills, and qualifications. It should also demonstrate their managerial capabilities and leadership qualities. The summary should also emphasize past accomplishments, such as developing IT strategies, managing complex projects, and streamlining processes. It should also showcase how the candidate has contributed to the success of the organization. Finally, it should convey the applicant's enthusiasm and passion for the IT field.
What is a good objective for a Head Of IT resume?
A Head Of IT resume should include a concise, clear and professional objective that communicates the candidate's skills and experience. The objective should also reflect the company's needs and expectations for the role. Here are some good objectives for a Head Of IT resume:
To leverage my expertise in developing and implementing IT strategies, leading IT teams and managing IT operations to ensure successful IT operations and efficient project delivery at [company name].
To drive the IT department to maximize efficiencies and ensure successful delivery of IT projects by leveraging my current experience in IT management and strategic development.
Seeking a Head of IT position to utilize my 10+ years of experience managing IT operations, leading IT teams and delivering successful projects to [company name].
To apply my knowledge of network and system administration, industry best practices and project management principles to lead the IT team at [company name] and ensure successful project implementation.
Aiming to use my leadership skills, experience in IT operations and knowledge of industry best practices to guide the IT team at [company name] to success.
How do you list Head Of IT skills on a resume?
In order to successfully list your Head Of IT skills on your resume, you should include a brief summary of the qualifications and experience that make you the ideal candidate for the position. Use the following tips to showcase your qualifications in a way that will stand out to employers:
Highlight your technical skills: List the technical skills that you possess that make you the perfect fit for this role. Include any programming languages, operating systems, or other software-related qualifications.
Describe your leadership experience: Talk about any past experiences you had in managing and leading a team. Include any specific projects you worked on and how you managed them successfully.
Showcase your problem-solving abilities: Demonstrate your ability to troubleshoot and solve complex problems that arise. Describe any challenges you faced and how you managed to overcome them.
Mention any certifications or awards: If you have any certifications or awards related to the IT field, then make sure to include them on your resume. This will show that you have a high level of technical knowledge and expertise.
By including these qualifications and experiences on your resume, you will be able to give employers a better understanding of your qualifications and capabilities as a Head Of IT. This will help you stand out amongst other applicants and give you a better chance of landing the job.
What skills should I put on my resume for Head Of IT?
When creating a resume for a Head of IT position, it's important to show potential employers that you have the necessary technical and management skills needed to excel in the role. The following is a list of skills you should consider including on your resume:-
Expertise in IT Management: As the Head of IT, you will be responsible for the management of all IT systems, software, hardware, and personnel. Show potential employers that you have the leadership skills and experience necessary to manage an IT team.
Extensive Technical Knowledge: Demonstrate that you have an in-depth understanding of the latest IT technologies and systems, including networking, software development, and cybersecurity.
Problem-Solving Skills: Head of IT positions require you to be able to quickly identify and solve problems. Show potential employers that you are capable of troubleshooting and resolving IT issues.
Project Management Experience: A successful Head of IT will be able to manage multiple projects at once and delegate tasks to other IT personnel. Show potential employers that you have experience managing IT projects, from start to finish.
Strong Communication Skills: You will need to be able to effectively communicate with other departments and employees. Demonstrate that you have the ability to explain complex technical concepts in a way that is understandable for non-technical audiences.
By including these skills on your resume, you can show potential employers that you are ready to take on the role of Head of IT.
Key takeaways for an Head Of IT resume
As a Head of IT, your resume should demonstrate your ability to build and lead successful IT teams, understand and utilize cutting-edge technologies, and work closely with other departments to ensure technology projects are completed on time and on budget. To ensure your resume stands out, here are some key takeaways for creating an effective Head of IT resume:
Highlight Your Technical Expertise. As a Head of IT, you should highlight your knowledge and expertise in a wide range of technologies, such as cloud computing, networks, databases, security, and software development. Make sure to list any certifications you have and include links to any technical blogs or articles you've written.
Demonstrate Your Leadership Skills. As a Head of IT, you're expected to lead the IT team, collaborate with other departments, and work closely with stakeholders. Make sure to include any instances where you've successfully led projects or teams and demonstrate how you can leverage your skills to motivate and inspire teams to achieve outstanding results.
Highlight Your Communication Skills. Being able to communicate technical concepts to a non-technical audience is an essential skill for a Head of IT. Be sure to include any examples where you've successfully communicated complex technical concepts to stakeholders and other departments.
Showcase Your Problem-Solving Skills. As a Head of IT, you should be able to think quickly and effectively solve complex problems. Make sure to include any instances where you've successfully identified and solved problems within an IT environment.
Demonstrate Your Strategic Thinking. As a Head of IT, you should be able to think strategically and be able to anticipate potential problems and plan ahead. Include any instances where you've successfully implemented strategies that led to positive outcomes.
By following these key takeaways, you can create an effective Head of IT resume that will stand out and help you land the job.
Let us help you build
your Resume!
Make your resume more organized and attractive with our Resume Builder