Writing a resume as a hacker can be daunting. After all, they are one of the most powerful job search tools out there. If you don't know how to write a hacker resume that stands out, you could find yourself behind the competition. Fortunately, with a few key tips and some examples, you can craft an impressive hacker resume that will help you land the job you're after. In this guide, we'll cover the essentials of writing a hacker resume, from format and structure to content and other considerations. We'll even provide some helpful examples to get your creative juices flowing. By the end, you'll have all the know-how and tools to write a resume that will make recruiters take notice.
If you didn't find what you were looking for, be sure to check out our complete library of resume examples.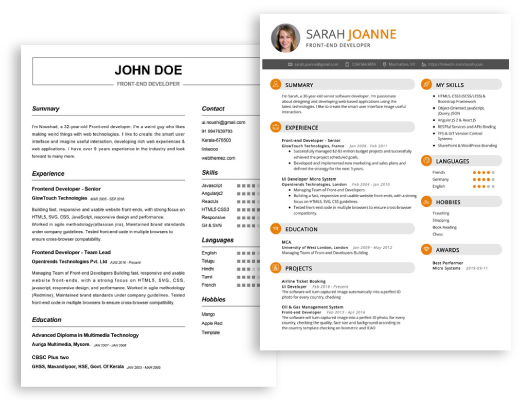 Start building your dream career today!
Create your professional resume in just 5 minutes with our easy-to-use resume builder!
Hacker Resume Examples
John Doe
Hacker
123 Main Street | Anytown, USA 99999 | Phone: (123) 456-7890 | Email: john.doe@email.com
I am a highly motivated and enthusiastic professional with an extensive background in the field of Information Technology. With over 10 years of experience in the IT field, I possess a vast array of technical skills and the ability to troubleshoot, configure and maintain complex network systems. My commitment to providing quality service and customer satisfaction has earned me excellent reviews in my IT career. I am a team player, with good communication and interpersonal skills and a passion to continually learn and grow in the IT field.
Core Skills:
Network Administration
System Administration
Windows Server
Linux Server
Network Troubleshooting
Virtualization
Scripting
Database Administration
Professional Experience:
Network Administrator – ABC Corporation, 2017–Present
Maintained and configured Windows and Linux servers and applications.
Monitored network performance and developed solutions to improve network operations.
Troubleshot and resolved network problems in a timely and effective manner.
Implemented and maintained system security protocols and best practices.
Developed scripts to automate system processes and increase efficiency.
Systems Engineer – XYZ Corporation, 2012–2017
Installed, configured, and maintained hardware, software and network systems.
Managed and administered databases, monitored system performance, and prepared reports.
Analyzed, identified and troubleshot network issues and provided solutions.
Developed and implemented security protocols to protect system data and resources.
Developed automation scripts to improve system performance and efficiency.
Education:
Bachelor of Science in Information Technology, XYZ University, 2010
Hacker Resume with No Experience
Recent college graduate with a passion for technology and programming. Looking to obtain an entry level position to gain experience and knowledge in the development field.
Skills:
Knowledge of HTML, CSS and JavaScript
Understanding of Object- Oriented Programming
Proficient in Microsoft Office Suite
Strong research and problem solving skills
Excellent communication and collaboration skills
Responsibilities:
Assist in the development and maintenance of websites
Write code to create user- friendly web pages
Perform coding and debugging tasks for web applications
Participate in the development of innovative software solutions
Provide support and troubleshooting for web applications
Maintain quality control standards for web applications
Hacker Resume with 2 Years of Experience
I am a forward- thinking, driven hacker with two years of experience in the field. I possess a unique blend of technical acumen and an eye for detail, which I use to ensure the safe and secure development of systems. My background includes working with a variety of people, businesses, and technologies; this has allowed me to gain a plethora of skills and knowledge to maintain the integrity of complex systems. Additionally, I am a strong communicator, adept at solving problems, and always eager to learn new techniques.
Core Skills:
Network Security
Web Application Security
Penetration Testing
Cryptography
Incident Response
Threat Modeling
Vulnerability Management
Responsibilities:
Perform Penetration Tests to check for security vulnerabilities in computer networks and systems.
Develop and maintain security policies, procedures, and best practices.
Monitor networks for any suspicious activity and take appropriate action.
Utilize various tools and techniques to assess system security.
Perform vulnerability assessments to identify and prioritize security risks.
Investigate potential security breaches and take the necessary steps to mitigate risks.
Research the latest security technologies and techniques and recommend changes to ensure the security of the organization's systems.
Develop scripts and tools to assist in security monitoring and assessment.
Educate staff on security policies and best practices.
Hacker Resume with 5 Years of Experience
I am a highly experienced hacker with 5 years of demonstrated excellence in the security field. With a diverse background in a variety of systems and networks, I am able to adapt quickly to any changing technology and adapt my skills accordingly. I am well- versed in the latest technologies, including active intrusion detection and prevention, encryption, virtual private networks, and firewall configurations. My experience also includes developing security strategies, designing and deploying secure networks, and assessing and responding to threats.
Core Skills:
Active intrusion detection and prevention
Network security systems
Firewall configurations
Encryption algorithms
Vulnerability assessment and management
Risk and compliance management
Disaster recovery planning
System and network administration
Scripting and programming
Penetration testing
Responsibilities:
Developing and implementing security policies, standards, and procedures
Performing vulnerability analyses, risk assessments, and security audits
Designing, building, and maintaining secure networks
Monitoring security systems and identifying potential threats
Installing, configuring, and managing security hardware and software
Investigating security incidents and responding accordingly
Establishing and maintaining security awareness programs
Maintaining detailed records of security systems and incidents
Testing and evaluating new security products and technologies
Hacker Resume with 7 Years of Experience
I am a highly motivated and well- qualified technology professional with a track- record of success in leading engineering teams, developing and deploying innovative solutions, and driving business growth. With over 7 years of experience in the technology sector, I have worked in various roles such as a software engineer, system engineer and software development Manager. My expertise lies in developing high- performance applications, automating processes, and helping businesses solve complex business problems. I am an organized, results- driven individual with the ability to work independently, collaboratively, and efficiently to meet objectives.
Core Skills:
Proficiency in programming languages such as Java, C++, C#, and Python
Expertise in web development technologies such as HTML, CSS, JavaScript, Node.js, and React
Knowledge of database technologies such as MySQL, Oracle, MongoDB, and PostgreSQL
Experience with software development and lifecycle methodologies such as Agile and Scrum
Proven ability to develop, design, and maintain high- performance applications
Strong communication and customer service skills
Responsibilities:
Design and develop software solutions based on customer requirements
Develop and implement new functionality to existing applications
Write, maintain, and debug software code
Perform unit testing to ensure software quality
Monitor application performance and identify areas for improvement
Work collaboratively with other team members on software development projects
Provide technical support and troubleshoot application issues
Maintain and update documentation for software applications
Hacker Resume with 10 Years of Experience
I am a highly experienced and motivated Hacker with 10+ years of experience. I specialize in information security and have extensive experience with various exploits and vulnerabilities. My core skills include thorough knowledge and experience of malware, intrusion detection and prevention, cryptography, and ethical hacking. I have also built and deployed secure infrastructures for multiple clients. I am always looking for new projects and challenges that allow me to expand my knowledge and skills.
Core Skills:
Malware Analysis
Intrusion Detection and Prevention
Cryptography
Ethical Hacking
Secure Infrastructure Building and Deployment
Responsibilities:
Analyzing and assessing security vulnerabilities in systems and networking
Developing and implementing security solutions for clients
Cooperating with other team members to address security threats
Coordinating security solutions and policies with other departments
Executing tests and quality assurance of security solutions
Investigating and responding to security incidents
Monitoring security systems and ensuring compliance with security policies
Troubleshooting and resolving security- related issues
Hacker Resume with 15 Years of Experience
I am a highly motivated and experienced hacker with fifteen years in the industry. My expertise lies in various forms of information security and ethical hacking, including penetration testing, vulnerability and risk assessment, secure coding, and incident response. My core skills include network security and application security, secure coding, vulnerability assessment and management, risk assessment and management, secure data storage and retrieval, and incident response. My responsibilities also include developing security policies and procedures, security architecture, and working with software developers to ensure secure coding and software development processes. I am a team player and have the ability to work on complex security challenges and present findings to senior management.
Core Skills:
Network security
Application security
Secure coding
Vulnerability assessment and management
Risk assessment and management
Secure data storage and retrieval
Incident response
Security policy and procedure development
Security architecture
Software development process implementation
Responsibilities:
Developing, testing and enforcing information security policies and procedures
Developing and maintaining security architectures
Penetration testing and vulnerability assessment
Network security design and implementation
Application security design and implementation
Writing secure code and developing secure coding processes
Developing secure data storage and retrieval processes
Monitoring and responding to security incidents
Training development staff on security principles
Identifying and mitigating security risks.
In addition to this, be sure to check out our resume templates, resume formats, cover letter examples, job description, and career advice pages for more helpful tips and advice.
What should be included in a Hacker resume?
When it comes to writing resumes for hackers, there are certain key elements that you may want to include to make sure that your resume stands out. By incorporating these key elements into your resume, you can make sure that you convey your skills and experience in the most effective way possible. Here is what should be included in a hacker resume:
Professional Summary: This section should provide a brief overview of your skills and experience. It is also a great way to show off your technical knowledge and any other skills that make you well-suited for the position.
Core Strengths: List any key skills that you possess that are related to hacking. This could include knowledge of programming languages, coding abilities, and any other technical skills that could be relevant.
Experience: List any past roles that you have held that are related to hacking. Include any accomplishments that you achieved during your time in these roles and any technical projects that you have worked on.
Education: Include any relevant education that you have completed that is related to hacking. This could include any certifications or courses that you have taken in the field.
Professional Training: If you have participated in any professional training that is related to hacking, this is a great opportunity to show off your commitment to your career. Make sure to list what type of training you participated in and any certifications that you may have earned.
By incorporating these elements into your hacker resume, you can ensure that it will stand out to potential employers. With a resume that is tailored to the position that you are applying for, you have the best chance of making a good impression.
What is a good summary for a Hacker resume?
A good summary for a Hacker resume should be succinct and emphasize key skills and experiences related to the job. It should showcase the hacker's knowledge and experience of cybersecurity, coding, and hacking tools. The summary should also highlight the hacker's aptitude for problem-solving, their ability to think critically, and their experience in using defensive and offensive security strategies. Additionally, the summary should mention any certifications held in related fields and any awards or recognitions the hacker has earned. By highlighting the hacker's most pertinent skills and experiences, a summary can help employers quickly identify the hacker as a qualified job candidate.
What is a good objective for a Hacker resume?
A hacker resume should reflect the candidate's expertise in computer programming and software development. It should be well-written, organized and tailored to the job for which the applicant is applying. A good objective for a hacker resume should be focused, clear and concise and should demonstrate the candidate's interest in the position and the organization.
Here are some examples of good objectives for a hacker resume:
To obtain a challenging position as a hacker that will enable me to utilize my knowledge of computer programming, software development, and problem solving skills.
Seeking a hacker position that will utilize my experience in software development, technical analysis and data security.
To secure a hacker position that will take advantage of my strengths in coding, debugging and software engineering.
To acquire a challenging hacker position that capitalizes on my experience in developing secure applications and protecting networks from cyber-attacks.
Seeking a hacker role that will enable me to utilize my knowledge of software development, scripting languages and network security.
How do you list Hacker skills on a resume?
When it comes to listing your hacker skills on a resume, there are a few key points to keep in mind. You want to make sure that your skills are properly highlighted, which will give potential employers an idea of your ability to work with technology and how you can be an asset to their team. Here are some tips on how to list hacker skills on a resume:
Include an Accurate Description of Your Hacker Skills: Make sure you include an accurate and concise description of your hacker skills. Give potential employers a clear sense of your knowledge and experience. Include details on the software, programming languages, and systems you have used, as well as any certifications or awards associated with your work.
Use Relevant Keywords: When listing your hacker skills on your resume, use keywords that are relevant to the position you are applying for. This will help employers quickly identify your relevant experience and knowledge.
Format the List Intelligently: Make sure your hacker skills are listed in a logical order, with the most important and relevant skills listed first. This will help employers quickly find and assess the skills on your resume and make it easier for them to make decisions about your qualifications.
Provide Examples: If possible, provide examples of how you have used your hacker skills in the past. This will help employers understand how you can utilize your skills for the benefit of the company and give them a better idea of your value as an employee.
By following these tips, you can ensure that your hacker skills are properly highlighted and that potential employers can get a better idea of your abilities. By listing your skills accurately, you can make yourself more attractive to potential employers and provide them with the evidence they need to make their decision.
What skills should I put on my resume for Hacker?
It's always important to include skills that relate to the job you're applying for on your resume. If you're applying for a job as a hacker, it's essential to showcase your technical abilities. Here are some skills to include on your resume for a hacker job:
Network Security: Demonstrate your knowledge of network security including firewalls, intrusion detection, and risk management.
Programming: Detail your experience with programming languages such as C++, Java, and Python.
Operating Systems: Showcase your familiarity with commonly used operating systems such as Linux, Windows, and Mac OS.
Data Analysis: Highlight your ability to analyze complex data sets and draw meaningful conclusions from them.
Database Design: Show that you can design and manage databases, including relational databases.
Cryptography: Demonstrate your knowledge of cryptography, including encryption algorithms and digital signatures.
Reverse Engineering: Emphasize your experience with reverse engineering and malware analysis.
Ethical Hacking: Show that you can use ethical hacking techniques to identify weaknesses in computer systems.
Cybercrime Investigation: Describe your experience with cybercrime investigations, including evidence collection and analysis.
Cyber Security: Illustrate your understanding of cyber security concepts such as authentication, authorization, and identity management.
Key takeaways for an Hacker resume
Your hacker resume is one of the most important documents you will ever write. It's an opportunity to showcase your skills, skillsets, and accomplishments that make you stand out from the competition.
When you write a Hacker resume, it's important to keep in mind the key takeaways you need to highlight. Here are some tips for you to consider:
Focus on accomplishments: Your resume should be a story about your achievements. This means that you should focus on what you have done, not just the titles you have held. Showcasing your successes makes you stand out from the other applicants and will likely help you land an interview.
Highlight your technical skills: As a Hacker, your technical skills are your bread and butter. Make sure to list out all of the programming languages, databases, and frameworks you are familiar with. You should also showcase any certifications or other achievements that demonstrate your expertise.
Showcase your experience: It's important to show that you have the necessary experience to be successful in the role. List out any projects you have worked on and what your role was. You should also mention any awards or recognition you have received, as this will be a major plus for potential employers.
Demonstrate your passion: As a Hacker, you will be expected to have a passion for your work. Showcasing your enthusiasm for the field and your willingness to stay current on new technologies will make you stand out from other candidates.
Following these tips will help you create a strong resume that will get you noticed. Use these key takeaways to create a Hacker resume that will make you shine!
Let us help you build
your Resume!
Make your resume more organized and attractive with our Resume Builder