Writing a resume can be daunting, especially when applying for a position such as a Functional Analyst. This post is designed to guide you through the process, providing tips, tricks and examples to help you create a standout Functional Analyst resume. We'll cover everything from choosing the right format and selecting your skills to tailoring your experience section and adding in the right keywords. By the end of this post, you'll have the confidence to write a Functional Analyst resume that will impress and help you secure an interview.
If you didn't find what you were looking for, be sure to check out our complete library of resume examples.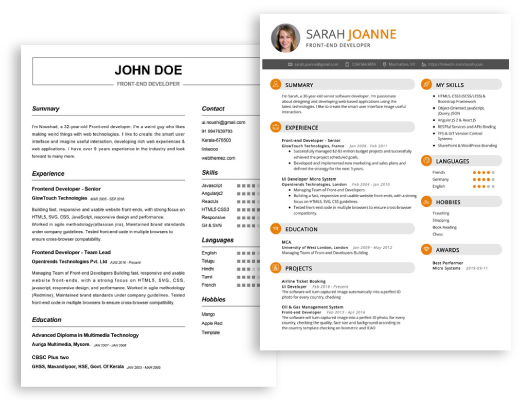 Start building your dream career today!
Create your professional resume in just 5 minutes with our easy-to-use resume builder!
Functional Analyst Resume Examples
John Doe
Functional Analyst
123 Main Street | Anytown, USA 99999 | Phone: (123) 456-7890 | Email: john.doe@email.com
As a seasoned functional analyst, I am a highly detail- oriented individual with a passion for problem- solving. With over ten years of experience in the field, I have been able to hone my skillset to include a deep understanding of software development life cycles, scripting and debugging solutions, and the ability to analyze complex data. I am confident in my ability to work well with teams to ensure that projects are completed on time and within budget.
Core Skills:
Software Development Life cycle
Scripting and Debugging Solutions
Data Analysis
Problem- Solving
Client Service
Professional Experience:
Senior Functional Analyst, XYZ Corporation, 2018- 2020
Gathered and analyzed project requirements for a top- level software product.
Developed scripts and other solutions to improve the product's workflow.
Performed analysis on customer feedback and adjusted the product accordingly.
Led a team of junior analysts and assisted in troubleshooting issues when necessary.
Collaborated with developers to ensure that the product met quality standards.
Functional Analyst, ABC Corporation, 2014- 2018
Gathered and analyzed business requirements to identify the best solutions.
Developed and maintained scripts to automate various processes.
Performed tests to ensure that the solutions provided met the needs of the stakeholders.
Provided technical training to junior analysts.
Documented processes to ensure that the necessary information was available for future use.
Education:
Bachelor of Science in Computer Science, XYZ University, 2010- 2014
Functional Analyst Resume with No Experience
Recent graduate with a Bachelor's Degree in Computer Science. Knowledge of programming, system analysis and troubleshooting. Looking to gain experience and knowledge in the field of functional analysis.
Skills
System Analysis
Troubleshooting
Problem Solving
Programming
Technical Writing
Database Design
Responsibilities
Establish requirements for projects and plan system architecture
Analyze data from various sources to identify trends
Design, implement and maintain computer systems
Troubleshoot and resolve system issues
Collaborate with stakeholders to ensure requirements are met
Document system processes and functions
Functional Analyst Resume with 2 Years of Experience
Dynamic Functional Analyst with 2 years of experience in providing technical and analytical support for a wide range of projects and initiatives. Possesses excellent problem- solving, analytical and customer service skills. Ability to develop useful business solutions and to work collaboratively in a team environment. Demonstrated success in gathering customer requirements and in creating user acceptance test plans and specifications.
Core Skills:
Business Analysis
User Requirements Analysis
Documentation
Process Modeling
System Design
Troubleshooting
System Testing
Project Management
Problem- Solving
Communication
Customer Service
Responsibilities:
Facilitated business requirements analysis and collaborated with stakeholders to ensure requirements were accurately documented.
Developed user acceptance test plans and specifications.
Assisted in the design of the project by identifying and defining the system components and workflows.
Created detailed documentation such as data models, process models, system diagrams, user stories and wireframes.
Developed new system functionality and functionality improvements using programming languages.
Conducted tests of system components to identify errors and develop solutions for improvement.
Developed and maintained up- to- date process documents and end user manuals.
Monitored system performance and identified and resolved system issues.
Responded to user inquiries and provided technical support.
Collaborated with other members of the project team to ensure project objectives were met.
Functional Analyst Resume with 5 Years of Experience
Highly organized and detail- oriented Functional Analyst with 5 years of experience in software testing, technical analysis, and information technology support. Hardworking and reliable with expertise in problem solving, systems analysis, and scripting. Skilled in working with both internal and external stakeholders to meet business requirements. Experienced in developing, testing, and delivering secure, cost- effective IT systems.
Core Skills:
Software Testing
Technical Analysis
Problem Solving
System Analysis
Scripting
Business Requirements
Software Development
Documentation
System Security
Quality Assurance
Project Management
Responsibilities:
Designed and tested complex software applications
Analyzed system performance and identified areas needing performance improvement
Developed and implemented system security policies
Developed and implemented test plans and scripts
Assisted in developing and managing project plans
Prepared technical documentation for user training and system specifications
Collaborated with internal and external stakeholders to ensure successful system delivery
Performed quality assurance testing to ensure software functionality
Evaluated system requirements and developed technical solutions
Resolved technical issues in a timely manner
Functional Analyst Resume with 7 Years of Experience
Results- driven and innovative Functional Analyst with 7+ years of experience in developing, testing, and validating complex systems. Adept at managing projects, developing custom solutions, and leading teams through all phases of the software development life cycle. Skilled in gathering and translating customer requirements into solutions that add value to the organization. Proven ability to identify and resolve issues quickly and accurately.
Core Skills:
System Design & Development
Requirements Analysis & Gathering
User Acceptance Testing & Troubleshooting
Data Modeling & Database Design
Agile & Scrum Methodologies
Business Process Modeling & Re- engineering
System Integration & Deployment
Quality Assurance & Documentation
Responsibilities:
Liaised with business users and stakeholders to identify, analyze and document functional requirements.
Developed data models, designed and created databases, tables, and views.
Developed and implemented internal software systems, including user interfaces, and back- end databases.
Performed user acceptance testing, identified and corrected errors, and deployed software.
Developed project plans and facilitated project meetings.
Developed system integration and migration strategies.
Carried out software quality assurance activities and prepared appropriate documents.
Developed custom solutions and provided technical support.
Functional Analyst Resume with 10 Years of Experience
Highly experienced Functional Analyst with over 10 years of experience in providing technical analysis, process engineering, and systems analysis. Proven ability to work with stakeholders to identify project requirements and to implement system- related solutions. Skilled in managing client requirements, developing user specifications, and in providing end- user support. Proven track record in developing functional and technical project plans, designing workflows, managing databases, and designing user interfaces.
Core Skills:
Data Analysis
Project Management
Systems Analysis
User Support
Process Engineering
Stakeholder Management
Workflow Design
Business Process Improvement
Database Management
User Interface Design
Responsibilities:
Providing technical analysis and process engineering support for projects
Gathering requirements from stakeholders and translating them into technical specifications
Developing user specifications and project plans
Performing data analysis and database management
Developing workflows and user interfaces
Designing and developing system testing scenarios
Providing end- user support and training
Implementing business process improvements to increase efficiency
Maintaining system documentation and providing training to new users.
Functional Analyst Resume with 15 Years of Experience
A professional and goal- oriented Functional Analyst with 15 years of experience in system analysis and software development. Proven ability to work with different stakeholders to understand the business needs, analyze requirements, develop user stories and create process maps. Adept in providing support to application and data warehouse users, as well as troubleshooting system issues. Skilled in project management and problem solving with a strong commitment to customer service and satisfaction.
Core Skills:
Collaboration
Software Development
System Analysis
Requirements Analysis
Process Mapping
Project Management
Troubleshooting
User Support
Data Warehouse
Problem- solving
Responsibilities:
Analyzed and documented user requirements and business processes.
Collaborated with system stakeholders and product owners to develop user stories and process maps.
Developed and tested software applications across multiple platforms.
Supported data warehouse and application users by troubleshooting system issues.
Assisted in preparing system development plans and project timelines.
Developed test plans and conducted regular system tests.
Analyzed and optimized existing system architecture.
Monitored system performance and provided recommendations for improvement.
Developed and maintained good customer relationships.
In addition to this, be sure to check out our resume templates, resume formats, cover letter examples, job description, and career advice pages for more helpful tips and advice.
What should be included in a Functional Analyst resume?
A Functional Analyst resume should contain a comprehensive overview of the candidate's skills and experience. It should also highlight their qualifications and accomplishments. Here is a list of some important items that should be included:
Professional summary: A short, engaging summary of your qualifications and professional background.
Technical experience: Include any software and programming skills, software development experience and experience with databases.
Experience with Project Management: List any experience with organizing, creating and managing projects as well as managing teams.
Analytical Skills: Demonstrate your abilities to analyze data and interpret results.
Problem Solving Skills: Show how you can identify potential issues and devise solutions.
Communication Skills: Describe ways you can communicate effectively with teams and clients.
Interpersonal Skills: Explain how you can collaborate with colleagues and clients to reach project goals.
Education: List any degrees or certifications that are relevant to the role.
These are just some of the key items that should be included in a Functional Analyst resume. It's important to customize the resume to highlight the most relevant skills and experiences that make you well qualified for the role.
What is a good summary for a Functional Analyst resume?
A Functional Analyst resume should highlight technical expertise, problem solving skills, and communication skills. It should indicate knowledge of software development lifecycle, system analysis and design, and project management. Additionally, it should demonstrate the ability to analyze business requirements, define processes and systems, and create solutions that meet user needs. The summary should also emphasize the ability to develop technical specifications, systems diagrams, and data flows. Finally, the summary should emphasize the ability to collaborate with customers, stakeholders, and other departments to ensure successful project outcomes.
What is a good objective for a Functional Analyst resume?
A functional analyst helps to bridge the gap between technology and end users in organizations. A functional analyst must have strong communication, analytical, and problem-solving skills. A good objective for a functional analyst resume should include the following points:
Demonstrate an ability to convert business requirements into system solutions
Utilize advanced analytic and problem-solving skills to investigate and resolve IT issues
Develop a deep understanding of the company's systems, processes, and operations to create more effective IT solutions
Design, develop, test, and deploy systems to meet organizational needs
Collaborate with stakeholders to identify areas of improvement in systems and processes
Work closely with project managers to meet project objectives and deadlines
Train users on new technology and systems
Remain up-to-date on emerging technologies to maximize efficiency and productivity
How do you list Functional Analyst skills on a resume?
When creating a resume as a Functional Analyst, it's important to showcase the skills and experience that make you the ideal candidate for the job. Below are some of the key skills and areas of expertise that should be included in your resume when applying for a Functional Analyst position.
Problem Solving: As a Functional Analyst, you are expected to have a strong problem-solving capability. Your resume should include examples of how you have solved complex business problems to improve productivity and performance.
Business Analysis: You should have extensive experience in business analysis, including requirements gathering, process mapping, and data modelling.
Data Visualization: As a Functional Analyst, you should have the ability to create effective data visualizations that allow stakeholders to easily interpret data.
Troubleshooting: You should have a proven track record of troubleshooting and resolving software and hardware issues.
Project Management: As a Functional Analyst, you should have the skills to manage projects, including developing project roadmaps, delegating tasks, and meeting project deadlines.
Technical Writing: You should be able to clearly communicate complex technical concepts in a concise and easy-to-understand manner.
Leadership: As a Functional Analyst, you should have the ability to take the lead on projects, develop strategies, and mentor other team members.
By including these skills and areas of expertise on your resume, you will be well-positioned to land a Functional Analyst job. Demonstrating your proficiency in these areas is sure to impress potential employers.
What skills should I put on my resume for Functional Analyst?
A Functional Analyst is a professional who works with business stakeholders to analyze and document the requirements of a project. A Functional Analyst must have a variety of skills to be successful in their role. With the right set of skills, a Functional Analyst can be a valuable asset to any team. Here are some essential skills you should highlight on your resume to demonstrate your aptitude for the job:
Analytical Thinking: Functional Analysts are expected to have strong analytical thinking skills. This involves being able to identify a problem, breaking it down into its components, and coming up with solutions or strategies.
Documentation: A Functional Analyst must be able to create detailed and accurate documentation of the project requirements. This includes creating diagrams, user stories, and specifications.
Communication: Good communication is essential for a Functional Analyst. Your resume should demonstrate your ability to effectively communicate both verbally and in writing.
Project Management: Functional Analysts typically work on multiple projects at once and must be able to effectively manage their time and prioritize tasks. Your resume should showcase your project management skills, such as the ability to plan, organize, and coordinate activities.
Data Analysis: A Functional Analyst must be able to analyze data and draw conclusions from it. This includes the ability to interpret data and spot trends, as well as the ability to identify potential risks.
Technical Knowledge: Functional Analysts should have a good understanding of the technical aspects of the project. This includes expertise in programming languages, databases, and other software. You should include any technical skills you possess on your resume.
Key takeaways for an Functional Analyst resume
Functional analysts are key players in any organization, responsible for the design and implementation of software solutions. A functional analyst resume should highlight your problem-solving abilities, technical knowledge and ability to collaborate with stakeholders. Here are some key takeaways for crafting an effective functional analyst resume:
Highlight your problem-solving skills: Make sure to include past experiences that demonstrate your ability to solve complex challenges. Showcase your analytical skills and ability to use data to make informed decisions.
Demonstrate your technical knowledge: Include relevant certifications, skills and past projects that showcase your technical skills. If you have any experience with coding languages or software platforms, include those as well.
Showcase your collaboration skills: Functional analysts often need to work with a variety of stakeholders, so it's important to include evidence of your ability to work effectively with others. Include past experiences that demonstrate your ability to communicate clearly and effectively, as well as your ability to manage competing priorities.
Focus on accomplishments: Be sure to include any accomplishments that you've achieved in previous roles. Include specific examples of how your work improved processes and led to successful outcomes.
By highlighting these key takeaways, you can create an effective functional analyst resume that will help you stand out from the competition.
Let us help you build
your Resume!
Make your resume more organized and attractive with our Resume Builder