Writing a resume as a freelancer can be a challenge, especially if you don't have a full-time job to display on your resume. You may be wondering how to not only create a resume that stands out, but also how to make it convincing enough to show potential clients and employers that you are the right choice for them. With this guide, you will learn how to write a powerful freelance resume that will help you get noticed and be taken seriously. We will provide you with tips for writing the perfect freelance resume, including examples of good resumes, advice on how to showcase your skills, and more.
If you didn't find what you were looking for, be sure to check out our complete library of resume examples.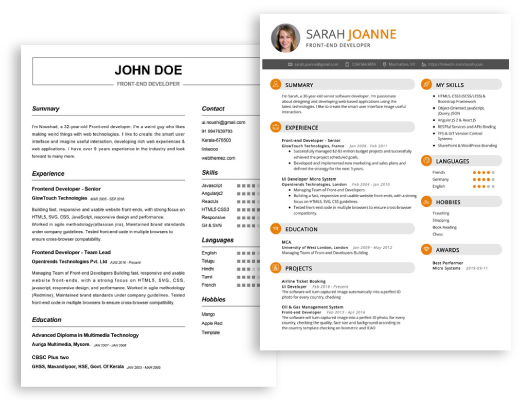 Start building your dream career today!
Create your professional resume in just 5 minutes with our easy-to-use resume builder!
Freelancer Resume Examples
John Doe
Freelancer
123 Main Street | Anytown, USA 99999 | Phone: (123) 456-7890 | Email: john.doe@email.com
I am a driven and organized professional with extensive experience in freelance projects, proficient in writing and research, project management and customer service. I am committed to providing high quality and timely support to my clients. My strong communication and organizational skills, combined with my dedication to professionalism and customer satisfaction, make me an ideal candidate for any freelance project.
Core Skills:
Proven track record in successful project management and customer service
Ability to efficiently prioritize tasks and meet deadlines
Skilled in writing, research and communication
Proficient in web design and content management systems
Familiarity with SEO and other internet marketing strategies
Advanced knowledge of Microsoft Office and other software applications
Professional Experience:
Freelance Writer – 2015- present
Wrote articles, blog posts and reviews for various websites and clients
Used SEO techniques to optimize content
Researched topics and wrote white papers
Compiled monthly content reports
Met all deadlines and ensured quality of work
Freelance Editor – 2011- 2015
Edited articles, blog posts and reviews for a variety of web publications
Conducted fact- checking and copyediting
Verified data accuracy, grammar and syntax
Managed projects from initial concept to completion
Education:
Bachelor of Arts – English – University of Seattle – 2009- 2013
Freelancer Resume with No Experience
Recent college graduate with strong research and problem- solving skills, looking for a freelance opportunity to help build experience in the field of business. Adept at working independently and as part of a team in a fast- paced environment.
Skills
Strong communication and interpersonal skills
Ability to organize and prioritize tasks
Proficient with Microsoft Office Suite
Excellent written and verbal communication
Ability to work with minimal supervision
Collaborative problem- solving skills
Creative and analytical thinking
Responsibilities
Conduct research on potential clients and projects
Develop proposals and presentations
Negotiate deals with clients
Manage and monitor project timelines
Stay up- to- date with industry trends and changes
Communicate with clients in a professional manner
Provide guidance and support to team members
Freelancer Resume with 2 Years of Experience
A highly creative and motivated professional with more than 2 years of experience in the freelancing field and a passion for delivering exceptional results. Proven track record of successfully managing projects, meeting deadlines, and keeping within a budget. Skilled in web design, coding, data entry, content writing, graphic design, and customer service. Proficient in the use of Adobe Creative Suite and Microsoft Office software. Exceptional ability to work independently or as part of a team.
Core Skills:
Project Management
Communication and Interpersonal Skills
Leadership
Product Knowledge
Technical Knowledge
Time Management
Networking
Responsibilities:
Developing and executing project plans, budget management, and meeting deadlines.
Managing customer service inquiries and responding in a timely manner.
Designing graphics, developing HTML and CSS, and creating content for websites.
Developing and executing marketing campaigns.
Developing and maintaining relationships with existing and potential clients.
Identifying opportunities for improvement in customer service and marketing strategies.
Developing creative approaches to problem solving and multitasking.
Freelancer Resume with 5 Years of Experience
An experienced freelance professional with 5+ years of experience in a variety of industries. Possessing an excellent understanding of customer service, marketing, and project management. Highly skilled in working with clients to create customer- focused strategies, increase satisfaction, and develop successful branded campaigns. Adept in managing multiple tasks concurrently and meeting tight deadlines with quality results.
Core Skills:
Customer Service
Marketing
Project Management
Creative Problem Solving
Adobe Creative Suite
Social Media Platforms
Microsoft Office Suite
Budgeting
Responsibilities:
Developed successful customer- centric strategies to increase customer satisfaction.
Compiled customer feedback to develop customer profiles and develop targeted campaigns.
Managed multiple projects simultaneously to ensure deadlines were met.
Utilized Adobe Creative Suite to develop branded campaigns and graphics.
Created and managed social media campaigns to improve customer engagement.
Developed budgeting strategies to ensure optimal use of resources.
Assisted customers with product and service inquiries.
Freelancer Resume with 7 Years of Experience
I am an experienced Freelancer with 7 years of expertise in working with small to medium- sized businesses. I am highly proficient in a variety of tools, technologies, and processes, allowing me to handle web development, graphics design, and content writing tasks efficiently and effectively. I thrive on meeting deadlines and delivering projects that exceed customer expectations.
Core Skills:
Web Development – HTML, CSS, JavaScript, PHP, WordPress
Graphics Design – Adobe Photoshop, Adobe Illustrator
Content Writing – SEO, Copywriting, Blogging
Responsibilities:
Designing and coding websites from scratch
Creating and maintaining websites using WordPress
Developing custom graphics for websites and other digital media
Writing SEO- friendly content for websites and blogs
Researching and optimizing SEO keywords for website content
Proofreading and editing content for accuracy and clarity
Freelancer Resume with 10 Years of Experience
A highly experienced Freelancer with 10 years in the field, specializing in web design and development. Possessing a strong technical background and an aptitude for problem solving, I have created a variety of projects for a diverse range of clients. My core strengths lie in the ability to identify bottlenecks in the development process and devise solutions that increase efficiency while minimizing overhead costs. I am skilled at building high- quality websites and applications with a focus on user experience and design.
Core Skills:
Proficient in web development and design, including HTML, Java, CSS and PHP
Experienced with content management systems such as WordPress and Joomla
Knowledge of web interface design, graphic design and user experience best practices
Skilled with Adobe Creative Suite and other applications used in web and graphic design
Experienced with project management and client communication
Ability to troubleshoot and identify areas of improvement
Skilled at designing and implementing databases
Responsibilities:
Designing, coding and executing websites and applications
Collaborating with clients to define project requirements and specifications
Creating and maintaining content management systems
Designing and implementing databases
Developing and executing comprehensive testing plans
Managing and monitoring progress and deadlines
Analyzing user feedback and making necessary improvements
Troubleshooting system issues and providing ongoing maintenance and support
Freelancer Resume with 15 Years of Experience
With over 15 years of professional experience in freelancing, I have developed a wide range of skills in various fields. I have an in- depth understanding of working with clients remotely, providing outstanding customer service and developing unique solutions to fit their individual needs. I specialize in helping clients with web and mobile development, content writing, digital marketing, translation, and more. I am highly organized, excellent at multitasking, and thrive in a fast- paced environment. My enthusiasm for learning, understanding of the latest technologies, and ability to relate and connect with clients has made me an invaluable asset for a variety of projects.
Core Skills:
Web Development
Mobile Development
Content Writing
Digital Marketing
Translation
Project Management
Problem Solving
Customer Service
Multitasking
Responsibilities:
Understanding and meeting individual client needs
Collaborate with clients to develop and implement creative solutions
Create and update websites and mobile applications
Develop content for digital or print media
Manage multiple projects and meet deadlines in a fast- paced environment
Provide high- level customer service
Translate or interpret between languages
Develop and execute digital marketing campaigns
Assess client project briefs and provide detailed feedback
In addition to this, be sure to check out our resume templates, resume formats, cover letter examples, job description, and career advice pages for more helpful tips and advice.
What should be included in a Freelancer resume?
Having a strong resume is an important part of any job search, including for freelancing. A freelancer resume should provide potential clients with a snapshot of your skills and experience, and demonstrate why you are the best freelancer for the job. Here are some key items to consider when creating a resume for freelancing:
Professional Summary: In a few sentences, provide a summary of your most relevant skills, experience and qualifications.
Areas of Expertise: List the types of freelance assignments you are qualified to take on, including specific software, equipment, or other tasks related to the job.
Work History: List any past freelance projects you've completed, including project title, timeline and duties.
Education: Include any relevant educational background or certifications.
Portfolio: Include a link to your portfolio or other examples of your work, such as past projects, articles, or other achievements.
Reviews: Include any positive reviews or testimonials from past employers or clients.
Contact Information: Don't forget to include your name, phone number, email address and website URL.
By including these items in your freelance resume, you can give potential clients a detailed view of your skills and experience and make yourself stand out from other freelancers.
What is a good summary for a Freelancer resume?
A freelancer resume is an important document for any individual looking to make money through self-employment. It should be a concise summary of all of your skills, experience, and qualifications as a freelancer, tailored to the specific job or industry you're pursuing. Your resume should stand out to potential clients by highlighting any relevant experience, accomplishments, and certifications you have. It should also include examples of any major freelance projects you've completed, as well as any awards or recognition you've received for your work. Finally, your resume should include a portfolio of your best freelance work, so clients can get a better understanding of the quality of your work. With a well-crafted resume, you'll be well on your way to becoming a successful freelancer!
What is a good objective for a Freelancer resume?
A successful freelancer resume should have a clear objective that outlines their goals and interests. A good objective should include:
A statement of the freelancer's professional goals and desired job title.
A brief description of their skills and qualifications that are relevant to the position.
An explanation of why they are the best candidate for the job.
A list of their past relevant experience and education.
Having an objective on a freelancer resume helps employers quickly assess whether the candidate has the skills and qualifications that are necessary for the job. It also helps to showcase the freelancer's qualifications and experience in a concise way.
When writing an objective for a freelancer resume, it's important to keep it concise and to the point. Avoid including too much information that could be better included in the other sections of the resume.
Overall, a good objective for a freelancer resume should be tailored to the job and should demonstrate the freelancer's qualifications and experience in a clear and concise way.
How do you list Freelancer skills on a resume?
If you are a freelancer, or if you have worked in freelance roles in the past, you may want to list your freelancer skills on your resume. Freelance work can demonstrate a number of important skills to potential employers, such as versatility, a willingness to take initiative and the ability to work independently.
When it comes to listing your freelancer skills on your resume, there are a few things you should keep in mind.
First and foremost, be sure to highlight the skills that are most relevant to the job you are targeting.
Include details on the projects you have worked on, and how you used your skills to complete them.
Showcase any positive feedback received from your clients or employers.
Mention any awards or recognition you have received for your freelance work.
Be sure to list any specialized tools you are experienced in using, such as graphic design software or coding languages.
Demonstrate your ability to manage deadlines and budgets, as well as your experience in coordinating with a variety of stakeholders.
By including a list of your freelance skills on your resume, you can highlight your valuable experience and demonstrate to potential employers that you are a flexible and reliable worker.
What skills should I put on my resume for Freelancer?
When you apply for a freelance position, your resume should be tailored to the job you're applying for. It should show employers that you have the skills and experience needed for a successful freelance career. As such, it's important to include skills that demonstrate your ability to work independently and manage multiple projects successfully. Here are some key skills to consider adding to your resume for a freelance position:
Project Management: Being able to plan, manage, and successfully complete projects is key for successful freelancers. Include any experience you have with project management, such as planning timelines, organizing resources, and meeting deadlines.
Time Management: Freelancers need to be able to manage their time effectively to complete projects and meet deadlines. Include any experience you have with prioritizing tasks and staying organized.
Communication: As a freelancer, you will be communicating with clients and other freelancers on a regular basis. Include any experience you have with writing, editing, or verbal communication, as well as any customer service experience you may have.
Technical Skills: Depending on the type of freelance work you're looking to do, you may need to include technical skills such as coding, web design, or graphic design on your resume. Make sure to include relevant experience and any certifications you may have.
Self-Motivation: Freelancing requires a lot of self-motivation and discipline, so employers will want to see proof of your ability to work independently. List any experience you have with working on your own, such as managing your own projects or completing long-term assignments.
Key takeaways for an Freelancer resume
Creating a resume can be a daunting task for anyone – especially freelancers, who may not have the traditional employment experience of a full-time job. But a well-crafted resume can make all the difference when it comes to standing out from the competition and finding the perfect project. Here are some key takeaways for creating an effective resume as a freelancer:
Highlight Your Talents and Skills: As a freelancer, you have a unique set of skills and talents that make you stand out from the crowd. Make sure your resume showcases the talents and skills you bring to the table, and don't be afraid to brag a bit.
Showcase Your Portfolio: Your portfolio is a great place to show off the projects you've worked on, so make sure to include it on your resume. You could include a link to your online portfolio, or even list a few of your favorite projects and what you accomplished.
Make Use of Keywords: If you're applying for a specific job, make sure to use keywords that are related to the job in your resume. This will help to ensure that you're seen by employers who are looking for someone just like you.
Use Engaging Titles and Headings: Don't just list your experiences and job titles. Make sure you use clear and engaging titles and headings that catch the reader's attention.
Be Concise and Clear: When creating your resume, make sure to be concise and clear. Try to keep your resume to one page, and make sure you're using language that's easy to read.
Creating a resume can be a challenge, but with these key takeaways in mind, you'll be sure to create a resume that stands out from the crowd. Good luck with your job search!
Let us help you build
your Resume!
Make your resume more organized and attractive with our Resume Builder