Every IT professional will need a resume at some point in their career and writing one can be tricky. It is important to create a resume that is tailored to the specific job role, highlights your professional experience and achievements, and stands out from the competition. This freelance IT resume writing guide provides tips and examples on writing a resume that will help IT professionals get noticed by employers. It is important to take the time to craft a resume that speaks to the requirements of the job and shows off the best of their skills and experience. This guide will provide essential advice on creating a resume tailored to the freelance IT field that stands out from the competition.
If you didn't find what you were looking for, be sure to check out our complete library of resume examples.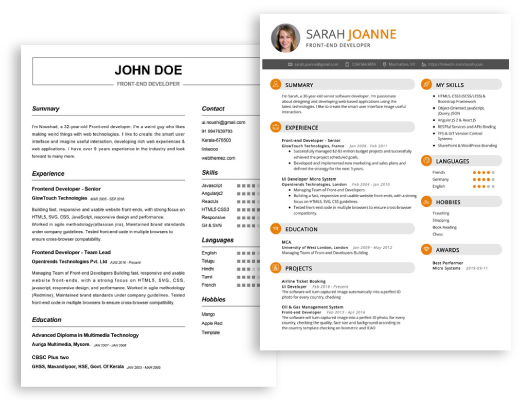 Start building your dream career today!
Create your professional resume in just 5 minutes with our easy-to-use resume builder!
Freelance IT Resume Examples
John Doe
Freelance IT
123 Main Street | Anytown, USA 99999 | Phone: (123) 456-7890 | Email: john.doe@email.com
Self- motivated and driven IT professional with a passion for project development, leveraging over 5 years of experience in software and hardware solutions, specializing in troubleshooting, debugging, and optimizing IT systems and networking infrastructure. Committed to providing improved user experience and customer satisfaction.
Core Skills:
Advanced knowledge of hardware, software, and security solutions
Proficiency in optimizing networks, debugging, and troubleshooting technical issues
Excellent problem solving and communications skills
Proficient in multiple programming languages
Highly organized and detail- oriented
Professional Experience:
Freelance IT Consultant, 2016 – Present
Provide IT solutions for businesses and individuals, including hardware and software installation, maintenance, and troubleshooting
Develop and implement IT projects from conception to completion
Analyze customer needs and recommend appropriate IT solutions
Test and debug software applications
Monitor and optimize IT systems and networks
Education:
B.S in Information Technology, San Diego State University, 2011 – 2016
Freelance IT Resume with No Experience
This freelance IT professional with no experience is eager to contribute her knowledge and ability to any organization. With a Bachelor of Science degree in Computer Science, she has a strong background in software development, database management, and computer programming. Her experience in customer service, as well as her troubleshooting and problem- solving skills, will prove to be invaluable assets.
Skills
Strong knowledge of software development
Experienced in database management
Proficient in computer programming
Excellent customer service skills
Highly competent in troubleshooting and problem- solving
Ability to learn quickly and work independently
Responsibilities
Research and analyze data to identify and solve complex problems
Develop software solutions to meet customer needs
Create, configure and manage databases
Develop and maintain computer programming scripts
Troubleshoot and resolve software and hardware issues
Provide technical support to customers
Freelance IT Resume with 2 Years of Experience
I am a Freelance IT professional with over 2 years of experience in developing, implementing, and maintaining IT systems. I have a strong knowledge of computer hardware and software, networking, and communication systems. I am experienced in troubleshooting and problem solving and I have excellent customer service skills. I enjoy working with clients to develop custom solutions for their technical needs.
Core Skills:
Technical Knowledge: Computers, Networks, and Communications Systems
Troubleshooting and Problem Solving
Configuration and Installation of Hardware and Software
Database Management
System Analysis and Design
Documentation and Training
Customer Service
Responsibilities:
Developed, configured, and maintained IT systems according to client's needs
Installed, configured, and maintained computer hardware, software, and networks
Investigated, troubleshoot and evaluated IT problems
Developed customized IT solutions to meet client's requirements
Trained and educated clients on the use of IT systems and software
Assisted clients in the use of IT systems
Monitored system performance and made suggestions for improvements
Developed, implemented, and maintained IT system documentation and training materials
Freelance IT Resume with 5 Years of Experience
A passionate and experienced IT professional with over five years of experience in software development and project management. Highly dedicated to developing quality IT solutions and supporting corporate objectives. Expert in the implementation and maintenance of software projects and initiatives. Possesses excellent problem- solving, communication and organizational skills. Has a demonstrated history of success in IT project management, software engineering and system administration.
Core Skills:
Software Engineering
System Administration
Software Development
Project Management
Problem Solving
Communication
Responsibilities:
Developed and implemented software solutions using current technologies and platforms.
Managed and monitored the performance of complex IT systems.
Ensured quality and compliance with company standards and policies.
Provided technical support to users and customers.
Assisted in the design and development of IT infrastructure and systems.
Conducted system and software testing to identify and fix errors.
Prepared technical reports and documentation for internal and external use.
Developed and maintained a strong working relationship with related vendors.
Collaborated and consulted with other departments on IT projects.
Freelance IT Resume with 7 Years of Experience
I am a freelance IT professional with 7 years of experience in providing technical support remotely to small and medium businesses. With my expertise in troubleshooting, problem solving and customer service, I have been able to develop and maintain strong relationships with clients, providing them the best service possible. My core strengths include knowledge of troubleshooting laptop and desktop PCs, installation of operating systems and software, configuring and maintaining networks, resolving firewall issues, and providing technical support over the phone and via email.
Core Skills:
Troubleshooting laptop and desktop PCs
Installing and configuring operating systems and software
Configuring and maintaining networks
Resolving firewall issues
Providing technical support over the phone and via email
Responsibilities:
Provide technical support to clients remotely
Troubleshoot and repair hardware and software issues
Install and configure technical systems according to client's requirements
Resolve system performance issues and monitor the systems
Provide training and support to clients
Setup and maintain networks and firewalls
Resolve technical issues and provide timely solutions
Freelance IT Resume with 10 Years of Experience
I am an experienced and results- oriented freelance IT professional with over 10 years of experience in managing, designing, implementing and troubleshooting complex IT systems. I possess exceptional problem- solving skills with an aptitude for quickly understanding complex technical problems. I have strong analytical, organizational and communication skills and am well- versed in several programming languages, as well as in hardware and software system design. I have successfully led small and large teams, and have a proven track record of delivering large- scale projects on time and within budget.
Core Skills:
Programming Languages: C, C++, Java, Python, SQL
Project Management
System Design
Software Development
Network Administration
Hardware Troubleshooting
Data Analysis
IT Security
Customer Service
Responsibilities:
Developed and implemented software solutions to meet customer needs
Managed projects and provided direction to team members
Tested and troubleshot software systems
Provided technical support to team members and customers
Performed system maintenance to ensure optimal performance
Collaborated with stakeholders to identify requirements and develop solutions
Researched, evaluated and recommended hardware and software products and upgrades
Developed and maintained documentation for system designs and processes
Ensured compliance with industry regulations, standards and best practices
Freelance IT Resume with 15 Years of Experience
With over 15 years of IT experience and expertise, I am a highly motivated and skilled professional with a strong background in computer networks, software development, and technical support. I am well versed in working with systems, software programs, and hardware to ensure optimal performance, and I have an excellent track record of troubleshooting issues with both hardware and software systems. Additionally, I have extensive experience in developing IT solutions for businesses and organizations of all sizes.
Core Skills:
Expert knowledge of computer hardware and software
Comprehensive understanding of networking systems
Proven ability to troubleshoot and solve technical issues
Well versed in developing IT solutions for businesses
Experienced in providing technical support to users
Ability to work independently and as part of a team
Excellent communication and customer service skills
Responsibilities:
Installing and configuring computer hardware, software and networks
Monitoring and maintaining computer systems and networks
Troubleshooting system and network problems and diagnosing and solving hardware/software faults
Replacing parts as required
Providing technical support to users
Setting up new users' accounts and profiles and dealing with password issues
Developing and implementing IT solutions to meet business needs
Upgrading and configuring system software that supports GIS infrastructure
Analysing system logs and identifying potential issues with computer systems
Performing routine audits of systems and software
In addition to this, be sure to check out our resume templates, resume formats, cover letter examples, job description, and career advice pages for more helpful tips and advice.
What should be included in a Freelance IT resume?
Your freelance IT resume should be concise, comprehensive, and professional. A well-crafted resume should highlight your skills, accomplishments, and experience in the IT field. Here are a few things to include in your freelance IT resume:
Professional Summary: Include a brief summary of your experience and qualifications in the IT field. Emphasize any specialized skills or unique abilities you possess.
Education: Include the educational institutions you attended, years of attendance, and any degrees or certifications you earned.
Work Experience: Include a list of any previous experience you have in the IT field, including freelance jobs and full-time positions. Include a summary of your job responsibilities and any outstanding accomplishments.
Technical Skills: Include a comprehensive list of the technical skills you possess. Be sure to list any relevant programming languages, software applications, and operating systems.
Projects: If you have any noteworthy IT projects you have completed, include a brief summary of each project.
Awards and Recognition: If you have won any awards or been recognized for your achievements in the IT field, include it on your resume.
Professional References: Provide contact information for at least three professional references.
What is a good summary for a Freelance IT resume?
A good summary for a freelance IT resume should highlight the skills, experience, and other qualifications that make a potential hire a good fit for the job. It should also include any relevant certifications or licenses that the applicant possesses, as well as any other professional accomplishments or awards. The summary should be concise and straightforward, providing the reader with a clear overview of the applicant's qualifications and abilities. This can be as short as a few sentences or as long as a few paragraphs, but should strive to capture the applicant's unique qualifications in an efficient manner. A good summary will also include an overview of the applicant's availability and rates, and how the applicant can be contacted for further information. Ultimately, a good summary should provide the reader with an accurate picture of the applicant's skill set and qualifications, as well as a sense of the applicant's character and commitment to their craft.
What is a good objective for a Freelance IT resume?
A great objective for a Freelance IT resume is to showcase your skill set and experience while showing potential employers why they should hire you. Here are some good objectives to consider when writing your resume:
To use my in-depth knowledge of IT systems, software and coding languages to develop innovative solutions to challenging problems.
To leverage my expertise in computer engineering and software development to create efficient systems and processes.
To apply my experience in network configurations and hardware design to enhance organizational productivity.
To utilize my specialized knowledge of databases and cloud-based solutions to improve user experience.
To utilize my knowledge of project management, customer service, and troubleshooting to ensure client satisfaction.
To develop and maintain secure IT infrastructures and systems for business operations.
How do you list Freelance IT skills on a resume?
When you're applying for freelance IT positions, you need to showcase your relevant skills on your resume. With the right skills, you can make yourself a more desirable candidate and stand out from the competition. Here are some tips on how to list your freelance IT skills on a resume.
Include relevant job skills: Start by listing the core skills that make you a great fit for the job. These should include both technical knowledge and soft skills. For example, if you are applying for a freelance web developer position, you should list skills such as HTML/CSS, JavaScript, WordPress, PHP, and responsive design. Soft skills such as problem-solving, communication, and time management should also be included.
Highlight your experience: Don't just list your skills; be sure to highlight the experience you have with them. If you have experience working on various projects or developing certain applications, make sure to include that information. This will demonstrate to potential employers that you can work independently and can handle a variety of tasks.
Showcase your education: If you have a degree in computer science or a related field, make sure to include that information as well. This will show employers that you have the knowledge and experience necessary to handle the job.
Use keywords: It's important to use keywords when listing your skills so that employers can easily search for your profile. This can help you stand out from the competition and make it easier for hiring managers to find your resume.
By using these tips, you can make sure your resume stands out and that you look like the perfect candidate for the job. Showcasing your relevant freelance IT skills on your resume can help you land the job of your dreams.
What skills should I put on my resume for Freelance IT?
When applying for freelance IT work, having a resume that demonstrates your skills and abilities is essential. You'll need to demonstrate your knowledge of the sector, as well as your technical abilities. Here are some key skills you should include on your resume when applying for freelance IT positions:
Networking: Ability to troubleshoot and configure networks, including routers, switches, and firewalls.
Programming Languages: Knowledge of popular programming languages such as Java, C++, and Python.
Database Management: Experience using database management systems such as MySQL and Oracle.
Operating Systems: Proficiency in common operating systems such as Windows, Linux, and macOS.
Hardware: Understanding of basic computer hardware components, such as processors, memory, and storage.
Troubleshooting: Ability to diagnose and solve technical problems.
Project Management: Proficiency in managing projects and working with clients.
Cloud Computing: Knowledge of cloud computing concepts and technologies.
By showcasing your skills on your resume, you can make yourself stand out as a strong candidate for freelance IT jobs. Showcase your skills, experience, and abilities to increase your chances of landing the job. Good luck with your search!
Key takeaways for an Freelance IT resume
In today's competitive job market, having a strong resume is an essential part of the job search process. For IT professionals, a well-crafted resume can mean the difference between getting an interview and being passed over by employers. If you're a freelancer in the IT field, there are some key takeaways that you should include in your resume to ensure that you're putting your best foot forward.
Clearly outline your skills and qualifications. Being an IT freelancer means that you likely have a wide range of knowledge and experience. Make sure to take the time to clearly outline the skills, qualifications, and certifications that you possess. This will ensure that your potential employer can quickly and accurately assess whether or not you're the right fit for the position.
Highlight any relevant experience. If you have any prior work involving IT, make sure to include it on your resume. This can include projects you've completed on a freelance basis, working with clients you've served, and any other related experience you may have. By highlighting these experiences, you can demonstrate to potential employers that you've had success in the IT field and that you're well-suited for the job in question.
Showcase your results. Employers want to see that you're capable of completing projects and meeting deadlines. Be sure to include any measurable results that you've achieved while working as a freelancer, such as the completion of projects, the number of clients you've served, or any other successes that you've had. This will help demonstrate to employers that you can deliver quality results in a timely manner.
Include customer testimonials. Client recommendations and customer reviews can be a great way to showcase your skills to potential employers. Include customer testimonials on your resume to give employers an idea of
Let us help you build
your Resume!
Make your resume more organized and attractive with our Resume Builder