Are you a freelance IT consultant looking to land the perfect job? Having a well-crafted resume is a must when it comes to job applications. Your resume should demonstrate your skills and experience as an IT consultant while also highlighting why you are the best candidate for the job. To help you create a strong resume, this guide provides some tips and examples to get you started.
If you didn't find what you were looking for, be sure to check out our complete library of resume examples.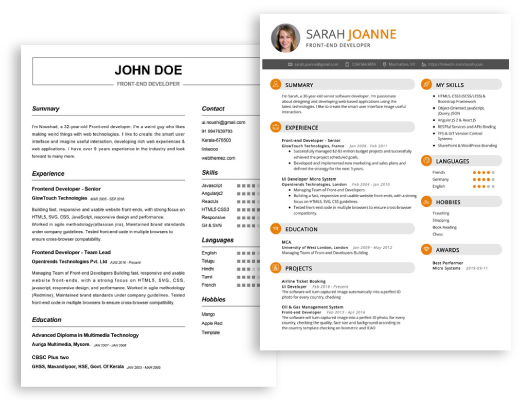 Start building your dream career today!
Create your professional resume in just 5 minutes with our easy-to-use resume builder!
Freelance IT Consultant Resume Examples
John Doe
Freelance IT Consultant
123 Main Street | Anytown, USA 99999 | Phone: (123) 456-7890 | Email: john.doe@email.com
I am an experienced freelance IT consultant with over 10 years of experience helping clients achieve their technology goals. I have a strong understanding of business processes and have the expertise to develop solutions best suited to each client's unique needs. I have a comprehensive knowledge of the latest IT trends and technologies and have a knack for finding creative solutions to difficult technical problems.
Core Skills:
System Design & Implementation
Network Administration & Configuration
Technical Troubleshooting & Problem Solving
Database Management & Optimization
Software Development & Programming
Cloud Infrastructure & Security
Business Analysis & Requirements Gathering
Professional Experience:
Developed and implemented customized solutions for over 50 IT projects
Installed, configured, and maintained hundreds of corporate networks, servers, and applications
Launched an online presence for several start- ups and established businesses
Managed the successful migration of legacy systems to cloud- based solutions
Designed and implemented secure and reliable infrastructure solutions
Developed innovative software solutions to complex business problems
Provided technical support and training to clients on a variety of IT topics
Education:
Bachelor of Science in Computer Science, University of Chicago, 2006
Freelance IT Consultant Resume with No Experience
Recent college graduate with a degree in Computer Science and Information Technology looking to break into the IT consulting industry. Possesses strong problem- solving and communication skills, an aptitude for learning new technologies, and a passion for helping others.
Skills
Proficient in common programming languages such as Java, C++, and Python
Knowledge of system and network administration
Excellent troubleshooting and debugging skills
Strong understanding of computer hardware and software
Excellent problem- solving abilities
Ability to communicate complex technical concepts in layman's terms
Proficient with Microsoft Office Suite
Responsibilities
Provide technical advice and support to IT clients
Analyze and troubleshoot complex IT problems
Design and implement customized IT solutions based on client requirements
Develop and maintain good relationships with clients
Create and maintain technical documentation for various IT systems
Train clients on the use of new technology solutions
Research and stay on top of the latest IT trends and technologies
Freelance IT Consultant Resume with 2 Years of Experience
A highly experienced freelance IT Consultant with two years of professional experience in the development and implementation of innovative technical solutions. Expert in analyzing and interpreting complex data, developing user- friendly processes and troubleshooting technical malfunctions. Proven ability to maintain the highest standards of client satisfaction and innovation. Skilled in producing effective, efficient and cost- effective solutions for clients.
Core Skills:
In- depth knowledge of contemporary IT systems and software
Ability to develop problem- solving strategies
Excellent communication and interpersonal skills
Strong analytical and troubleshooting skills
Proficient in Microsoft Office Suite and other related software
Ability to work independently and as part of a team
Responsibilities:
Developed and implemented innovative technical solutions with a focus on cost- effectiveness and efficiency
Trained staff on the use of new technologies and systems
Provided technical support and maintenance for existing systems
Assisted with the planning and implementation of system upgrades and changes
Conducted analysis and research to identify process improvements and cost saving opportunities
Analyzed customer requirements and developed customized solutions to meet the needs of clients
Monitored system performance and proactively identified and resolved system issues.
Freelance IT Consultant Resume with 5 Years of Experience
An experienced freelance IT Consultant with over 5 years of experience, I specialize in providing valuable support to businesses and organizations in achieving their operational objectives. My technical expertise lies in developing and deploying secure systems and IT infrastructure, project management, network and system administration, and software development. My proven ability to analyze and solve problems, create innovative solutions, and manage complex projects has consistently led to successful outcomes.
Core Skills:
Developing and deploying secure IT systems and infrastructure
Project management
Network and system administration
Software development
Problem analysis and problem solving
Innovative solutions
Responsibilities:
Developing and deploying secure IT systems and infrastructure to ensure the highest standards of data protection, security, and compliance
Managing projects from inception to completion, ensuring deadlines are met and within budget
Performing network and system administration tasks, such as setting up and monitoring network security, installing hardware and software, and configuring systems
Developing software applications and scripts to improve operational efficiency
Analyzing and troubleshooting system issues, identifying solutions, and implementing changes
Providing technical advice and guidance to clients in areas such as software development, hardware selection, and system capacity planning
Freelance IT Consultant Resume with 7 Years of Experience
Highly experienced IT consultant with 7+ years of experience in the information technology field. Skilled in software design, development and testing as well as in the installation, configuration and maintenance of computer hardware and software. Exceptional problem solving and analytical skills, with a keen eye for detail, ensuring successful implementation of technology solutions.
Core Skills:
System Analysis and Design
Software Design and Development
Database Design and Administration
System Upgrades and Maintenance
Troubleshooting and Problem Resolution
Network Protocols and Topologies
User and Technical Support
Responsibilities:
Designed web- based software applications utilizing various web technologies such as HTML, PHP, JavaScript, and CSS
Developed software applications using various programming languages such as C/C++, Java, and Python
Developed and maintained databases using SQL
Configured and maintained networks and servers, including installing, troubleshooting, and upgrading various network protocols and topologies
Provided user and technical support, helping end- users to resolve technical issues
Monitored system performance and created backup strategies to ensure data integrity and system availability
Freelance IT Consultant Resume with 10 Years of Experience
Highly experienced and skilled professional with over 10 years of experience in IT Consulting. Possessing excellent knowledge in areas of Cybersecurity, Network Security, and Risk Management. Proven track record of delivering successful projects, developing innovative solutions, and providing expertise and guidance to the IT team. Adept at designing, implementing, and supporting technology initiatives, as well as monitoring and maintaining system performance. Committed to staying current with the latest technologies and best practices.
Core Skills:
Information Technology
Cybersecurity
Network Security
Risk Management
System Design
System Implementation
System Support
Project Management
Troubleshooting
Analytical Thinking
Problem- Solving
Process Improvement
Responsibilities:
Assessed business needs and objectives to develop comprehensive IT solutions
Designed, implemented, and supported IT initiatives to meet customer requirements
Analyzed customer requirements and developed innovative solutions to fulfill them
Developed detailed project plans and led cross- functional teams to complete projects
Ensured projects were completed timely, on budget, and with quality results
Provided expertise and guidance to the IT team on security, network, and risk management issues
Monitored and maintained system performance
Troubleshoot system problems and recommended appropriate solutions
Maintained a comprehensive understanding of emerging technologies and best practices
Collaborated with customers to ensure their IT needs were met
Freelance IT Consultant Resume with 15 Years of Experience
Highly experienced IT Consultant with 15 years in the industry, offering expertise in designing, developing, and implementing IT solutions. Proven track record of successfully delivering IT solutions that meet customer needs and exceed expectations. In- depth knowledge of a wide range of IT systems, including web development, data analysis, network security, and project management. Adept at troubleshooting, problem- solving, and project management. Excellent communication, customer service, and problem- solving skills.
Core Skills:
Analyzing customer needs
Developing IT solutions
Implementing IT solutions
Troubleshooting
Network Security
Data Analysis
Project Management
Web Development
Customer Service
Responsibilities:
Collaborating with clients to develop effective IT solutions
Identifying customer requirements for IT systems and services
Analyzing customer data to determine the best IT solutions
Designing, developing, and testing software for businesses
Ensuring high quality and reliable performance of IT systems
Managing IT projects from conception through completion
Recommending and implementing appropriate IT solutions
Providing technical support and customer service
Updating and maintaining system documentation
Monitoring and evaluating system performance
In addition to this, be sure to check out our resume templates, resume formats, cover letter examples, job description, and career advice pages for more helpful tips and advice.
What should be included in a Freelance IT Consultant resume?
Writing a resume for a freelance IT consultant can be challenging, especially if you are new to the field. A well-written resume is essential in order to stand out amongst other freelancers, so it's important to include all the necessary information. Here is a guide to what should be included in your freelance IT consultant resume:
Professional Summary: A professional summary should be the first section of your resume and should highlight your most valuable skills and experiences that make you the best candidate for the job.
Education and Certifications: Include all relevant education and certifications. Be sure to list any IT-related courses you've taken, such as programming or system design classes.
Professional Experience: List your professional experience in the IT field, including any freelance projects you've completed and any software you're familiar with. Include any awards or recognition you've received for your work as well.
Technical Skills: List any technical skills you have that are relevant to the job. This should include programming languages, hardware and software, system design and administration, and anything else that could be helpful.
Additional Skills: This section should include any additional skills that you have that could be relevant to your position, such as public speaking, project management, or problem-solving.
References: Include the contact information for two or three references who can speak to your character and qualifications.
By including all the necessary information in your resume, you'll be sure to make a great impression with potential employers. Good luck!
What is a good summary for a Freelance IT Consultant resume?
A good summary for a Freelance IT Consultant resume should highlight the individual's extensive experience in areas such as system architecture and design, database administration, programming, and project management. The summary should also include technical and soft skills, as well as experience in areas such as customer service, troubleshooting, and problem solving. Additionally, the summary should demonstrate a successful track record of providing solutions to complex IT problems and seeing projects through to completion. Finally, it should also showcase the individual's marketable skills, such as system analysis and integration, as well as the ability to remain current on new and emerging technologies.
What is a good objective for a Freelance IT Consultant resume?
When writing a resume as a freelance IT consultant, it is important to have a clear and concise objective. An objective is a brief statement that can give potential employers an idea of your desired achievements and goals. A good objective should be tailored to the specific job and include your most relevant qualifications and skills.
Make sure to tailor your objective to the job's requirements.
Highlight your specific IT consulting skills and qualifications.
Showcase your ability to quickly learn new technologies.
Demonstrate your commitment to client success and satisfaction.
Showcase your ability to work independently and manage multiple projects.
Express your dedication to staying up-to-date with industry trends and developments.
Emphasize your ability to communicate effectively with both technical and non-technical audiences.
Demonstrate your problem-solving skills and ability to find creative solutions.
How do you list Freelance IT Consultant skills on a resume?
Having the right skills is essential for any successful freelance IT consultant. An effective way to showcase your skills on your resume is to list them in a special section. Here are some tips to consider when creating a freelance IT consultant skill section on your resume:
Start off by listing any hard skills relevant to the position. These could include proficiency in specific hardware and software, technical certifications, experience with coding languages, and IT security knowledge.
Include any additional soft skills that are essential to IT consulting. These could include project management, problem-solving, communication, and data analysis.
When possible, quantify your skills by listing accomplishments and experience. This will help make your skills more specific and can help demonstrate the value you bring to potential employers.
If you're just starting out in your IT consulting career, highlight any transferable skills you have from previous jobs.
Finally, make sure to double-check your resume for any spelling or grammar errors. This can show potential employers that you have a keen attention to detail.
By following these tips, you can create a skill section that effectively showcases your freelance IT consultant skills. This can help you stand out to potential employers and land your dream job.
What skills should I put on my resume for Freelance IT Consultant?
When it comes to creating a resume for a freelance IT consultant, it is important to emphasize the right skills. After all, you will be responsible for providing a variety of IT services to different clients. Therefore, you must be able to demonstrate that you have the technical and professional abilities to meet the needs of a variety of businesses.
When crafting your resume, you should include the following skills:
Knowledge of a Variety of Technologies: As a freelance IT consultant, you must be able to quickly learn and adapt to a range of technologies including hardware and software.
Interpersonal Communication Skills: As a consultant, you must be able to effectively communicate with clients. You must be able to listen to their needs and clearly explain solutions to them.
Problem-Solving Skills: As a consultant, you must be able to quickly identify and solve problems. You must be able to think critically and come up with creative solutions to a variety of IT issues.
Project Management Skills: You must be able to manage multiple projects and tasks simultaneously. You must be able to prioritize tasks, delegate responsibilities, and manage timelines effectively.
Technical Writing Skills: You must be able to write technical documents such as user guides and training materials.
By emphasizing these skills on your resume, you can demonstrate to potential clients that you are the right person for the job. You can show that you have the technical and interpersonal skills necessary to provide excellent IT services.
Key takeaways for an Freelance IT Consultant resume
As a freelance IT consultant, you need a resume that stands out from the competition. A strong resume will help you get noticed for the right jobs, so it's important to include all the information that hiring managers are looking for. Here are some key takeaways for a freelance IT consultant resume:
Focus on your technical skills: Your technical skills should be at the forefront of your resume. Highlight your experience with IT systems and software, networking and infrastructure, and experience with programming languages and tools.
Showcase your project management skills: Demonstrate your ability to manage projects and lead teams. Provide examples of successful projects you've led, budgets you've managed, and problems you've solved.
Include your certifications: List the certifications you've obtained or the accreditations you've received. This can include certifications in specific technologies, professional certifications, or industry-specific certifications.
Highlight your problem solving: Demonstrate your ability to troubleshoot and solve IT challenges. Showcase your experience of identifying and resolving problems and provide examples of challenges you've faced and overcome.
Include your qualifications: Include any qualifications you have that are relevant to the role. This could include a degree, diploma, or professional qualifications.
List your previous employers: Include the names of previous employers you've worked for as a freelance consultant. This can help provide context to your experience and can help highlight your experience in the industry.
Show off your soft skills: While technical skills are important, employers are also looking for candidates with strong soft skills. Provide examples of teamwork, collaboration, communication, and the ability to work with stakeholders.
By following these tips, you can create a strong resume for a freelance IT consultant role. Be sure to match the content of your resume to the requirements of the role and to highlight
Let us help you build
your Resume!
Make your resume more organized and attractive with our Resume Builder