When it comes to applying for a consulting job, having a well-crafted resume can be the difference between success and failure. A consultant resume should be tailored to the specific position you are applying for and showcase your unique qualifications and experience. This guide will provide a comprehensive guide to writing an effective consultant resume, including tips and examples to ensure you get the job.
If you didn't find what you were looking for, be sure to check out our complete library of resume examples.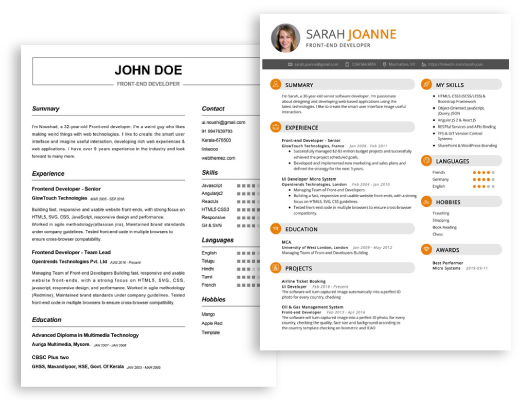 Start building your dream career today!
Create your professional resume in just 5 minutes with our easy-to-use resume builder!
Epic Consultant Resume Examples
John Doe
Epic Consultant
123 Main Street | Anytown, USA 99999 | Phone: (123) 456-7890 | Email: john.doe@email.com
I am a highly experienced Epic consultant with an extensive background in healthcare IT. I have worked with a variety of organizations and systems, providing my expertise in analysis, implementation, and training of Epic EHR software. My core skills include strong problem solving and communication abilities, along with a thorough knowledge of the healthcare industry and a deep understanding of the technical aspects of Epic software. I am a creative, detail- oriented professional who understands the importance of working with all stakeholders to ensure the success of a project.
Core Skills:
Experience with full life cycle Epic implementation
Advanced knowledge of Epic applications
Strong troubleshooting and problem- solving skills
Excellent communication and interpersonal skills
Proven record of efficiently managing time and resources
Ability to train staff on the use of Epic software
Professional Experience:
Epic Consultant, ABC Healthcare – Anytown, USA
June 2018 – Present
Analyzed and evaluated existing IT systems, processes and procedures to determine areas of improvement
Implemented Epic EHR software, ensuring system compatibility and appropriate user access across the client's IT infrastructure
Developed and trained users on new Epic functionality and processes
Collaborated with all stakeholders to ensure successful deployment of Epic software
Engaged in user acceptance testing and troubleshooting
Epic Systems Analyst, XYZ Healthcare – Anytown, USA
January 2013 – May 2018
Conducted analysis and assessment of Epic software to determine and evaluate optimization opportunities
Analyzed, designed and developed Epic modules, forms and reports
Implemented and maintained Epic software, and provided ongoing technical support
Worked with clients to properly configure and apply Epic software for their healthcare system
Provided training and support to end- users, helping them to fully utilize the software
Education:
B.S. in Information Technology
Epic Consultant Resume with No Experience
Recent graduate with a passion for creating positive change and a drive to succeed. Seeking an entry- level consultant position to hone my skills in project planning and problem- solving.
Skills
Excellent verbal and written communication skills
Organized, detail- oriented, and dependable
Able to analyze complex data, interpret insights, and develop strategies
Knowledgeable in project management and problem- solving techniques
Experienced in the use of project management software such as Microsoft Project
Proficient in Microsoft Office Suite, Adobe Suite, and other business software
Ability to work independently and in teams
Responsibilities
Developing project plans and strategies for clients
Analyzing data and anticipating potential issues
Working with clients to identify, prioritize, and address their needs
Developing detailed solutions to complex problems
Utilizing project management software to track and monitor project timelines and deliverables
Creating and maintaining detailed project documentation
Developing and presenting reports to clients and senior management
Epic Consultant Resume with 2 Years of Experience
Dynamic and highly organized Epic Consultant with two years of experience ensuring successful integration and implementation of Epic software. Excellent communicator, able to clearly articulate complex technical information to stakeholders. A problem solver, able to analyze and work through technical issues with ease. Skilled in project management, able to manage multiple projects at once.
Core Skills:
Epic Certification
Project Management
Documentation
Troubleshooting
Software Integration
Data Analysis
Troubleshooting
Technical Writing
Responsibilities:
Managed the full lifecycle of multiple Epic software implementations.
Configured and tested applications, troubleshoot and document software issues.
Developed system test plans and conducted quality assurance testing.
Assisted with user training and developed supporting documentation.
Provided technical and functional support to end users.
Developed reports and analyzed data to identify potential improvements.
Collaborated with stakeholders and developers to identify, resolve, and document software issues.
Maintained current knowledge of Epic software and industry updates.
Epic Consultant Resume with 5 Years of Experience
A highly experienced Epic Consultant with 5+ years of experience in healthcare IT, specializing in the implementation and optimization of Epic electronic health record systems. Proven ability to lead cross- functional teams in complex health IT projects and provide innovative solutions to challenging problems. Track record of developing detailed plans and strategies to ensure the successful deployment of Epic across entire health systems. Highly knowledgeable in all areas of Epic EHR system configuration, optimization, and troubleshooting.
Core Skills:
Epic EHR System Configurations
Project Management
Health IT Solutions
Cross- Functional Team Leadership
Data Analysis
Troubleshooting
Epic Optimization
Strategic Planning
Responsibilities:
Maintained and configured Epic electronic health record system to meet organizational needs.
Monitored system performance and implemented updates to maximize effectiveness.
Supported staff members in utilizing the EHR system, providing training and technical assistance as needed.
Developed detailed plans and strategies to ensure successful deployment of Epic EHR system across entire health system.
Ensured data accuracy and integrity by performing data analysis and troubleshooting.
Collaborated with stakeholders to identify and implement innovative health IT solutions.
Lead cross- functional teams in complex projects, delegating tasks and providing clear direction.
Epic Consultant Resume with 7 Years of Experience
I am an experienced Epic Consultant with 7 years of specialized experience in implementing, supporting and managing Epic applications, such as EpicCare, EpicCare Inpatient and Epic Bridges. My expertise includes designing and building clinical workflow and reporting solutions, as well as providing training, support and troubleshooting for end- users. I excel in complex problem solving and resolving customer issues. With my extensive knowledge of the Epic systems and their functionality, I am confident that I possess the necessary skills to be a great asset in any Epic consulting environment.
Core Skills:
In- depth knowledge of Epic applications including EpicCare, EpicCare Inpatient and Epic Bridges
Excellent communication and customer service skills
Proven ability to interpret and document business requirements
Experience in project management and troubleshooting
Proficient in software development lifecycle
Ability to analyze complex system specifications and develop solutions
Responsibilities:
Assisted in the design, build and implementation of Epic solutions
Developed clinical workflow solutions to meet customer needs
Produced reporting and analytics solutions to improve operational efficiency
Delivered training and supported end- users in the adoption of Epic applications
Provided troubleshooting and resolution of customer issues
Developed system specifications and wrote technical documentation
Worked closely with the Epic project team and other stakeholders to ensure proper delivery of solutions
Epic Consultant Resume with 10 Years of Experience
Experienced Epic Consultant with a decade of experience in the healthcare IT industry. Skilled in providing expert implementation, project management, and support services for Epic systems. Proven ability to manage high- profile projects, troubleshoot complex technical issues, and deliver improvements that meet or exceed customer expectations. A strong technical background, combined with excellent organizational and communication skills, makes me a valuable asset to any Epic team.
Core Skills:
Epic System Implementation
Project Management
Technical Troubleshooting
Process Improvement
Change Management
Communication
Strategic Planning
Responsibilities:
Developing and managing project plans, tasks, milestones, and timelines to ensure successful Epic implementations
Working with stakeholders and executive teams to gather business requirements and define project objectives
Designing, configuring, and testing Epic applications according to established standards
Troubleshooting technical issues, providing root cause analysis, and providing solutions in a timely manner
Performing system health checks and assessments to ensure optimal system performance
Collaborating with teams to develop training materials and end- user documentation
Supporting user acceptance testing and providing post- implementation support for Epic applications
Developing, implementing, and managing change control processes
Coordinating the integration of Epic modules and third- party applications
Epic Consultant Resume with 15 Years of Experience
Highly experienced Epic Consultant with 15+ years of experience working on large- scale, complex implementations and optimization of Epic Systems. Proven track record of successful implementations by leveraging in- depth knowledge and expertise of system features, functionalities, process flows and program design. Possesses expertise in the areas of project management, training and workflow development. Exceptional ability to communicate, collaborate and lead teams throughout the project lifecycle.
Core Skills:
Expertise in Epic Systems implementations, upgrades and optimization
In- depth knowledge of system features, functionalities, process flows and program design
Strong experience in project management and workflow development
Excellent ability to lead, mentor and collaborate with teams
Solid problem- solving and analytical skills
Proficient in software development and troubleshooting
Responsibilities:
Work with clients to analyze, design, develop and implement Epic Systems
Participate in project meetings and manage workflow development
Monitor project progress and provide technical guidance
Assist in developing and executing test plans
Provide technical assistance and troubleshoot system issues
Train end- users and develop user guides for system applications
Prepare and maintain project documentation, reports and standards
In addition to this, be sure to check out our resume templates, resume formats, cover letter examples, job description, and career advice pages for more helpful tips and advice.
What should be included in a Epic Consultant resume?
A consultant resume should be a concise, yet comprehensive document that outlines qualifications, experience, and education that are relevant to the position for which you are applying.
When writing a consultant resume, you should include:
Contact information: Include your name, address, phone number, and email address.
Summary of qualifications: Write a few lines that summarize your qualifications and experience in the consulting field.
Professional experience: List your professional experience, beginning with your most recent job first. Include the company name, job title, and job duties.
Education: Include your relevant degrees and certifications, as well as any additional educational qualifications.
Skills: List any specialized skills or technical knowledge you possess that would make you an asset to the company.
Awards and accolades: If you have received any awards or other recognition for your work in the consulting field, include them here.
Additional information: If you have any additional information, such as publications or other relevant information, include it here.
By including all of this information, you can make sure that your resume is comprehensive and tailored to the consulting position for which you are applying.
What is a good summary for a Epic Consultant resume?
A summary for an Epic Consultant resume should include an overview of the candidate's qualifications and experience in working with Epic software. It should also detail the candidate's understanding of the Epic system and their ability to troubleshoot any issues that arise. Additionally, the summary should highlight any certifications or other qualifications that the candidate holds as well as any experience they may have in training or managing teams. Lastly, the summary should show that the candidate is a highly motivated individual who takes initiative and works well with others.
What is a good objective for a Epic Consultant resume?
A great objective on an Epic Consultant resume should clearly state the candidate's experience and display a desire to continue learning new tools. An Epic Consultant can help organizations to optimize how they use their Epic software and ensure the implementation of new features and updates. To stand out from the competition, an Epic Consultant should emphasize their experience, skills, and abilities.
Here is an example of a good objective for an Epic Consultant resume:
Experienced Epic Consultant with 7+ years of experience in designing, implementing, and managing Epic software
Proven track record of successfully designing and delivering innovative solutions to clients
Committed to staying up-to-date on the latest Epic software and technology advancements
Skilled in leading training sessions and providing technical support for new and existing users
Seeking a position to utilize my skills in delivering exceptional Epic solutions to clients.
How do you list Epic Consultant skills on a resume?
When applying for a position as an Epic Consultant, it's important to highlight the relevant skills on your resume. Highlighting these key skills will help employers and recruiters identify if you are the ideal candidate for the job. Here are some of the Epic Consultant skills you should consider including on your resume:
Knowledge of Epic software and systems: As an Epic Consultant, you must have a thorough understanding of the Epic software and systems. Showcase your expertise by highlighting any experience you have in using and managing Epic software.
Project management: Epic Consultants are often tasked with managing projects that involve the implementation and optimization of Epic software. Showcase your ability to manage projects, stay organized, and meet deadlines by listing any relevant project management experience you have.
Technical writing: Epic Consultants must have good writing skills to document processes, procedures, and user stories. Showcase your technical writing experience by including any relevant job responsibilities or certifications you have in the field.
Communication: As an Epic Consultant, you must be able to communicate effectively with clients and colleagues. List any experience you have in communicating complex technical information in a clear and concise manner.
Consulting experience: Epic Consultants must be able to provide reliable and effective consulting services. Showcase your consulting experience by highlighting any previous roles you have held in the field.
Problem-solving skills: Epic Consultants must be able to troubleshoot and resolve software issues. Highlight your problem-solving skills by listing any relevant job responsibilities or certifications you have in the field.
By highlighting these Epic Consultant skills on your resume, you can demonstrate to employers that you have the expertise required to be successful in the role.
What skills should I put on my resume for Epic Consultant?
Epic Consultants are highly sought-after professionals in the healthcare industry due to their technical and functional expertise. When applying for a job as an Epic Consultant, it is important to list the relevant skills and qualifications on your resume so that employers can easily identify your capabilities and assess your suitability for the position.
Below are some of the skills that employers look for when hiring Epic Consultants:
In-depth knowledge of Epic Systems, including applications, modules and databases
Expertise in Epic System design, development, and implementation
Proficiency in creating custom interfaces and reports
Ability to troubleshoot and resolve technical issues with Epic Systems
Experience in user training, data migration and system upgrades
Knowledge of relevant regulatory requirements and standards
Excellent communication, organizational and problem-solving skills
Ability to work independently and in a team environment
Proficiency in relevant programming languages and software
Ability to work collaboratively with stakeholders, IT teams, and vendors
Adaptability to changing requirements and technology
Key takeaways for an Epic Consultant resume
Your resume as an Epic consultant is one of the most important documents you can create to showcase your skills and experience. It should be well-crafted and tailored to the specific job you're applying for. Here are some key takeaways to help you create an epic consultant resume:
Utilize keywords: Most employers use applicant tracking systems to help quickly identify resumes that fit the job requirement. Incorporate relevant keywords throughout your resume to make sure your resume is noticed. Review the job description and related industry terms to identify the most appropriate keywords to include.
Highlight transferable skills: Emphasize the skills you developed in previous roles that are applicable to the job you're applying for. Rather than focusing on the specific details of the job, emphasize your transferable skills and highlight any training you've completed or certifications you possess that are relevant.
Keep it concise and organized: Consultant projects require you to have a wide range of skills and knowledge. Use bullet points to quickly highlight your qualifications, experiences and accomplishments. Don't get too wordy and avoid lengthy paragraphs when describing your past roles and experiences.
Showcase your achievements: What have you accomplished in your past roles? Include your successes and demonstrate how your efforts have benefited employers. Showcase any awards, recognition and positive feedback you've received to show employers how you stand out among other candidates.
Applying these key takeaways to craft an epic consultant resume will help you stand out among the competition and get your foot in the door.
Let us help you build
your Resume!
Make your resume more organized and attractive with our Resume Builder