Writing a resume for a IT Development Manager position can be a daunting task. It requires skill and precision to create a resume that effectively communicates your skills and experience. This guide will provide you with an example of a IT Development Manager resume as well as tips and tricks to make sure you create a document that will stand out from the competition. With the knowledge gained from this guide, your IT Development Manager resume will be sure to get you noticed and get you the job you deserve.
If you didn't find what you were looking for, be sure to check out our complete library of resume examples.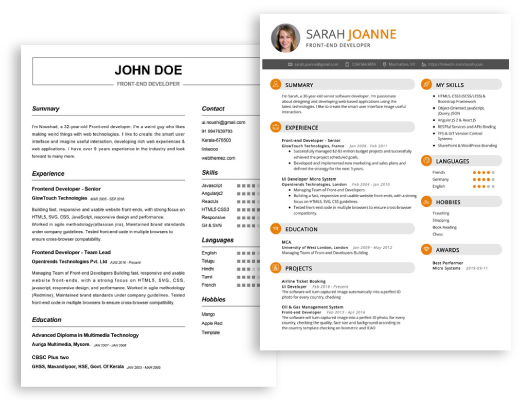 Start building your dream career today!
Create your professional resume in just 5 minutes with our easy-to-use resume builder!
IT Development Manager Resume Examples
John Doe
IT Development Manager
123 Main Street | Anytown, USA 99999 | Phone: (123) 456-7890 | Email: john.doe@email.com
I am an experienced IT Development Manager with a proven track record of successfully leading teams to design and develop innovative technology solutions. I have a strong technical background and have the ability to analyze complex problems and develop effective strategies to solve process issues. My expertise lies in project management, software engineering, and database administration. With my experience, I am confident that I can help take any organization to the next level in terms of technology development and implementation.
Core Skills:
Strong technical background
Project management
Software engineering
Database administration
Leadership
Strategic planning
Problem solving
Data analysis
Organizational skills
Team building
Negotiation
Professional Experience:
IT Development Manager, XYZ Corporation, 2019- Present
Manage the day- to- day operation of the IT development team
Lead the team in developing and implementing innovative technology solutions
Perform analysis and maintain software engineering standards
Ensure timely completion of projects within budget
Develop and implement strategies for enhancement and optimization of existing systems
Mentor and guide junior developers
Software Engineer, ABC Corporation, 2015- 2019
Developed and implemented software applications to improve business operations
Analyzed and optimized existing systems to ensure maximum efficiency
Provided technical guidance and support to junior developers
Performed database administration tasks
Created, tested and maintained software development programs
Education:
Bachelor of Science in Computer Science, University of California, 2012- 2015
Associate Degree in Information Technology, Community College, 2010- 2012
IT Development Manager Resume with No Experience
Recent graduate from the University of Michigan with a Bachelor Degree in Computer Science. Possess strong problem- solving and communication skills, as well as excellent knowledge in HTML, Javascript, and CSS. Excited to begin a career in the IT industry and contribute to the success of a company.
Skills:
HTML
JavaScript
CSS
Problem- solving
Communication
Responsibilities:
Develop and implement strategies for IT systems
Monitor and troubleshoot system performance
Manage IT projects and ensure they are completed in a timely manner
Analyze business needs and create IT roadmaps
Provide technical guidance and support to staff
Develop and maintain documentation of all IT systems
IT Development Manager Resume with 2 Years of Experience
Highly experienced IT Development Manager with over two years of experience in managing software development projects, technology strategies, and IT operations. Skilled in project planning, project management, technical documentation, data analysis and reporting, system architecture design, and software development. Adept at effectively managing IT resources and personnel; also experienced in budgeting and vendor relationship management. Proven track record of successful project delivery and maintain customer satisfaction.
Core Skills:
Project planning & management
Technical documentation
System architecture design
Software development
Data analysis & reporting
IT resource & personnel management
Budgeting & vendor relationship management
Responsibilities:
Developed IT strategies and policies to support the company's business objectives.
Collaborated with business stakeholders to determine their IT needs and develop requirements for software and systems.
Managed the design, development, and upkeep of the company's software systems and applications.
Monitored project progress, identified and resolved problems, and conducted quality assurance testing.
Developed and maintained technical documentation for software and systems, such as user requirements and design documents.
Developed effective communication plans to ensure all stakeholders were informed of project status, changes, and updates.
Managed relationships with IT vendors and suppliers to ensure the timely delivery of software and systems.
Prepared project budgets and monitored expenditures to ensure they stayed within the agreed budget.
Directed and supervised project personnel, including software developers, testers, and other technical staff.
IT Development Manager Resume with 5 Years of Experience
An experienced IT Development Manager with 5 years of progressive experience leading software development, DevOps, and web engineering teams. A strategic and analytical thinker with strong problem- solving skills, adept in developing and delivering cutting- edge, technology- driven solutions to a range of clients. Exceptional ability in planning, directing, and coordinating development projects from start- to- finish, leveraging strong knowledge and understanding of software engineering lifecycles and methodologies. Demonstrated ability to lead distributed teams with an Agile- inspired approach, driving team motivation and performance.
Core Skills:
Technology Leadership
Software Development & Engineering
DevOps
Strategic Planning & Execution
Team Collaboration & Motivation
Agile Methodologies
Project Management
System Design & Architecture
Web Development
Troubleshooting & Problem Solving
Communication & Presentation
Cross- Functional Team Coordination
Responsibilities:
Lead the development of software solutions and architecture, setting standards and driving development teams to deliver and exceed expectations
Coordinate development activities within cross- functional teams and collaborate with other departments and stakeholders to ensure project success
Establish and maintain project timelines, objectives, and goals while proactively mitigating risks and resolving issues
Develop and execute strategies to improve project development efficiency and productivity
Monitor and analyze upcoming trends, technologies, and industry standards to ensure best- in- class solutions
Create and maintain development standards, processes, and procedures for the team
Identify, analyze, and resolve technical issues, working with other departments and external stakeholders as necessary
Manage team utilization and allocate resources to ensure projects are completed on time and within budget
Train, guide, and mentor team members on development and
IT Development Manager Resume with 7 Years of Experience
Experienced IT Development Manager with a track record of successful project delivery and technical expertise. Proven ability to lead, motivate and mentor teams by leveraging best practices, methodologies, and processes to create innovative software solutions. Possess expertise in software development, business analysis, quality assurance, and database administration. Strong communicator and relationship builder with the ability to collaborate with a range of stakeholders and develop effective solutions.
Core Skills:
Excellent project management skills
Proficiency in software development lifecycle
Excellent problem solving, technical, and analytical skills
Able to work independently, as well as in a team
Strong time management and organizational skills
Highly adept in developing and maintaining customer relationships
Strong leadership and supervision skills
Excellent communication and customer service skills
Responsibilities:
Provide technical leadership to development teams by ensuring implementation of best practices, processes, and standards.
Develop and maintain relationships with clients and stakeholders to ensure needs are understood, expectations are met, and solutions are delivered on time.
Coordinate with QA teams to ensure quality assurance of software products through best testing practices.
Mentor and manage junior IT team members to ensure they are delivering tasks according to project schedule and quality standards.
Define and review software project specifications and requirements to ensure they meet customer and business needs.
Lead software development teams to create innovative solutions that bring value to the customer and organization.
Manage software development project scope, timeline and budget to ensure successful delivery within desired timelines.
Maintain up- to- date knowledge of software development trends, advancements, and new technologies to ensure solutions remain relevant and competitive.
IT Development Manager Resume with 10 Years of Experience
Highly experienced IT Development Manager with 10 years of experience in the IT industry. Proven track record in successfully driving projects and operations to completion within established deadlines, while providing cost- effective solutions that meet customer requirements and quality standards. Comprehensive knowledge of IT operations, project and process management, software development methodologies, and computer system management. Skilled in leading teams, problem- solving, and decision- making.
Core Skills:
Project and Process Management
Software Development Methodologies
System Administration
Team Leadership
Problem- Solving
Decision- Making
Quality Assurance
Responsibilities:
Established and managed IT operations, including software development, system administration, and project management
Developed and implemented software development methodologies and processes that improved productivity and reduced costs
Oversaw the development, implementation, and maintenance of computer systems
Led cross- functional teams in the completion of complex IT projects
Managed the purchase, installation, and maintenance of hardware and software
Ensured compliance with industry standards and regulatory requirements
Identified and resolved system performance issues
Monitored team performance and provided guidance and feedback
Developed and implemented quality assurance processes
IT Development Manager Resume with 15 Years of Experience
IT Development Manager with 15 years of experience in the field of technology and software development. Experienced in management of large- scale software projects from conception to completion. Skilled in researching the latest technologies and trends in order to find cost savings and efficiencies for the organization. Proven success in developing and managing teams to maximize production and quality of deliverables. Highly organized and detail- oriented professional with excellent communication and problem- solving capabilities.
Core Skills:
Project Management
Software Development
Team Leadership
Software Testing
Data Analysis
Problem Solving
Time Management
Data Security
Responsibilities:
Leading software development teams in the planning, designing, development, and implementation of software applications
Collaborating with other IT professionals in the development of software solutions
Developing and enforcing software development policies and procedures
Performing software testing and debugging to ensure accuracy and quality of deliverables
Researching new technologies and trends to find cost savings and efficiencies
Monitoring team performance and providing feedback and coaching to maximize productivity
Overseeing data analysis, security and integrity of databases and applications
Ensuring compliance with industry standards and regulations
In addition to this, be sure to check out our resume templates, resume formats, cover letter examples, job description, and career advice pages for more helpful tips and advice.
What should be included in a IT Development Manager resume?
Writing a successful resume as an IT Development Manager requires highlighting your technical skills, knowledge of software development, and ability to manage projects. Your resume should also emphasize the positive results you achieved in your previous positions.
Below are the key components to include in an IT Development Manager resume:
Professional Summary: A brief overview of your professional qualifications and career trajectory.
Education: Degree(s) and certifications relevant to the position.
Technical Skills: Proficiencies in languages such as HTML, CSS, JavaScript, Java, C++, etc.
Software Development: Experience managing the development of software applications, setting timelines and milestones, and working with software engineers and other IT professionals.
Project Management: Ability to manage and oversee complex IT projects, coordinating schedules and budgets, and ensuring progress is made according to timeline.
Leadership: Demonstrated leadership in previous positions, such as growing a team, assisting with troubleshooting, and providing problem-solving solutions.
Problem-solving: Proven problem-solving skills in the IT environment, such as troubleshooting complex systems and resolving technical issues.
Communication: Outstanding communication skills, both written and verbal, in order to provide direction and guidance to team members.
Interpersonal skills: Ability to work well in a collaborative environment, working with a variety of stakeholders.
By emphasizing these elements in your IT Development Manager resume, you can stand out from other applicants and give yourself the best chance of landing the job.
What is a good summary for a IT Development Manager resume?
A good summary for an IT Development Manager resume should highlight the candidate's experience in IT development, their technical proficiency, and any notable achievements. It should also emphasize the candidate's ability to lead and manage a team of IT professionals, along with any relevant qualifications earned in the IT field. The summary should also showcase the candidate's ability to stay current on new technology, tools, and trends in the IT field. Finally, a good summary should also mention any successes or awards earned within the IT field. This helps to demonstrate the candidate's experience and potential to potential employers.
What is a good objective for a IT Development Manager resume?
A IT Development Manager is responsible for managing the development of information technology systems and software, as well as coordinating the activities of technology and software development teams. When writing their resume, a clear and concise objective statement can help the hiring manager quickly understand how an applicant's skills and experience make them a good fit for the position.
Here are some examples of good objectives for an IT Development Manager resume:
To use my 5+ years of experience in IT development and management to lead a team in creating cutting edge technology solutions for the company.
To utilize my knowledge of software development and IT systems management to promote innovation and efficiency in the company.
To leverage my expertise in IT and software development to create customer-focused solutions that drive business growth.
To apply my skills in project management and software development to deliver high-quality IT solutions to the organization.
To bring my strong problem-solving skills and experience in software engineering to create innovative IT solutions that drive business success.
How do you list IT Development Manager skills on a resume?
When listing your IT Development Manager skills on a resume, the following bullet points should be included:
Proficiency in project management tools and techniques
Experience in overseeing and managing software development processes
Knowledge of best practices in software engineering
Ability to analyze business processes, identify gaps, and recommend solutions
Excellent communication and collaboration skills
Strong problem-solving and decision-making abilities
Proficiency in multiple programming languages
Knowledge of databases such as MySQL and Oracle
Familiarity with various software development methodologies, such as Agile and Waterfall
Ability to manage multiple projects simultaneously
Excellent organizational, time management, and prioritization skills
Ability to mentor and lead teams of developers
What skills should I put on my resume for IT Development Manager?
When creating your resume for an IT Development Manager position, it is important to showcase the skills and experience that demonstrate your qualifications for the job. As a Development Manager, you need to be proficient in coding, project management, and problem-solving, as well as have strong leadership and communication skills. Here is a list of some of the essential skills to include on your resume:
Coding proficiency: As an IT Development Manager, you should be well-versed in coding languages such as HTML, CSS, Javascript, and Python.
Project management: You should be able to manage complex projects and ensure that all tasks are completed on time and within budget.
Problem-solving: You should be able to quickly identify issues, analyze data, and develop solutions.
Leadership: You should be able to lead teams effectively, delegate tasks, and provide direction and support.
Communication: You should be able to communicate clearly and accurately to ensure that all team members understand the project requirements.
Technical aptitude: You should be able to understand and troubleshoot complex technical problems.
Time management: You should be able to manage multiple tasks and prioritize tasks to meet deadlines.
Adaptability: You should be able to quickly adapt to changing requirements and environments.
Collaboration: You should be able to work collaboratively with other team members to reach project goals.
Key takeaways for an IT Development Manager resume
An IT Development Manager resume is an important tool for anyone looking to break into the technology industry. As such, it is important to make sure the document is well written and tailored to the position you are applying for. The following are some key takeaways for an IT Development Manager resume:
Highlight Your Skills: IT Development Manager positions require a wide variety of technical skills, so make sure to showcase your expertise in key areas such as coding, database management, project management, etc. List any certification or specialized training you have to demonstrate your knowledge and proficiency in the field.
Talk About Your Projects: Discuss any major projects you've completed, outlining your role in the project and any successes you achieved. This is a great way to emphasize your problem-solving capabilities, technical knowledge, and project management skills.
Tailor Your Resume: Every job is different, so tailor your resume to the position you're applying for. Make sure you highlight the most relevant skills and experiences for the role you're seeking.
Highlight Your Soft Skills: While technical skills are important, soft skills such as communication, problem solving, and leadership are often just as important in an IT Development Manager role. Make sure to discuss any soft skills you possess and how they have helped you be successful in past roles.
By following these key takeaways, you can create an IT Development Manager resume that will stand out from the crowd and put you ahead of the competition.
Let us help you build
your Resume!
Make your resume more organized and attractive with our Resume Builder