If you're looking to land a job as an IT contractor, your resume is a key factor that will help you stand out from the competition. A well-crafted resume tailored specifically to the IT contractor role will showcase your abilities and help highlight the perfect candidate for the job. In this guide, we'll provide you with all the tips and tricks you need to write an effective IT contractor resume, as well as a few examples to serve as inspiration.
If you didn't find what you were looking for, be sure to check out our complete library of resume examples.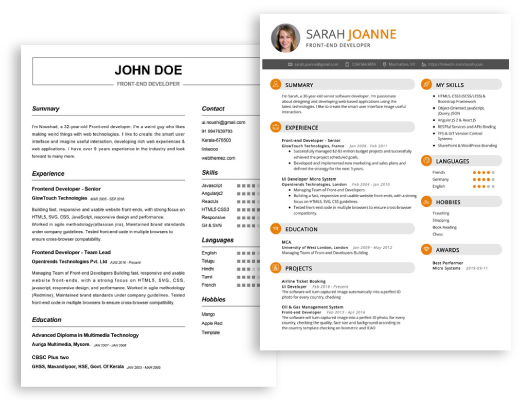 Start building your dream career today!
Create your professional resume in just 5 minutes with our easy-to-use resume builder!
IT Contractor Resume Examples
John Doe
IT Contractor
123 Main Street | Anytown, USA 99999 | Phone: (123) 456-7890 | Email: john.doe@email.com
I am an IT Contractor specializing in software engineering, database administration, and network troubleshooting. I have over 8 years of professional experience in the IT industry and have a strong track record of successful implementations and technical solutions. My extensive experience in working with both large and small organizations has enabled me to develop a wide range of skills and knowledge of the IT field that I utilize to help my clients optimize their systems.
Core Skills:
Software Engineering
Database Administration
Network Troubleshooting
Agile Methodologies
Project Management
Software Testing
Configuration Management
Technical Documentation
Data Analysis
Professional Experience:
Tech Solutions Inc: IT Contractor (2016- Present)
Designed and developed various software applications using Java, C++, and Python.
Managed database systems for various clients using SQL Server, Oracle, and MySQL.
Troubleshoot network issues and provide technical support to clients.
Implemented agile methodologies for software development projects.
Managed software testing, configuration management, and data analysis.
Prepared technical documentation and user guides for various software applications.
Education:
Bachelor of Science in Computer Science, University of Colorado (2014)
Master of Science in Software Engineering, University of California (2016)
IT Contractor Resume with No Experience
IT professional with a passion for problem- solving and customer service. Seeking to leverage my knowledge of network and system administration to fill the IT contractor role at your organization.
Skills
Network Administration
System Administration
Technical Troubleshooting
Customer Service
Risk Analysis
Analytical Thinking
Project Management
Responsibilities
Configuring and maintaining computer networks
Installing and troubleshooting hardware and software
Ensuring system security and troubleshooting access issues
Utilizing remote maintenance and support services
Updating and maintaining IT documentation
Training users on new software and hardware systems
Identifying ways to improve system efficiency and performance
IT Contractor Resume with 2 Years of Experience
A highly motivated IT Contractor with over 2 years of experience in the computer engineering and IT field. Demonstrated excellent commissioning, technical installation, and troubleshooting skills working in various environments. Proven ability to work efficiently while staying organized and prioritizing tasks. Highly experienced in setting up, monitoring, and configuring IT systems and networks.
Core Skills:
Knowledge of IT Infrastructure, Operating Systems and Networking
Technical Troubleshooting and Problem- solving
Expertise in Server and Desktop Support
Network and Security Solutions
System Administration and Maintenance
Excellent Communication and Interpersonal Skills
Time Management and Planning
Responsibilities:
Installing, configuring, and troubleshooting of network systems, hardware, and software.
Identifying and resolving technical issues related to networks, servers, applications, and system hardware.
Monitoring and managing server and network performance, security, and system stability.
Ensuring security protocols are up to date and in compliance.
Creating and maintaining user accounts, group policies, and security systems.
Maintaining accurate records of system configurations, software, and hardware.
Escalating unresolved issues to appropriate personnel.
Collaborating with IT teams to ensure smooth and effective system operations.
IT Contractor Resume with 5 Years of Experience
An experienced IT Contractor with a passion for technology and five years of experience in software engineering. Highly adept at ensuring projects are completed on time and within budget using a combination of technical and problem- solving skills. Possesses a vast knowledge of the latest software engineering technologies and a proven track record of successful project launches. Excels at building strong relationships with clients and colleagues to ensure efficient and cost- effective operations.
Core Skills:
Software engineering
Problem- solving
Project management
Tech support
Agile & Waterfall Methodology
Communication & interpersonal
Responsibilities:
Developing and maintaining software applications, including design, development, testing and implementation.
Collaborating with other team members to ensure projects are completed on time and within budget.
Providing technical support for software applications and troubleshooting any issues that may arise.
Adhering to Agile and Waterfall methodology to ensure efficient project management and development.
Analyzing customer requirements and designing appropriate solutions to meet their needs.
Working closely with clients to ensure satisfaction with the end product.
Ensuring compliance with industry standards and best practices.
Creating comprehensive documentation to ensure ongoing maintenance and support.
IT Contractor Resume with 7 Years of Experience
I am a seasoned IT Contractor with 7 years of experience in designing and coding software, troubleshooting systems and networks, and providing technical support. With a strong technical background and excellent problem- solving skills, I am able to work independently and collaboratively in complex IT environments. I am also customer service- oriented and have experience in working with various stakeholders and customers. I am comfortable with quickly learning and adapting to new technologies, processes and tools.
Core Skills:
Software Design and Coding
Systems and Networks Troubleshooting
Technical Support
Customer Service
Problem Solving
Quickly Learning and Adapting to new Technologies, Processes, and Tools
Responsibilities:
Developed software applications according to customer specifications and industry standards
Identified and resolved software issues, using debugging and troubleshooting tools
Provided technical advice and support to customers, resolving issues in a timely manner
Maintained and updated existing software applications to address customer requests
Conducted research to ensure compliance with industry standards and regulations
Installed, maintained, and troubleshot computer systems and networks
Created technical documentation on processes, procedures, and changes to existing software applications
Provided training and guidance to staff and customers on the usage of software applications
Monitored performance of systems and networks and identified areas of improvement to optimize efficiency.
IT Contractor Resume with 10 Years of Experience
With over 10 years of IT contractor experience, I am highly skilled in designing, developing and operating IT systems, networks, and applications. I possess excellent knowledge of operating system administration, network security and troubleshooting. I am also proficient in managing IT projects and providing customer support. Along with my strong technical background, I am highly organized, independent, and able to prioritize multiple tasks and projects. I am a dependable problem solver with strong attention to detail.
Core Skills:
System Administration
Network Security
Troubleshooting
Project Management
Customer Support
Problem Solving
Attention to Detail
Organizational Skills
Time Management
Responsibilities:
Installing and configuring computer hardware, operating systems, and applications
Monitoring and maintaining computer networks and systems
Troubleshooting system and network problems
Diagnosing and solving hardware/software faults
Setting up new users and granting permissions
Updating current system security measures
Developing and implementing IT policies and procedures
Providing technical support to end users
Managing and monitoring IT projects
IT Contractor Resume with 15 Years of Experience
I am an IT contractor with over 15 years of experience in providing technical solutions to both medium and large- scale businesses. My experience has been mainly in cloud computing, virtualization, and network infrastructure. I am well- versed in both hardware and software, and I have developed a knack for troubleshooting and problem- solving. I have expertise in leading a team of technicians, developing strategies to ensure the highest quality deliverables, and collaborating with stakeholders to ensure their satisfaction. My dedication and passion for technology have enabled me to deliver projects on time and in budget for multiple clients.
Core Skills:
Cloud Computing
Virtualization
Network Infrastructure
Hardware & Software
Troubleshooting & Problem- Solving
Leadership
Project Management
Responsibilities:
Installing, configuring, and troubleshooting computer systems and networks
Monitoring the performance of the IT infrastructure and making necessary adjustments
Developing strategies and standards for the use of the IT systems
Providing technical support and guidance to end- users
Testing, evaluating and implementing new technology solutions
Creating detailed documentation related to all IT systems
Investigating and resolving technical issues
Developing and maintaining system security protocols
Performing regular system maintenance checks and upgrades
In addition to this, be sure to check out our resume templates, resume formats, cover letter examples, job description, and career advice pages for more helpful tips and advice.
What should be included in a IT Contractor resume?
A successful IT contractor resume should highlight the valuable skills and experiences that you bring to the table. Below are some essential elements to include in an IT contractor resume:
A professional summary section: This section should be a short introduction to your professional background, listing your qualifications and expertise as an IT contractor.
Technical skills: Include a section that lists your technical skills and proficiencies, such as experience with software, programming languages, operating systems and hardware.
Projects: This section should list the projects you have been involved with as an IT contractor. Include the specific roles you played and techniques you used in each project.
Education: Include your educational background, such as any degrees or certificates you hold.
Certifications and awards: If you have any certifications or awards related to IT contracting, be sure to list them in your resume.
Experience: Describe your work experience as an IT contractor, including any roles you have played and technologies you have used.
References: Include a list of references who can speak to your qualifications as an IT contractor.
What is a good summary for a IT Contractor resume?
A strong summary for an IT Contractor resume should clearly highlight the candidate's list of accomplishments and technical expertise. It should also emphasize the contractor's dedication to delivering outstanding results. Additionally, the summary should showcase any areas of specialization that could be of particular value to the hiring organization, such as experience with specific software or hardware processes. Finally, the summary should demonstrate the contractor's commitment to staying up-to-date with the most current IT trends and technologies. An effective summary for an IT Contractor resume should draw attention to the contractor's knowledge of the industry, technical expertise, and enthusiasm for staying ahead of the competition.
What is a good objective for a IT Contractor resume?
As an IT Contractor, your job is to provide specialized IT services on a temporary basis. When crafting your resume, it's important to have an objective that accurately reflects your experience and demonstrates to potential employers what you can offer them. A good objective for an IT Contractor resume should include the following points:
Demonstrate experience working with various IT systems, software and hardware
Communicate effectively with clients to understand their needs and provide relevant solutions
Utilize problem-solving skills to troubleshoot and resolve technical issues
Leverage knowledge of best practices and processes to ensure projects are completed efficiently and on time
Bring a positive attitude, strong work ethic and commitment to excellence to all projects
By focusing on these points, you can show potential employers that you have the necessary experience, skills and attitude to be a successful and valuable IT Contractor.
How do you list IT Contractor skills on a resume?
When applying for a job as an IT contractor, having the right skills listed on your resume is crucial in order to stand out from the competition. Your resume should clearly showcase a combination of both technical and soft skills in order to demonstrate your suitability for the job.
Below are some tips on how to best list your IT contractor skills on your resume:
Include a detailed list of specific technical skills that are related to the job you are applying for. Make sure to provide examples of any certifications, programs, and platforms you are familiar with.
Emphasize important qualities such as problem-solving, critical thinking, and the ability to work independently.
Highlight any communication and interpersonal skills that are pertinent to the job you are applying for.
Describe any relevant experience that you have such as setting up networks, debugging software, and managing databases.
Include any other skills that you have such as coding and web development, virtualization, and cloud computing.
Demonstrate that you are up to date with the latest IT trends and technologies.
By following these tips, you will be able to effectively showcase the skills that make you the ideal candidate for the job. Your resume should clearly reflect your abilities and demonstrate why you are the best choice for the position.
What skills should I put on my resume for IT Contractor?
When you are applying for a job as an IT Contractor, it is important to make sure that you showcase your valuable skills and experiences in a way that makes you stand out to potential employers. To help you get started, here are some suggestions of what IT Contractor skills to highlight on your resume:
Project Management: As an IT Contractor, you will likely have experience managing multiple projects at once. Showcase your ability to handle multiple projects while meeting deadlines and achieving desired outcomes.
Technical Skills: Have you worked with any specific programming languages, software, or tools? List any technical skills that you have and explain your experience with each.
Adaptability: IT Contractors typically work with a variety of different clients, so it is important to demonstrate your ability to quickly adapt to new environments.
Communication: As an IT Contractor, you will need to be able to effectively communicate with clients and co-workers. Describe how you use clear communication to explain complex concepts and how you collaborate with others.
Problem-Solving: Showcase how you use your creativity and expertise to solve difficult problems.
Project Delivery: Many IT Contractors are responsible for delivering successful projects to clients, so demonstrate your ability to do this by highlighting any projects you have delivered in the past.
By highlighting these IT Contractor skills on your resume, you can show potential employers that you have the skills and experience necessary to be successful in the role.
Key takeaways for an IT Contractor resume
An IT contractor resume is a great way for an IT professional to showcase their experience and skillset to potential employers. A well-crafted resume can help you stand out from the competition and stand out to potential employers. Here are some key takeaways for creating a strong IT contractor resume:
Tailor your resume to the job. Make sure your resume is specifically tailored to the job you're applying for. Highlight the skills, experience, or qualifications relevant to the job you're applying for.
Showcase your technical skills. Make sure to include any technical skills you have on your resume. This can include programming languages, database systems, software development, or networking.
Show off your experience. Include a section on your resume that showcases your experience relevant to the job. Include any contracts you've worked on and any projects you've been a part of.
Include your certifications. If you have any certifications that are relevant to the job, make sure to include them on your resume. This will help show employers that you are qualified to do the job.
Describe your work style. Include a section on your resume that describes your work style. This can include how you prefer to work, how you like to collaborate with teammates, or how you handle challenges.
By following these key tips, you can make sure your IT contractor resume stands out from the competition and helps you get noticed by potential employers.
Let us help you build
your Resume!
Make your resume more organized and attractive with our Resume Builder