Are you looking for a job as a Configuration Analyst? Writing a great resume is an important step in the job search process. Having a well-crafted resume can help catch the eye of recruiters and hiring managers. To give you a leg up, we've put together this comprehensive guide on how to write a resume that will effectively showcase your qualifications as a Configuration Analyst. We'll provide tips on how to structure your resume, what sections to include, and how to choose the right format. In addition, we'll provide some examples of Configuration Analyst resumes to get you started.
If you didn't find what you were looking for, be sure to check out our complete library of resume examples.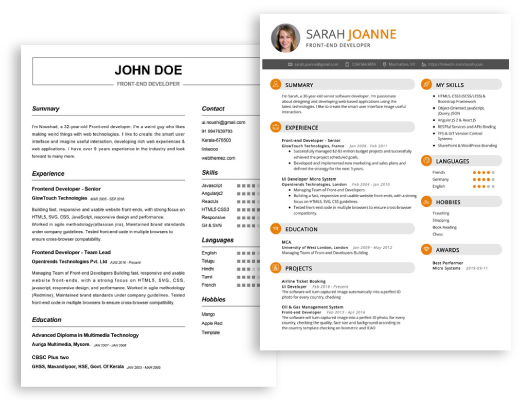 Start building your dream career today!
Create your professional resume in just 5 minutes with our easy-to-use resume builder!
Configuration Analyst Resume Examples
John Doe
Configuration Analyst
123 Main Street | Anytown, USA 99999 | Phone: (123) 456-7890 | Email: john.doe@email.com
I am a highly motivated and organized individual with over 5 years of experience in the Configuration Analyst field. I have a vast understanding of the principles and techniques of analyzing and configuring software systems, including systems that are both proprietary and open source. I have a strong technical background and excellent problem- solving abilities that allow me to quickly and effectively resolve issues. My experience includes troubleshooting, diagnosing, and resolving hardware and software issues. I am also skilled in software project management and have expertise in configuration management.
Core Skills:
Software Configuration
Application Installation
System Architecture Design
Software Troubleshooting
Software Project Management
Database Management
System Maintenance
Professional Experience:
Configuration Analyst, ABC Corporation, 2018- Present
Assisted in the development and implementation of software system configurations.
Configured and maintained software systems and applications.
Installed and tested new software applications.
Identified and resolved software and hardware issues.
Monitored system performance and troubleshot any issues.
Developed and implemented configuration management plans.
Systems Administrator, XYZ Corporation, 2015- 2018
Installed, configured and maintained software applications.
Performed system upgrades and patching.
Monitored system performance and errors.
Implemented and enforced security measures.
Provided technical support to users.
Education:
Bachelor of Science in Computer Science, University of ABC, 2015
Configuration Analyst Resume with No Experience
Recent college graduate eager to start a career as a Configuration Analyst. Possesses strong technical, analytical, problem solving and communication skills, as well as an understanding of the importance of customer service.
Skills:
Analytical Thinking
Data Analysis
Problem Solving
Technical Knowledge
Customer Service
Communication
Responsibilities:
Analyze customer data and identify potential issues
Research and resolve configuration issues
Work closely with customers to ensure their satisfaction
Maintain accurate records of customer interactions
Provide technical support to customers
Monitor configuration changes and keep track of updates
Keep up to date with changes in the configuration management field
Configuration Analyst Resume with 2 Years of Experience
A dedicated Configuration Analyst with two years of experience in designing, creating, testing and maintaining software configurations, as well as ensuring their quality and accuracy. Excellent problem solving and project management abilities, combined with a keen eye for detail and a commitment to ensuring the highest quality of service. Possesses strong interpersonal skills and a background in customer service and support.
Core Skills:
Configuration analysis
Software installation and maintenance
Problem solving
Project management
Customer service and support
Quality assurance
Responsibilities:
Analyzed customer requirements and developed software configurations based on those requirements
Installed and maintained software configurations
Tested configurations for accuracy and quality assurance
Provided technical support and troubleshooting assistance to customers
Resolved customer complaints in a timely manner
Managed customer relationships and maintained customer satisfaction
Monitored system performance and made adjustments as needed
Prepared documents and reports detailing customer requirements and software configurations
Configuration Analyst Resume with 5 Years of Experience
Highly organized, analytical and detail- oriented Configuration Analyst with 5 years of experience in quality assurance and data analysis. Possesses strong technical and interpersonal skills, and a thorough knowledge of configuration management and database management. Proven track record of planning, designing and implementing complex network configurations to ensure optimal system performance and data accuracy. Excellent problem- solving abilities, experienced in troubleshooting a wide range of technical issues.
Core Skills:
Configuration Management
Database Management
Quality Assurance
Data Analysis
Troubleshooting
System Monitoring
Networking
Process Improvement
Responsibilities:
Analyze complex configurations and design technical solutions to meet customer requirements
Administer and maintain a variety of databases and systems in compliance with organizational guidelines
Monitor system performance and detect potential issues, take corrective action when necessary
Create and implement standards and best practices for configuration management
Conduct quality assurance tests and validations to ensure data accuracy
Develop and implement procedures for configuration control and change management
Provide technical support for system configuration, troubleshooting and maintenance activities
Document system configurations and changes for future reference and troubleshooting
Configuration Analyst Resume with 7 Years of Experience
An accomplished Configuration Analyst with 7 years of experience in system and software configuration management, systems analysis, and process optimization. Exceptional ability to analyze advanced system requirements, documentation and processes in order to improve overall quality and performance. Proven track record of efficiently deploying and operating advanced technologies and applications, while building strong relationships with end- users.
Core Skills:
Configuration and System Analysis
Process Optimization
Multi- platform System Administration
Documentation and Reporting
Strategic Planning
Troubleshooting
Problem- solving
Responsibilities:
Ensured that new software and applications were installed and configured correctly.
Carried out required configuration reviews and documented changes.
Developed and implemented processes that improved the efficiency of configuration management.
Documented and reported system and software requirements for new projects.
Provided advice and support for system implementation and configuration.
Monitored the performance of configuration management systems.
Developed strategies for the maintenance, upgrade, and optimization of system configurations.
Investigated and resolved customer support issues quickly and accurately.
Coordinated with internal and external stakeholders to ensure that configuration requirements were met.
Configuration Analyst Resume with 10 Years of Experience
A highly motivated and experienced Configuration Analyst with 10 years of IT experience specializing in developing, installing, and supporting systems and software solutions. Skilled in overseeing the development, design, and integration of computer systems to ensure their successful operation. Proven ability to provide technical advice and configure, troubleshoot and maintain computer systems in accordance with relevant regulations.
Core Skills:
System configuration and installation
System troubleshooting and maintenance
Technical advice provision
Network systems management
Software solutions design
Database management
Data security
Risk assessment
Documentation and reporting
Responsibilities:
Configured and installed computer systems to meet customer requirements.
Troubleshot and maintained computer systems, including hardware and software components.
Developed and implemented software solutions and databases to meet customer needs.
Managed network systems and servers, making sure they were operating efficiently.
Provided technical advice to customers and colleagues on the best IT solutions.
Assessed security risks, created and implemented strategies to mitigate them.
Generated reports to document system configuration and maintenance activities.
Configuration Analyst Resume with 15 Years of Experience
A highly experienced Configuration Analyst with 15 years of experience in the field. Possesses expertise in the installation, configuration, maintenance, and troubleshooting of a wide variety of IT systems, networks, and software applications. Skilled in performing system administration duties and creating technical documents. Adept in analyzing data, creating detailed reports, and providing recommendations. Committed to providing quality customer service and ensuring a secure IT environment.
Core Skills:
Installation and Configuration
System Administration
Troubleshooting and Maintenance
Data Analysis
Technical Documentation
Customer Service
Network Security
Responsibilities:
Installed, configured, maintained, and troubleshot IT systems, networks, and software applications.
Performed system administration duties such as user and resource management, system security, and data backup and recovery.
Analyzed and reported on system performance, data accuracy, and security integrity.
Created technical documents such as user and system manuals, maintenance checklists, and operating procedures.
Provided technical support for users and responded to inquiries in a timely manner.
Ensured the safety and security of the IT environment through the implementation of security measures and protocols.
Performed upgrades and patch installations to keep systems up to date.
Monitored system logs and event logs for errors, alerts, and other anomalies.
In addition to this, be sure to check out our resume templates, resume formats, cover letter examples, job description, and career advice pages for more helpful tips and advice.
What should be included in a Configuration Analyst resume?
A configuration analyst is an important role within the IT industry and requires a wide range of skills and strong knowledge. An effective resume should be well-written, organized and showcase the most relevant experiences and skills to the position. Below are some tips on how to effectively write a Configuration Analyst resume.
Highlight your experience: As a Configuration Analyst, you need to have strong experience in your field. Showcase your past roles and responsibilities, as well as any specialized software, tools, or systems you have experience with.
Focus on your technical abilities: A Configuration Analyst must be well-versed in a variety of technical skills. Make sure to highlight any programming languages, databases, or other software/hardware you have experience with.
Include your problem solving skills: Configuration Analysts must have strong analytical and problem-solving skills. Showcase any past experience in troubleshooting, debugging, or resolving technical issues.
Demonstrate success: Showcase any past successes on the job, such as delivering projects on time or efficiently resolving customer issues.
Outline your communication skills: Configuration Analysts must be good communicators and be able to explain technical concepts to non-technical people. Showcase any past experience in customer service or in presenting reports or findings.
List your education and certifications: Make sure to include any relevant education or certifications, such as a Bachelor's degree in Computer Science or a certification in configuration analysis.
By using these tips, you can create an effective Configuration Analyst resume that will help you stand out from the competition.
What is a good summary for a Configuration Analyst resume?
A Configuration Analyst is responsible for managing and configuring software, hardware and networks. An effective resume summary for a Configuration Analyst should highlight the candidate's technical skills, problem-solving ability and experience in troubleshooting and resolving complex issues. An ideal Configuration Analyst should also demonstrate experience in designing, implementing and maintaining systems, as well as proficiency in using scripting languages such as Python and SQL. Furthermore, the summary should emphasize the ability to work in a team environment and effectively communicate with stakeholders.
What is a good objective for a Configuration Analyst resume?
A configuration analyst is a job role that involves ensuring that systems are properly configured and operated. A good configuration analyst resume should clearly explain the candidate's experience, skills, and qualifications for the job.
When writing an objective for a configuration analyst resume, it is important to include both your experience and career goals. The objective should be tailored to the specific job you are applying for, so that the hiring manager can see how you would be a good fit for the role.
Here are some examples of good objectives for a configuration analyst resume:
To use my extensive knowledge and experience of operating systems and software to ensure efficient and reliable configuration and maintenance of systems.
To leverage my problem-solving and analytical skills to identify and address technical issues within complex IT systems.
To utilize my expertise in system analysis and design to develop and optimize processes that ensure optimal system performance.
To bring my strong experience in troubleshooting and diagnosing system issues to drive system stability and reliability.
To utilize my strong communication skills to effectively collaborate with stakeholders and provide clear and concise documentation of system configuration.
To use my expertise in network security to ensure the secure configuration and operation of systems for maximum system uptime.
How do you list Configuration Analyst skills on a resume?
When it comes to listing your Configuration Analyst skills on a resume, you want to be sure to highlight the experience and abilities that make you the ideal candidate for the position. To ensure your resume stands out from other applicants, consider the following:
Highlight your expertise in Configuration Management Systems (CMMS) and software, including any certifications or training you may have.
Include any experience you have in developing, testing, and implementing software solutions.
Point out any knowledge you have of IT and networking infrastructure, as well as any experience with hardware and software maintenance.
Showcase your ability to monitor system performance, troubleshoot any issues, and identify areas of improvement.
Point out your ability to prepare reports and accurately document changes to the system.
Showcase your strong analytical and problem-solving skills.
Demonstrate your excellent communication and interpersonal skills.
By highlighting your capabilities and accomplishments, you can create a resume that stands out from the competition and helps you get the job you want.
What skills should I put on my resume for Configuration Analyst?
When applying for a Configuration Analyst position, it is important to emphasize the skills you possess that make you qualified for the job. A resume should showcase your qualifications and experience, and highlight the skills that make you stand out from the competition. Here is a list of top skills to include in your resume when applying for a Configuration Analyst role:
Knowledge of Configuration Management Tools: As a Configuration Analyst, it is important to have a deep understanding of the various configuration management tools such as Chef, Puppet, Ansible, and Jenkins. Be sure to include any experience you have with setting up and managing configuration management systems.
Experience with Cloud Computing: Many businesses utilize cloud computing platforms such as Amazon Web Services (AWS) and Microsoft Azure. Demonstrate your experience working with cloud computing systems in your resume and mention any certifications you may have.
Adaptability: Configuration Analysts must be able to quickly adapt to new tools and technologies, as well as to changes in the business environment. Showcase your ability to quickly learn new skills and to think on your feet.
Troubleshooting and Problem-Solving: Configuration Analysts must be able to identify and troubleshoot problems quickly and effectively. Describe any experience you have had in troubleshooting and resolving issues.
Attention to Detail: Configuration Analysts must pay close attention to detail, as even small changes can have a big impact on the system. Mention any experience you have had in closely monitoring system changes and making sure that everything is running smoothly.
By highlighting these skills in your resume, you will be able to show potential employers that you are the right person for the job.
Key takeaways for an Configuration Analyst resume
As a Configuration Analyst, your resume should focus on your ability to successfully troubleshoot, install, and maintain the software and hardware that make up a given system. It's important for your resume to highlight the technical skills you possess, as well as the abilities you have in communication, problem-solving, and customer service. Here are some key takeaways to consider when crafting an effective Configuration Analyst resume:
Highlight your technical skills: An effective Configuration Analyst resume should showcase your technical skills, such as your experience with the technology and software used in the role. Be sure to highlight all the technical certifications and training programs that you have completed. This can demonstrate your proficiency and commitment to the field.
Showcase your problem-solving abilities: The role of a Configuration Analyst requires strong problem-solving skills. You should demonstrate your capabilities in this area by highlighting successful projects you have completed or issues you have resolved.
Emphasize your customer service skills: As a Configuration Analyst, you will be interacting with customers on a regular basis. It is important for your resume to demonstrate your customer service capabilities, such as your ability to effectively and professionally communicate with clients.
Describe your organizational abilities: A Configuration Analyst needs to be organized and detail-oriented. You should showcase your skills in this area on your resume, such as your ability to effectively manage multiple projects at once and adhere to deadlines.
By highlighting these key takeaways, you can craft a resume that will help you stand out as a qualified Configuration Analyst. By emphasizing your technical and problem-solving abilities, as well as your customer service and organizational skills, you will be well-positioned to land the job you are looking for.
Let us help you build
your Resume!
Make your resume more organized and attractive with our Resume Builder