Writing a resume for a computer trainer position can be a bit of a challenge. You have to have a good mix of technical skills and training experience without overwhelming the reader with too much information. To help you craft a successful resume, this guide will provide you with some tips and examples on how to write a computer trainer resume that will stand out and get you the job you're after. We'll go over how to organize your information, highlight your skills, and what sections to include. You'll also get a few sample resumes to get you started. With this guide, you'll be able to create a resume that's sure to get you noticed!
If you didn't find what you were looking for, be sure to check out our complete library of resume examples.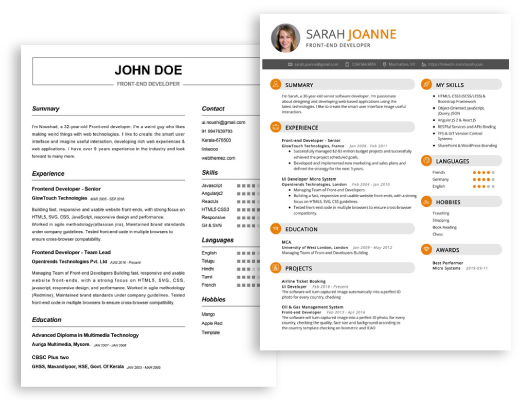 Start building your dream career today!
Create your professional resume in just 5 minutes with our easy-to-use resume builder!
Computer Trainer Resume Examples
John Doe
Computer Trainer
123 Main Street | Anytown, USA 99999 | Phone: (123) 456-7890 | Email: john.doe@email.com
A Computer Trainer with over 10 years of experience in delivering top- notch teaching and training. Proven ability to develop and implement successful learning strategies, facilitate interactive learning sessions and create a stimulating learning environment. Experienced in creating, editing and improving online course materials and developing and coordinating computer training sessions.
Core Skills:
Excellent understanding of computer systems
In- depth knowledge of Microsoft Office applications
Ability to conduct research and create content
Excellent presentation and communication skills
Ability to adapt to changing environments
Proven ability to develop learning strategies
Superior organizational and time management skills
Professional Experience:
Computer Trainer, ABC Company, 2011- Present
Responsible for creating and leading interactive learning sessions
Developed course materials including modules, quizzes and tests
Developed and implemented successful learning strategies
Conducted research and created content
Provided technical support and troubleshooting services
Assisted with the development of online course materials
Conducted training sessions for employees across all departments
Education:
Bachelor of Science in Computer Science, XYZ University, 2010
Master of Arts in Education, ABC University, 2012
Computer Trainer Resume with No Experience
Recent college graduate seeking a Computer Trainer position to apply my knowledge and experience in the IT field. Possess a strong background in problem solving with a track record of thorough and detail- oriented work.
Skills
Extensive knowledge of computer hardware and software
Ability to troubleshoot and diagnose technical issues
Excellent communication and interpersonal skills
Proven ability to teach and train others
Proficient in Microsoft Office and various learning management systems
Highly organized with great attention to detail
Responsibilities
Educate and train computer users on various hardware and software
Provide technical support in person, over the phone and via email
Troubleshoot and diagnose hardware and software issues
Develop and deliver interactive trainings and seminars
Create computer training manuals and documentation
Update and maintain computer systems and networks
Computer Trainer Resume with 2 Years of Experience
Highly successful and self- motivated Computer Trainer with 2 years of experience providing exceptional training and support for a wide range of software, hardware, and networking solutions. Proven abilities in designing and developing user- friendly training materials and methods to ensure the success of the students. Possess excellent communication and organizational skills, as well as the ability to quickly learn and master new technologies.
Core Skills:
Technical training and development
Software and hardware installation
Networking solutions
Troubleshooting and problem solving
Computer maintenance
User- friendly training materials
Excellent communication skills
Ability to quickly learn and master new technologies
Responsibilities:
Designing and developing classroom and online training courses.
Teaching students the use of computer systems, software, and hardware.
Installing, configuring, and troubleshooting software, networks, and other computer systems.
Providing technical support and advice to students.
Performing routine maintenance and repairs on computers and other devices.
Documenting and reporting any technical issues.
Organizing and executing workshops, seminars, and other events.
Computer Trainer Resume with 5 Years of Experience
Highly organized and motivated computer trainer with 5 years of experience teaching people of all ages and backgrounds how to effectively use various computer applications and software. Possess strong technical knowledge and the ability to communicate complex topics in easy to understand language. Possess excellent problem solving and troubleshooting skills.
Core Skills:
Strong knowledge of computers and software systems
Ability to explain complex topics in an easy to understand language
Excellent problem solving and troubleshooting skills
Ability to work with people of diverse ages and backgrounds
Ability to create and implement effective training plans
Responsibilities:
Conducted training sessions on various computer applications and software
Designed and implemented training plans according to individual needs
Assisted students with troubleshooting computer problems
Developed and maintained curriculum for computer training courses
Provided one- on- one instruction for students
Provided feedback and assessment of student progress
Updated computer hardware and software to ensure compatibility with training material.
Computer Trainer Resume with 7 Years of Experience
I am a highly experienced Computer Trainer with 7 years of experience in teaching Computer Science concepts, troubleshooting, and problem solving in a corporate environment. My experience spans developing course materials, assessing student performance, and developing and delivering training programs. I have experience teaching a variety of topics including Microsoft Office, Computer Programming, Operating Systems, Networking, and Computer Security. I am well versed in both Windows and Mac OS. I am also knowledgeable in HTML, CSS, and JavaScript.
Core Skills:
Strong knowledge of computer science concepts and their relevance in a corporate environment
Proficient in teaching a variety of topics including Microsoft Office, Computer Programming, Operating Systems, Networking, and Computer Security
Well- versed in both Windows and Mac OS
Knowledgeable in HTML, CSS, and JavaScript
Excellent communication and interpersonal skills
Responsibilities:
Developing course materials and assessments to evaluate student performance
Organizing and delivering training programs both in- person and virtually
Assisting students with troubleshooting and problem solving
Facilitating discussions and providing feedback to students
Maintaining records of student attendance and performance
Assisting in the development of new courses, materials, and technologies
Providing technical support to students
Designing and administering assessments and tests to evaluate student performance.
Computer Trainer Resume with 10 Years of Experience
A highly motivated and experienced computer trainer with 10 years of experience. Skilled at creating tailored training plans and delivering engaging and motivating learning experiences. Experienced in managing and tracking training programs, as well as assessing and improving training processes. Proven ability to work independently to ensure that organizational objectives are met.
Core Skills:
Training program design
Training program implementation
Training course delivery
Training program administration
Needs assesment
Organizational skills
Communication
Technical proficiency
Responsibilities:
Develop and implement training programs to meet organizational objectives.
Deliver training sessions and workshops using a variety of training methods.
Monitor and track training programs to ensure effectiveness.
Assess training needs and create tailored training plans.
Provide support to staff and manage post- training evaluations.
Evaluate and improve training processes.
Create and maintain training materials.
Liaise with stakeholders to ensure successful training programs.
Computer Trainer Resume with 15 Years of Experience
Dedicated and experienced Computer Trainer with a strong background in developing and delivering technical classes, providing support to end users, and troubleshooting a range of hardware and software applications. Offering over 15 years of expertise in developing and maintaining computer training programs using a variety of instructional techniques and media. Adept in project management, customer service and conflict resolution. Possesses creative problem- solving skills and a commitment to delivering quality customer service.
Core Skills:
Computer training program development
Instructional techniques and media
Project management
Troubleshooting
Customer service
Conflict resolution
Problem- solving
Responsibilities:
Developed and managed computer training programs for end users.
Provided software and technical support to end users.
Researched, analyzed and evaluated existing computer training needs.
Created computer training programs, materials and manuals.
Prepared and delivered computer training seminars.
Assisted users with troubleshooting software and hardware applications.
Monitored and evaluated the effectiveness of computer training programs.
Resolved customer service issues in a timely manner.
Provided technical assistance to staff and customers regarding computer applications.
Handled customer complaints and inquiries in a professional manner.
In addition to this, be sure to check out our resume templates, resume formats, cover letter examples, job description, and career advice pages for more helpful tips and advice.
What should be included in a Computer Trainer resume?
When writing your resume as a Computer Trainer, it's important to include relevant information to ensure you stand out from other applicants. While the specific sections may vary depending on the job, the following should be included:
Profile Summary: A summary that outlines your professional expertise, including any certifications and qualifications, as well as any relevant experience.
Education: List any degrees, certifications, or continuing education courses related to technology or computer training.
Experience: Include any relevant experience related to computer training. This may include both professional and volunteer experience, as well as any additional technical certifications.
Skills: List any skills that are relevant to computer training, including technical aptitude, communication, problem solving, and customer service.
Special Achievements: If applicable, include any special awards, honors, or recognition that you have received for your work as a computer trainer.
By including each of these sections in your resume, you will be able to showcase your qualifications and experience in the most effective way possible. This will help ensure that you stand out from other applicants and increase your chances of being hired.
What is a good summary for a Computer Trainer resume?
A computer trainer resume should provide a summary of the individual's qualifications, experience, and skills related to teaching computer science, computer applications, or other technology-related topics. The summary should emphasize the trainer's abilities in teaching, communication, problem-solving, and technical knowledge. It should also provide an overview of their experience with teaching a variety of topics related to computers, such as software development, programming, networking, and hardware maintenance. The summary should also mention any relevant certifications or awards received related to teaching or education. Finally, the summary should outline any additional skills or experiences that may be of benefit to the job, such as web development or graphic design.
What is a good objective for a Computer Trainer resume?
Writing an effective resume objective is essential to standing out in the job market. As a computer trainer, you need to be able to demonstrate your expertise in training and technical skills. A good objective statement should explain the qualifications and experience you bring to the job and how you can use them to help the employer achieve their training goals.
Here are some examples of strong objectives for a computer trainer resume:
Proactive, results-driven professional with 10+ years of experience as a computer trainer, looking to leverage my expertise to help a leading organization achieve their training goals.
Highly organized and experienced trainer, seeking a position with a reputable organization to use my technical skills and experience in providing effective computer training solutions.
Multifaceted, certified trainer, bringing a broad skill-set in computer training and the ability to tailor solutions according to the individual needs of each student.
Experienced, detail-oriented professional, with a proven ability to deliver cutting-edge computer training solutions to a diverse range of learners.
Self-motivated professional, with 8+ years of experience as a computer trainer and a strong commitment to helping organizations improve their training capabilities.
By writing a well-crafted objective statement, you can demonstrate your proficiency as a computer trainer and give employers a clear understanding of your background, skills, and qualifications.
How do you list Computer Trainer skills on a resume?
When writing a resume, it is important to accurately describe your skill set as a computer trainer. Including accurate descriptions of your skills and qualifications can help employers quickly determine if you are the right fit for the role.
To help you accurately list your computer trainer skills, here are some tips for including this information on your resume:
Highlight Your Expertise: Your experience as a computer trainer will likely be one of the main points of your resume, so make sure to emphasize your expertise in the field. Describe any relevant certifications you may have, such as Microsoft Certified Solutions Expert or Cisco Certified Network Associate. Also include any experience mentoring or teaching students in the subject.
Mention Your Technical Skills: Employers will likely want to know which computer systems and tools you are knowledgeable in. Identify the systems and software packages you have experience with, such as Microsoft Office Suite, Adobe Creative Suite, or Windows Server.
Explain Your Training Methodology: Describe the methods you use to instruct students and communicate concepts. For example, if you teach through lectures and hands-on activities, be sure to mention that.
Outline Your Background: Include any other qualifications or experiences that may be relevant to the role, such as a degree in education or a background in programming.
By accurately listing your computer training skills on your resume, you can help employers quickly determine if you are the right fit for the job. With these tips in mind, you can showcase your expertise and qualifications and make a strong impression with potential employers.
What skills should I put on my resume for Computer Trainer?
Computer Trainer jobs require a range of skills to teach computer systems, applications and software. When writing your resume, highlight your technical knowledge and expertise in the various computer programs, applications and systems you are experienced in. Here are some skills that you should consider including on your resume for a Computer Trainer role:
Strong communication skills: Being a Computer Trainer requires being able to communicate complex concepts to students in an understandable manner. Demonstrating strong communication skills on your resume is important for this role.
Technological expertise: Computer Trainer roles require you to have a deep understanding of the technical aspects of the systems and software you are teaching. Include on your resume any technical certifications or experience you have with relevant technologies.
Patience and problem-solving: As a Computer Trainer, you will need to be able to work with students of varying knowledge levels and be patient with those who struggle to understand concepts. Additionally, you will need to be able to troubleshoot and solve problems that arise with computer systems.
Organizational and time management skills: As a Computer Trainer, you will need to be able to plan and organize course content, as well as manage your time effectively in order to deliver lessons on schedule. Be sure to include your organizational and time management skills on your resume.
Leadership skills: Being able to lead and guide students is important in a Computer Trainer role. Demonstrate on your resume your ability to lead and instruct students in a professional manner.
By including these skills on your resume for a Computer Trainer role, you will be showing potential employers that you are qualified for the job and have the necessary skills to be successful.
Key takeaways for an Computer Trainer resume
Writing a resume can be an intimidating task, especially when it comes to the computer training field. With so many skills, qualifications and experiences to showcase, it can be difficult to know what to include and what to leave out. To make your resume stand out and ensure that the most important parts of your experience are highlighted, there are some key takeaways that should always be included in a computer trainer resume.
First and foremost, it's important to emphasize your skills and experience as a computer trainer. This means highlighting any certifications, qualifications, and/or degrees that you have obtained in the field. Additionally, share any experience that you have in teaching, mentoring, and/or training in the computer field, such as the types of software, hardware, and systems that you are familiar with.
In addition to your experience, you should also showcase your knowledge of the industry. Describe the industry trends and tools that you are aware of, and any research or studies that you have conducted in the field. Showcasing your expertise in the computer training field will demonstrate to potential employers that you are aware of the latest developments in the industry, and are capable of providing high-quality instruction.
Finally, it is important to emphasize any accomplishments that you have achieved while working in the computer training field. This could include any awards, recognition, or other successes that you have received. These accomplishments will help to demonstrate to potential employers that you are a successful and capable computer trainer.
By following these key takeaways, you can ensure that your resume stands out from the rest and that the most important aspects of your experience as a computer trainer are highlighted. Doing so will help you to make a lasting impression on potential employers and increase your chances of getting the job.
Let us help you build
your Resume!
Make your resume more organized and attractive with our Resume Builder