Writing a compelling resume for a computer instructor position requires the perfect combination of technical expertise and interpersonal communication. A computer instructor needs to be knowledgeable about the hardware and software being taught, as well as about teaching methods. As such, the resume for this position needs to be well-crafted to capture the reader's attention and let them know that you are the ideal candidate for the job. This blog post will provide guidance on writing a comprehensive, professional resume for a computer instructor position, including examples of resumes and how to highlight your experience and qualifications.
If you didn't find what you were looking for, be sure to check out our complete library of resume examples.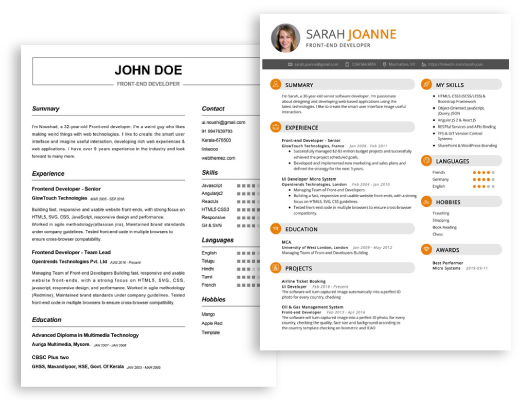 Start building your dream career today!
Create your professional resume in just 5 minutes with our easy-to-use resume builder!
Computer Instructor Resume Examples
John Doe
Computer Instructor
123 Main Street | Anytown, USA 99999 | Phone: (123) 456-7890 | Email: john.doe@email.com
Highly experienced and knowledgeable Computer Instructor with a comprehensive background in teaching basic to advanced computer skills including hardware, software, networking, and troubleshooting. An exceptional communicator with the ability to clearly explain complex concepts to all levels of students. Possesses a thorough understanding of current technologies and trends in the IT industry and is capable of staying up to date with the latest releases and updates.
Core Skills:
Strong knowledge of Microsoft Office Suite and other software programs
Ability to teach students of all ages and skill levels
Knowledge of computer hardware, software and networking
Excellent problem- solving skills
Strong troubleshooting and diagnostic abilities
Excellent verbal and written communication skills
Organizational and time management skills
Professional Experience:
Developed and implemented computer curriculum for elementary and middle school students
Provided support and assistance to students in the computer lab
Assisted students with troubleshooting computer issues
Instructed classes on the use of Microsoft Office Suite and other software programs
Conducted workshops to teach advanced and specialized topics
Provided technical support and guidance to faculty and staff
Education:
Bachelor's Degree in Computer Science
University of California, Berkeley
Computer Instructor Resume with No Experience
Objective:
Seeking a Computer Instructor role to utilize my computer expertise and teaching skills to help students learn and become successful.
Computer enthusiast with a deep knowledge of computer software and hardware. Proven ability to effectively communicate and work with diverse groups of people. Thrive in a collaborative and interactive environment with the goal of helping students learn and become successful.
Skills:
In- depth knowledge of computers and computer hardware
Ability to communicate computer skills and knowledge in an interactive and engaging manner
Strong organizational, problem solving and time management skills
Ability to effectively collaborate with students and colleagues
Proficiency in Microsoft Office and other computer applications
Responsibilities:
Plan, develop, and teach computer courses
Evaluate students' progress and provide ongoing feedback
Design and implement computer- based learning activities
Motivate and engage students to reach their full potential
Assist students in understanding computer concepts and software applications
Prepare course material and teaching materials such as lesson plans, quizzes and course handouts
Provide guidance and support to students throughout the learning process
Computer Instructor Resume with 2 Years of Experience
A highly motivated and experienced Computer Instructor, with 2 years of teaching experience in a range of computer- related subjects. Possessing excellent communication and presentation skills, technical knowledge, and a passion for teaching. Proven ability to motivate students to strive for success and work to their potential.
Core Skills:
Computer literacy
Communication
Presentation skills
Technical knowledge
Adaptability
Classroom management
Creativity
Flexibility
Responsibilities:
Developing lesson plans and other teaching materials.
Delivering lessons to students, focusing on the syllabus and objectives.
Explaining difficult concepts to students in an engaging, accessible way.
Evaluating student progress and providing feedback and grades.
Encouraging student engagement and participation in activities.
Updating course materials and keeping up to date with the latest technology.
Holding one- on- one meetings with students to address issues or concerns.
Supervising student activities and providing assistance when needed.
Managing and maintaining classroom equipment.
Computer Instructor Resume with 5 Years of Experience
Highly trained and motivated computer instructor with 5 years of experience in teaching and developing effective computer training solutions. Adept at understanding the technical needs of students and creating appropriate lesson plans to meet those needs. Skilled in training students of all skill levels in the use of software and hardware to meet specific educational objectives. Possesses excellent organizational and communication skills which enable effective information sharing and ensure a successful learning environment for students.
Core Skills:
Expert- level proficiency in Microsoft Office Suite, HTML and CSS
Experience with various computer programming languages, such as Java and Python
Extensive knowledge of computer hardware and software applications
Ability to create and maintain effective lesson plans
Excellent communication and interpersonal skills
Ability to facilitate learning through effective teaching methods
Responsibilities:
Develop and maintain effective lesson plans to meet the educational needs of the students
Communicate with students to ensure understanding of course materials and objectives
Integrate the use of technology in teaching to maximize the learning experience for students
Monitor and evaluate student progress through assessment and testing
Provide individualized assistance to students with difficulty understanding course materials
Maintain up- to- date knowledge of trends and developments in the software and hardware industry
Computer Instructor Resume with 7 Years of Experience
Experienced Computer Instructor with seven years of experience teaching computer classes to all ages. Adept at utilizing modern technology to aid in teaching and utilizing creative approaches to ensure students understand the material. Skilled in developing course curriculum to meet student needs, providing useful feedback and support, and helping students gain a thorough understanding of the material.
Core Skills:
Instructional Design
Programming
Technical Support
Systems Analysis
Troubleshooting
Classroom Management
Lesson Planning
Course Development
Project Management
Responsibilities:
Developed and implemented course curriculum for different ages and technical skill levels
Facilitated classes in a clear and organized manner, ensuring all students comprehended instructions
Provided useful feedback, encouragement and support to students
Assisted students in learning new programs and applications
Assisted students in developing their troubleshooting and problem solving skills
Collaborated with other instructors and departments to improve courses and student outcomes
Monitored each student's progress, assessing knowledge gained and providing guidance when necessary
Updated content regularly to ensure course material remains relevant
Managed writing and grading of tests, quizzes and exams to assess student progress
Computer Instructor Resume with 10 Years of Experience
Motivated and experienced Computer Instructor with 10 years of experience in teaching and consulting on a range of computer information systems. Skilled in developing curriculum and instructional materials that address the needs of a variety of student backgrounds. Creative, enthusiastic and team- oriented with success in designing and delivering effective and engaging instruction.
Core Skills:
Strong knowledge of common computer systems and instructional methods
Skilled in developing curriculum and instructional materials
Familiar with a variety of computer information systems
Excellent communication and presentation skills
Ability to create a positive learning environment
Responsibilities:
Designing and delivering computer instruction to a range of student backgrounds and abilities
Developing, writing and implementing curriculum and instructional materials
Assessing student work to evaluate progress and provide feedback
Maintaining records of student progress and attendance
Utilizing various teaching methods, including lectures and hands- on instruction
Collaborating with other instructors and administrators to develop instructional programs
Identifying students in need of extra help and providing tutoring
Providing guidance and support to students in the use of computer software
Maintaining up- to- date knowledge of computer technologies and trends.
Computer Instructor Resume with 15 Years of Experience
Highly experienced and motivated Computer Instructor with 15 years of experience in teaching and training students in computer science. Adept in both teaching and tutoring, with a strong grasp of current technology trends and software development methodologies. Skilled in problem solving, troubleshooting, and working with multi- cultural backgrounds. Committed to designing and delivering effective technological instruction and helping students develop the necessary skills and knowledge to excel in their chosen field.
Core Skills:
Software and Application Development
Computer Networking
Computer Systems Troubleshooting
Computer Security
Project Management
Programming Languages
Multimedia Design
Computer Hardware
Computer Maintenance
Responsibilities:
Developing and implementing plans for teaching computer classes
Designing lesson plans, course materials, and activities to meet the needs of the students
Evaluating student's progress and providing feedback and support to ensure successful learning outcomes
Maintaining accurate attendance and grading records
Researching and recommending appropriate instructional materials and supplies
Assisting students with basic computer maintenance
Preparing and presenting reports on student progress and class activities
Creating and updating course content to reflect current trends and technologies
Counseling students on academic and career options
In addition to this, be sure to check out our resume templates, resume formats, cover letter examples, job description, and career advice pages for more helpful tips and advice.
What should be included in a Computer Instructor resume?
A computer instructor resume should include information that demonstrates the candidate's expertise in teaching computer skills. This type of resume should focus on the applicant's qualifications, teaching experience and any other relevant certification or experience.
Here are some important items that should be included in a computer instructor resume:
Education: List your highest degree first and work backwards from there. If you have additional certifications or training, list them here as well.
Experience: List any relevant teaching experience. Include details about the subjects and topics you taught, any teaching awards you may have won and any feedback you received from students.
Technical Skills: Make sure to list any technical skills you have. This could include software, hardware and programming languages.
Communication Skills: Being a computer instructor requires strong verbal and written communication. Make sure to include any information that shows your ability to effectively communicate ideas and concepts.
Certification: If you have any industry certifications, make sure to list them here. This includes certifications from organizations like CompTIA, Microsoft and Oracle.
Awards: If you have won any awards related to teaching or computer instruction, make sure to include them.
By including all these items, your computer instructor resume will give potential employers an accurate and comprehensive picture of your skills and experience.
What is a good summary for a Computer Instructor resume?
A great summary for a Computer Instructor resume is one that highlights your skills, qualifications, and experience in teaching and working with computers. It should emphasize your ability to teach a variety of programs and software, as well as your knowledge of hardware and networking. Additionally, the summary should showcase your ability to effectively communicate technical concepts to students and other professionals. It should also demonstrate your commitment to helping clients reach their goals when it comes to utilizing computer systems. A strong summary can be the difference between getting an interview and getting passed over by potential employers.
What is a good objective for a Computer Instructor resume?
When writing a resume as a Computer Instructor, it is important to include a well-written objective that describes your goals and qualifications. A good objective should provide the employer with a sense of your qualifications, experience, and skills. It should also explain why you are the best candidate for the job.
Here are some tips for writing a strong objective for a Computer Instructor resume:
Highlight your educational qualifications: Include any certifications, qualifications, and training that you have that make you an ideal candidate for the position.
Showcase your technical knowledge: Mention any technical knowledge or experience you have that is relevant to the position.
Focus on your teaching skills: List any teaching experience and emphasize your ability to train and mentor students.
Demonstrate your ability to work with groups: Include any experience you have working with groups, leading team projects, or collaborating with others.
Mention your communication skills: Stress your ability to effectively communicate with students and colleagues.
By including a well-written objective on your resume, you can give employers a clear picture of your qualifications and experience, and why you are the best candidate for the job.
How do you list Computer Instructor skills on a resume?
Computer Instructors are highly in demand in today's tech-driven world. If you are a Computer Instructor and are creating a resume, you want to ensure you are accurately highlighting your skills and qualifications so employers can easily see why you are the best candidate for the job.
Below is a list of skills to consider including on your Computer Instructor resume:
Expertise in utilizing software and hardware technologies
Ability to teach computer applications, such as Microsoft Office, Adobe Photoshop, and more
Knowledge of database management systems, such as MySQL, Oracle, and Microsoft SQL
Ability to provide technical support and advice to students
Excellent communication and problem-solving skills
Experience in planning, designing, and delivering computer-based lessons
Proficient in using instructional technologies and techniques
Ability to design and develop course materials and educational materials
Ability to assess student performance and provide feedback
Experienced in writing and editing technical manuals
Ability to motivate and engage students in the learning process
Knowledge of coding and programming principles
Ability to maintain accurate records and generate reports
Familiarity with relevant industry regulations and best practices
What skills should I put on my resume for Computer Instructor?
In today's digital era, having the right skills and knowledge for a computer instructor is essential for getting the job you want. When you present your resume for any computer instructor role, it's important to highlight the skills that you have that make you a great candidate. Here are five of the top skills to include on your resume for a computer instructor:
Instructional Design: Instructional design is a great skill to have for any computer instructor. It involves creating learning experiences that are effective and engaging for students. This skill can help you stand out when applying for a computer instructor role.
Technical Skills: Being able to use and troubleshoot common computer technologies is a must-have for any computer instructor. You should list any advanced technical skills you have, such as experience with coding or website design, as well as basic software and hardware maintenance.
Communication: As a computer instructor, you'll need to be able to clearly communicate with students, colleagues, and employers. Being an effective communicator is essential to any computer instructor role. Make sure to list any communication skills you have, such as active listening, public speaking, and writing.
Interpersonal Skills: You should also list any interpersonal skills that you possess, such as problem-solving, conflict resolution, and working in teams. These skills will make you a great candidate for any computer instructor role.
Adaptability: As technology rapidly evolves, a computer instructor must have the ability to adapt and learn new technologies quickly. Being able to think on your feet and adjust quickly is an important skill for any computer instructor.
These are just some of the most important skills to include on your resume for a computer instructor role. With the right skills and experience, you can be a great candidate for any computer instructor job.
Key takeaways for an Computer Instructor resume
If you are looking to make a career as a computer instructor, it is important to have a well-crafted resume that shows off your skills and experience. In this blog, we will discuss some key takeaways for an effective computer instructor resume.
First, it is important to emphasize your educational qualifications and certifications. Listing any specialized training or computer certification exams you have taken will help you stand out from other candidates.
Second, include any experience or volunteer work you have done related to computer instruction. This will demonstrate to potential employers your ability to effectively teach and mentor students.
Third, highlight any teaching awards you have won or any teaching materials you have created. This will show that you are an experienced and dedicated instructor.
Fourth, discuss any classes you have taught or projects you have worked on. This will demonstrate to employers that you have actual teaching experience.
Finally, including any additional skills that you may have, such as graphic design or web development, will make your resume stand out. Employers are always looking for instructors that can provide their students with the most comprehensive learning experience.
By following these key takeaways, you can craft an effective resume that will help you stand out from the competition in your search for a computer instructor position.
Let us help you build
your Resume!
Make your resume more organized and attractive with our Resume Builder