As an IT Architect, you understand the importance of a well-written and comprehensive resume. With this in mind, it is paramount to ensure that you craft your resume to meet the qualifications of the job you are applying for. This guide will provide you with a comprehensive overview of how to write a strong IT Architect resume, covering all the necessary components, tips and tricks, as well as providing examples to help guide you. By following this guide, you will be able to create a resume that showcases your expertise, experience, and qualifications that will help you land the job you desire.
If you didn't find what you were looking for, be sure to check out our complete library of resume examples.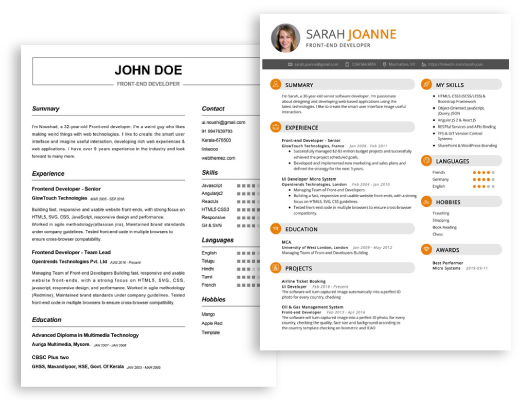 Start building your dream career today!
Create your professional resume in just 5 minutes with our easy-to-use resume builder!
IT Architect Resume Examples
John Doe
IT Architect
123 Main Street | Anytown, USA 99999 | Phone: (123) 456-7890 | Email: john.doe@email.com
I am an experienced IT Architect with over 10 years of professional experience in designing, developing, and managing complex IT systems. Throughout my career, I have developed a strong understanding of the principles of IT architecture and system development, as well as a comprehensive knowledge of software and hardware technologies, software development methodologies, and project management best practices. I have a proven track record of success in delivering high- quality, reliable, and secure enterprise IT solutions and am highly motivated to work in any environment.
Core Skills:
IT Architecture Design and Development
Software and Hardware Technologies
Software Development Methodologies
Project Management
Problem Solving and Troubleshooting
Process Improvement
Technical Writing and Documentation
Network Security
Professional Experience:
IT Architect, XYZ Inc. – 2014 to Present
Responsible for designing, developing, and managing complex IT systems. Developed comprehensive architecture plans and strategies to ensure systems met customer needs.
Implemented software development methodologies, such as Agile, to improve productivity and reduce costs.
Developed and maintained IT policies and procedures to ensure secure and efficient systems.
Senior System Administrator, ABC Inc. – 2010 to 2014
Developed and maintained IT systems for various clients.
Led projects to implement new technologies, such as virtualization, to improve system performance.
Monitored and troubleshot systems to ensure high availability and reliability.
Education:
Bachelor of Science in Computer Science, University of XYZ – 2005 to 2009
IT Architect Resume with No Experience
Recent computer engineering graduate with strong knowledge in computer systems, software design and development, and network engineering. Possess an understanding of network security, database management, and software development processes. Seeking an IT Architect position to utilize knowledge and skills to develop innovative and secure IT infrastructure.
Skills
Computer Systems: Windows, Linux, Mac OS
Network Engineering: LAN/WAN, IPv4/IPv6
Database Management: SQL, Oracle, PostgreSQL
Software Development: Java, C++, Python, HTML
Security: Firewalls, SSL/TLS, Encryption
Responsibilities
Design and develop IT architectures to meet business objectives.
Research and implement new technologies to improve system performance.
Create and maintain detailed documentation of IT architecture.
Monitor system performance and ensure network security.
Troubleshoot system issues and collaborate with IT team to resolve them.
Evaluate system requirements and recommend appropriate solutions.
IT Architect Resume with 2 Years of Experience
Highly proficient and results- driven IT Architect with 2 years of experience in designing, developing, and implementing IT solutions to meet business needs. Accomplished in analyzing user requirements, developing architectures, applying engineering principles, and translating them into technical designs for integration with existing systems. Adept in managing teams and resources to ensure timely execution of projects. Possesses excellent communication, problem- solving, and organizational skills.
Core Skills:
Software Engineering
Systems Architecture Design
IT Infrastructure Planning
User Requirements Analysis
Resource Management
Software Integration
Technical Documentation
Risk Management
Responsibilities:
Developed architectures, designs, and frameworks for IT projects.
Gathered user requirements to identify and analyze system integration needs.
Applied engineering principles and developed technical designs.
Managed resources to ensure timely execution of projects.
Maintained and monitored IT systems to ensure smooth operation.
Conducted risk assessments and identified risks and their effects.
Provided technical assistance to ensure optimal system performance.
Created technical documentation for systems and procedures.
Performed research to identify new technologies and implement them.
Resolved system issues promptly and efficiently.
IT Architect Resume with 5 Years of Experience
Dynamic and results- driven IT Architect with 5 years of experience in the technology sector. Demonstrated ability to effectively plan, design, and implement IT solutions and systems that meet current and future needs. Adept at designing and developing IT systems with a focus on cost- effectiveness, scalability, and performance optimization. Possess strong organizational, problem- solving, and project management skills.
Core Skills:
Stakeholder Management
Systems Design
Integration
Project Management
Software Development
Data Analysis
Technical Troubleshooting
Responsibilities:
Collaborated with stakeholders to create cost- effective IT solutions that addressed the business needs.
Defined system architectures, identified technologies, and managed the integration of those technologies into existing systems.
Developed software applications and front- end user interfaces that simplified user experience and increased efficiency.
Analyzed data to produce detailed reports on system usage, performance, and costs.
Troubleshot and resolved technology- related problems to ensure smooth functioning of systems.
Managed projects and ensured timely completion of tasks and milestones.
Developed technical documents, process diagrams, and user guides.
IT Architect Resume with 7 Years of Experience
Results- oriented IT Architect with 7 years of experience in leading projects, designing and implementing innovative technical solutions, and developing strategic initiatives to meet organizational goals. Possesses a wide range of technical and business experience in software development, system integration, and project management. Proven track record for leading and delivering projects on time and within budget.
Core Skills:
Systems Architecture
Software Development
System Integration
Project Management
Team Leadership
Technical Writing
Network Security
Responsibilities:
Designed and developed secure, scalable, and reliable IT architectures and solutions.
Defined the processes and methodologies for designing, developing, and deploying custom software applications.
Created test plans for all new system implementations.
Worked closely with project teams, vendors, and other stakeholders to ensure successful integration of all systems.
Managed project deadlines, budgets, and progress reports.
Provided technical support and troubleshooting, ensuring systems remain secure and functioning correctly.
Developed and implemented standards and policies to ensure network security.
Identified and evaluated potential risks and advised on appropriate corrective action.
IT Architect Resume with 10 Years of Experience
Experienced IT Architect with 10+ years of experience in providing strategic direction on complex IT projects. Highly proficient in developing scalable, cost- effective, and innovative solutions for large- scale enterprise applications. Expertise in the implementation and maintenance of IT systems, infrastructure and networks. Possess strong analytical and problem- solving skills and able to collaborate with stakeholders to assess their IT requirements and develop solutions that meet their needs.
Core Skills:
IT Architecture
Infrastructure Design
Network Management
System Analysis
Solution Design
System Integration
Software Development
Cloud Computing
Project Management
Troubleshooting
Responsibilities:
Developed and implemented IT architectural and infrastructure designs for complex enterprise applications.
Assessed organizational goals and objectives and developed IT strategies to meet those requirements.
Collaborated with stakeholders to understand their existing IT systems and requirements.
Analyzed and designed IT systems, networks, and infrastructure to optimize performance.
Maintained network and IT system availability, performance, and security.
Developed and implemented software and system integration solutions.
Managed and monitored progress of IT projects to ensure timely and successful delivery.
Resolved any technical issues and provided troubleshooting support.
Maintained up- to- date knowledge of the latest technologies and trends in the IT industry.
IT Architect Resume with 15 Years of Experience
Highly skilled IT Architect with 15 years of experience in designing and developing enterprise- level IT solutions for clients. Demonstrated expertise in designing, developing, and deploying multi- platform software applications and architectures to meet organizational and user needs. Proven ability to create and implement innovative IT strategies and solutions in support of a variety of business objectives. Possesses strong analytical, problem- solving, and communication skills, as well as a wide range of industry and technical knowledge.
Core Skills:
Project Management
Software Development
Systems Analysis
Software Design
Data Storage Solutions
Cloud Computing Technologies
Network Architecture
Agile Methodology
Software Testing
Technical Documentation
Responsibilities:
Analyzing and assessing the current IT infrastructure and making recommendations for improvements.
Developing and executing IT strategies that align with the organization's business goals.
Designing and developing multi- platform applications and architectures to meet user and organizational needs.
Leading the development, testing, and deployment of software applications and architectures.
Developing and documenting technical requirements for each project.
Creating and maintaining technical documentation for the organization's IT infrastructure.
Ensuring the security and scalability of the organization's IT systems.
Collaborating with the IT team to develop, deploy, and maintain the organization's IT systems.
Analyzing user feedback and requirements to create innovative IT solutions.
Creating training materials and providing support for IT users.
In addition to this, be sure to check out our resume templates, resume formats, cover letter examples, job description, and career advice pages for more helpful tips and advice.
What should be included in a IT Architect resume?
A successful IT Architect resume should focus on your technical and professional qualifications. It should highlight your successes and accomplishments as an IT Architect. Here are the essential elements that should be included in your IT Architect resume:
Technical Skills: List your technical skills and expertise with specific programming languages, operating systems, databases, development tools and other relevant software/hardware.
Professional Experience: Detail your professional experience in terms of the results you achieved in each role. Showcase any awards, achievements or promotions you have earned.
Education: Include information about your education and any certifications or training you have received.
Leadership Qualities: Demonstrate your leadership skills by giving examples of how you can effectively manage projects, mentor junior staff and collaborate with other stakeholders.
Communication: Show that you have excellent communication skills through your ability to articulate complex problems and provide solutions clearly and concisely.
Problem-solving: Highlight your problem-solving skills by providing examples of how you have successfully addressed challenging issues.
Interpersonal Skills: Demonstrate your interpersonal skills by providing examples of how you have successfully worked with different stakeholders and colleagues.
By including these elements in your IT Architect resume, you will give yourself the best chance of standing out from other applicants.
What is a good summary for a IT Architect resume?
A good IT Architect resume summary should be a brief yet comprehensive overview of the candidate's key qualifications and expertise, as well as their career goals. It should highlight the candidate's knowledge and experience, as well as their technical and managerial skills. The summary should also include any relevant achievements and certifications that the candidate has earned. Additionally, the summary should provide a brief overview of the candidate's technical and architectural background, including any experience designing, implementing, and managing complex IT solutions. This should be done in a concise yet comprehensive manner, as the summary should be no more than a few sentences, or a short paragraph at the most. Finally, the summary should provide a summary of the candidate's professional experience, such as the number of years they have worked as an IT Architect, their technical and managerial roles, and the most impressive achievements they have earned while in the role.
What is a good objective for a IT Architect resume?
Are you looking for a new job as an IT Architect? Writing your resume can be a daunting process when you're trying to stand out from the competition. While there are many qualifications and skills to include, the most important part of your resume is your objective. Your objective is the statement of what you're looking to achieve as a job candidate. Here are some tips to help you write a strong IT Architect resume objective:
Highlight your skills and experience: The best objectives for IT Architect resumes emphasize your relevant qualifications and skills. Make sure to emphasize any experience with coding languages, systems design, or data processing.
Show your ambition: The best objectives for IT Architect resumes also include your ambition and goals. Showcase your enthusiasm and commitment to the field, and explain how you plan to use your skills to help your prospective employer.
Tailor to the company: When you're applying for a specific job, make sure to tailor your objective to the job requirements and the company's mission. Highlight how your skills and experience could benefit the organization.
Writing a strong objective for your IT Architect resume is an important first step in landing the job of your dreams. Make sure to emphasize your skills and ambition, and tailor your objective to the company and position. Good luck!
How do you list IT Architect skills on a resume?
When creating a resume for IT Architect positions, it's important to include relevant skills that demonstrate your expertise in the field. Skills not only help hiring managers understand your capabilities, but can also help other IT professionals recognize your qualifications. It's important to list your IT Architect skills in an effective and organized way.
Include the following key skills to your resume:
Strategic Thinking: Ability to develop, implement, and manage solutions that align with organization's long-term objectives.
Technical Knowledge: Mastery of database, network, system, and software architecture.
Problem Solving: Ability to identify, analyze, and solve problems in a timely manner.
Communication Skills: Ability to communicate technical information in a clear and concise manner.
Project Management: Ability to define project goals, design strategies, and plan and manage project timelines.
Leadership: Ability to lead and motivate teams while managing projects.
Analytical Skills: Ability to review data, identify patterns, and draw conclusions.
Current Technologies: Knowledge of current technologies and familiarity with emerging trends.
Business Acumen: Understanding of business operations and the ability to identify opportunities to improve efficiency.
By including these key skills on your resume, you'll be able to showcase your expertise as an IT Architect and demonstrate to hiring managers and other IT professionals that you're knowledgeable and capable of contributing to the success of the organization.
What skills should I put on my resume for IT Architect?
When you're writing an IT Architect resume, there are certain skills that you need to have in order to stand out amongst the competition. Here are some of the most important skills to include on your resume:
Strategic Thinking: IT Architects will need to think strategically about how to design and implement solutions that best meet their clients' needs. They should be able to weigh the pros and cons of different solutions and make informed decisions.
Technical Expertise: IT Architects need to possess in-depth knowledge of their field, including the latest technologies, tools, and trends. They should also have a good understanding of software engineering and development processes.
Communication: IT Architects must be able to communicate effectively with their clients and colleagues. They should be able to explain complex concepts in simple terms and be comfortable leading meetings and presentations.
Project Management: IT Architects need to be able to manage projects and lead teams. They should have experience using project management tools and techniques, such as Agile, Scrum, and Kanban, to ensure projects stay on track.
Collaboration: IT Architects need to be able to work well with others, both inside and outside of their organization. They should be able to build strong relationships, work as part of a team, and support colleagues as needed.
Problem-Solving: IT Architects should be able to quickly identify and solve problems, using analytical and creative thinking. They should also have the ability to identify potential issues before they become problems.
These are just some of the skills that can be included in an IT Architect resume. To stand out in this competitive field, it's important to highlight the skills that make you unique and showcase your experience in the best light.
Key takeaways for an IT Architect resume
If you are an IT Architect hoping to land your dream job, then you will need to create an impressive resume. Your IT Architect resume should be well organized, concise, and contain information that highlights your relevant experience, skills, and accomplishments. Here are some key takeaways to help you create a strong IT Architect resume:
Make sure to highlight your technical knowledge and experience. Any experience you have with various technology systems, databases, software, and hardware should be prominently featured on your IT Architect resume.
Showcase your leadership skills. IT Architects are often responsible for leading teams, so it is important to demonstrate your ability to lead projects and manage people.
Detail your problem-solving skills. Include any projects where you have identified and solved complex problems.
Demonstrate your communication skills. IT Architects must be able to explain complex concepts in a way that is understandable to all stakeholders.
Highlight any certifications you have. Any certifications or degrees you have obtained in the IT industry can help add value to your resume.
By following these tips, you can create an impressive IT Architect resume that will make you stand out from the competition. Make sure to highlight your relevant skills, experience, and accomplishments to ensure you land the job you want.
Let us help you build
your Resume!
Make your resume more organized and attractive with our Resume Builder