Writing a resume as an application consultant can be quite challenging. Your resume must be able to demonstrate your technological knowledge and problem-solving capabilities, as well as your experience in the field. Crafting the perfect resume to showcase your skills and experience can be difficult, but by following the advice in this guide, you should be able to create a compelling and successful resume. This guide will provide examples of resumes for application consultants and will provide tips on how to frame your experience and qualifications to an employer.
If you didn't find what you were looking for, be sure to check out our complete library of resume examples.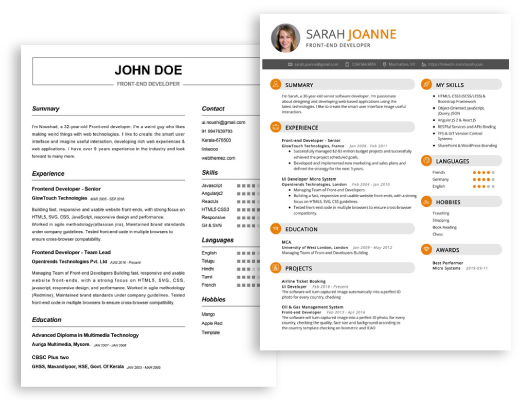 Start building your dream career today!
Create your professional resume in just 5 minutes with our easy-to-use resume builder!
Application Consultant Resume Examples
John Doe
Application Consultant
123 Main Street | Anytown, USA 99999 | Phone: (123) 456-7890 | Email: john.doe@email.com
I am an experienced Application Consultant with over 10 years of experience in the technology industry. I have a deep knowledge of software and application development, data systems, and enterprise resource planning (ERP). I have a long history of success in managing projects, implementing systems, and improving process efficiency. My experience also includes conducting research and analysis, developing technical documentation, developing test plans and strategies, and providing technical support.
Core Skills:
Application Development
Software & Systems Implementation
Project Management
Process Improvement & Re- Engineering
Data Systems & Platforms
Documentation & Reporting
Technical Support
Research & Analysis
Professional Experience:
Application Consultant, XYZ Solutions Inc.
Provided end- to- end project management for software development, systems implementation, and process improvement projects
Developed technical documentation for software and applications, including system architectures, technical requirements, and test plans
Developed strategies for process improvement, including defining and implementing best practices, automating processes, and increasing efficiency
Developed data systems and platforms for use in business applications
Conducted research and analysis to identify customer needs and requirements
Application Consultant, ABC Technologies
Worked with stakeholders to define project requirements, develop technical documentation, and develop test plans
Developed enterprise resource planning (ERP) applications and systems
Monitored project progress and performance and provided technical support
Developed process improvement strategies and re- engineered processes to improve efficiency
Education:
Bachelor's Degree in Computer Science, University of XYZ
Application Consultant Resume with No Experience
Recent college graduate with a Bachelor of Science in Computer Science looking to enter the field of application consulting. Possess a strong understanding of software development and testing, as well as excellent communication and problem- solving skills.
Skills
Strong knowledge of software development, software testing, and software engineering
Excellent communication and problem- solving skills
Ability to quickly learn and apply new technologies
Ability to work independently and collaboratively
Analytical thinker and detail- oriented
Responsibilities
Analyze user requirements, design and develop software applications
Evaluate and test software applications to ensure quality and identify any potential errors
Coordinate with stakeholders to ensure successful software implementation
Provide technical assistance to users and troubleshoot any software issues
Make recommendations on how to improve software applications
Application Consultant Resume with 2 Years of Experience
I am a motivated and organized Application Consultant with two years of experience in helping businesses develop and implement application solutions that make their operations more efficient. I have experience in gathering and understanding customer requirements, developing technical solutions, and managing projects from ideation to delivery. I'm well- versed in the analysis, design, development, testing and deployment of software applications, as well as database design and development. I possess strong problem- solving and communication skills and the ability to work collaboratively with stakeholders and internal teams.
Core Skills:
Application Consulting
System Analysis and Design
Project Management
Database Design and Development
Software Development
Software Testing
Problem- Solving
Communication
Responsibilities:
Gathered and interpreted customer requirements through extensive needs analysis
Developed technical solutions that met customer requirements
Managed software application projects from ideation to deployment
Designed and developed application databases according to customer requirements
Developed and tested software applications using appropriate technologies
Dealt with technical issues and provided solutions to ensure applications were properly maintained
Ensured effective communication with customers and other stakeholders
Application Consultant Resume with 5 Years of Experience
An Application Consultant with 5 years of experience in the software industry. Possesses a unique blend of technical and customer service skills, combined with excellent communication and troubleshooting skills. Highly proficient in software development and implementation, as well as creating and maintaining web applications. Demonstrated ability to quickly learn new technologies and adapt to an ever- changing work environment.
Core Skills:
Software Development and Implementation
Troubleshooting
Web Application Creation and Maintenance
Excellent Communication and Interpersonal Skills
Customer Service
Problem- Solving
Responsibilities:
Developing and implementing software solutions to meet customer needs
Installing and configuring web applications, systems, and networks
Troubleshooting and resolving software and hardware issues
Analyzing and resolving customer- reported issues and errors
Ensuring compliance with internal and external policies, procedures, and regulations
Testing and debugging applications, systems, and networks
Monitoring and maintaining online systems and applications
Creating and maintaining user documentation and training materials.
Application Consultant Resume with 7 Years of Experience
I am an experienced application consultant with 7 years of industry experience. I have worked with a vast range of applications and have an extensive knowledge of modern software architecture and development. My primary focus is on web- based application development, software installation, debugging, and upgrades. Additionally, I am familiar with a number of popular programming languages and frameworks, such as Java and .NET. I am also well- versed in the areas of database design, user interface design, and system integration.
Core Skills:
Web- based application development
Software installation and debugging
System upgrades
Java and .NET programming
Database design
User interface design
System integration
Responsibilities:
Develop and maintain web- based applications
Install and debug software
Perform system upgrades
Develop and implement software solutions
Familiarize users with new software and applications
Ensure software compatibility with hardware
Troubleshoot and resolve software issues
Test and debug applications
Collaborate with developers and stakeholders to analyze and create functional software applications
Implement best practices in software development
Review and optimize existing applications
Application Consultant Resume with 10 Years of Experience
A highly- skilled Application Consultant with 10 years of experience in developing and maintaining enterprise software applications. Experienced in analyzing customer requirements and developing detailed designs. Highly proficient in numerous application development technologies, including Java, HTML, JavaScript, and CSS. Adept at managing and troubleshooting applications during the deployment and implementation process. Possesses excellent communication skills, enabling successful client relationships.
Core Skills:
Software Application Design & Development
Software Analysis & Troubleshooting
JavaScript, HTML, CSS, & Java Programming
Customer Requirements Analysis
Application Deployment & Implementation
Database Technologies
Excellent Communication & Interpersonal Skills
Responsibilities:
Creating detailed designs for enterprise applications
Analyzing customer needs and providing technical solutions
Developing and maintaining applications using Java, HTML, JavaScript, and CSS
Performing quality assurance tests to ensure applications meet customer requirements
Managing and troubleshooting applications during implementation process
Providing technical support and troubleshooting for software applications
Generating reports and providing feedback to customers
Coordinating with other teams throughout the development process
Ensuring application security and data integrity
Application Consultant Resume with 15 Years of Experience
Dynamic Application Consultant with over 15 years of experience in the information technology industry. Extensive knowledge of software development, design, and implementation along with a proven track record of client satisfaction. Possesses a deep understanding of quality assurance and customer service standards. Skilled in developing and maintaining productive relationships with customers, vendors and other stakeholders.
Core Skills:
Software development and implementation
System architecture design
Analytical problem solving
Project planning and management
Quality assurance and customer service
Technical documentation and training
Business process analysis and optimization
Database management
Network operations
Responsibilities:
Developed and implemented software solutions for clients based on their requirements.
Analyzed customer's business needs to determine the best solutions to meet their objectives.
Developed technical documentation, including user guides, process flows, and training documents.
Provided technical support and troubleshooting assistance to customers.
Performed user acceptance testing and system integration testing.
Conducted quality assurance tests and reviews.
Developed and implemented system architecture designs.
Managed and maintained databases.
Assisted in the maintenance and operation of networks.
Provided on- site and remote technical training and instruction.
Optimized business processes and procedures.
In addition to this, be sure to check out our resume templates, resume formats, cover letter examples, job description, and career advice pages for more helpful tips and advice.
What should be included in a Application Consultant resume?
Writing a resume for an application consultant requires a unique set of skills. As an application consultant, you are tasked with providing technical support and guidance to customers and businesses. Your resume must include the qualifications, experience, and technical knowledge necessary for success in the position. Here is a list of what should be included in an application consultant resume.
Education: Include the name of the college or university, degree earned, and any relevant certifications.
Professional Experience: List all previous roles held as an application consultant, including names, dates, and job descriptions.
Technical Knowledge: Demonstrate your technical knowledge and expertise in application systems and processes.
Problem-Solving Skills: Highlight your ability to solve complex software problems and develop solutions.
Project Management: Showcase your project management capabilities, such as planning, organizing, and directing.
Communication Skills: Demonstrate your ability to communicate effectively with stakeholders and customers.
Interpersonal Skills: Describe any interpersonal skills that are beneficial to the role, such as empathy and problem-solving.
Leadership Skills: Share any examples of leading a team or providing guidance to other colleagues.
Industry Experience: Showcase any industry experience or project successes that you have in the application consulting field.
What is a good summary for a Application Consultant resume?
A good summary for an Application Consultant resume should showcase the candidate's expertise in and knowledge of application development, testing and implementation. It should also highlight their experience working with clients and managing projects. Additionally, the summary should touch on the candidate's ability to troubleshoot, analyze, and solve application-related issues, as well as the various technologies they are familiar with. Finally, the summary should emphasize the candidate's commitment to delivering quality products while meeting deadlines and customer expectations.
What is a good objective for a Application Consultant resume?
A good objective for an Application Consultant resume should demonstrate an understanding of the application and its development process. It should also show the applicant's ability to analyze, assess and implement technological solutions in order to meet business needs.
Here are some examples of objectives to include on an Application Consultant resume:
To leverage my extensive experience in systems engineering and application development to assist clients in optimizing their software and achieving their business goals.
To help clients identify, analyze and address challenges related to application development and integration in order to improve performance.
To analyze, design and develop software applications that are tailored to the particular needs of the customer.
To provide technical expertise and guidance on system architecture, design, development and integration.
To implement process and system improvements to help clients improve their software productivity and ROI.
To manage the entire application development process from design and analysis to testing and implementation.
To provide support, troubleshooting and maintenance for existing software applications.
How do you list Application Consultant skills on a resume?
In order to stand out from the competition, it is important to list all of your relevant skills on your resume as an Application Consultant. Prospective employers are looking for individuals with expertise in areas such as system analysis, software development, and project management. By highlighting these skills, you can make yourself an attractive candidate for the job. Here is a list of skills you should include on your resume as an Application Consultant:
System Analysis: Analyzing the client's specific requirements and proposing solutions based on their business objectives.
Software Development: Designing, coding, testing, and maintaining software applications.
Project Management: Managing projects from start to finish, including scheduling, resource allocation, and cost control.
Client Relations: Developing and maintaining strong relationships with clients to ensure their satisfaction with the end product.
Technical Writing: Creating technical documents such as user manuals and system documentation.
Troubleshooting: Identifying and resolving software problems quickly and efficiently.
Communication: Communicating technical information to both technical and non-technical audiences.
Teamwork: Working collaboratively and effectively with other team members.
What skills should I put on my resume for Application Consultant?
A resume for an application consultant should showcase the skills necessary to be successful in the role. This includes both technical as well as soft skills. Below are some of the skills to consider adding to your resume when applying for an application consultant position:
Experience with software development tools such as Java, SQL, HTML, and other programming languages
Knowledge of application integration and database management
Understanding of web services and other communication protocols
Familiarity with design patterns and UML diagrams
Ability to analyze customer needs and develop custom solutions
Excellent problem-solving and analytical skills
Ability to work independently and as part of a team
Strong organizational, communication and interpersonal skills
Working knowledge of Agile methodology and software development methodologies
Ability to handle multiple tasks simultaneously and meet deadlines
Detail-oriented and able to work with a high degree of accuracy
Key takeaways for an Application Consultant resume
A career as an application consultant can be incredibly rewarding for any professional looking for a career in technology. As such, when creating a resume for this position, it's important to highlight the key qualifications that will make you stand out from the competition. Here are some key takeaways that should be included in your application consultant resume:
Expertise in Application Development: The most important thing to highlight on your resume is your expertise in application development. Detail your experience with various development languages, platforms, and frameworks, as well as any certifications you may have.
Problem-solving abilities: A successful application consultant must be able to think on their feet and solve complex problems. When crafting your resume, be sure to provide examples of how you have previously solved problems, as well as any awards or recognition you may have earned for your work.
Client Management Skills: As an application consultant, you are often called upon to work directly with clients. Demonstrate your ability to manage clients effectively by detailing your experience working in customer service or any relevant experience you have had in the past.
Analytical Thinking: Analytical thinking is a key skill for any application consultant. Be sure to highlight any experience you have had with analytical software, as well as your ability to interpret data and come to meaningful conclusions.
Project Management: As an application consultant, you are often tasked with managing projects from start to finish. Detail your experience leading projects and describe the steps you took to ensure successful completion.
By highlighting these key qualifications, you will be sure to create an effective application consultant resume that will help you stand out from the competition.
Let us help you build
your Resume!
Make your resume more organized and attractive with our Resume Builder