For IT professionals, having a well-presented resume is essential to securing the right job. While the specific roles and responsibilities of IT Administrators vary, having a well-written resume that clearly outlines your skills and experience is of utmost importance. Writing a resume for an IT Administrator role can be a daunting task for many IT professionals, especially if you are new to the field. That's why we've created this guide to help you craft the perfect IT Administrator resume. Here, we'll provide examples and tips to help you write a tailored and effective IT Administrator resume and land the job of your dreams.
If you didn't find what you were looking for, be sure to check out our complete library of resume examples.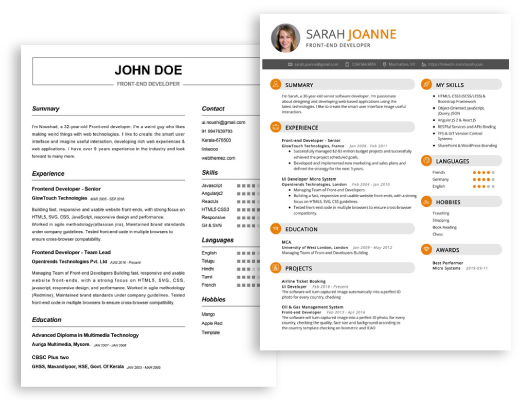 Start building your dream career today!
Create your professional resume in just 5 minutes with our easy-to-use resume builder!
IT Administrator Resume Examples
John Doe
IT Administrator
123 Main Street | Anytown, USA 99999 | Phone: (123) 456-7890 | Email: john.doe@email.com
I am an IT Administrator with over 7 years of experience in systems administration, networking, and the implementation of technology solutions. I have a proven track record of managing complex projects, overseeing teams, and ensuring that all IT- related operations are functioning smoothly. In my current role, I am responsible for managing the day- to- day operations of the company's IT infrastructure and ensuring that all users have the necessary access and resources to do their jobs. I am knowledgeable in all areas of IT, including networking, data storage, installation and troubleshooting of hardware and software, and system security. I am a team player and have demonstrated success developing strong working relationships with colleagues, customers, and vendors.
Core Skills:
Systems Administration
Networking
Hardware/Software Installation
Troubleshooting
System Security
Project Management
Customer Service
Vendor Relations
Professional Experience:
IT Administrator
Company ABC, August 2017 – Present
Lead the day- to- day management of the IT infrastructure, including data storage, network administration, and system security
Conduct training sessions to ensure staff understand how to use newly installed technology
Develop and implement system security policies and procedures
Create, maintain, and troubleshoot system issues
Provide customer service and technical support to users
Ensure that all IT- related operations are functioning smoothly
IT Technician
Company XYZ, April 2010 – August 2017
Installed and configured new hardware and software applications
Troubleshoot system problems and diagnose hardware and software issues
Provided customer service and technical support to users
Assisted with the setup and maintenance of the company's network
Monitored and maintained systems and devices
Assisted in the development and implementation of system security
IT Administrator Resume with No Experience
Recent graduate with a Bachelor's degree in Computer Science and Systems Engineering. Highly motivated and eager to learn IT Administrator position with no experience. Possess excellent communication skills, a strong attention to detail, and the ability to multi- task and prioritize tasks.
Skills
Networking
Troubleshooting
System Administration
Problem Solving
Windows Server/Desktop
Linux Server/Desktop
Network Security
Cloud Computing
Responsibilities
Maintain security and integrity of corporate networks and systems
Monitor network performance and troubleshoot network issues
Design and implement network infrastructure
Respond to user inquiries and resolve technical issues
Research and recommend new hardware and software solutions
Manage and configure servers, networks, and other IT equipment
Perform regular security audits and backup operations
IT Administrator Resume with 2 Years of Experience
I am an experienced IT Administrator with a total of two years in the field. I bring a great deal of technical knowledge and experience to any IT role and have the ability to resolve conflicts and manage personnel. My core skills include network administration, system administration, customer service, problem solving, and project management. I am highly organized and work well in teams, as well as independently. I am also comfortable communicating with people at all levels.
Core Skills:
Network Administration
System Administration
Customer Service
Problem Solving
Project Management
Organizational Skills
Communication Skills
Responsibilities:
Monitoring and maintaining computer systems and networks
Installing and configuring hardware, software, systems, networks, printers, and scanners
Providing technical support for computer systems and networks
Assisting users with installation and configuration of software, hardware, and peripherals
Troubleshooting system and network problems and diagnosing and solving hardware or software faults
Setting up new users' accounts and profiles and dealing with password issues
Replacing equipment as necessary
Ensuring security and privacy of networks and computer systems
Creating and managing backup and recovery systems
Maintaining technology inventory and asset documentation
Providing accurate and timely helpdesk support
Managing user accounts and user access rights
IT Administrator Resume with 5 Years of Experience
Highly organized and motivated IT Administrator with over 5 years of experience providing IT support to a variety of clients. Proven track record of efficiently troubleshooting hardware, software, network, and connection issues. Skilled in providing technical guidance and training for users and monitoring systems for potential performance issues. Adept at accurately documenting IT solutions and managing user accounts.
Core Skills:
Hardware and Software Troubleshooting
Network and Connection Troubleshooting
Technical Guidance and Training
Systems Monitoring
User Account Management
Data Backup and Recovery
Problem- Solving and Analysis
Responsibilities:
Resolved hardware, software, and network issues for end users.
Provided technical training to users on new hardware and software.
Performed data backup and recovery services.
Monitored systems for potential performance issues.
Managed user accounts and access privileges.
Assisted in the implementation of IT strategies and procedures.
Documented IT solutions and processes.
IT Administrator Resume with 7 Years of Experience
A highly motivated and experienced IT Administrator with 7 years of experience in managing, configuring and administrating IT networks, maintaining computer systems and providing technical support. Possesses a strong background in all aspects of server administration, networking, hardware and software, and troubleshooting. Adept at working with a variety of hardware and software technologies, understanding of cloud computing principles and strategies, and experience in providing end- user technical support. Proven ability to take initiative and use creative problem- solving skills to quickly respond to complex IT issues.
Core Skills:
Network Administration
Server Administration
Hardware and Software Maintenance
Software Troubleshooting
Cloud Computing
End- User Technical Support
Systems Security
Creative Problem- Solving
Responsibilities:
Managed and configured network systems, ensuring optimum performance and security
Installed and maintained computer systems, including hardware, software and associated peripherals
Provided technical support to users, including troubleshooting problems with hardware, software and networks
Implemented security protocols and guidelines to protect company data and systems
Monitored system performance and identified potential issues
Coordinated with vendors to ensure timely delivery of ordered items
Prepared reports to document system performance and incidents
Performed system maintenance, backups and upgrades as required
IT Administrator Resume with 10 Years of Experience
Results- oriented IT Administrator with 10 years of experience in providing technical support to end- users, configuring and maintaining network and server infrastructure, and developing custom software solutions for a wide range of applications. Demonstrates a high level of proficiency in solving complex technical problems and working with stakeholders to develop innovative solutions. Possesses outstanding organizational and communication skills which enable successful coordination of projects within tight deadlines.
Core Skills:
Network and Server Administration
Network Security
Software Development
Database Configuration and Maintenance
System Integration and Troubleshooting
Technical Support
Windows and Linux Systems
Responsibilities:
Providing technical support to end- users on hardware, software and network related issues
Configuring and managing Windows and Linux servers and ensuring optimal performance
Installing and configuring network hardware and software, including routers, switches and firewalls
Working with stakeholders to develop custom software solutions for various applications
Implementing and maintaining secure network policies
Troubleshooting technical issues and resolving them in a timely manner
Developing and managing backups and disaster recovery plans
Managing and administering databases, such as Oracle, MySQL and SQL Server
Monitoring network performance and security and taking corrective measures as required
IT Administrator Resume with 15 Years of Experience
Highly motivated and experienced IT administrator with 15 years of industry experience in system administration, software development and network engineering. Proven ability to design, configure, deploy and maintain large- scale systems and networks. Adept in troubleshooting and resolving complex technical issues. Knowledgeable in leveraging industry best practices and standards to design, implement and maintain secure and reliable networks.
Core Skills:
Network Engineering
System Administration
Software Development
Network Security
System Troubleshooting
Networking Protocols
Technical Documentation
System Design & Architecture
Technical Support
Responsibilities:
Configured, deployed and maintained complex network infrastructures and systems.
Developed and maintained software applications and databases.
Installed and configured network hardware, such as routers, switches, and firewalls.
Monitored system performance to ensure availability and reliability.
Performed system and network security audits to ensure data confidentiality.
Identified and resolved system and network performance issues.
Provided technical support for users in the organization.
Developed and maintained technical documentation.
Provided on- site and remote technical assistance.
Evaluated new technologies and identified opportunities for improvement.
In addition to this, be sure to check out our resume templates, resume formats, cover letter examples, job description, and career advice pages for more helpful tips and advice.
What should be included in a IT Administrator resume?
A well-written resume is a critical part of any job search as it gives potential employers a snapshot of your experience and skills. For IT administrators, there are a few key items that should be included in their resume to ensure they stand out from the competition.
Professional Summary: Start with a strong professional summary that gives a brief overview of your qualifications and experience. Make sure to include any certifications or training relevant to the job you are applying for.
Technical Experience: List any technical experience that is specific to IT administrators. This should include any software or hardware related support experience, network administration knowledge, or security compliance experience.
Education: Include your highest level of education, any IT related academic credentials, and any certifications you have earned.
Professional Skills: This section should include information about your communication, organizational, and customer service skills. Make sure to include any technical skills relevant to the role.
Experience: Include any previous IT administration roles in chronological order. If applicable, include details about any projects or initiatives you worked on and the results you achieved.
By including these key items on your IT Administrator resume, you will give potential employers an accurate representation of your experience and skills. This will help you stand out amongst other applicants and increase your chances of landing the job.
What is a good summary for a IT Administrator resume?
A good summary for an IT Administrator resume should include a wide variety of technical skills, as well as the ability to solve complex problems quickly and effectively. It should also demonstrate the applicant's ability to work independently and collaboratively, as well as their experience in managing and maintaining IT networks, systems, and services. Additionally, a solid understanding of security principles and an aptitude for troubleshooting hardware and software issues should be highlighted. IT administrators should also be able to work with multiple technical platforms, including cloud computing and virtualization technologies. Finally, a good summary should demonstrate the applicant's knowledge of systems management and project management, as well as their aptitude for learning new technologies.
What is a good objective for a IT Administrator resume?
A great objective for an IT Administrator resume should demonstrate the candidate's knowledge and experience in the Information Technology field. The objective should also make clear the candidate's career goals and include the skills and abilities that make them an excellent fit for the job. Here are some examples of good objective statements for an IT Administrator resume:
Experienced IT Administrator seeking a challenging role in a dynamic environment utilizing my knowledge and expertise in system administration, server management, and network engineering.
Detail-oriented IT Administrator with 5+ years of experience in network engineering, system administration and server management. Seeking a position to provide outstanding technical support and ensure smooth operations.
Driven IT Administrator looking to leverage my expertise in system administration, server management and network engineering to support a growing organization.
IT Administrator with a successful track record of troubleshooting complex network issues and maintaining system stability. Seeking to leverage my knowledge and experience to contribute to the success of a respected organization.
Results-driven IT Administrator with 5+ years of experience in system administration, server management and network engineering. Seeking to use my skills and abilities to ensure the smooth operation of IT networks.
How do you list IT Administrator skills on a resume?
When crafting your IT Administrator resume, it's important to include a list of the skills you possess that make you a successful administrator. By highlighting the necessary IT skills you have, you'll be able to stand out from other applicants and show potential employers that you have the knowledge and expertise to succeed in the role. Here are some IT Administrator skills to consider adding to your resume:
Microsoft Server Administration: Proven ability to configure, install, maintain, and repair Windows server systems and applications.
Network Troubleshooting: Experienced in diagnosing and resolving network connectivity issues with routers, switches, and firewalls.
Security Protocols: Knowledge of security practices, such as encryption, user authentication, and malware prevention.
Cloud Infrastructure: Competent in configuring and maintaining cloud-based infrastructures, such as Amazon Web Services or Microsoft Azure.
System Integration: Skilled in integrating networks and systems, including LAN/WAN connections, VPNs, and remote access.
Project Management: Effective at managing projects and coordinating multiple tasks.
Scripting: Proficiency in writing scripts and automating processes.
Documentation: Ability to create detailed, accurate documentation of system configurations and processes.
What skills should I put on my resume for IT Administrator?
When creating a resume for an IT Administrator position, there are many skills to consider putting on your resume. Here is a list of skills that are important for an IT Administrator to have:
Technical Skills: IT Administrators should have technical skills related to computers, networks, systems and applications. This includes knowledge of operating systems (Windows, Linux, etc.), networking protocols, software installation, troubleshooting, and security.
Networking Skills: An IT Administrator should have experience working with different types of networks, such as local area networks (LANs), wide area networks (WANs), and virtual private networks (VPNs). They should be familiar with networking protocols, such as TCP/IP and DHCP, and have knowledge of routing and switching.
Security Skills: IT Administrators should have knowledge of network security protocols and technologies, such as firewalls, antivirus, encryption, and authentication. They should also know how to create secure networks and protect them from malicious attacks.
Project Management Skills: IT Administrators should be able to plan, organize, and manage IT projects from start to finish. This includes creating project plans, managing deadlines, setting up timelines, and monitoring progress.
Communication Skills: IT Administrators should have excellent written and verbal communication skills to effectively communicate with clients and other team members.
Problem-Solving Skills: Being able to troubleshoot and resolve IT issues quickly and efficiently is an important skill for IT Administrators. They should be able to identify the root cause of a problem, develop solutions, and implement them.
By including these skills on your resume, you will be able to demonstrate your knowledge and experience as an IT Administrator. With the right set of skills, you will be able to make a great impression on potential employers.
Key takeaways for an IT Administrator resume
If you're an IT Administrator, you know that your resume is a vital tool in landing a great opportunity. Having a well-crafted resume that highlights your expertise, experience, and accomplishments can make a world of difference when it comes to the success of your job search. Here are some key takeaways for crafting an IT Administrator resume that will help you get noticed and help you stand out in the job market:
Highlight Your Technical Skills – As an IT Administrator, you possess a unique set of technical skills that are essential to your success. Make sure to showcase these skills boldly on your resume and make them stand out. Include descriptions of the specific technologies you're familiar with, the types of systems you've managed, and any other relevant information that will help you get noticed.
Showcase Your Experience – Your experience is an important part of what makes you a great IT Administrator. Include details of your past roles and make sure to include any achievements that you have accomplished in each job. Be sure to clearly state your level of experience as well – this will help employers to understand the depth of your knowledge.
Mention Your Accomplishments – Let employers know what successes you have achieved by including details of any noteworthy accomplishments on your resume. This could include awards or projects you completed that helped the company you worked for. If you have any certifications or other recognitions, make sure to include them to further demonstrate your expertise.
Showcase Your Soft Skills – Employers are looking for IT Administrators with strong technical skills, but they also want someone with excellent soft skills. Be sure to include on your resume any soft skills you possess, such as problem-solving, communication, and customer service.
By following these tips, you can create a resume that will help you stand out from the competition and get you noticed by potential employers. With a resume that accurately reflects your
Let us help you build
your Resume!
Make your resume more organized and attractive with our Resume Builder