Telephone interviews are becoming increasingly popular in today's job market. Telephone interviews are often used by recruiters to screen potential candidates and narrow down their list of potential hires. Writing a resume for a telephone interviewer role can be a tricky task, especially if you have limited experience in the field. Writing a resume for a telephone interviewer role requires understanding of the job itself and which skills and qualifications are most important to the employer. This guide will provide you with tips on how to write a resume for a telephone interviewer role, as well as provide examples of successful resumes to help you craft your own.
If you didn't find what you were looking for, be sure to check out our complete library of resume examples.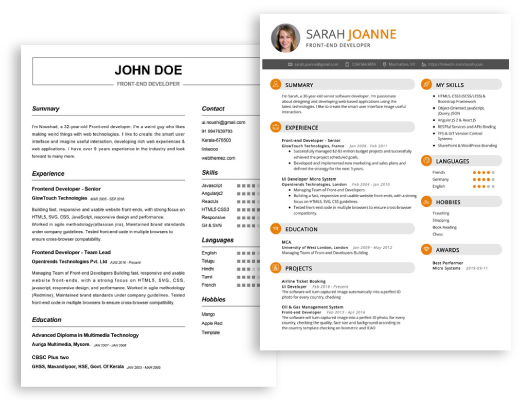 Start building your dream career today!
Create your professional resume in just 5 minutes with our easy-to-use resume builder!
Telephone Interviewer Resume Examples
John Doe
Telephone Interviewer
123 Main Street | Anytown, USA 99999 | Phone: (123) 456-7890 | Email: john.doe@email.com
A highly experienced and detail- orientated telephone interviewer with 10+ years of experience conducting interviews, surveys, and polls over the phone. An expert in collecting data and providing reliable insights, I am proficient in a variety of research methods, including in- depth interviews, focus groups, and data analysis. An effective communicator, I am also comfortable working with a variety of people and can build rapport quickly.
Core Skills:
Interviewing skills
Data collection
Research methods
Communication
Polls
Surveys
Statistical data analysis
Professional Experience:
Telephone Interviewer, XYZ Research Company, 2020- Present
Contact participants and explain the purpose of the survey, describe the survey process, and answer questions
Collect and verify data from survey participants
Maintain records of all information gathered
Document all research activities accurately
Communicate with participants to ensure best possible results
Analyze data and make recommendations to improve survey process
Telephone Interviewer, ABC Research Company, 2015- 2020
Conducted in- depth interviews, focus groups and surveys over the phone
Collected data and analyzed the results
Verified the accuracy of the data and ensured its accuracy
Recorded all activities and results accurately
Provided reliable insights to the research teams
Education:
Bachelor of Arts in Psychology, ABC University, 2011
Telephone Interviewer Resume with No Experience
Highly motivated individual and excellent communicator with a strong desire to succeed in a Telephone Interviewer role. Experience working with the public in a customer service environment. Strong listening and problem- solving skills.
Skills
Excellent verbal and written communication skills.
Strong customer service skills.
Proficiency in Microsoft Office Suite and other relevant software programs.
Ability to multitask and manage multiple projects.
Ability to work independently with minimal supervision.
Ability to work efficiently and accurately in a fast- paced environment.
Responsibilities
Conduct phone interviews with customers to gather data and follow up on any questions.
Ensure all customer information is gathered accurately and efficiently.
Maintain customer records and ensure customer satisfaction.
Follow up with customers regarding any questions or issues they may have.
Provide support and assistance to customers in a professional and friendly manner.
Maintain customer confidentiality and protect customer data.
Telephone Interviewer Resume with 2 Years of Experience
An experienced Telephone Interviewer with 2 years of experience in conducting qualitative and quantitative research. Skilled in conducting surveys, customer opinion polls and interviews. Experienced in handling customer calls with a patient and polite attitude. Capable of developing a customer rapport and presenting complex information in a clear and concise manner.
Core Skills:
Strong customer service and communication skills
Proficiency in data collection methods
Experience in telephone interviewing
Ability to ask probing and targeted questions
Exceptional problem solving and critical thinking skills
Ability to analyze data and prepare reports
Detail- oriented with excellent memory
Responsibilities:
Conducted both qualitative and quantitative research interviews over the telephone
Gathered customer feedback and opinion in order to analyze customer trends and preferences
Conducted surveys to identify market trends and customer needs
Responded to customer complaints and queries in a timely and professional manner
Recorded customer responses accurately and concisely
Provided comprehensive and up- to- date information regarding the topics researched
Analyzed customer data and prepared reports for senior management.
Telephone Interviewer Resume with 5 Years of Experience
Motivated and detail- oriented Telephone Interviewer with 5 years of experience in conducting phone surveys and managing customer interactions. Experienced in gathering customer feedback and creating customer surveys for a variety of industries. Possesses superior communication and problem- solving skills, enabling effective management of all customer inquiries. Experienced in managing customer relationships and providing excellent customer service.
Core Skills:
In- depth knowledge of customer service principles
Proficient in using survey software such as Confirmit, SurveyMonkey, and Qualtrics
Strong communication and interpersonal skills
Exceptional written and verbal communication skills
Proficient in Microsoft Office Suite
Ability to multitask, prioritize and manage time efficiently
Excellent customer service and problem- solving skills
Responsibilities:
Conducted phone surveys to collect customer feedback
Monitored customer interactions to provide excellent customer service
Managed customer relationships and provided customer care
Created customer surveys and analyzed survey results
Communicated with customers to answer inquiries
Identified customer needs and made recommendations for improvement
Provided feedback on customer interactions to management
Maintained accurate and up- to- date records of customer interactions
Telephone Interviewer Resume with 7 Years of Experience
Accomplished telephone interviewer with 7 years of experience conducting telephone interviews, surveys and market research. Possess a strong attention to detail, excellent problem solving and communication skills. Extensive experience in collecting and interpreting data and reporting findings. Skilled at providing clear instructions to participants and accurately summarizing data. Able to work in a fast paced environment and meet tight deadlines.
Core Skills:
Interviewing
Data Analysis
Quality Assurance
Reporting
Record Keeping
Problem Solving
Communication
Responsibilities:
Review and understand survey questions prior to conducting interviews
Interview participants over the phone in a friendly and professional manner
Ask questions in the correct order and ask follow up questions when needed
Document all responses accurately in the appropriate programs
Ensure the quality and integrity of data by constantly checking for accuracy
Compile and analyze data gathered from telephone interviews
Identify and report any discrepancies or issues with the data
Review reports and provide feedback to researchers
Follow legal and ethical standards at all times
Telephone Interviewer Resume with 10 Years of Experience
Experienced and detail- oriented Telephone Interviewer with 10+ years of experience in collecting, analyzing, and interpreting data. Proven ability to manage multiple projects and prioritize tasks to meet tight deadlines. Ability to work with others to produce innovative solutions to complex problems. Excellent research, problem- solving, and communication skills.
Core Skills:
Data Collection
Data Analysis
Data Interpretation
Project Management
Problem Solving
Organization
Multi- tasking
Communication
Research
Responsibilities:
Gathered and collected data from telephone surveys
Analyzed survey data to determine demographic trends and patterns
Interpreted survey data and identified areas of improvement
Created and maintained reports with survey findings
Managed multiple projects and deadlines
Identified and addressed potential issues and problems
Developed innovative solutions to complex problems
Researched potential solutions and provided recommendations
Assisted in the development of new telephone survey protocols
Collaborated with team members to ensure accuracy of survey results
Provided customer service and support to participants
Telephone Interviewer Resume with 15 Years of Experience
A highly experienced telephone interviewer with 15 years of expertise in conducting quantitative and qualitative research interviews. Possess an aptitude for understanding complex surveys and using a wide range of survey tools for data collection. Able to swiftly and accurately process information and successfully build relationships with respondents. Proven ability to prepare data for analysis and evaluate survey results.
Core Skills:
Quantitative & Qualitative Research Interviews
Survey Design & Implementation
Data Collection & Processing
Database Management
Data Analysis & Reporting
Knowledge of Research Methodology
Computer & Typing Skills
Time Management
Interpersonal Skills
Problem Solving
Responsibilities:
Conducted telephone interviews with respondents to collect data
Developed questions for surveys and designed survey programs
Collected data and entered it into specialized databases
Analyzed survey results and generated reports
Prepared data for further analysis by other researchers
Ensured accuracy and quality of data
Maintained records and logs of research activities
Monitored survey progress and reported on stages of completion
Adhered to ethical standards and regulations when conducting research
In addition to this, be sure to check out our resume templates, resume formats, cover letter examples, job description, and career advice pages for more helpful tips and advice.
What should be included in a Telephone Interviewer resume?
A telephone interviewer resume should include all of the necessary information to give employers a good idea of your qualifications and experience. Here are some of the most important elements you should include:
Professional Summary: A brief summary of your experience, qualifications and skills as a telephone interviewer.
Relevant Work Experience: Include any telephone interviewing experiences you have, including the name of the companies and the duration of your employment.
Education: Include any relevant academic qualifications and certifications related to telephone interviewing.
Skills: Include any special skills that may be useful in a telephone interviewing role, such as the ability to build relationships with customers quickly and effectively.
Computer Proficiency: List any computer applications you're familiar with and any software suites you may have used in a telephone interviewing role.
Language Proficiency: Include any foreign languages you're fluent in and any specialized terminology you are familiar with.
Professional Associations: List any professional organizations or associations you're a part of that are related to telephone interviewing.
References: Include contact information for at least two professional references.
By including these elements in your resume, you can create an effective document that will help you stand out from the competition and increase your chances of landing a job as a telephone interviewer.
What is a good summary for a Telephone Interviewer resume?
A Telephone Interviewer resume summary should highlight the candidate's ability to effectively manage customer inquiries, record customer data, and maintain customer satisfaction. It should also demonstrate the ability to work independently, possess excellent communication and interpersonal skills, and have experience with customer service and telephone systems. The summary should also include any qualifications or certifications received, such as previous customer service experience or relevant call center training. Additionally, the summary should include any specialized skills, such as fluency in multiple languages or knowledge of computer applications. Overall, the summary should be a concise but comprehensive account of the candidate's telephone interviewer skills and qualifications.
What is a good objective for a Telephone Interviewer resume?

Telephone Interviewers play an integral role in the recruitment process of a company, making it important to have a strong resume objective. A good objective for a Telephone Interviewer resume should highlight the applicant's interpersonal and communication skills, as well as their knowledge of the latest industry trends and standards.
Demonstrate strong interpersonal, communication, and customer service skills.
Possess the ability to accurately collect, record and interpret data.
Demonstrate comprehensive understanding of the recruitment process and the latest industry standards.
Adaptable to a high-pressure and fast-paced environment.
Highlight prior experience in customer service and telephone interview setting.
Possess excellent problem-solving and decision-making abilities.
Committed to cultivating positive customer relations.
How do you list Telephone Interviewer skills on a resume?
A telephone interviewer is a professional who collects and gathers data from a wide range of people and organizations by conducting interviews over the phone. Telephone interviewers must have a variety of skills to successfully complete their job, and these skills should be highlighted on your resume.
When creating your resume, it is important to include a section dedicated to your telephone interviewer skills. Here are some of the skills you should consider including:
Excellent verbal communication: The ability to convey thoughts and ideas effectively over the phone is essential for a telephone interviewer.
Listening skills: Telephone interviewers must be able to listen intently and effectively to each response they receive.
Interpersonal skills: As they engage with a wide variety of people, telephone interviewers must be able to develop relationships quickly and effectively over the phone.
Research skills: Telephone interviewers must be able to quickly and effectively research relevant topics and collect data from a variety of sources.
Data analysis skills: Telephone interviewers must be able to analyze the data they have collected, interpret trends, and draw meaningful conclusions.
Time management: Telephone interviewers must be able to manage their time efficiently and effectively to complete their tasks in a timely manner.
Including the skills listed above on your resume can help you stand out from the competition and demonstrate your suitability for the role of telephone interviewer.
What skills should I put on my resume for Telephone Interviewer?
Telephone Interviewers play an important role in the job market, providing valuable insights to employers and organizations. As a Telephone Interviewer, you are responsible for conducting phone surveys and gaining information from individuals. To ensure you are considered for such a job, you must have the right skills highlighted on your resume.
Here are the top skills to put on your resume for a Telephone Interviewer role:
Interpersonal Skills: As a Telephone Interviewer, you must be able to interact with people in a polite and friendly manner. This includes the ability to listen attentively, ask relevant questions, and show empathy.
Communication Skills: Effective communication is key to being a successful Telephone Interviewer. You should be able to explain questions and instructions clearly, conduct meaningful conversations, and understand what the customers are saying.
Problem-solving Skills: As a Telephone Interviewer, you must be able to think on your feet and come up with solutions to any issues that arise. You should be able to identify problems, find solutions, and explain them in a clear and concise manner.
Time Management Skills: As a Telephone Interviewer, you must be able to manage your time efficiently and complete surveys on schedule. You should be able to prioritize tasks and keep track of your progress.
Adaptability: As a Telephone Interviewer, you must be able to quickly adjust to different situations and adapt to changing environments. You should be able to work with different types of people and be prepared for any surprises.
Highlighting these skills on your resume will show employers that you are qualified for the Telephone Interviewer role. With these skills in your toolbox, you should have no problem excelling in the job.
Key takeaways for an Telephone Interviewer resume
A telephone interviewer resume should be tailored to the job you are applying for, but there are some key takeaways that can make any resume stand out.
Highlight Your Communication Skills: Communication is key when conducting a telephone interview. Make sure to showcase your verbal communication and active listening skills on your resume.
List Your Education: If you have a degree in the field or any certifications that may be relevant, make sure to list them on your resume. This will show employers that you are knowledgeable in the field and can be trusted to work in a professional setting.
Mention Your Experience: Telephone interviewing requires experience and a certain skill set. Make sure to emphasize any previous telephone-interviewing experience you may have as it will help to set you apart from other applicants.
Stress Your Reliability: As a telephone interviewer, it is important to be reliable and punctual. Highlight any awards, accomplishments, or references that show that you are dependable and can be counted on to show up to work on time.
Make Your Resume Stand Out: Adding a few personal touches to your resume can help it stand out amongst the competition. Include a brief personal statement that expresses your passion for the job and why you would be the perfect fit.
Let us help you build
your Resume!
Make your resume more organized and attractive with our Resume Builder