Writing a resume as a recruitment specialist can be a challenge due to the unique nature of the role. It's important to show potential employers that you understand the nuances and complexities of recruitment work and can effectively manage the hiring process. The key is to showcase the skills and experience that make you a strong candidate. This guide will provide tips and strategies for creating a resume that will stand out among the competition and help you secure a great job in recruitment. We will cover everything from the basics of resume writing to helpful examples of resumes that you can use as a model to create your own.
If you didn't find what you were looking for, be sure to check out our complete library of resume examples.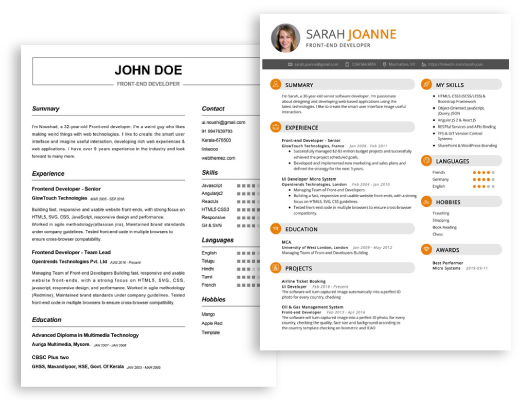 Start building your dream career today!
Create your professional resume in just 5 minutes with our easy-to-use resume builder!
Recruitment Specialist Resume Examples
John Doe
Recruitment Specialist
123 Main Street | Anytown, USA 99999 | Phone: (123) 456-7890 | Email: john.doe@email.com
A highly experienced and motivated Recruitment Specialist with five years of experience in the Human Resources sector. Possess excellent interpersonal skills, an unwavering commitment to excellence, and the ability to collaborate with colleagues and management to ensure the smooth delivery of recruitment solutions. Possess an ability to develop efficient recruitment strategies as well as an understanding of the importance of providing outstanding customer service. In addition, have excellent time management and organizational skills, as well as the ability to motivate, monitor, and support other team members.
Core Skills
Recruitment Strategies
Employee Relations
Organizational Skills
Time Management
Customer Service
Personnel Administration
Team Leadership
Interviewing
Performance Management
Communication
Professional Experience
Recruitment Specialist, ABC Company, 2017 – Present
Develop recruitment strategies to attract top talent for the company
Manage the full recruitment life cycle from sourcing, interviewing, to hiring
Conduct interviews and select the best candidates for the positions
Maintain and update recruitment records in the company's database
Develop and maintain positive relationships with clients and candidates
Collaborate with other team members including managers and HR personnel
Ensure compliance with administrative regulations and policies
Recruiter, XYZ Company, 2015 – 2017
Managed hiring process for positions in the company
Provided administrative support and personnel advice to the management
Developed and implemented recruitment strategies to attract qualified candidates
Assisted in developing and maintaining employee relations
Conducted interviews and screening of potential candidates
Education
Bachelor of Arts in Business Administration, University of California, 2012 – 2015
Recruitment Specialist Resume with No Experience
Dynamic and enthusiastic professional with a degree in Human Resources, eager to bring my strong organizational and interpersonal skills to the role of Recruitment Specialist. Proven ability to successfully manage new hire processes, develop relationships with key stakeholders and support positive workplace culture.
Skills
Excellent communication and interpersonal skills
Proficient in MS Office, HRIS and ATS systems
Strong problem- solving and critical thinking capabilities
Ability to work in a fast- paced and ever- changing environment
Thorough understanding of recruitment and selection process
Ability to build open and collaborative relationships with candidates
Strong presentation and negotiation skills
Responsibilities
Develop recruitment strategies to support hiring initiatives
Source and screen potential candidates through job postings and social media
Assist in screening, interviewing and evaluating candidates
Collect and analyze recruitment data and report on findings
Develop relationships with internal stakeholders and external executive search firms
Maintain records and documentation of recruitment process
Provide ongoing support to new hires and provide guidance during onboarding process
Recruitment Specialist Resume with 2 Years of Experience
Dynamic and experienced Recruitment Specialist with over two years of experience in human resource management, recruiting, and staffing. Proven ability to deliver top- notch results by creating recruitment strategies, sourcing and screening candidates, and facilitating negotiations. Highly capable of improving processes and creating a cohesive team.
Core Skills:
Talent Acquisition
Sourcing and Screening
Background Verification
Negotiation
Recruitment Strategies
Organization and Planning
Interviewing and Assessing
Communication and Interpersonal
Conflict Resolution
Responsibilities:
Developed and implemented recruitment processes for a variety of departments.
Sourced potential candidates through job postings, job boards, social media, and referrals.
Screened resumes, conducted phone screenings, and arranged face- to- face interviews.
Conducted background checks, negotiated job offers, and facilitated onboarding processes.
Created recruitment strategies to attract top talent, improve processes, and build a cohesive team.
Developed job descriptions and tracked progress of job postings across multiple platforms.
Developed and maintained relationships with external recruiter and staffing partners.
Drafted and sent offer letters and conducted reference checks.
Provided excellent customer service to candidates to ensure a positive experience.
Recruitment Specialist Resume with 5 Years of Experience
Highly motivated and results- driven Recruitment Specialist with 5 years of experience in the human resources field. Extensive knowledge of the recruitment process, including identifying and screening potential candidates, conducting interviews, and verifying references. Committed to building an effective and diverse workforce by developing a comprehensive recruiting strategy that reflects the company's culture and goals. Possess excellent interpersonal and organizational skills combined with an ability to form meaningful connections within the professional community.
Core Skills:
Strong interpersonal and communication skills
Developing recruitment strategies
Screening and interviewing candidates
Conducting reference checks
Knowledge of the latest recruitment trends
Proficient in Microsoft Office Suite
Responsibilities:
Developed and implemented a comprehensive recruitment strategy to source top- tier talent
Conducted resume screening and phone interviews to identify qualified candidates
Coordinated on- site interviews and reference checks for shortlisted applicants
Maintained accurate records of all recruitment processes, including interview logs and background checks
Managed and monitored recruitment pipeline to ensure timely closing of open positions
Ensured compliance with all relevant employment laws and regulations
Provided support to the hiring managers and other stakeholders in the recruitment process
Created and distributed job postings to various job boards and career websites
Collaborated with internal teams to ensure a smooth and effective recruiting process
Recruitment Specialist Resume with 7 Years of Experience
A Recruitment Specialist with 7 years of experience in talent acquisition, employee engagement, and recruitment process optimization. Proven ability to identify and attract the best talent for a wide range of organizations, from startups to global corporations. Exceptional problem- solving skills, leveraging data to improve recruitment and hiring processes. Dedicated to cultivating an inclusive and diverse workplace and achieving organizational excellence through effective hiring and onboarding processes.
Core Skills:
Talent Acquisition & Retention
Employee Engagement
Recruitment Process Optimization
Data Analysis & Reporting
Applicant Tracking Systems
Behavioral Interviewing
Employee Onboarding
Diversity & Inclusion
Responsibilities:
Develop, implement, and optimize recruitment processes, policies, and procedures.
Plan, develop, and implement recruitment strategies to attract and retain the best talent.
Source and engage with candidates using a variety of methods, including social media, job boards, professional networks, and referrals.
Screen, assess, and evaluate candidates using behavioral interviews, skills tests, and other assessments.
Administer and manage the Applicant Tracking System.
Create and update job descriptions, job postings, and other recruitment materials.
Establish and maintain relationships with external partners and vendors.
Collaborate with hiring managers to ensure positions are filled with the ideal candidate.
Monitor recruitment trends and recommend solutions to improve recruitment processes.
Identify and implement initiatives to promote a diverse and inclusive workplace.
Monitor and report on recruitment metrics, such as number of hires, applicant pipelines, and cost per hire.
Recruitment Specialist Resume with 10 Years of Experience
Highly experienced Recruitment Specialist with over 10 years of expertise in recruitment processes, talent acquisition and HR strategy. Possesses a superior ability to quickly come up to speed in new roles and industries and to learn new skills and processes. Skilled in relationship building with internal stakeholders, external candidates and business partners. Proven history of successful recruitment projects and achievements.
Core Skills:
Recruitment Processes
Talent Acquisition
HR Strategy
Relationship Building
Recruiting Strategies
Interviewing
Network Building
Negotiations
Leadership
Organizational Skills
Time Management
Responsibilities:
Developed and executed recruitment strategies for various positions within the organization.
Sourced and screened candidates for various roles within the organization.
Conducted interviews for both junior and senior level positions.
Created job postings, job descriptions and other recruiting materials.
Conducted background checks on potential employees.
Negotiated salaries and job offers.
Developed relationships with external recruiters, HR consultation firms and job placement agencies.
Implemented effective onboarding and training processes.
Provided guidance and mentorship to new hires.
Managed the recruitment process from start to finish.
Recruitment Specialist Resume with 15 Years of Experience
Recruitment Specialist with fifteen years of experience in managing and executing recruitment strategies for corporate and nonprofit organizations. Accustomed to working in fast- paced environments and collaborating with various departments. Proven ability to source, screen, and hire top talent across industries. Strengths include communication, problem solving, organization, and multitasking.
Core Skills:
Recruitment and Onboarding
Interpersonal Communication
Applicant Tracking Systems
Resourceful Problem Solving
Performance Management
Talent Acquisition
Organizational Planning
Budgeting
Research
Data Analysis
Responsibilities:
Develop and maintain a comprehensive recruitment process while staying up- to- date on industry trends.
Source and engage qualified candidates through a variety of channels, such as job boards and social media.
Screen, interview, and evaluate candidates.
Develop and foster relationships with universities and other educational institutions to increase job applications.
Design a comprehensive onboarding program for new hires.
Manage the full recruitment lifecycle, from job postings to offer letters.
Implement and maintain an applicant tracking system to streamline the recruitment process.
Support the team in developing job descriptions, job postings, and other recruitment materials.
Assist in developing and executing employee engagement initiatives.
Analyze data to identify areas for improvement in recruitment processes.
Manage budgets and resources to meet recruitment goals.
In addition to this, be sure to check out our resume templates, resume formats, cover letter examples, job description, and career advice pages for more helpful tips and advice.
What should be included in a Recruitment Specialist resume?
A recruitment specialist resume should include several key components. These will help to demonstrate to a potential employer your experience, skill set, and knowledge of the hiring process. The following should be included in a recruitment specialist resume:
Summary: A summary of your experience and qualifications as a recruitment specialist. Include relevant experience in the field and any certifications or special qualifications that you possess.
Education: Include any degree and certifications you have obtained related to recruitment or human resources.
Skills: List any skills that are relevant to the job, such as computer proficiency, communication skills, and interviewing.
Professional Experience: Include a list of the organizations you have worked for and the positions you have held in the field of recruitment.
Accomplishments: List any awards or achievements you have earned, such as successfully filling a certain number of positions or reducing recruitment costs.
References: Include at least two references, such as a former supervisor or coworker, who can vouch for your recruitment skills and experience.
What is a good summary for a Recruitment Specialist resume?
A Recruitment Specialist is responsible for finding, interviewing, and hiring new employees for an organization. They typically work with hiring managers and other departments to create job descriptions, post openings to job boards and other sources, and select the best candidates. A good summary for a Recruitment Specialist resume should emphasize the candidate's ability to build relationships with both job seekers and employers, their experience in recruiting, and their knowledge of labor laws and industry trends. The summary should also include any specialized skills or expertise the candidate may have, such as strong knowledge of a particular technology or specialized training in recruitment practices. Finally, the summary should include any successes the candidate has had in their recruitment career, such as improving diversity or reducing time-to-fill.
What is a good objective for a Recruitment Specialist resume?
A recruitment specialist helps organizations in their recruitment process by screening potential candidate resumes, interviewing candidates, and recommending hires. Crafting an effective objective for a recruitment specialist resume can help you stand out from the competition. Here are some tips for creating a compelling objective for a recruitment specialist resume:
Demonstrate experience in recruitment and staffing techniques: highlight your experience in screening, interviewing, and placing qualified candidates.
Showcase your knowledge of recruitment strategies: emphasize your understanding of recruiting trends, platforms, and strategies in order to effectively meet the needs of a given organization.
Detail your ability to work with various teams: emphasize your ability to collaborate with HR teams, hiring managers, and other stakeholders to ensure that the recruitment process runs smoothly.
Highlight your organizational skills: emphasize your ability to manage multiple tasks and prioritize effectively.
By using these tips, you can create an effective objective for your recruitment specialist resume that will give you a competitive edge.
How do you list Recruitment Specialist skills on a resume?
Recruitment specialists are responsible for the entire recruitment process and must possess a variety of skills to be successful. When listing recruitment specialist skills on a resume, it is important to include both hard and soft skills that are relevant to the job. Here are some key skills that may be beneficial to include on a resume:
Ability to source and attract top talent: Recruitment specialists must stay up-to-date on the latest trends and techniques for sourcing and attracting top talent. This includes using both traditional and digital methods, such as networking events, job boards, and social media.
Interviewing and assessment skills: Recruitment specialists often have to assess candidates' resumes, conduct interviews, and evaluate the candidates' suitability for the job. It is important to show that you have the skills to assess candidates objectively and fairly.
Negotiation and persuasion skills: Recruitment specialists must be able to negotiate salary and benefits packages with potential candidates. They must also be able to persuade potential candidates to join the company.
Communication skills: Recruitment specialists must be able to communicate effectively with potential candidates, colleagues, and other stakeholders. This includes being able to explain job roles and company benefits clearly and concisely.
Organizational and time management skills: Recruitment specialists must be able to keep track of multiple candidates and tasks simultaneously. They must also be able to organize recruitment events and activities effectively.
Knowledge of labor laws: Recruitment specialists should have a good understanding of various labor laws in order to ensure compliance with local, state, and federal laws.
By including these key skills on your resume, you will demonstrate to potential employers that you have the skills necessary to be a successful recruitment specialist.
What skills should I put on my resume for Recruitment Specialist ?
As a recruiter, you are responsible for finding and matching qualified candidates to open positions within a company. To be successful in this role, you need an impressive resume. In addition to a strong cover letter and relevant experience, there are key skills that employers look for in a recruitment specialist. Here are some of the most important skills to consider including on your resume:
Analytical Skills: Being able to objectively analyze data and make decisions based on facts is essential for a recruitment specialist. Include any relevant experience in data analysis and decision-making on your resume.
Interpersonal Skills: Recruitment specialists must be able to connect with people, build relationships, and form networks. Demonstrate your ability to think on your feet, build relationships, and network effectively.
Time Management: As a recruiter, you must be able to multitask and manage your time efficiently. Include any relevant experience and skills with scheduling, project management, and organizational tasks.
Communication: Being able to communicate effectively is critical for a recruitment specialist. Showcase your ability to write and speak effectively with potential candidates and hiring managers alike.
Knowledge of Labor Laws: Understanding labor laws and regulations is essential for any recruiter. Showcase any relevant certifications and education in this field.
By including relevant skills and experience on your resume, you can increase your chances of standing out as a qualified recruitment specialist.
Key takeaways for an Recruitment Specialist resume
As a Recruitment Specialist, your resume needs to stand out and make a lasting impression in order to land a job. It is critical to showcase your experience, skills, and background in a way that draws attention to your accomplishments and how they can benefit a potential employer. Here are some key takeaways for crafting a successful Recruitment Specialist resume.
Highlight Your Recruiting Expertise: Your resume should demonstrate your expertise in the recruiting field. Include any relevant experiences such as interviewing, sourcing, conducting background checks, and offering pre-employment assessments. Describe any successful placements you have made, and be sure to include any applicable certifications or training.
Explain Your Process: Include details about your recruitment process. Explain how you source candidates, assess their qualifications, and track the progress of hiring. Showcase your ability to evaluate the effectiveness of your recruitment methods and make adjustments as needed.
Showcase Your Soft Skills: As a Recruitment Specialist, strong interpersonal skills are essential. Showcase your ability to communicate effectively, establish and maintain relationships with candidates, and collaborate with other departments.
Demonstrate Your Adaptability: Employers are looking for candidates who can quickly adjust to changing requirements and who can stay organized while multitasking. Explain how you stay up to date on industry trends and how you are able to think outside the box in order to identify potential candidates.
By following these key takeaways, you can create a resume that will make a lasting impression and stand out from the competition. Showcase your expertise and experience as a Recruitment Specialist, and demonstrate your adaptability and strong soft skills. Doing so will help you land the job you're looking for.
Let us help you build
your Resume!
Make your resume more organized and attractive with our Resume Builder