Are you looking to begin a career as a job developer? A job developer is an essential role in helping to match job seekers with employment opportunities. A great job developer not only has the necessary skills to find the right job for the job seeker but also is knowledgeable on resume writing and job search strategies. Writing a great resume is one of the most important steps in a successful job search, and having a comprehensive job developer resume can help you make a great first impression. This guide will provide you with the tips and tricks needed to write the perfect job developer resume. We will also provide some job developer resume examples to help you get started.
If you didn't find what you were looking for, be sure to check out our complete library of resume examples.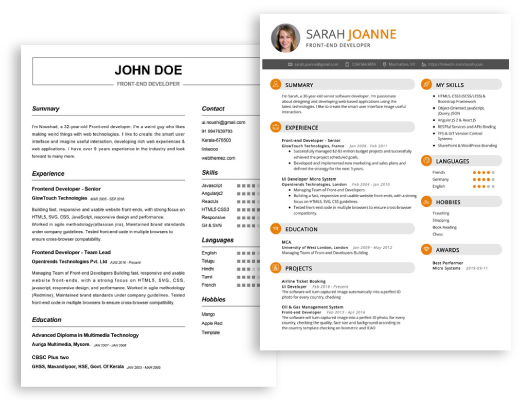 Start building your dream career today!
Create your professional resume in just 5 minutes with our easy-to-use resume builder!
Job Developer Resume Examples
John Doe
Job Developer
123 Main Street | Anytown, USA 99999 | Phone: (123) 456-7890 | Email: john.doe@email.com
I am a highly motivated and driven professional with over 6 years of experience in job development. I have a strong track record of delivering successful results and developing comprehensive job training and placement programs for disadvantaged populations. I'm a creative thinker who is able to draw from a number of resources to develop innovative solutions to challenging problems. My enthusiasm and passion for helping others to reach their goals and attain gainful employment makes me an ideal candidate for the job developer position.
Core Skills:
Job Training & Placement
Job Recruitment & Interviewing
Program Development
Employer Relations
Research & Data Analysis
Group & Individual Coaching
Outreach & Networking
Grant Writing & Administration
Case Management
Resource Management
Professional Experience:
Job Developer – ABC Employment Agency, Minneapolis, MN (2019 – Present)
Developed and implemented targeted job development programs to meet the needs of various disadvantaged populations
Conducted in- depth job search coaching and training with clients
Established relationships with local employers to ensure maximum job placement success
Managed a caseload of up to 60 clients and tracked their progress
Developed and implemented job matching strategies for clients
Wrote grants and administered funds for job development programs
Job Placement Coordinator – XYZ Job Center, St. Paul, MN (2016 – 2019)
Assisted clients in developing resumes, job search strategies and interviewing skills
Coordinated job fairs and on- site recruitment events
Developed and managed job placement programs for diverse populations
Conducted outreach to employers to promote job placement opportunities
Partnered with external organizations to develop social service programs
Education:
Bachelor of Science in Social Work, University of Minnesota (2016)
Certified Job Developer (2018)
Job Developer Resume with No Experience
Motivated and passionate job developer with excellent research and communication skills.
Strong problem- solving skills and ability to think critically to find solutions for clients.
Ability to build strong relationships with employers to ensure successful job placements.
Skills:
Research skills: Able to find resources, relevant job openings, and employers.
Communication Skills: Excellent verbal and written communication skills.
Computer Skills: Proficient in Microsoft Office Suite, internet search engines, and job- search websites.
Organizational Skills: Highly organized and able to keep track of multiple tasks.
Responsibilities:
Conduct research to identify suitable job openings and employers.
Develop and maintain relationships with employers to increase employment opportunities.
Stay up to date with job market trends, relevant industry news and local economic changes.
Keep track of job postings and update job seekers on relevant jobs.
Provide support and guidance to job seekers throughout the job search process.
Provide feedback to job seekers about their resumes, cover letters and other job search materials.
Job Developer Resume with 2 Years of Experience
A highly motivated professional with 2 years of experience as a Job Developer, eager to utilize skills in business development and customer relations to help drive success in the job placement field. Skilled in conducting job market research and analyzing labor trends, as well as building relationships with employers to secure job placements, create internships, and provide career counseling. Possesses excellent communication, organizational, and problem- solving skills.
Core Skills:
Job market research
Labor trends analysis
Employer relations
Career counseling
Networking and outreach
Time management
Recruitment
Interview coaching
Computer proficiency
Responsibilities:
Conducting job market analyses to identify job placement needs
Developing and maintaining a strong network of employers and job seekers
Advising employers on hiring trends and providing them with qualified job candidates
Providing career counseling to job seekers and helping them to create effective resumes and cover letters
Coaching job seekers on interviewing techniques
Recruiting, screening, and assessing job candidates
Organizing job fairs and other networking events
Analyzing labor trends to identify potential job opportunities for job seekers
Job Developer Resume with 5 Years of Experience
A highly organized and experienced Job Developer with five years of experience in the career development industry. Skilled in resume building, interview preparation, job search techniques, and career counseling. Proven ability to connect employers with potential candidates and help job seekers achieve their professional goals.
Core Skills:
Job search techniques
Interview preparation
Career counseling
Resume building
Employer- candidate connections
Responsibilities:
Developing and implementing job search strategies for each client
Conducting regular career assessments for clients
Assisting clients in creating resumes, cover letters and other career documents
Connecting potential employers with clients and helping to secure interviews
Providing guidance and advice on job searching, interviewing, and career advancement
Counseling clients on topics such as the job market and job opportunities
Hosting job search workshops and career seminars
Coordinating with employers to find job openings and identify potential candidates
Job Developer Resume with 7 Years of Experience
A highly motivated, organized and professional Job Developer with 7+ years of experience in managing job placements, recruiting and interviewing potential candidates, and developing and maintaining relationships with employers. Adept at working with a variety of people in a fast- paced environment, as well as exercising excellent communication and customer service skills.
Core Skills:
Excellent interpersonal and customer service skills
Proficient in interviewing, recruiting, and job placement
Strong written and verbal communication skills
Ability to effectively multitask and work in a fast- paced environment
Extensive knowledge of job search resources, employment trends, and labor markets
Ability to use the internet to locate employers and job openings
Responsibilities:
Coordinating, facilitating and providing job search assistance to clients
Developing effective relationships with employers and community partners
Conducting job searches and interviews of potential candidates
Assisting clients in understanding job specifications, requirements, and duties
Preparing and providing training to clients in areas such as interviewing and resume writing
Providing ongoing support and career counseling to clients
Developing and implementing job development activities and projects to meet employer's needs
Job Developer Resume with 10 Years of Experience
Highly motivated and results- oriented Job Developer with 10 years of experience in career counseling and job placement. Adept at leading a team of professionals and providing exceptional job search and career counseling services. Proven record of success in developing job opportunities and providing job search resources to clients. Demonstrated ability to support clients with special needs and chronic unemployment.
Core Skills:
Strong communication and interpersonal skills
Knowledge of job search strategies and techniques
Excellent problem solving and decision making abilities
Ability to develop and implement job search plans
Competency in utilizing database software and job search- related applications
Well- developed organizational and time management capabilities
Responsibilities:
Assessed and evaluated career history, skills, and interests of clients
Provided individual and group career counseling and job search assistance
Developed job search plans and offered resources to clients
Conducted job market research to identify potential employers
Coordinated job fairs and workshops to connect job seekers with employers
Developed and implemented strategies to expand job opportunities
Collaborated with employers to create job openings and arrange interviews
Counseled job seekers in resume preparation, interviewing techniques, and professional communication
Assisted individuals with special needs and chronic unemployment in job placement activities
Job Developer Resume with 15 Years of Experience
A hardworking and adaptable job developer with 15 years of experience working in the career services industry. Successfully assisted job seekers with their career goals, while developing and maintaining relationships with employers. Skilled in networking, job counseling, resume writing, interviewing and job searching. Highly organized and detail- oriented, able to work well in high- paced environments and handle multiple tasks to meet deadlines.
Core Skills:
Job Networking
Job Counseling
Interviewing
Job Search Strategies
Resume Writing
Job Placement
Negotiation Skills
Client Relations
Conflict Resolution
Time Management
Event Planning
Responsibilities:
Developed job opportunities through networking and research.
Implemented job search strategies to assist job seekers in obtaining employment.
Built relationships with employers and recruiters to ensure job openings were filled in a timely manner.
Advised job seekers on interviewing and resume writing techniques.
Negotiated salary offers and mediated disputes between employers and job seekers.
Managed the recruitment process, including screening resumes, interviewing candidates, and making job offers.
Planned and implemented career fairs and job seminars.
Maintained job market data, such as labor force information, salary data, and job trends.
Collaborated with other career services staff to ensure job seekers received comprehensive career guidance.
In addition to this, be sure to check out our resume templates, resume formats, cover letter examples, job description, and career advice pages for more helpful tips and advice.
What should be included in a Job Developer resume?
A job developer resume should include the following key elements:
Education: Include a comprehensive list of your educational qualifications, including any training or certifications that you have completed.
Work Experience: List any previous work experience that you have, including job titles, employers, and dates of employment.
Skills: Detail any specific job-specific skills you possess that are relevant to the position you are applying for.
Project Management: Describe any project management experience you have, including any successful projects that you have completed.
Leadership: Describe any leadership experience you have, including any successful teams you have managed or led.
Technical Knowledge: Highlight any technical knowledge or experience you have, including any programming languages or software applications you are proficient in.
Communication: Highlight any communication skills you possess that would make you a successful job developer, such as public speaking, writing, and interpersonal skills.
Problem-Solving: Describe any problem-solving experience you have, including any successful solutions you have developed.
Time Management: Describe any experience you have in managing time effectively and efficiently.
Creativity: Describe any creative solutions you have developed or implemented in your current or previous work.
Resourcefulness: Describe any resourcefulness you have displayed in the workplace.
Teamwork: Describe any successful team projects you have completed or been involved with.
What is a good summary for a Job Developer resume?
A job developer's resume should be an accurate representation of their skills, experience and qualifications. A good summary should give a brief overview of the job developer's background and qualifications, as well as any accomplishments they have achieved. It should provide a snapshot of their ability to provide job search assistance to clients and their ability to develop job opportunities. The summary should also include a brief description of their communication and interpersonal skills, as well as their expertise in developing resumes and conducting job searches. A good summary should also demonstrate the job developer's ability to work effectively with both employers and job seekers.
What is a good objective for a Job Developer resume?
A job developer is responsible for identifying and developing employment opportunities for job seekers. Therefore, it is essential to have a job developer resume with an effective and clear objective statement. A good objective statement should be concise, yet demonstrate your knowledge of job development and your ability to find employment opportunities for job seekers.
Here are some examples of good job developer resume objectives:
To use my strong interpersonal skills, knowledge of job development, and ability to identify suitable employment opportunities to help job seekers secure meaningful employment.
Seeking a job developer position to utilize my experience in recruitment, talent management, and job placement to improve job-seeking capabilities for disadvantaged and underserved job seekers.
To leverage my experience in workforce development, job counseling, and program management to help job seekers achieve their career goals.
A highly motivated individual seeking a job developer role to use my knowledge of job development and recruitment processes to connect job seekers to suitable job opportunities.
An organized and detail-oriented professional seeking a job developer role to utilize my understanding of the job market and job searching strategies to help job seekers find meaningful employment.
No matter which objective statement you decide to use, it should be tailored to the job you are applying for and should demonstrate your enthusiasm and ability to find employment opportunities for job seekers.
How do you list Job Developer skills on a resume?
Your job developer skills are a critical asset to employers and can be used to set your resume apart from the competition. Listing job developer skills accurately and concisely on your resume can help employers quickly identify the value you can bring to the team.
Thorough understanding of job search techniques: Understand the various methods of searching for jobs, such as job boards, recruiting websites, and other resources.
Ability to identify relevant job opportunities: Use your research skills to target the best opportunities for your clients.
Negotiation and communication skills: Be able to negotiate effectively and communicate clearly and professionally with employers.
Ability to create and maintain relationships: Build and maintain relationships with employers to ensure the best job opportunities for your clients.
Coaching skills: Provide guidance and advice to job seekers to help them reach their career goals.
Time management skills: Be able to manage multiple tasks and meet deadlines.
Problem-solving abilities: Use your analytical skills to troubleshoot issues and solve problems.
Analytical skills: Evaluate data and draw conclusions to identify the best job opportunities.
Knowledge of industry trends: Understand the latest trends in the job market to stay ahead of the competition.
These job developer skills are essential for helping job seekers find the perfect positions, and will help you stand out from the competition when you list them on your resume. Be sure to include the relevant skills that you possess and provide specific examples of how you have used them to help job seekers meet their goals.
What skills should I put on my resume for Job Developer?
A Job Developer is a professional responsible for helping people find employment. As such, they should possess a skill set that enables them to match jobseekers with their ideal job opportunities. When crafting your resume for the position of Job Developer, consider including the following skills:
Outstanding Interpersonal Communication: Job Developers need to be able to effectively listen to jobseekers and comprehend their needs, and also be able to explain job opportunities to them.
Ability to Network: Job Developers often need to use their network in order to find job opportunities and connect jobseekers to them.
Entrepreneurial Mindset: Job Developers need to be creative and take initiative when it comes to finding job opportunities for jobseekers.
Problem-Solving Capabilities: Job Developers often need to be able to diagnose issues with jobseekers and offer solutions or resources to help them find employment.
Strong Understanding of the Job Market: Job Developers need to be familiar with the current job market and know where to find job opportunities for jobseekers.
Impressive Negotiation Skills: Job Developers need to be able to negotiate salary and benefits for jobseekers in order to get them the best deal possible.
Including these skills on your resume will give you a competitive advantage when applying for a job as a Job Developer. By showing potential employers that you possess the skills necessary to be successful in the role, you will give them the confidence to hire you.
Key takeaways for an Job Developer resume
When writing a resume for a job developer position, there are several key considerations to keep in mind. Job developers are responsible for helping job seekers build the skills, knowledge, and experience necessary to succeed in their chosen field. As such, the resume of a job developer should reflect their ability to motivate and assist job seekers.
Here are some key takeaways to keep in mind when crafting your job developer resume:
Highlight Your Experience: As a job developer, your experience in helping job seekers find and secure employment is key. Make sure to include any relevant experience you may have, as employers will want to see a depth of knowledge in this area.
Showcase Your Expertise: Job developers need to have a wide range of knowledge in their field. Whether it be knowing the latest job search resources available or understanding the latest industry trends, make sure to showcase the expertise you have in this area.
Demonstrate Your Passion: Job developers need to be able to motivate and encourage job seekers in order to be successful. Be sure to demonstrate how passionate you are about helping job seekers reach their goals.
Focus on Results: In your resume, make sure to include any successes you have achieved in your past jobs. This will help to demonstrate your value as a job developer and show prospective employers that you are capable of achieving results.
By following these key takeaways, you will be well on your way to crafting an effective job developer resume that will help you stand out from the competition. Good luck!
Let us help you build
your Resume!
Make your resume more organized and attractive with our Resume Builder