Are you a HR executive looking to create a standout resume? With the competition for HR executive positions being so fierce, it is important that your resume stands out from the crowd. This guide will provide you with tips and tricks on how to write a winning HR executive resume that will help you get the job you want. Along with helpful advice and guidance, you will also find examples of HR executive resumes that can be used as models for your own resume.
If you didn't find what you were looking for, be sure to check out our complete library of resume examples.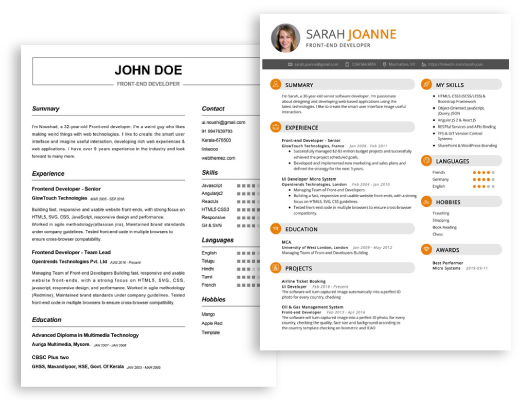 Start building your dream career today!
Create your professional resume in just 5 minutes with our easy-to-use resume builder!
HR Executive Resume Examples
John Doe
HR Executive
123 Main Street | Anytown, USA 99999 | Phone: (123) 456-7890 | Email: john.doe@email.com
I am an experienced Human Resources Executive with a proven track record of developing and implementing successful HR strategies to drive employee performance and satisfaction in a wide variety of industries. I have a strong understanding of the intricacies of human resources management and can utilize this knowledge to develop efficient and effective strategies that help organizations achieve their goals. My experience includes developing and managing recruitment, training and development, and compensation and benefits plans. I am also an adept communicator and have a knack for building productive relationships with employees, managers and senior executives.
Core Skills:
Business Strategy and Planning
Change Management
Recruitment and Retention
Employment Law
Performance Management
Employee Relations
Employee Benefits
Training and Development
Compensation and Benefits Administration
Organizational Development
Conflict Resolution
Professional Experience:
HR Executive, ABC Corporation. 2018- Present
Developed and implemented a comprehensive HR strategy that has increased employee satisfaction and engagement.
Designed and implemented a comprehensive employee training program to increase employee performance.
Managed recruitment process, from initial job postings to salary negotiation.
Implemented an effective performance management system to motivate employees and ensure adherence to organizational goals.
Managed employee relations, providing advice and support to both employees and managers.
Administered employee benefits, compensation, and payroll plans.
Education:
Bachelor of Science in Human Resources Management, XYZ University, 2017
HR Executive Resume with No Experience
Highly organized and detail- oriented HR Executive with no work experience who is eager to obtain an entry level position in the Human Resources field. Possess strong interpersonal skills and a natural ability to build strong relationships with coworkers and potential candidates. Thrive in a fast- paced environment while ensuring accuracy and quality standards.
SKILLS
Strong interpersonal and communication skills
Highly organized and detail oriented
Ability to multitask and manage multiple tasks simultaneously
Proficient in Microsoft Office Suite (Word/Excel/PowerPoint)
Responsibilities
Maintaining and updating employee records
Screening potential candidates and scheduling interviews
Assisting with onboarding and orientation processes
Providing guidance and support to employees on a variety of HR related topics
Performing other duties as assigned
Reviewing and ensuring compliance with federal, state and local HR laws
HR Executive Resume with 2 Years of Experience
Dynamic and experienced HR Executive with over two years of experience working in the Human Resources department. Adept at executing all HR- related activities such as recruitment, training, performance management, payroll management, employee engagement and retention. Proven to be highly organized and efficient in managing multiple projects and delivering successful results. Possess excellent communication and problem- solving skills and a desire to help businesses meet their objectives.
Core Skills:
Recruitment
Training and Development
Performance Management
Employee Engagement and Retention
Payroll Administration
Problem- Solving
Communication
Responsibilities:
Developed and implemented HR strategies and initiatives aligned with the overall business strategy
Facilitated the recruitment process including job postings, resume screening, interviewing and conducting background checks
Coordinated and monitored onboarding and training activities and conducted orientation sessions
Developed and implemented performance management systems to identify and drive employee performance
Managed employee engagement activities and monitored employee satisfaction levels
Handled payroll operations and compensation programs
Assisted in resolving employee relations issues
Administered employee benefit programs, such as health insurance and vacation days
HR Executive Resume with 5 Years of Experience
Dynamic HR Executive with 5+ years of experience in human resources strategies and process improvement. Proven track record of optimizing HR operations and cultivating productive relationships with stakeholders. Adept at developing and executing effective HR strategies, managing employee records, and providing guidance and support to management.
Core Skills:
HR strategy development
Employee relations
Recruiting & staffing
Performance management
Process improvement
Policy implementation
Talent acquisition
Onboarding & training
Responsibilities:
Developed human resources strategies to support organizational goals.
Evaluated employee needs and facilitated communication between employees and management.
Developed and implemented staff recruitment and retention plans.
Established and maintained employee files, records, and compliance documentation.
Administered employee benefit plans and ensured compliance with all related regulations.
Conducted performance management process and provided feedback to employees.
Developed and implemented performance improvement plans for underperforming employees.
Assisted management in identifying training needs and coordinating training programs.
Developed and maintained positive relationships with third party vendors.
HR Executive Resume with 7 Years of Experience
To obtain a Human Resource Executive position and contribute to the growth of a progressive organization. Highly competent Human Resource Executive with 7 years of experience in managing the overall HR operations in mid- sized corporations. Expert in execution of Human Resource regulations and laws, formulating and interpreting policies, recruiting, and management of employee records. An effective communicator with expertise in problem solving and decision making, backed with a degree in Human Resource Management.
Core Skills:
Human Resource Management
Performance Management
Strategic Planning
Recruitment
Employee Relations
Regulatory Compliance
Risk Management
Benefits Administration
Responsibilities:
Developed and implemented human resources policies, processes and procedures.
Established and maintained employee relations, engagement strategies and processes.
Managed recruitment process from sourcing, screening, interviewing and selection of qualified candidates.
Developed and implemented performance management systems.
Administered employee benefits such as health insurance, retirement plans and worker's compensation.
Ensured compliance with employment laws and other legal requirements.
Investigated employee grievances and conducted disciplinary procedures.
Developed and implemented various retention strategies.
Monitored the attendance and prepared reports.
Coordinated with the payroll team to ensure accurate and timely payment of salaries and wages.
HR Executive Resume with 10 Years of Experience
A highly experienced HR executive with over 10 years of experience in the Human Resources field. Skilled in conducting interviews, training programs, and managing employee records. Experienced in developing and implementing strategies to improve workplace morale, reduce turnover rates, and enhance employee satisfaction. Possesses excellent problem- solving and communication skills along with knowledge of relevant laws, regulations, and best practices.
Core Skills:
Interviews & Recruitment
Training & Development
Employee Relations
Benefit Administration
Conflict Resolution
Compliance & Regulations
Performance Management
HR Processes & Procedures
Change Management
Leadership
Responsibilities:
Conducted job interviews, screened and hired qualified candidates
Developed and implemented employee training programs
Managed employee records, including benefits, payroll, and performance reviews
Resolved conflicts between employees and handled employee grievances
Assisted in the development of employee compensation and benefit packages
Ensured compliance with state and federal labor laws and regulations
Developed and implemented strategies to improve workplace morale and reduce turnover rates
Planned and organized employee events and activities
Managed and monitored performance management activities
Developed and implemented organizational change initiatives
HR Executive Resume with 15 Years of Experience
A seasoned HR Executive with 15 years of experience in the Human Resources field. Proven ability to effectively manage the recruitment, selection, training and development, and performance management of staff. Demonstrated success in streamlining administrative procedures, developing efficient systems and processes, and managing employee relations. Core competencies include strong organizational and time management skills, problem- solving aptitude, and excellent communication skills.
Core Skills:
Management of staff recruitment, selection and onboarding processes
Employee relations, coaching, and conflict resolution
Leadership and personnel development
Organizational and time management
Developing and implementing processes and procedures
Payroll, benefits, and compensation administration
Employee performance management
Familiarity with employment laws and regulations
Responsibilities:
Develop and implement HR policies, systems, and procedures
Manage recruitment, selection, onboarding, and offboarding of staff
Administer payroll, benefits, and compensation
Lead employee relations initiatives and manage employee relations issues
Conduct training and development activities
Liaise with government agencies regarding employment and compliance regulations
Assist in disciplinary and performance management activities
Coordinate employee wellness programs and initiatives
Ensure compliance with labor laws and regulations
In addition to this, be sure to check out our resume templates, resume formats, cover letter examples, job description, and career advice pages for more helpful tips and advice.
What should be included in a HR Executive resume?
A HR Executive resume should be tailored to the job you are applying for, showcasing the skills and experience that make you the right candidate for the position. It should include the following:
Professional Summary: A concise overview of your qualifications and career goals.
Education: List the college or universities you attended, degrees earned, and any certifications or awards received.
Work Experience: List all relevant job positions held, including company name, title, job duties, and length of employment.
Skills: Highlight areas in which you have acquired expertise, such as communication, problem solving, or organizational skills.
Professional References: Provide contact information for three professional references.
Additional Experience: Include any volunteer work, internships, or community activities that demonstrate your experience in the Human Resources field.
By including these key components in your HR Executive resume, you can increase your chances of getting noticed by employers and landing the job.
What is a good summary for a HR Executive resume?
Writing a good summary for a Human Resources executive resume requires a few key elements. When crafting a good summary, it is important to remember to include your current and past job titles, any notable accomplishments, core competencies, and areas of expertise.
When starting a resume, begin with a powerful introduction that summarizes your professional experience and qualifications succinctly. This is your chance to make a strong first impression and will be the first thing potential employers read. Use this opportunity to highlight what makes you unique, such as accomplishments, awards, and professional qualifications.
The next few sentences should be tailored to the position you are applying for, focusing on your experience and how it relates to the job you are applying for. Make sure to include any key qualifications and skills that are relevant to the job you are applying for. If you have extensive HR experience, include a few of your major accomplishments that stand out and make you the ideal candidate for the job.
Finally, conclude your summary with a brief overview of your goals and objectives. This should be a short paragraph that outlines the position you are seeking, what you bring to the table and what you hope to achieve in the role.
In summary, a good HR executive resume should be concise, professional and relevant to the position you are applying for. It should highlight your unique skills, qualifications, and experience, and should also demonstrate your knowledge and enthusiasm for the HR field and the roles you are applying for.
What is a good objective for a HR Executive resume?
A Human Resources (HR) Executive plays a critical role in any organization, forming the foundation of any successful business. It is important that their resume captures the attention of potential employers, setting them apart from the competition. Crafting a compelling objective statement is one of the best ways to do so. Here are some tips for writing a good objective for a HR Executive resume:
Highlight Your Qualifications: Your objective should succinctly summarize the most important qualifications and experience that you bring to the table. Include elements like your leadership, problem-solving skills, and knowledge of labor laws to show hiring managers why you are the best candidate for the job.
Demonstrate Your Passion: A good HR Executive resume objective should showcase your enthusiasm for the job and explain why you would be a great fit for the particular company. Make sure to emphasize the unique ways in which you can contribute to the organization and its goals.
Be Brief and Specific: An objective statement should never be longer than a few sentences. Keep it concise and to the point to make sure that hiring managers read it in its entirety. Also, make sure to include specific details about the job that you are applying for.
By following these tips, you can craft an objective statement that will grab the attention of potential employers and help you stand out from the competition. With a compelling objective, you can make sure that your resume is ready to make a lasting impression.
How do you list HR Executive skills on a resume?
Human Resources executives play a key role in developing and managing an organization's people practices. To succeed in this role, you need to demonstrate a variety of skills, including the ability to think strategically, an understanding of labor laws, and exceptional communication and problem-solving skills. Demonstrating these skills in your resume can help you stand out from the competition and land the job.
When listing HR executive skills on a resume, it's important to be specific and focus on the most relevant abilities. Here are some of the most critical skills to include:
Strategic Thinking: Include instances of when you have employed creative problem-solving techniques in order to develop and implement a company-wide strategy.
Labor Laws: Demonstrate your knowledge of labor and employment laws and regulations, such as the National Labor Relations Act (NLRA) and the Family and Medical Leave Act (FMLA).
Leadership: Highlight any experience you have in leading teams, managing projects and mentoring employees.
Communication: Show that you're able to effectively communicate both orally and in writing in order to build relationships and maintain a positive work environment.
Conflict Resolution: Include examples of how you have been able to use negotiation and mediation to resolve disputes.
Performance Management: Demonstrate your ability to develop performance metrics, evaluate and reward employees and coach under-performing staff.
Recruiting: Showcase your experience in recruiting and hiring new employees, as well as developing and implementing training and onboarding programs.
By highlighting the most relevant HR executive skills in your resume, you can demonstrate that you have the abilities necessary to excel in the position. Make sure to include specific examples of your experience to show the hiring manager that you are the best candidate for the job.
What skills should I put on my resume for HR Executive?
A Human Resources (HR) Executive is responsible for recruiting, training, and managing staff in a variety of industries. As a HR Executive, you should have a strong set of skills that demonstrate your ability to effectively manage people and resources.
When creating your resume, it is important to highlight the skills you possess that make you an ideal candidate for the position. Here are a few key skills to include on your resume when applying for an HR Executive role:
Recruiting: You should have a strong understanding of recruitment processes, including sourcing and interviewing candidates. You should also be familiar with the most effective recruitment strategies and have the ability to attract and acquire top talent.
Training: As an HR Executive, you should possess the skills necessary to provide hands-on training to new and existing employees. You should be able to create and implement training programs that are tailored to the needs and goals of the organization.
Leadership: You should demonstrate strong leadership and interpersonal skills. You should be able to motivate and inspire employees and ensure that everyone is working toward the same goals.
Problem Solving: You should have excellent problem-solving skills. As an HR Executive, you will often be called upon to resolve complex issues between employees and management.
Communication: You should have strong verbal and written communication skills. You should be able to effectively communicate with employees, management and other stakeholders.
By highlighting these skills on your resume, you can demonstrate to employers that you have the qualifications necessary to be an effective HR Executive.
Key takeaways for an HR Executive resume
An HR executive resume needs to effectively highlight your professional experience, skills, and successes. Crafting a strong resume is essential for any individual looking to break through in the competitive HR field. Here are some key takeaways to consider when creating your HR executive resume.
• Highlight Your Professional Experience: An HR executive resume should start by showcasing your relevant experience. Highlight any positions you've held in the HR field, such as HR executive, HR manager, or HR specialist. Focus on any accomplishments, such as successful recruitment initiatives or employee retention strategies.
• Detail Your Skills: Your HR executive resume should also detail the specific skills you possess that make you a great HR executive. This includes technical skills such as knowledge of HR software and familiarity with recruitment processes, as well as soft skills like strong communication and interpersonal abilities.
• Include Achievements: Make sure to include your most impressive achievements on your resume. These can include awards and recognition, as well as any successful initiatives you've implemented in a previous role.
• Demonstrate Leadership: Showcase any leadership positions or committees you've been a part of on your HR executive resume. This will demonstrate that you have the ability to take charge and get the job done.
• Include Education: Lastly, your HR executive resume should include your education, any certifications you have, as well as any relevant courses or trainings you've taken.
By following these key takeaways, you'll be sure to create an HR executive resume that effectively showcases your skills and experience, and stands out to potential employers.
Let us help you build
your Resume!
Make your resume more organized and attractive with our Resume Builder