If you are a web designer looking to showcase your skills, a well-crafted resume is key in achieving your career goals. In this guide, you'll find useful advice on how to write a resume for web designers, as well as resume examples for experienced web designers and for those just getting started in the profession. You'll also find tips on how to create a strong profile and how to highlight your experience and accomplishments to stand out in the hiring process. With this guide, you'll have the knowledge and skills needed to create an effective web designer resume that will get noticed by potential employers.
If you didn't find what you were looking for, be sure to check out our complete library of resume examples.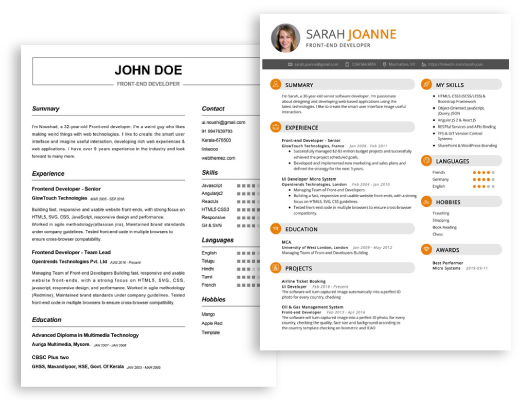 Start building your dream career today!
Create your professional resume in just 5 minutes with our easy-to-use resume builder!
Web Designer Resume Examples
John Doe
Web Designer
123 Main Street | Anytown, USA 99999 | Phone: (123) 456-7890 | Email: john.doe@email.com
I am a web designer with over 6 years of experience creating user- friendly websites that are both attractive and engaging. I possess the technical and creative skills to design, develop and maintain websites for a variety of clients. I am experienced in utilizing HTML, CSS, JavaScript and other web development technologies to create fully customized websites. I am also highly skilled in designing graphics, logos and layout for websites. My comprehensive experience and expertise in web design make me an ideal candidate for any web design position.
Core Skills:
Proficient in web designing software, including HTML, CSS, JavaScript and other web development languages
Experienced in UI/UX design, graphic design and logo design
Ability to create attractive and engaging websites
Highly organized and detail- oriented
Excellent communication, problem solving and customer service skills
Professional Experience:
Web Designer, ABC Inc., October 2014 – Present
Design and develop websites using HTML, CSS and JavaScript
Design logos and create graphics for websites
Create visually appealing and engaging web pages
Upload content and maintain websites
Junior Web Designer, XYZ Inc., June 2012 – September 2014
Created visually appealing and user- friendly websites
Developed and maintained websites using HTML, CSS and JavaScript
Designed logos and graphics for websites
Collaborated with team members to create innovative designs
Education:
Bachelor of Science in Web Design, ABC University, 2012
Associate of Science in Web Design, XYZ College, 2010
Web Designer Resume with No Experience
Recent college graduate with a passion for web design and a desire to produce engaging user experiences. Well- versed in the principles of designing across different platforms and technologies. Ready to apply my knowledge and enthusiasm to a professional setting.
Skills
Proficient in HTML, CSS and JavaScript
Solid understanding of design principles, typography, colors and images
Working knowledge of web design software such as Adobe Creative Suite
Experienced with web content management systems
Ability to solve problems creatively
Good communication and collaboration skills
Responsibilities
Designing websites that are visually appealing, user- friendly and optimized for search engine visibility
Creating web pages that meet the specific needs of clients
Writing code for webpages, ensuring it is error- free
Working closely with web developers to ensure design specifications are met
Collaborating with other designers to create a cohesive user experience
Testing the functionality of websites and fixing bugs as needed
Working with content writers to create engaging copy for websites
Web Designer Resume with 2 Years of Experience
A motivated, skilled and proactive web designer with 2 years of experience in designing fast and responsive websites for a variety of clients. Proficient in HTML5, CSS3, Java Script, JQuery and Bootstrap. Experienced in designing UI/UX interfaces, ensuring cross- browser compatibility, and meeting customer expectations. Possesses excellent communication and problem solving skills, as well as a passion for web- based technologies.
Core Skills:
HTML/HTML5 & CSS/CSS3
JavaScript, jQuery & Bootstrap
UI/UX Design
Cross- browser Compatibility
Photoshop & Illustrator
Customer Expectation Satisfaction
Problem Solving & Communication
Responsibilities:
Designing wireframes, mock- ups and layouts for websites
Developing and coding web pages using HTML/HTML5, CSS/CSS3, JavaScript, jQuery and Bootstrap
Integrating design features and functionalities into websites
Creating UI/UX interfaces for applications
Ensuring cross- browser compatibility and responsiveness
Editing and modifying website design elements
Producing and optimizing web graphics, banners and videos
Developing customer support features for websites
Troubleshooting, testing and debugging website issues
Keeping up- to- date with latest web development technologies
Collaborating with other web developers and designers to ensure timely completion of projects
Meeting customer expectations and maintaining customer satisfaction.
Web Designer Resume with 5 Years of Experience
Highly creative and organized Web Designer with 5 years of experience in designing and developing websites for global clients. Skilled in crafting visually appealing web designs using HTML, CSS, JavaScript, Bootstrap, and other web technologies. Expert in creating pixel- perfect, responsive, and cross- browser compatible websites. Possess a strong understanding of user experience principles and responsive web design principles. Adept at troubleshooting technical issues and resolving them in an efficient manner.
Core Skills:
HTML5, CSS3, JavaScript, JQuery
Adobe Creative Suite
Responsive web design
Web User Interface Design
Cross- browser compatibility
User Experience Design
Debugging & Troubleshooting
Content Management Systems (CMS)
Responsibilities:
Designed and developed front- end of websites using HTML, CSS and JavaScript.
Created pixel- perfect and responsive web designs by using Adobe Creative Suite.
Developed web user interface designs by using HTML, CSS, JavaScript, and JQuery.
Troubleshot and resolved technical issues in a timely and efficient manner.
Ensured cross- browser compatibility of websites by testing them on different browsers.
Maintained and updated websites by using Content Management Systems (CMS).
Developed and implemented user experience design principles to improve user experience.
Researched user requirements to determine web page design and content.
Web Designer Resume with 7 Years of Experience
Experienced Web Designer with seven years of experience in creating innovative, visually engaging designs for various web applications. My expertise lies in user experience and interface design, with a strong understanding of HTML and CSS. I am passionate about problem solving and always strive to create user- friendly designs that are both aesthetically pleasing and functional. I have a proven track record of successfully designing websites that are both effective and visually appealing.
Core Skills:
UI/UX Design
Web Development
Wireframing and Prototyping
HTML and CSS
Adobe Creative Suite
User Research and Testing
Design Thinking
SEO and SEM
Cross Platform Compatibility
Responsibilities:
Designing and implementing webpages, applications and software systems
Developing and executing user interface designs
Creating graphics and other visual elements
Developing code to integrate design layouts
Developing and troubleshooting HTML and CSS
Ensuring cross- platform compatibility
Creating and managing web content
Implementing SEO and SEM best practices
Analyzing user feedback and implementing changes
Identifying and solving user interface issues
Working with stakeholders to define web design requirements
Web Designer Resume with 10 Years of Experience
A highly motivated and experienced web designer with 10 years of experience in the field of web development and design. I have extensive experience in creating and managing complex websites, from concept development to launch. My core skills include a deep understanding of web design principles and technologies, including HTML, CSS, JavaScript, and AJAX. I am also highly skilled in user experience (UX) design, content management systems (CMS), eCommerce platforms, search engine optimization (SEO), and web analytics. My strong communication and organizational skills enable me to work efficiently with clients and team members to create effective, user- friendly websites.
Core Skills:
HTML, CSS, JavaScript, and AJAX
User Experience (UX) design
Content management systems (CMS)
eCommerce platforms
Search Engine Optimization (SEO)
Web analytics
Project management
Communication and organizational skills
Responsibilities:
Developing and designing websites from concept to launch
Building and troubleshooting front- end and back- end software components
Creating and maintaining website content, including text, images, and video
Optimizing content for search engine visibility and user experience
Designing and implementing user interface features
Monitoring website performance and troubleshooting issues
Integrating web applications using various technologies
Ensuring compliance with industry standards and web accessibility regulations
Web Designer Resume with 15 Years of Experience
A highly experienced Web Designer with 15 years of experience in creating user- friendly websites, managing and maintaining web design projects from conception to implementation. Skilled in numerous web design tools, including HTML/CSS, Photoshop, and Adobe Illustrator, as well as content management systems (CMS) like WordPress and Drupal. Proven track record of delivering high- quality, creative web design solutions that meet client objectives and industry standards.
Core Skills:
Web Design
HTML/CSS
Photoshop
Adobe Illustrator
Content Management Systems (CMS)
WordPress
Drupal
Project Management
Communication
Responsibilities:
Develop and design websites, web applications, and landing pages.
Design and create website graphics and visuals.
Implement website design, layout, and content management systems.
Manage and maintain web design projects from conception to implementation.
Utilize HTML, CSS, Javascript, and other web technologies.
Design websites for mobile and desktop devices.
Optimize websites for maximum speed, scalability, and security.
Analyze user requirements and create effective solutions.
Edit, test, and debug web pages to ensure functionality.
Collaborate with other web designers, developers, and content writers.
Stay up- to- date with advancements in web technologies.
In addition to this, be sure to check out our resume templates, resume formats, cover letter examples, job description, and career advice pages for more helpful tips and advice.
What should be included in a Web Designer resume?
A web designer resume can be a tricky thing to assemble, as you'll need to include a range of skills, experience and qualifications. However, there are certain basics that all should include, and this is a checklist of the key elements:
Contact Information: Make sure to include your name, address, phone number and email address at the top of your resume, as well as any relevant links (such as your portfolio or website).
Objective Statement: This is a short (1-2 sentence) overview of your career goals and ambitions.
Professional Experience: Here you should list any relevant experience you have in web design, including roles, companies, projects and clients.
Education: Include any formal education related to web design, such as degrees, diplomas and certificates.
Technical Skills: What software and programming languages are you proficient in?
Personal Skills: List any other skills that could be relevant, such as problem solving and communication.
Projects: List any projects you have worked on, such as websites, apps or graphics.
Certifications: If you have any relevant certifications, make sure to include them here.
By including all of these elements in your web designer resume, you'll be sure to make a great impression and stand out from the competition. Good luck!
What is a good summary for a Web Designer resume?
A good summary for a web designer resume should emphasize a candidate's experience and skill set in web design. It should highlight the technical knowledge and experience necessary to design and create a website. Additionally, it should incorporate any relevant experience in graphic design, user experience (UX) design, and development. Furthermore, the summary should highlight any achievements that demonstrate the candidate's ability to develop successful and attractive websites. Finally, it should demonstrate the candidate's understanding of the latest web technologies and standards, as well as their commitment to stay up-to-date with the industry. A well-crafted summary for a web designer resume should give the reader a clear understanding of the candidate's qualifications for the job.
What is a good objective for a Web Designer resume?
Having a well-written objective on your web designer resume is essential to getting hired. Your objective should be concise and focus on the skills and experience you can bring to the job. Here are some tips to help you create a great objective for your web designer resume.
Highlight your technical skills: Show off your technical skills in web design and development. Include software, coding languages, and other related technologies you have experience with.
Focus on the company's needs: Highlight the ways in which you can help the company achieve its goals, such as building new web pages or creating an SEO strategy.
Demonstrate your creativity: Employers want web designers who are creative and can come up with innovative solutions. Showcase your creative ideas and highlight any awards or recognition you have received for your work.
Showcase your experience: Include your previous work experience and any accomplishments you have achieved in the field.
Include measurable results: Demonstrate your success in the field by including measurable results and metrics.
By using these tips, you can create an effective objective for your web designer resume that will help you stand out from the competition.
How do you list Web Designer skills on a resume?
A web designer is responsible for creating aesthetically pleasing websites with user-friendly navigation and effective visuals that communicate a company's message. As such, employers are looking for specific technical and creative skills when they're hiring a web designer. When listing your web designer skills on your resume, make sure to include both hard and soft skills, as well as technical knowledge.
To make sure your web designer resume stands out, consider the following:
Proficient in HTML, CSS, and JavaScript: A web designer must be able to write code to create a website, without relying on a website builder or theme.
Design and create prototypes for websites and web applications: Web designers must be able to design websites as well as create prototypes for user testing and feedback.
Skilled in Adobe Creative Suite: Adobe Photoshop, Illustrator, and InDesign are essential tools for a web designer.
Knowledge of user experience principles: As a web designer, you must be knowledgeable in user experience principles such as usability, accessibility, and navigation.
Ability to work with cross-functional teams: Web designers must be able to collaborate and communicate effectively with other departments, such as marketing, product design, and engineering.
Strong problem-solving skills: A web designer must be able to solve problems and come up with creative solutions quickly.
Knowledge of web standards: A web designer must have an understanding of web standards and best practices, such as web accessibility and SEO.
Excellent communication skills: Web designers must be able to communicate effectively with clients and team members.
Attention to detail: Web designers must be able to take a design from concept to completion without overlooking any details.
By showcasing your web design skills on your resume, you can show potential employers that you are the right fit for the job. So make sure to highlight your technical, creative, and problem-solving abilities to stand
What skills should I put on my resume for Web Designer?
When you're applying for a web design job, it's important to highlight the skills you have that make you a great candidate. Your resume should showcase the range of skills you have that are relevant to the web design profession. Here are some skills that should be included on your resume if you're applying for a web designer position:
Graphic design: A web designer must have a good eye for design in order to create a beautiful website. Your resume should include your experience with graphic design software such as Photoshop, Illustrator, and InDesign.
HTML and CSS: Having a strong command of the languages used to create websites, such as HTML and CSS, is critical for any web designer. Demonstrate your expertise in these areas by showing off your projects and citing any courses you have taken related to HTML and CSS.
UX/UI design: UX/UI (user experience/user interface) design is an important part of web design. Show your skills in this area by highlighting any coursework or projects you have completed related to UX/UI design.
Web development: A web designer must understand the basics of web development, such as JavaScript and jQuery. If you have experience in these areas, demonstrate it on your resume by citing any relevant coursework and projects.
SEO: SEO (search engine optimization) is essential for any website. Show off your SEO knowledge by listing any certifications you have obtained or any projects you have completed that involved SEO.
Project management: As a web designer, you must be able to manage projects and deadlines. Show your project management skills by citing any relevant coursework or past experiences in project management.
By showcasing these skills on your resume, you'll show employers that you're a qualified candidate for the web designer position.
Key takeaways for an Web Designer resume
Having a well-written resume is essential if you want to break into the web design field. A resume is a key component of the job hunt and should be tailored to the specific job you are applying for. Here are some key takeaways for creating a web designer resume:
Highlight Your Design Skills: As a web designer, you should make sure to highlight any design skills or knowledge you have. This includes coding, animation, UX/UI design, graphic design, etc. Be sure to showcase any relevant experience or education you have in these areas.
Showcase Your Creative Strengths: Web design requires creativity and imagination. Showcase any projects you've worked on, any awards you've won, and any achievements you've accomplished that demonstrate your creative strengths.
Include Your Soft Skills: Soft skills are just as important in web design as technical skills. Make sure to demonstrate any soft skills you have such as problem-solving, communication, working in teams, and time management.
Quantify Your Achievements: Whenever possible, try to quantify your achievements. This could include the number of projects you've completed, the number of users your website has, or any other relevant metrics.
Show Off Your Portfolio: Finally, make sure to include a link to your portfolio. This is a great way to demonstrate your design skills and creative abilities. Be sure to include a wide variety of projects to showcase your range.
By following these key takeaways, you can create a web designer resume that will help you stand out from the competition. Good luck!
Let us help you build
your Resume!
Make your resume more organized and attractive with our Resume Builder