Writing a resume for a visual manager position can be a daunting process. Many visual managers have unique skills and knowledge that set them apart from other professionals, but it can be difficult to express those skills in a manner that is attractive to potential employers. It is important to showcase your experience in the visual arts, technical skills, and any management experience you may have in order to stand out. This guide provides tips on how to write a compelling visual manager resume, as well as examples to help you craft your own. With a well-written resume, you can be assured that you will stand out from the competition and have a better chance of receiving an interview.
If you didn't find what you were looking for, be sure to check out our complete library of resume examples.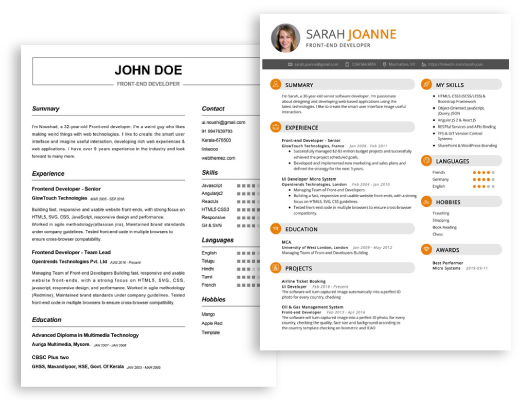 Start building your dream career today!
Create your professional resume in just 5 minutes with our easy-to-use resume builder!
Visual Manager Resume Examples
John Doe
Visual Manager
123 Main Street | Anytown, USA 99999 | Phone: (123) 456-7890 | Email: john.doe@email.com
A highly experienced Visual Manager with over 10 years of experience in a range of visual merchandising roles. Proven expertise in creating compelling and highly effective visual displays and campaigns, as well as extensive experience in supervising, motivating and training teams of visual merchandisers. Highly organized, creative and driven to achieve the highest levels of customer satisfaction.
Core Skills:
Strong leadership and motivational skills
Excellent communication and interpersonal skills
Flexibility to work any shift
Proficiency with computers and software programs
Creative problem solving
Highly organized
Team building and collaboration
Strong multitasking abilities
Professional Experience:
Visual Manager, ABC Store, 2017- Present
Lead, motivate and train a team of 6 visual merchandisers.
Develop creative and engaging visual displays for high profile stores.
Oversee day- to- day operations and ensure that visual standards are consistently met.
Create floor plans, implement store reset plans and ensure timely completion of projects.
Create strategic plans for upcoming seasons, trends and product launches.
Monitor inventory and ensure accurate placement of merchandise.
Visual Merchandiser, XYZ Store, 2012- 2017
Created visually appealing and highly effective displays for a range of products.
Developed innovative promotional displays and signage.
Collaborated with store management to ensure that visual displays are consistent with store standards.
Monitored customer feedback and made necessary changes to displays.
Education:
Bachelor of Science in Business Administration, XYZ University, 2012
Associate of Science in Visual Merchandising, ABC College, 2010
Wri
Visual Manager Resume with No Experience
Recent college graduate with a Bachelor's Degree in Business Administration and a minor in Visual Arts. Passionate about managing people and creating visuals to help others understand concepts and ideas. Seeking an entry- level Visual Manager position to gain experience and apply my knowledge.
Skills
Project Management
Organizational Skills
Creative Design
Customer Service
Problem Solving
Computer Literacy
Collaboration
Responsibilities
Oversee and manage all visual projects
Create visuals for marketing campaigns and other projects
Oversee the creative design process from start to finish
Manage timelines and budget for all visual projects
Train and mentor new team members on design trends, software, and processes
Advise on how to best utilize visuals to increase profits and engagement
Ensure visuals meet quality and customer service standards
Visual Manager Resume with 2 Years of Experience
A highly motivated Visual Manager with over two years of experience in the retail industry. Possess expertise in the development and implementation of visual strategies and campaigns that promote the brand identity and products of a retail business. Adept in leading teams and coordinating successful visual campaigns. Possess excellent organizational, communication and leadership skills.
Core Skills:
Team Leadership
Campaign Management
Visual Merchandising
Brand Development
Organizational Skills
Client Relations
Project Management
Creative Thinking
Responsibilities:
Developed, implemented and managed successful visual campaigns that were in line with brand identity, promotions and key products
Developed and maintained relationships with clients to ensure their satisfaction
Managed and coordinated the daily operations of the visual team
Created and presented new visual concepts and ideas for all campaigns
Developed and managed budgets for all visual campaigns
Established and monitored performance standards for all visual team members
Monitored and evaluated the effectiveness of all visual campaigns
Provided training and guidance to visual team members to ensure maximum effectiveness and efficiency
Ensured that all visual campaigns and displays comply with industry regulations and standards.
Visual Manager Resume with 5 Years of Experience
A Visual Manager with 5 years of experience in the retail sector. Expert in all areas of visual merchandising, from creating effective displays to managing staff and coordinating seasonal promotions. Proven track record of successfully executing strategies to improve sales and attract customers. Experience in developing innovative strategies to increase customer engagement, boost foot- traffic, and improve store appearance.
Core Skills:
Visual Merchandising
Store Management
Customer Engagement
Retail Promotions
Team Leadership
Inventory Management
Marketing Strategies
Analytical Thinking
Responsibilities:
Develop and implement dynamic visual merchandising strategies to maximize sales and attract more customers.
Lead the visual team in creating attractive and welcoming store displays that effectively highlight products and promotions.
Identify opportunities to develop new marketing strategies and promote products to customers.
Manage and coordinate all activities of the store, including staff, inventory, and operations.
Train and supervise staff, delegating tasks and overseeing daily operations.
Conduct regular audits to ensure store appearance, stock levels, and customer service standards are being met.
Develop and implement plans to improve customer engagement and boost foot- traffic.
Analyze sales data and customer feedback to identify areas of improvement.
Visual Manager Resume with 7 Years of Experience
A highly experienced Visual Manager with 7 years of experience in the retail industry. Possesses an excellent track record of creating effective visual displays to maximize product exposure and increase sales, while ensuring that the store looks organized and inviting. Skilled at conducting effective visual floor sets, finding creative ways to display merchandise, and maintaining up- to- date knowledge of current trends and styling.
Core Skills:
Visual Merchandising
Product Styling
Problem Solving
Attention to Detail
Time Management
Floor Set Management
Trend Analysis
Responsibilities:
Develop and execute visual merchandising strategies to optimize product exposure and sales.
Design and create compelling product displays while incorporating current trends.
Identify and maintain accurate inventory records.
Analyze sales reports and customer feedback to identify opportunities for improvement.
Monitor and evaluate competitor displays to identify new trends and ideas.
Manage and coordinate floor sets, ensuring all product placement is accurate and aesthetically pleasing.
Ensure all visual displays are in compliance with company standards.
Update the merchandising systems and procedures.
Identify opportunities to improve customer service and develop strategies to implement them.
Visual Manager Resume with 10 Years of Experience
A highly experienced and motivated Visual Manager with 10+ years of experience in providing leadership to a talented team of visual merchandisers. Possesses a successful track record in management and development of sales promotions, store layouts, window displays, and other visual presentations. Exceptional problem- solving skills and a keen eye for detail, combined with a passion for customer service and the ability to remain organized and multi- task in a fast- paced environment.
Core Skills:
Team Management
Visual Merchandising
Sales Promotion Planning
Space Planning
Customer Service
Organizational Skills
Inventory Management
Data Analysis
Merchandise Presentation
Vendor Relations
Responsibilities:
Manage, train and develop a team of visual merchandisers
Develop and implement visual merchandising strategies that promote key products and services
Design and execute store window displays and in- store promotions
Ensure sales floor and displays are stocked, organized, and visually appealing
Create and maintain detailed reports on sales and inventory
Develop and maintain strong relationships with vendors and suppliers
Oversee store cleanliness, safety, and traffic flow
Analyze and interpret sales data to determine visual needs and promotions
Manage the implementation of visual standards in accordance with company guidelines
Stay up to date on current trends in the industry and adjust visual displays accordingly
Visual Manager Resume with 15 Years of Experience
A dedicated and reliable Visual Manager with over 15 years of experience in the fashion industry, passionate about creating unique visual effects to promote brand identity. Skilled in managing design teams, developing trend- focused strategies and increasing customer engagement. Focused on delivering successful visual merchandising campaigns through customer- centric strategies. A proven track record of success in strategy development and implementation, and the ability to manage various tasks and projects simultaneously.
Core Skills:
Visual Merchandising Strategies
Trend Analysis
Budget Management
Project Coordination
Team Leadership
Creative Solutions
Interpersonal Communication
Problem Solving
Time Management
Responsibilities:
Designing creative visual merchandising concepts across multiple stores and channels
Developing and implementing customer- centric visual merchandising strategies
Analyzing trends and customer needs to create innovative and effective visual displays
Managing budgets and staff to ensure cost- efficiency
Ensuring customer engagement through creative visual designs
Coordinating with the design team to develop visually appealing displays
Leading and motivating team members to maximize productivity
Building effective relationships with vendors and suppliers
Supervising projects from inception to completion
In addition to this, be sure to check out our resume templates, resume formats, cover letter examples, job description, and career advice pages for more helpful tips and advice.
What should be included in a Visual Manager resume?
When building a resume as a visual manager, there are certain qualifications and skills that should be included to ensure that you get noticed. Here is a list of what should be included in a visual manager resume to make you stand out:
Experience in visual merchandising and/or retail management
Knowledge of visual design principles and concepts
Ability to develop creative visual displays
Proficiency in software programs such as Adobe Creative Suite and other design tools
Excellent organizational and communication skills
Ability to think quickly and come up with innovative solutions
Experience in working with various types of materials, fabrics, and textures
Familiarity with local regulations and laws that pertain to merchandising
Strong problem-solving and decision-making skills
Excellent customer service skills and the ability to work well with others
Ability to work autonomously and manage multiple tasks simultaneously
Familiarity with inventory management and loss prevention techniques
Ability to quickly adapt to changes in the visual display industry
What is a good summary for a Visual Manager resume?
A Visual Manager resume should be an effective summary of your qualifications and experience in the field. It should include key elements such as experience in the field, relevant education, and other qualifications. It should focus on the skills and experience that make you a great candidate for the position. Particularly, it should highlight the visual elements of the role such as layout and design. The resume should also demonstrate any successes or achievements in the field that you have accomplished. Ultimately, the resume should be a comprehensive summary of your qualifications and demonstrate why you would be the best candidate for the Visual Manager position.
What is a good objective for a Visual Manager resume?
A Visual Manager plays an integral role in retail businesses, as they directly impact customer experience, product display, and store aesthetic. If you are applying for a position as a Visual Manager, you will need to create an effective resume that focuses on your skills and qualifications.
When writing your resume objective, it is important to address both your technical expertise and soft skills. Here are some suggestions on what to include in a Visual Manager resume objective:
Demonstrated ability to create innovative visual merchandising displays that increase customer engagement and boost sales
Proven track record of executing cost-effective inventory management techniques
Experienced in collaborating with cross-functional teams to ensure a consistent brand presence
Adept at using data-driven insights to inform visual display decisions
Highly organized with the ability to meet tight deadlines and manage multiple projects
Passionate about cultivating an exceptional customer experience through creative visual displays
Skilled in leveraging technology to streamline visual merchandising processes and optimize operational efficiency.
How do you list Visual Manager skills on a resume?
When creating a resume, it's important to include your qualifications, skills and accomplishments. For a visual manager, this can include specific skills related to directing, delegating, and overseeing projects. Here are a few tips on how to list visual manager skills on a resume:
Ensure that you list all the relevant skills you have acquired while working in the role.
Use descriptive language to explain what your skills are and how you have used them.
Make sure your skills stand out by using a section dedicated to your visual manager skills.
Include qualifications such as design experience, knowledge of software and proficiency with analytics.
Highlight your ability to communicate effectively, think critically and manage teams.
Showcase your ability to plan and organize projects, meeting deadlines, and directing operations.
Demonstrate your problem-solving and decision-making capabilities.
With these tips, you can craft an effective resume with a section dedicated to your visual manager skills. A well-crafted resume with detailed descriptions of your visual manager skills can help you stand out from the competition.
What skills should I put on my resume for Visual Manager?
Having a strong set of skills can be the key to landing a job as a visual manager. Having the right skills on your resume is essential to show potential employers that you have what it takes to be successful in the role. Here are some of the skills to include on your resume for a visual manager role:
Visual Merchandising: Visual merchandising is the practice of arranging products in a store in order to increase sales and customer engagement. Visual managers need to understand this concept and be able to apply it to the store environment.
Creativity: Visual managers need to have a creative eye and be able to come up with unique, eye-catching displays for their store.
Leadership: Visual managers need to be able to lead their team and ensure that the store's visual presentation is up to par.
Problem-solving: Visual managers need to be able to think quickly and come up with solutions to any problems that arise with the store's visual presentation.
Interpersonal Skills: Visual managers need to be able to communicate effectively with their team and stay organized.
Budget Management: Visual managers need to be able to manage the store's budget and ensure that their team is staying within it.
By including these skills on your resume, employers will be more likely to consider you for the visual manager role. Having a strong set of skills for the role is essential for success, so make sure to include these on your resume.
Key takeaways for an Visual Manager resume
As a visual manager, you understand the importance of making a great first impression. Your resume is an essential tool in the job search and should present your skills and accomplishments clearly and concisely. Here are some key takeaways that can help you create an effective visual manager resume:
Demonstrate your visual skills. Make sure to include a portfolio or list of your previous work. Include any software programs you're proficient in, as well as design awards you've won or certifications you've earned.
Showcase your leadership skills. Focus on what you've done to develop and lead successful teams. Include any project or team successes, as well as any techniques you've used to motivate and inspire employees.
Highlight your problem-solving abilities. List specific problems you've solved and any cost savings or increased efficiency that came as a result.
Emphasize your communication skills. Demonstrate your ability to communicate effectively with colleagues, clients and vendors.
Demonstrate your organizational abilities. Showcase your abilities to create and manage projects, schedules and budgets.
By following these key takeaways, you'll be able to create an effective visual manager resume that will help you stand out from the competition. Think of it as your chance to make a great first impression and land the job!
Let us help you build
your Resume!
Make your resume more organized and attractive with our Resume Builder