The visual arts industry is competitive and having a standout resume is essential if you're looking to land an opportunity. Whether you're an illustrator, a graphic designer, a creative director, or any other visual artist, it's important to have a well-crafted resume that showcases your experience and skill set. This guide provides a comprehensive overview of how to write a visual artist resume specifically. Included are tips on optimizing the format and content of the resume, as well as example resumes to help you get started.
If you didn't find what you were looking for, be sure to check out our complete library of resume examples.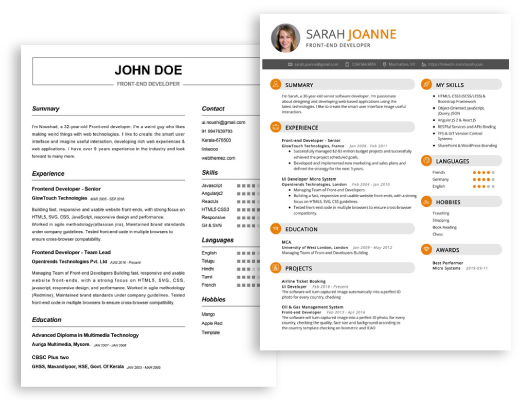 Start building your dream career today!
Create your professional resume in just 5 minutes with our easy-to-use resume builder!
Visual Artist Resume Examples
John Doe
Visual Artist
123 Main Street | Anytown, USA 99999 | Phone: (123) 456-7890 | Email: john.doe@email.com
I am a highly skilled Visual Artist with extensive experience in creating art across a variety of media, including painting, drawing, and digital design. I have a keen eye for detail and a passion for developing artwork that is creative and visually appealing. I am well- versed in various design programs and software and can work to create unique pieces that meet the needs of the customer. In addition, I have strong communication and organizational skills, which allows me to collaborate effectively with other professionals and ensure deadlines are met.
Core Skills:
Advanced knowledge of Adobe Creative Suite
Proficient in drawing and painting
Ability to work in an array of mediums
Strong attention to detail
Excellent time management skills
Superior problem- solving abilities
Proficient in 3D modeling and animation
Able to work effectively as part of a team
Professional Experience:
Designer, Little Company, 2020- Present
Developed posters, illustrations, web graphics, and other visuals for various clients
Designed logos, brochures, and other branding materials for multiple projects
Developed 3D models for video game design
Created art for children's books
Managed the design process for various projects
Education:
Bachelor of Arts in Visual Arts, University of ABC, 2016- 2020
Advanced Certificate in Art and Animation, Technical College ABC, 2014- 2016
Associate's Degree in Graphic Design, Technical College ABC, 2014
High School Diploma, ABC High School, 2012- 2014
Visual Artist Resume with No Experience
Recent art school graduate with no professional experience, but a strong passion for visual art. Highly skilled in the use of various mediums and techniques, as well as a deep understanding of the different elements of art. Looking to gain experience and knowledge in the field of visual art by working with a creative team.
Skills:
Strong knowledge and understanding of various elements of art
Proficient in the use of various mediums and techniques
Excellent eye for detail and composition
Strong organizational and communication skills
Ability to work independently and as part of a team
Proficient in Adobe Photoshop and Illustrator
Responsibilities:
Creating original works of art using various mediums and techniques
Developing concept art and storyboards
Creating visuals for marketing and promotional materials
Collaborating with creative teams to create unique art pieces
Researching and evaluating existing art styles and trends
Organizing and maintaining a portfolio of artwork
Staying current on industry trends and developments
Visual Artist Resume with 2 Years of Experience
A visual artist with two years of experience in creating thought- provoking and beautiful artworks. Highly capable of creating art pieces that convey a message while staying true to the artist's vision. Possesses excellent technical skills, a highly creative eye, and a talent for communicating a message through various mediums. Able to work in a collaborative environment with other creatives and has a portfolio of art pieces with diverse themes and styles.
Core Skills:
Artistic Design & Illustration
Digital painting & photo manipulation
Printmaking
Woodworking
Sculpting
Color Theory
Visual Storytelling
3D Animation
Traditional Animation
Responsibilities:
Develop visual concepts, illustrations, and artwork for a wide range of projects
Collaborate with clients and other creatives to discuss visual ideas and explore possible solutions
Develop high- quality artwork that is completed on time, within budget, and meets client expectations
Produce artwork that is both aesthetically pleasing and communicates the intended message
Manage multiple projects while staying organized and on schedule
Stay up- to- date with the latest trends in the visual arts industry and keep abreast of new technologies and techniques
Visual Artist Resume with 5 Years of Experience
Creative and dedicated Visual Artist with 5 years of experience working in various mediums such as graphic design, photography and digital art. Extensive background in creating art concepts and executing them in various media, while maintaining professional standards. Skilled in developing visual content, designing digital illustrations, and making adjustments to existing pieces to create the desired effects. Possesses excellent interpersonal and communication skills and is experienced in working with both large and small teams.
Core Skills:
Conceptualizing Visual Content
Graphic Design
Digital Illustration
Digital Media Editing
Professional Standard Maintenance
Photography
Responsibilities:
Develop visual content for assigned projects
Design digital illustrations for the art pieces
Implement changes to existing pieces to achieve desired effects
Manage and organize academic and commercial assignments
Capture photographs for professional and personal projects
Follow professional standards when creating visuals
Collaborate with other members of the team when creating art pieces
Implement digital media editing techniques to create desired effects
Adjust and refine digital images to ensure accurate representation of the piece
Maintain a professional attitude throughout the entire project
Visual Artist Resume with 7 Years of Experience
Highly motivated and organized Visual Artist with 7+ years of experience in creating art through painting, drawing, and multimedia techniques. Skilled in creating artwork that meets clients' requirements and specifications, while maintaining a positive and collaborative attitude. Demonstrated expertise in collaborating with other artists to produce high- quality art pieces and deliver projects on time. Seeking a position to leverage creativity and collaborate with other artists to achieve artistic success.
Core Skills:
Proficient in painting, drawing, and multimedia art
Excellent time management and organizational skills
Ability to deliver projects on time and within budget
Strong communication and interpersonal skills
Able to collaborate with other artists
Expertise in meeting clients' requirements and specifications
Attentive to detail and creative problem solving
Responsibilities:
Create artwork that meets clients' requirements and specifications
Create high- quality art pieces and deliver projects on time
Collaborate with other artists and work as part of a team
Research and develop new ideas and techniques
Maintain accurate records of projects, client interactions, and payments
Develop and implement strategies to promote artwork and services
Attend industry events and exhibitions to promote and showcase artwork
Visual Artist Resume with 10 Years of Experience
Seasoned visual artist with 10 years of professional experience creating and developing digital designs for clients in a wide variety of industries. Skilled in Adobe Suite, CorelDRAW, and other graphic design software as well as traditional artwork. High proficiency in creating innovative digital art, illustrations, logos, and graphic design projects from concept to completion. Proven track record of meeting tight deadlines and exceeding customer expectations.
Core Skills:
Digital Design
Illustration
Logo Design
Adobe Suite
CorelDRAW
Creative Thinking
Problem Solving
Time Management
Responsibilities:
Developing original artwork for use in a variety of media
Creating logos, illustrations and graphic designs
Using industry- standard software to create and manipulate designs
Drawing, painting and sculpting traditional art
Collaborating with clients, art directors and other designers to achieve desired results
Demonstrating excellent time management and organizational skills
Ensuring that all artwork adheres to established standards of quality
Maintaining brand consistency across all designs
Meeting tight deadlines and producing high- quality work.
Visual Artist Resume with 15 Years of Experience
A highly accomplished and talented visual artist with over 15 years of experience in the creative arts industry. Possessing a creative eye and a passion for exploring new technologies and techniques to achieve innovative visual effects. Specializing in graphic design, illustration, multimedia art, video editing and animation. Adept at creating visual graphics and video content, with a history of success in launching projects on time, within budget, and to the highest of standards. Core skills include capturing, editing and manipulating digital images, creating website visuals, developing multimedia artworks and utilizing design software for material production.
Core Skills:
Digital Imaging and Photo Editing
Multimedia Art Creation
Video Editing and Production
Animation and Motion Graphics
Graphic Design and Illustration
Knowledge of Design Software
Creative Eye and Problem Solving
Ability to Work Under Pressure
Time and Project Management
Responsibilities:
Collaborating with other creatives on projects and campaigns
Developing visuals and video content for print and digital media
Capturing and editing digital images
Utilizing design software such as Photoshop, InDesign and Illustrator
Creating website visuals using HTML, CSS, and JavaScript
Developing motion graphics and animation
Creating multimedia artworks such as 3D design and virtual reality
Maintaining up- to- date knowledge of the latest technologies and trends
Ensuring projects are completed on time and within budget
In addition to this, be sure to check out our resume templates, resume formats, cover letter examples, job description, and career advice pages for more helpful tips and advice.
What should be included in a Visual Artist resume?
When crafting a resume for a visual artist position, it pays to know what should be included in order to make a great first impression. A well-crafted resume offers potential employers a glimpse into your background, experience, and accomplishments as a visual artist.
Here are some elements to include on your visual artist resume:
Professional Summary: A brief overview of your work history, relevant experience, and expertise in the visual arts. Be sure to highlight any awards, accomplishments, or special skills you have.
Education: List any degrees or certifications you have earned in the visual arts field.
Experience: Include a list of any past jobs or freelance work you have done as a visual artist. Include a brief description of the skills you used, the projects you completed, and any accolades you earned.
Software Proficiency: List any software programs you know how to use, such as Photoshop, Illustrator, InDesign, and any other relevant applications.
Portfolio: Include a link to your portfolio or website, or include samples of your work as attachments.
Awards and Recognition: List any awards or recognition you have earned as a visual artist.
References: List contact information for at least three references who can attest to your experience and skills as a visual artist.
By including all of the above elements, you will present yourself as a highly qualified and experienced visual artist to potential employers.
What is a good summary for a Visual Artist resume?
A Visual Artist resume should summarize a candidate's education, experience, and portfolio in order to effectively showcase their creativity and skills. It should also highlight their professional experience in the visual arts, such as painting, drawing, sculpting, digital design, photography, or any other visual art form. Education, awards, exhibitions, and other accomplishments should also be included, as well as any relevant associations, affiliations, or membership in professional organizations. Additionally, the Visual Artist resume should include a portfolio of their work, either in physical or digital format, and should focus on showcasing their talent, skill, and style.
What is a good objective for a Visual Artist resume?
A Visual Artist resume should clearly communicate an artist's skills, experience, and potential to potential employers. Having a strong objective statement is key to making a great first impression. The following are some objectives to consider for a Visual Artist resume.
To secure a position as a Visual Artist with a company that allows me to utilize my creativity and experience.
To leverage my knowledge and experience in art to contribute to the growth of the company.
To apply my understanding of digital and traditional art techniques to create visually stunning pieces of art.
To use my technical skills to create unique works of art that will engage viewers and further my career as an artist.
To gain a position in a creative environment that allows me to enhance my experience as an artist.
To work with a team of creative professionals to produce high quality works of art.
To bring my dedication and passion for art to a company that will appreciate my skills and knowledge.
How do you list Visual Artist skills on a resume?
The skills listed on a Visual Artist's resume should accurately reflect the capabilities of the individual. Visual artists are creative professionals who often wear many hats in the studio. To ensure your resume stands out from the crowd, it's important to list the specific skills you possess that will be beneficial to potential employers.
Below is a list of the most important skills to include on a Visual Artist's resume:
Drawing: Visual artists must be adept at drawing, whether it be by hand or digitally. Demonstrate your fine art skills by including a portfolio of drawings to your resume.
Painting: Painting is one of the core disciplines of visual art. Include examples of your paintings to show potential employers your creative abilities.
Photography: Photography is an important part of a visual artist's job. Demonstrate your skills in photography by including examples of your work to your resume.
Graphic Design: Having a thorough knowledge of graphic design can be beneficial for any visual artist. Include any certifications or degrees you have earned in graphic design to show your expertise in this field.
Video Editing: Video editing is increasingly becoming a key component of visual art. Show employers your skills in video editing by including samples of your work to your resume.
Computer Animation: Animation is a popular medium of art and design. Include any experience you have in computer animation to your resume to demonstrate your capabilities in this field.
Digital Art: Digital art is a form of art that is created using digital technology. Include examples of your digital artwork to show potential employers your ability to work in this medium.
Sculpture: Sculpture is a popular medium of visual art. Include samples of your sculptures to show potential employers your expertise in this field.
Including examples of your artwork to your resume will make it stand out from the crowd and demonstrate
What skills should I put on my resume for Visual Artist?
Visual Artists are highly skilled professionals who use their talents to create stunning works of art. Whether you are a painter, sculptor, photographer, designer, illustrator or any other type of Visual Artist, it is important that you showcase your skills on your resume. Here are some skills you should include on your resume:
Drawing: Visual Artists must be able to draw accurately and with a high degree of detail. You should list any experience you have with sketching, shading, and other drawing techniques.
Color Theory: Visual Artists must have an understanding of how colors interact with each other and how to create harmonious color combinations.
Creative Problem Solving: Visual Artists need to be able to think outside the box and come up with creative solutions for challenging problems.
Time Management: Visual Artists must be able to manage their time wisely in order to stay on top of deadlines and complete projects in a timely manner.
Photography: Visual Artists should list any experience they have with photography, including editing, lighting, and composition.
Digital Art: If you have experience creating digital works of art, you should list it on your resume.
Collaboration: Visual Artists often need to work with other professionals, such as writers, musicians, and other artists. It is important to demonstrate your ability to collaborate effectively.
By listing these skills on your resume, you will be able to showcase your talents and abilities as a Visual Artist.
Key takeaways for an Visual Artist resume
When it comes to creating a resume as a Visual Artist, there are a few key takeaways that can help you make the most of your resume.
First, make sure to include your education and any awards or recognition you've received for your work. When writing about your education, include the courses you have taken that are related to your profession. Showing the awards and recognition you have received will give employers a good idea of the level of your artistry.
Second, include any relevant experiences. Focus on experiences that showcase your art skills as well as any internships, freelance projects, and/or exhibitions you may have participated in.
Third, focus on your portfolio. When creating a Visual Artist resume, it's important to include samples of your work. This is the best way to showcase your skills and demonstrate the artistic mediums and styles you're most comfortable with.
Fourth, include any technical skills or software you're familiar with. This shows employers that you're comfortable working with the latest technology and can demonstrate your versatility.
Finally, include any additional skills that you may have that could be beneficial to employers. This could include project management, communication, or marketing skills.
These are just a few of the key takeaways for a Visual Artist resume. By following these tips, you can ensure that your resume stands out and highlights your talent and experience as an artist.
Let us help you build
your Resume!
Make your resume more organized and attractive with our Resume Builder