Writing a motion designer resume can be daunting. After all, you are trying to showcase your portfolio, skills, and experience in a limited amount of space that is easy to read and understand. This blog post will provide you with a guide on how to write a motion designer resume that will wow potential employers. We'll provide tips and tricks on what to include in your resume, as well as provide examples of what a successful motion designer resume should look like. With the right knowledge, you'll be able to create a resume that will help you stand out from the competition and land your dream job!
If you didn't find what you were looking for, be sure to check out our complete library of resume examples.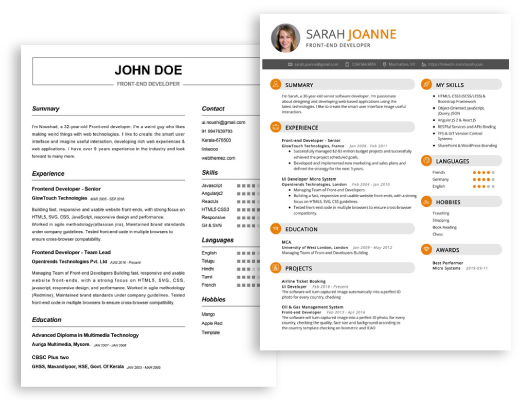 Start building your dream career today!
Create your professional resume in just 5 minutes with our easy-to-use resume builder!
Motion Designer Resume Examples
John Doe
Motion Designer
123 Main Street | Anytown, USA 99999 | Phone: (123) 456-7890 | Email: john.doe@email.com
Highly motivated and creative Motion Designer adept at creating engaging visuals and stories that communicate complex brand messages. Possesses strong problem- solving and collaboration skills to effectively work with both clients and colleagues. Skilled at developing innovative visual content for a variety of mediums and platforms, including social media, television, web and mobile applications.
Core Skills:
Motion design and animation
Visual storytelling
Branding and identity
Video editing
Creative problem solving
Visual effects
Typography
Digital artistry
Adobe Creative Suite
After Effects
Professional Experience:
Motion Designer, ABC Animation Studios – Los Angeles, CA
September 2018 – Present
Develop high- quality motion graphics and animation for television programs and theatrical films
Design and animate complex digital effects for a variety of projects, including commercials and 3D graphics
Collaborate with directors, producers and other creatives to ensure the highest quality visuals
Stay abreast of new technologies and industry best practices
Graphic Artist, XYZ Creative Agency – Los Angeles, CA
March 2016 – August 2018
Produced animation and motion graphics for a variety of projects, including web content, television commercials and documentaries
Created visuals for broadcast and online campaigns, ensuring brand consistency across all media
Worked closely with clients to develop creative concepts and execute projects
Edited videos for clients using Adobe Creative Suite
Education:
Bachelor of Fine Arts in Animation, University of California, Los Angeles – Los Angeles, CA
June 2015
Motion Designer Resume with No Experience
Recent college graduate with a motion design degree and an eagerness to start applying my creative, technical, and problem solving skills to a motion design role. Highly motivated to learn new concepts, software, and tools to further my design and creative abilities.
Skills
Adobe After Effects
Adobe Premiere
Adobe Photoshop
Final Cut Pro
Cinema 4D
3D Motion Design
Animation
3D Modeling
Video Editing
Motion Tracking
Composting
Storyboarding
Responsibilities
Developing motion graphics to be used in video and other multimedia projects
Producing video content for advertisements and other marketing materials
Designing and animating characters, objects, and environments for video projects
Collaborating with other departments and clients to ensure a successful project outcome
Creating storyboards and animatics to be used in the production process
Editing video, audio, and images for inclusion into projects
Managing projects from pre- production to completion
Motion Designer Resume with 2 Years of Experience
I am a creative and experienced Motion Designer with 2 years of experience in creating motion graphics for both online and broadcast media. I specialize in creating motion graphics for video clips, television commercials, and web- based animations. I am proficient in various software, including Adobe After Effects and Cinema 4D, and have a passion for delivering high- quality results with a focus on client satisfaction. I am a reliable and self- motivated individual who is able to work within tight deadlines and produce engaging visuals.
Core Skills:
Motion Graphics Design
Adobe After Effects
Cinema 4D
Video Editing
Animation
Graphic Design
Typography
HTML/CSS
Responsibilities:
Designing and developing motion graphics for television commercials, video clips, and web- based animations
Creating high- quality visuals that enhance the customer's message and brand identity
Making sure that all projects meet customer requirements and adhere to established deadlines
Collaborating with other creative professionals to ensure successful outcomes
Adjusting designs according to customer feedback
Utilizing software such as Adobe After Effects and Cinema 4D to create motion graphics
Developing creative solutions to problems and staying up to date with industry trends and best practices
Providing technical support for motion graphics related inquiries
Motion Designer Resume with 5 Years of Experience
Highly motivated and creative Motion Designer with 5 years of experience in creating engaging video content for different types of media. Expert in creating motion graphics, animation, and video editing to produce high- quality visuals. Adept in 3D modeling and with an exemplary understanding of compositing techniques. Skilled in creating videos from concept to completion in a timely manner and able to adhere to tight deadlines and client specifications.
Core Skills:
Motion Graphics
3D Modeling
Animation
Video Editing
Compositing
Storyboarding
Responsibilities:
Developing motion graphics and designing animations for various media channels
Creating 2D and 3D visuals for motion design projects
Designing graphic elements for motion graphics
Compiling and editing video footage for motion graphics
Collaborating with other designers, animators, and video editors
Managing the entire motion design pipeline from concept to completion
Analyzing client feedback and making necessary changes
Adhering to deadlines and project specifications
Motion Designer Resume with 7 Years of Experience
I am a highly experienced Motion Designer with more than seven years of experience in creating motion graphics for various media formats. My skills include animation and video production, design, and visual effects. I have worked with various clients in creating engaging and compelling visuals for their campaigns. I have a strong eye for detail and an ability to develop creative ideas and turn them into compelling visuals. I am confident in my ability to provide excellent results for any project.
Core Skills:
Animation and video production
Design and visual effects
Strong eye for detail
Creative problem solving
Adobe Creative Suite
3D animation software
Responsibilities:
Develop motion graphics for various media formats
Collaborate with clients to understand their needs and deliver compelling visuals
Design storyboards, animations, and scenes
Edit existing video content and create new content
Create digital effects and design elements
Follow deadlines and work with tight timelines
Manage projects from start to finish
Motion Designer Resume with 10 Years of Experience
I'm a highly experienced Motion Designer with 10+ years of professional experience in creating high- quality original designs and animations for a variety of multimedia projects. I have extensive experience in 3D animation, motion graphics, VFX, After Effects, and Cinema 4D. I'm a creative problem- solver with a keen eye for detail, and I'm passionate about telling meaningful stories through visuals. I'm comfortable working in a fast- paced environment and thrive on working with teams to bring projects to life.
Core Skills:
3D Animation
Motion Graphics
VFX
After Effects
Cinema 4D
Storytelling
Graphic Design
Creative Problem Solving
Team Collaboration
Multimedia Projects
Responsibilities:
Developed animation and motion graphics projects from initial concept to final delivery.
Created storyboards and pre- visualized scenes to determine the best approach to incorporating motion graphics into a project.
Designed and developed motion graphics, 3D animation, and VFX for a wide range of multimedia projects, including commercials, music videos, television shows, and short films.
Collaborated with clients to ensure that the finished product meets their expectations.
Worked with a team of animators and other creatives to ensure that the project was completed on- time and within budget.
Created high- quality visuals with a focus on providing a seamless user experience.
Rendered 3D effects and animations to be incorporated into projects.
Optimized workflow by making use of new and existing software tools.
Motion Designer Resume with 15 Years of Experience
I am an experienced Motion Designer with over 15 years of experience in the field. I specialize in the creation of motion graphics and animation, with a focus on delivering high- impact visuals that make a lasting impression. My expertise spans the entire design process, from concept to execution, and I am highly skilled in storyboarding, animation, editing, and special effects. I work well with a team and am adept at developing ideas and providing creative solutions. I'm comfortable with traditional 2D animation as well as 3D, and I have a deep understanding of the latest software packages, including Adobe After Effects, Photoshop, and Cinema 4D.
Core Skills:
Motion Graphics
Animation
After Effects
Photoshop
Cinema 4D
Special Effects
Editing
Storyboarding
Creative Problem- Solving
Team Collaboration
Responsibilities:
Developing initial concepts and storyboards.
Producing high- quality motion graphics and animation.
Creating special effects and editing the final product.
Working collaboratively with a team to develop ideas and solve creative problems.
Utilizing the latest software packages, such as Adobe After Effects, Photoshop, and Cinema 4D.
Meeting deadlines and delivering projects on time.
Adhering to brand guidelines and producing visuals within the parameters of the given brief.
In addition to this, be sure to check out our resume templates, resume formats, cover letter examples, job description, and career advice pages for more helpful tips and advice.
What should be included in a Motion Designer resume?
A motion designer's resume should include key elements that demonstrate a candidate's ability to create motion graphics. When creating a motion designer resume, it is important to highlight skills, tools, and experience. The best motion designer resumes include a clear overview of the candidate's professional experience, as well as a portfolio of relevant work samples.
Below are some of the key components to include in a motion designer's resume:
Professional Experience: A list of previous positions held that demonstrate your ability to create motion graphics.
Technical Skills: A list of software and tools you're comfortable using, such as Adobe After Effects, Cinema 4D, or any other animation software.
Knowledge Of Production Processes: Demonstration of your ability to work with a production team from start to finish.
Portfolio: A selection of your best work that showcases your animation and motion graphics skills.
Education And Training: List any relevant education or training, including certificates or degrees.
Awards And Recognition: List any awards or recognition you've received for your animation or motion design work.
Creating a comprehensive motion designer resume will help you stand out from the crowd and increase your chances of landing the job. Including all the sections outlined above will give potential employers a full view of your skills, experience, and creativity.
What is a good summary for a Motion Designer resume?
A good summary for a Motion Designer resume should highlight the candidate's education and experience in graphic design, video production, and animation. It should also mention any software proficiency the candidate has and any other relevant qualifications. The summary should also demonstrate the candidate's knowledge of motion design principles and techniques, as well as their ability to work collaboratively in a team. By showcasing the candidate's technical and creative skills, the summary should present the candidate as an ideal choice for any motion design role.
What is a good objective for a Motion Designer resume?
Blog Section:
Are you a Motion Designer looking for a job? Having an effective resume is essential for any job applicant. When applying for a Motion Designer role, it is important to have an objective that clearly outlines the position you are applying for and the skills you possess.
A good objective for a Motion Designer resume should include:
A brief overview of your design experience
Specific knowledge and skills related to motion graphics
Your long-term goals and how they align with the company's objectives
A list of software and tools you are proficient with
Any pertinent certifications or awards you have earned
Your objective should be concise and targeted, highlighting your key motion design skills and qualifications. It should also be tailored to the job you are applying for, so make sure to research the company and the job requirements before writing your objective.
By taking the time to craft a targeted, effective objective for your Motion Designer resume, you will be more likely to make a strong impression on recruiters and hiring managers. With the right objective, you can show that you are the perfect candidate for the role and make a great first impression.
How do you list Motion Designer skills on a resume?
Many employers look for Motion Designers who understand both the creative and technical aspects of the job. When creating a resume, it's important to showcase your skills and experience that make you a qualified Motion Designer. Here are some of the essential skills to include on your resume when applying for Motion Designer positions:
Software Proficiency: You should be proficient in a variety of design and animation software programs, including Adobe After Effects, Cinema 4D, and Adobe Photoshop.
Creative Thinking: Motion Designers should be creative and able to come up with interesting concepts, designs, and animations.
Coding Knowledge: Basic knowledge of coding, HTML, and JavaScript can be beneficial for Motion Designers.
Time Management: Motion Designers should have excellent organization and time management skills to ensure projects stay on track.
Attention to Detail: As a motion designer, you should have a keen eye for detail and be able to spot mistakes in animations.
Communication: Motion Designers need to be able to effectively communicate with clients and colleagues to ensure projects are completed to their expectations and deadlines are met.
By including these skills on your resume, you can demonstrate to potential employers that you have the skills and experience needed to be a successful Motion Designer.
What skills should I put on my resume for Motion Designer?
Motion design is a combination of art, technology, and storytelling that can be used to create stunning visuals for a variety of projects. It is a highly specialized skill set that requires a deep understanding of various software programs, animation principles, and design fundamentals. If you are a motion designer looking to showcase your skills on your resume, here are some key skills to include:
Animation: A fundamental skill for any motion designer, animation encompasses the ability to create visuals that move in a realistic and aesthetically pleasing way. This includes an understanding of how to use keyframes, transition curves, and physics-based effects to create dynamic and engaging visuals.
Editing: Motion design requires the ability to quickly and effectively edit footage and composition to create a seamless, visually appealing product. Knowing how to use editing software such as Adobe Premiere Pro, After Effects, and Final Cut Pro can help demonstrate your proficiency in this area.
Graphic Design: From logos to typography, motion designers need to have a strong understanding of basic graphic design principles in order to create compelling visuals. This includes knowledge of color theory, layout, and composition.
3D Modeling: Being able to create 3D models and incorporate them into motion designs will greatly expand the possibilities of your projects. This skill requires knowledge of various 3D software programs, such as Maya, Blender, and Cinema4D.
Technical Knowledge: Motion design also involves knowledge of various video and audio formats, as well as an understanding of how to work with different video codecs. Knowing how to optimize motion designs for various media platforms can also be beneficial.
By having a comprehensive knowledge of these various skills, motion designers can create stunning visuals for any type of project. Be sure to include these skills on your resume to demonstrate your proficiency in motion design!
Key takeaways for an Motion Designer resume
When you're a Motion Designer looking for a job, the way you present yourself on paper is just as important as the clips you present in your reel. Your resume is a reflection of you and your work and should be crafted to showcase your unique skills and abilities to potential employers.
So what should you include in an effective Motion Designer resume? Here are a few key takeaways to help you create an attention-grabbing resume.
Highlight Your Technical Skills: As a Motion Designer, you have a wide range of technical skills that you can draw upon. Make sure to highlight your expertise with 3D software, video editing tools, visual effects tools, and any other technical skills that you possess.
Showcase Your Creative Process: Employers want to know how you approach a project and how you think visually. Writing out or illustrating your creative process can help employers get an idea of your strengths and how you work.
Include Your Professional Experience: If you have any professional experience, include it! This could be freelance projects, internships, or other full-time employment. Be sure to include the company name, job title, and a brief description of the work you did.
Demonstrate Your Collaborative Abilities: Motion Designers often work on teams and collaborate with other designers and directors. Include examples of successful collaborations, as well as any awards or recognitions you've received for your work.
Keep It Professional: Your resume should look professional and be free of errors. Make sure to proofread your resume multiple times, and have someone else review it as well.
These are just a few key takeaways to help you craft an effective Motion Designer resume. With a well-crafted resume, you can showcase your unique skills and abilities and stand out from the competition. Good luck!
Let us help you build
your Resume!
Make your resume more organized and attractive with our Resume Builder