A Layout Artist is a critical position in the entertainment industry and writing an effective resume is essential to getting a job. It is an important step in demonstrating what skills and experience you have and how they relate to the specific position you are applying for. This guide will provide a comprehensive overview of what content to include on a Layout Artist resume, with examples of how to structure and format your resume. With these tips, you can easily create a compelling resume and secure the job you desire.
If you didn't find what you were looking for, be sure to check out our complete library of resume examples.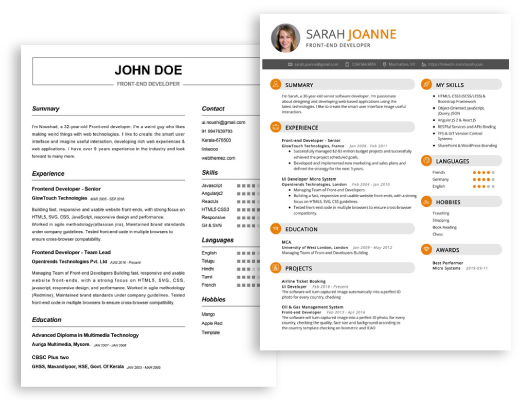 Start building your dream career today!
Create your professional resume in just 5 minutes with our easy-to-use resume builder!
Layout Artist Resume Examples
John Doe
Layout Artist
123 Main Street | Anytown, USA 99999 | Phone: (123) 456-7890 | Email: john.doe@email.com
I am a Layout Artist with a creative eye and an impressive range of technical skills. I have an excellent attention to detail, an eye for color, and a passion for creating high- quality visuals. From creating detailed storyboards and color scripts to designing and animating characters, I have the skills to craft engaging visuals for any project. My professional experience spans the animation, film, gaming, advertising, and illustration industries, allowing me to bring a wealth of knowledge and expertise to any project I undertake. I am a highly organized, self- motivated professional with the drive to create visuals that are dynamic and engaging.
Core Skills:
Storyboarding
Color Scripting
Character Design
Animation
Compositing
Visual Effects
Lighting & Rendering
Graphic Design
Adobe Creative Suite
Professional Experience:
DigitalFx – Layout Artist, 2020 – Present
Designed characters, backgrounds and layouts
Created storyboards and color scripts
Developed 2D & 3D animations
Used Adobe Creative Suite to design visuals
ABC Animations – Animator, 2017 – 2020
Developed animations utilizing 2D and 3D techniques
Produced detailed storyboards and color scripts
Created lighting and rendering effects
Education:
Degree in Animation & Visual Effects, University of California, 2019
Certification in Adobe Creative Suite, University of California, 2017
Layout Artist Resume with No Experience
Recent Visual Arts graduate with an eye for detail and passion for creating art. Seeking an opportunity to develop my abilities as an artist and to gain experience in the creative field.
Skills
Piano playing
Sketching
Creative Writing
Adobe Creative Suite
Painting
Drawing
Color Theory
Responsibilities
Developing concepts and ideas for art projects
Utilizing knowledge of color theory to create artwork
Using different media to create artwork
Identifying potential improvements in artwork
Consulting with clients and other artists to ensure artwork meets expectations
Working collaboratively with other artists to create art pieces
Staying up- to- date on trends in the art world
Layout Artist Resume with 2 Years of Experience
A creative and detail- oriented Layout Artist with more than 2 years of experience. My core skills include Adobe Photoshop, Adobe Illustrator and Adobe InDesign. I have a great eye for detail, enabling me to create high- quality layouts for web, print, and mobile products. I am able to take complex projects and break them down into manageable tasks. I am driven to create visually appealing and functional layouts that reflect the project's goals and objectives.
Core Skills:
Adobe Photoshop
Adobe Illustrator
Adobe InDesign
Layout Design
Visual Design
Typography
Digital Imaging
Web Design
Responsibilities:
Designing visual layouts for web, print and mobile products
Developing storyboards and design concepts
Creating illustrations, logos and other graphic elements
Utilizing digital imaging software to enhance images and create custom graphics
Collaborating with other designers and developers to ensure consistency in design
Keeping up- to- date with the latest trends in design and technology
Ensuring accuracy of layouts and design elements
Testing layouts for usability and readability
Layout Artist Resume with 5 Years of Experience
A talented and experienced Layout Artist with 5 years of experience in the animation and gaming industries. Skilled in using a variety of software to create 2D and 3D layouts in a timely manner. Proven ability to take direction and develop precise, high- quality artwork. High attention to detail, excellent communication and organizational skills.
Core Skills:
Autodesk Maya
Adobe Photoshop
Adobe After Effects
2D/3D Animation
Storyboarding
Camera Angles
Lighting
Compositing
Drawing & Illustration
Layout Design
Responsibilities:
Developing 2D & 3D animation layouts for projects
Creating storyboards according to project specifications
Designing camera angles and lighting for scenes
Building 3D models and characters to use in animation
Compositing animations and effects in Adobe After Effects
Working with art directors and other artists to ensure deadlines are met
Designing and illustrating characters, backgrounds, and objects for animation
Using Autodesk Maya to create 3D environments and characters
Layout Artist Resume with 7 Years of Experience
An experienced and creative artist with 7 years of professional experience in the field of visual art, graphic design, and multimedia. Demonstrates a strong ability to design and create artwork for a wide range of media, and is dedicated to developing high- quality works that exceed customer expectations. Possesses strong problem- solving skills, a creative eye for detail, and a passion for creativity.
Core Skills:
Creative Artistry
Graphic Design
Multimedia Design
Layout and Composition
Color Theory
Marketing and Branding
Print Production
Project Management
Responsibilities:
Develop and illustrate visually appealing artwork for a variety of media, including web, print, and digital
Design and create unique graphic elements and layout solutions that comply with industry standards
Produce high- quality illustrations, logos, and other visual elements for web and print
Collaborate effectively with art directors, copywriters, and other designers to develop concepts
Ensure accurate production of digital assets by establishing file formats and reviewing design files
Lead projects from concept to completion, including working with external vendors and managing production schedules
Optimise designs for the web and mobile platforms, ensuring cross- browser compatibility
Conduct research to stay up to date on industry trends and techniques
Adapt designs to appeal to target audiences, considering cultural and geographic factors
Ensure print quality through prepress procedures and post- production proofing
Layout Artist Resume with 10 Years of Experience
An experienced layout artist with over 10 years of experience in the industry. Skilled in the layout of environment and characters, as well as prop placement and camera work. Experienced with a variety of software packages, including 3D Max, Maya, and Photoshop. Dedicated to delivering high- quality work and working with others to create beautiful and immersive digital worlds.
Core Skills:
Layout of environments and characters
Prop placement
Camera work
Proficient in 3D Max, Maya and Photoshop
Strong collaborative and communication skills
Responsibilities:
Analyze storyboards and create layouts for scenes
Design the physical environment, including backgrounds, sets, props, and characters
Place cameras in the best positions to capture the action
Work with the team to ensure that all elements of the scene are in place
Ensure that the work meets the technical requirements of the project
Manage changes and revisions to layouts while maintaining a consistent style
Collaborate with the other members of the team to ensure the highest quality of work
Layout Artist Resume with 15 Years of Experience
I am a highly experienced artist with 15 years of professional experience in various art forms such as painting, sculpting, and drawing. I have excellent skills in visual arts, a clear passion for creating art, and an eye for detail. I have an excellent work ethic and enjoy working in teams or independently. I have applied my skills in a variety of settings including galleries, museums, private collections, and public projects. I am comfortable supervising others and am also an excellent communicator, able to explain my ideas in a clear way.
Core Skills:
Skilled in various forms of visual arts, including painting, drawing, and sculpting
Excellent eye for detail
Strong communication skills
Excellent work ethic
Ability to work in a team and independently
Supervisory skills
Responsibilities:
Create art for public and private projects
Design art for galleries and museums
Manage and supervise other artists
Curate collections of art
Hang or install artwork in galleries
Create sketches and diagrams of ideas
Interpret the ideas of clients and create art to suit their needs
Maintain a studio or workspace
Source materials needed for projects
Research artists and art movements to stay up to date on industry trends
In addition to this, be sure to check out our resume templates, resume formats, cover letter examples, job description, and career advice pages for more helpful tips and advice.
What should be included in a Layout Artist resume?
A layout artist resume should include the following key elements to make sure the artist stands out:
Education: Include all degrees, diplomas, certificates and other qualifications that are relevant to the job.
Technical Skills: List all the software and software tools you are familiar with, such as Adobe Creative Suite, 3D applications, and video editing software.
Artistic Skills: Specify any skills related to drawing, painting, sculpting, or other visual arts.
Experience: Highlight any experience you have in the field of layout art.
Portfolio: Include a link to your portfolio of work which showcases your layout art skills.
Awards & Recognition: Include any awards or recognition you have received for your work.
Additional qualifications: Any other qualifications that make you stand out such as special courses, certifications or seminars.
What is a good summary for a Layout Artist resume?
A Layout Artist resume should be a brief but comprehensive summary of your qualifications and professional experience as a Layout Artist. It should highlight your skills and experience designing and creating complex 2D and 3D layouts for digital and print media. Your resume should also showcase your proficiency in using industry-standard software, such as Adobe Photoshop, Illustrator, InDesign, and Maya. Additionally, it should demonstrate your ability to work collaboratively with other artists and designers and communicate effectively with clients. Finally, your resume should emphasize the unique skills and talents that make you a standout Layout Artist.
What is a good objective for a Layout Artist resume?
Layout Artists are artists who are responsible for the visual representation of content for websites, magazines, newspapers, and other publications. They are responsible for creating the look and feel of the publication, as well as ensuring that it is visually appealing and easy to navigate.
An objective on a Layout Artist resume should be tailored to the job you are applying for, and should highlight your skills and experience. Here are some examples of good objectives for a Layout Artist resume:
To use my creativity and technical expertise to create visually appealing and interactive layouts for digital and printed publications.
To utilize my strong understanding of digital design to develop engaging and user-friendly layouts.
To apply my knowledge of Adobe Creative Suite applications to create innovative and professional layouts for websites, magazines, newspapers, and other publications.
Seeking to leverage my extensive experience in layout design to create effective and aesthetically pleasing designs.
To contribute my proven skills in layout design to create visually striking and intuitive layouts that will leave a lasting impression on readers.
How do you list Layout Artist skills on a resume?
When listing Layout Artist skills on a resume, it is important to highlight your experience, qualifications, and abilities. Layout Artists create the basic framework for a scene in a movie or television show, including both the physical setting and the camera angles.
Here are some skills that demonstrate your qualifications as a Layout Artist:
Experience with 3D animation software programs, such as Maya and 3DS Max
Familiarity with storyboarding techniques and techniques for camera angles
Ability to work with creative notes from directors and produce art in a timely manner
Knowledge of Adobe Creative Suite, such as Photoshop, Illustrator, and After Effects
Ability to think creatively and develop innovative concepts for visuals
Excellent communication and collaboration skills with other team members
Ability to problem-solve and troubleshoot any issues that may arise during production
Ability to make quick decisions in order to keep production running smoothly and efficiently
By showcasing your Layout Artist skills on your resume, you can demonstrate your qualifications and experience in the field of visual design. With the right skills and qualifications, you can make a strong impression on potential employers.
What skills should I put on my resume for Layout Artist?
Layout Artists are responsible for arranging the way in which a piece of art is presented. This includes the positioning of text, graphics and other design elements, to create a visually appealing design. To be successful in this role, there are certain skills and qualifications that should be highlighted on a resume.
Below are some of the skills to include on your resume for a position as a Layout Artist:
Knowledge of design principles: Familiarity with the principles of composition and design, including color theory, typography, and spatial relationships.
Proficiency with design software: Proficiency in Adobe Photoshop, Illustrator and InDesign.
Attention to detail: Ability to pay close attention to detail, ensuring that all design elements are in the right place and are aesthetically pleasing.
Creative thinking: Being able to think creatively, coming up with innovative solutions to various design problems.
Communication skills: Being able to effectively communicate with clients and colleagues to ensure designs are created to their exact specifications.
Time management: Ability to manage time well and meet tight deadlines.
Problem-solving skills: Being able to quickly identify and solve problems related to design.
By including these skills and qualifications on your resume, you will be better prepared to land a job as a Layout Artist.
Key takeaways for an Layout Artist resume
When preparing a resume for a Layout Artist role, it's important to highlight key skills, experience, and achievements that are relevant to the job. Here are some key takeaways to keep in mind when creating a Layout Artist resume:
Show your attention to detail. Layout Artists must have a keen eye for detail, and your resume should reflect this. Make sure to emphasize any design experience you have, as well as any software programs you are familiar with.
Highlight your ability to work with others. Layout artists often need to collaborate with other designers, so make sure to include any experience you have working in teams.
Provide examples of your work. Include a portfolio of your work that displays your design skills and layout abilities.
Demonstrate your creativity and problem-solving skills. Layout artists need to be creative and come up with innovative solutions to design challenges. Make sure to highlight any creative solutions you have come up with in previous roles.
Showcase your organizational abilities. Layout artists need to be organized and have strong time management skills. Include any experience you have managing projects and timelines in your resume.
Creating a strong resume for a Layout Artist role is essential for a successful job search. Make sure to keep these key takeaways in mind when crafting your resume and you'll be sure to impress potential employers.
Let us help you build
your Resume!
Make your resume more organized and attractive with our Resume Builder