Today's job market is highly competitive and this is especially true for aspiring interactive designers. In order to stand out among the competition, it's important for interactive designers to create a resume that emphasizes their qualifications and skills. This guide provides an overview of what to include in an interactive designer resume, and provides some examples of how to craft an effective resume. By the end of this guide, you will be equipped with the tools and resources you need to create an impressive resume and increase your chances of landing an interview.
If you didn't find what you were looking for, be sure to check out our complete library of resume examples.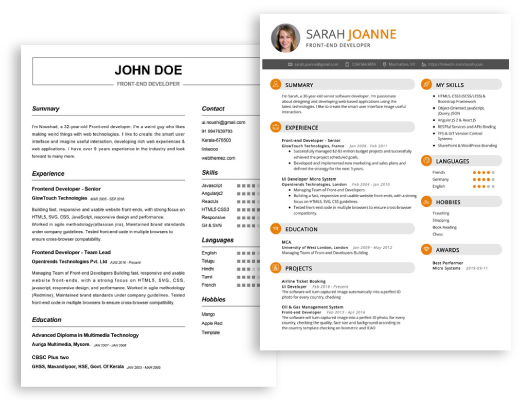 Start building your dream career today!
Create your professional resume in just 5 minutes with our easy-to-use resume builder!
Interactive Designer Resume Examples
John Doe
Interactive Designer
123 Main Street | Anytown, USA 99999 | Phone: (123) 456-7890 | Email: john.doe@email.com
I am an interactive designer with 5+ years of experience creating digital experiences for a variety of clients. My designs are always user- centric and I strive to create an enjoyable and aesthetically pleasing user experience that aligns with the clients' objectives. I am well versed in the latest software, tools, and technologies and am adept in developing high- quality designs for multiple platforms.
Core Skills:
Design and Illustration: Photoshop, Illustrator, InDesign, Sketch, Figma
HTML, CSS, JavaScript, and React
User Experience and User Interface Design
Usability Testing
Developing and Executing Design Strategies
Professional Experience:
Interactive Designer, ABC Company (2019- Present)
Collaborated with clients to develop web and mobile designs that meet their objectives.
Created low- fidelity wireframes and high- fidelity mockups using Sketch, Figma, and Photoshop.
Developed interactive prototypes using HTML, CSS, JavaScript, and React.
Conducted usability testing to ensure the designs are user- friendly.
Interactive Designer, XYZ Company (2017- 2019)
Developed creative designs for web and mobile applications.
Created user interface designs for desktop, mobile, and tablet applications.
Designed logos, icons, and illustrations for the applications.
Developed design strategies and documented design process.
Education:
Bachelor of Arts in Graphic Design, University of California, Los Angeles (2013- 2017)
Interactive Designer Resume with No Experience
I am an innovative and creative Interactive Designer with a passion for crafting visually appealing designs. I have proficiency in the latest design software and have a knack for solving complex problems. I am eager to work on exciting projects that challenge my design skills and help me develop as a designer.
Skills:
Proficient in Adobe Creative Suite and other industry- standard design software
Excellent eye for design and visual problem- solving skills
Able to work independently and in a team setting
Strong background in HTML and CSS
Effective communication and presentation skills
Responsibilities:
Develop innovative and creative designs for websites, applications, and other digital platforms
Organize and develop content for digital projects
Maintain brand consistency throughout design projects
Collaborate with other designers and developers to create effective design solutions
Communicate with clients to understand their design needs and goals
Create mockups and prototypes to demonstrate design ideas
Perform user experience testing and feedback analysis to ensure design quality.
Interactive Designer Resume with 2 Years of Experience
I am an Interactive Designer with two years of experience developing aesthetically pleasing and user- friendly websites. My focus has been on creating stunning visuals that drive user engagement, often using animation and other interactive elements. I have extensive knowledge in HTML, CSS, JavaScript, and Adobe Creative Suite, as well as a strong sense of design and attention to detail. I am a creative problem solver and thrive in a collaborative environment.
Core Skills:
HTML/CSS/JavaScript
Adobe Creative Suite (Photoshop, Illustrator, InDesign, After Effects)
Design principles (typography, color theory, layout, user interface design)
User experience design
Animation, motion graphics, and interactive design
Responsibilities:
Develop web designs and interactive elements to improve user experience
Produce high- quality visuals that meet the company's aesthetic standards
Create prototypes, wireframes, and mockups to test and validate designs
Collaborate with other departments, such as content and marketing, to ensure effective design solutions
Utilize HTML/CSS/JavaScript and Adobe Creative Suite to develop interactive designs
Identify opportunities for improvement and drive innovation in the design process
Interactive Designer Resume with 5 Years of Experience
I am an experienced Interactive Designer with 5 years of professional experience in creating innovative and visually stimulating designs. During my career, I have worked in different mediums – both digital and print – and have used various tools to create engaging designs for my clients. My understanding of user experience design principles has helped me to create effective designs that meet the needs of the user. I have a proven track record of completing projects on time and within budget. I thrive in a collaborative environment and enjoy working with a team to develop creative solutions.
Core Skills:
User Interface Design
Adobe Creative Suite
User Experience Design
Responsive Design
Web Design
Graphic Design
Responsibilities:
Developing innovative designs for websites, web and mobile applications, and printed materials.
Creating user interface designs for applications, websites and prototypes.
Creating and maintaining detailed project design documents.
Working with UX teams to develop user experience designs.
Developing responsive designs for responsive web and mobile applications.
Researching and staying up to date on advancements in interactive design.
Analyzing user feedback to make design improvements.
Collaborating with the development team to ensure designs meet the technical requirements.
Interactive Designer Resume with 7 Years of Experience
I am an Interactive Designer with 7+ years of experience, specializing in graphic design, web design, user experience design and user interface design. I am an individual that is highly organized and detail- oriented, with a passion for producing high- quality visuals. My focus has been on creating interactive, user- friendly designs that meet customer needs and provide an engaging user experience. My goal is to create intuitive and visually striking designs that are effective and easily navigable.
Core Skills:
In- depth knowledge of Adobe Creative Suite and other graphic design software
Ability to develop intuitive and visually striking designs
Strong understanding of color theory, typography and layout design
Excellent organizational, communication, and problem- solving skills
Ability to work independently and within a collaborative team environment
Responsibilities:
Designing and creating interactive web, mobile and desktop user interfaces
Developing intuitive and visually striking designs that meet customer needs
Collaborating with teams to produce high- end visuals and user experience designs
Creating and maintaining graphic design templates for use in marketing campaigns
Editing, retouching and enhancing images and photos for web and print publications
Applying a variety of print design techniques and processes to enhance the visual appeal of end products
Coordinating with the marketing team to ensure that design meets customer and brand standards
Testing and troubleshooting designs for usability, compatibility, and functionality.
Interactive Designer Resume with 10 Years of Experience
An experienced interactive designer with 10 years of experience, I have a great eye for detail and thrive on creating innovative design solutions that are both visually compelling and user- friendly. I am very knowledgeable in the latest technologies and software, and have experience in designing, coding and developing interactive design projects. My communication and organizational skills are excellent, and I enjoy working closely with clients and colleagues to ensure project success.
Core Skills:
Highly creative and detail- oriented
Excellent knowledge of the latest design technologies and software
Experience in coding and developing interactive design projects
Strong communication and organizational skills
Knowledgeable in the principles of usability and user experience design
Ability to effectively collaborate with clients and colleagues
Responsibilities:
Creating layouts and interface designs that are visually appealing and user- friendly
Developing interactive features, functionality and animations
Identifying user experience issues and proposing solutions
Writing HTML, CSS and JavaScript code to create interactive experiences
Collaborating closely with team members and clients to ensure project success
Conducting usability tests to ensure product quality and user experience
Interactive Designer Resume with 15 Years of Experience
An accomplished Interactive Designer with 15 years of experience in online content creation and design. Skilled in user experience (UX) design, user interface (UI) design, and graphic design, along with proficient knowledge of HTML, CSS, WordPress and animation software. Highly organized and detail- oriented, with a successful track record of creating dynamic and engaging digital experiences for clients.
Core Skills:
UX Design
UI Design
Graphic Design
HTML/CSS
WordPress
Animation Software
Responsibilities:
Designing and creating digital content for websites.
Developing graphics for interactive media.
Creating and maintaining user experience solutions.
Designing user interfaces.
Writing HTML, CSS and Javascript.
Creating prototypes for web applications.
Developing WordPress themes and websites.
Creating animations for websites, apps and interactive media.
Developing and maintaining style guides.
Testing and troubleshooting web applications.
Consulting with clients on project requirements.
Managing projects from concept to completion.
Collaborating with other designers, developers and stakeholders.
In addition to this, be sure to check out our resume templates, resume formats, cover letter examples, job description, and career advice pages for more helpful tips and advice.
What should be included in a Interactive Designer resume?
A resume is an important document for any job seeker and for a Interactive Designer position in particular, this document is even more important. A well-drafted resume can help an Interactive Designer get noticed by potential employers and can make the difference between getting an interview or not.
To make sure that your resume is up to par, here is a list of essential points to include when creating a resume for an Interactive Designer role:
Professional summary: Use this section to highlight your core skills, experiences and qualifications.
Work experience: Include a list of relevant roles that you have held, as well as details of the projects you have worked on.
Skills: List any technical skills related to the role, such as knowledge of HTML/CSS, UX/UI design, software development, and others.
Education: Include the name and location of any relevant degrees and qualifications.
Portfolio: Share a link to your online portfolio so that employers can see examples of your work.
Awards/recognition: If you have been recognised for any awards, or have had your work featured in publications, don't forget to include this information.
Professional activities: Mention any conferences or other activities you have attended.
Certifications: If you hold any certifications, include these in your resume.
By following the above points, you can be sure that you will have a great resume that will help you stand out from other candidates. Good luck!
What is a good summary for a Interactive Designer resume?
A great summary for an Interactive Designer resume should highlight your ability to create engaging and interactive experiences for users. You should also demonstrate your expertise in UI and UX design, as well as your experience in creating wireframes, mockups, and prototypes. You should also mention your knowledge of the latest development tools and techniques, such as HTML5, JavaScript, CSS3, and Adobe Creative Suite. Finally, you should demonstrate your strong project management and problem-solving skills, as well as your ability to work independently and collaboratively with a team.
What is a good objective for a Interactive Designer resume?
A good objective for an Interactive Designer resume should focus on the key skills, qualifications and experience that the designer has that make them a great fit for the job.
Highlight the designer's knowledge and expertise in creating interactive designs and development
Demonstrate the designer's understanding of usability and user experience principles
Showcase the designer's proficiency in a variety of programming languages and software programs
Emphasize the designer's ability to work collaboratively and effectively with a team
Highlight the designer's ability to stay up-to-date with the latest trends and technologies in interactive design
Demonstrate the designer's experience in taking a project from concept to completion
How do you list Interactive Designer skills on a resume?
Interactive designers bring a unique set of skills to the table that are essential for creating and maintaining engaging websites, apps, and other digital products. When listing your interactive designer skills on your resume, make sure that you highlight the key skills that employers seek. Here is a list of skills to include on a resume for an interactive designer:
User Experience Design: Ability to create intuitive, engaging, and user-friendly experiences for web and mobile applications.
Visual Design: Ability to create aesthetic designs that complement the content and/or function of the product.
Responsive Design: Knowledge of how to develop websites and apps that work across multiple devices and platforms.
Web Programming: Understanding of HTML, CSS, and JavaScript programming languages.
Cross-Browser Compatibility: Ability to develop websites and apps that are compatible with major web browsers.
Animations: Knowledge of animation techniques and tools that can be used to enhance user interfaces.
Prototyping: Understanding of prototyping techniques and tools, such as Figma and Adobe XD, for creating user interfaces and experiences.
Information Architecture: Ability to organize and structure content in a way that is intuitive and user-friendly.
Project Management: Ability to plan, manage, and execute projects on-time and within budget.
What skills should I put on my resume for Interactive Designer?
Interactive design is an ever-evolving field, and employers look for individuals that bring the latest skills and experiences to their teams. If you are looking for an interactive design job, here are some skills that you should consider including on your resume:
Knowledge of User Experience (UX) Design: Employers look for candidates who have a thorough understanding of UX design principles and how they can be applied to improve the user experience on a website or application.
Ability to Create Wireframes and Visuals: As an interactive designer, you should be able to create wireframes and visual prototypes to help the client visualize the product.
Knowledge of HTML and CSS: Knowledge of HTML and CSS is essential for interactive designers. Employers want to see that you have an understanding of how webpages are built and can create designs that are functional and responsive.
Ability to Collaborate: Employers want to see that you can work well with others, including clients, developers, and other designers.
Strong Communication Skills: As an interactive designer, you need to be able to articulate your ideas to colleagues and clients in a clear and concise manner.
Knowledge of Graphic Design Principles: An understanding of graphic design principles, such as color theory and typography, is essential for interactive designers.
Self-Motivated and Organized: Employers want to see that you can work independently and have the ability to stay organized and on top of tasks.
Open to Feedback: An important part of interactive design is being able to take feedback and criticism and use it to improve the design. Employers want to see that you are open to constructive criticism and can use it to enhance the user experience.
Key takeaways for an Interactive Designer resume
An interactive designer resume is an important tool for job seekers in the design industry. In order to stand out from the competition, it's essential to have a resume that is professional, concise, and up-to-date.
When creating an interactive designer resume, there are a few key takeaways that should be followed. Here are a few tips to consider:
Highlight Your Skills: Your resume should showcase the skills that you have acquired through your professional experience in the design industry. Include any technical and creative skills you have learned, as this will give employers a better idea of your capabilities.
Be Specific: When listing your experience, make sure you include specific details about the projects or tasks you completed. This will help employers understand the kind of work you have done and the type of design you are capable of.
Make It Easy to Read: Make sure your resume is easy on the eyes and organized. Use a simple font and structure your resume in a way that makes it easy to scan and find the information you want.
Include a Portfolio: When applying for a design job, employers want to see examples of your work. Including a link to your portfolio in your resume will give employers an immediate idea of your design skills and capabilities.
By following these key takeaways, you can create an impressive interactive designer resume that will help you stand out from the competition and land the design job you want.
Let us help you build
your Resume!
Make your resume more organized and attractive with our Resume Builder