Are you looking to break into the exciting world of game design and development? Do you want to be the go-to game master and make sure players have a great time? If so, then you need to have a resume that stands out from the crowd. Writing an effective game master resume can be a challenge, but with the right guidance and examples, you can craft an impressive document that will make employers take notice. In this guide, you'll learn how to create a game master resume that will help you land the job you want. We'll provide tips for writing each section of the resume, including a summary statement, education, and experience, as well as provide several examples for inspiration. Read on to learn how to write a top-notch game master resume!
If you didn't find what you were looking for, be sure to check out our complete library of resume examples.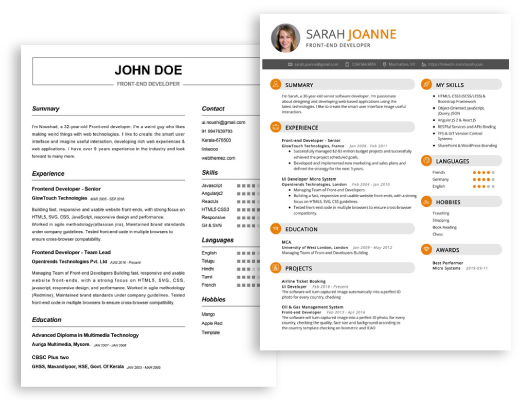 Start building your dream career today!
Create your professional resume in just 5 minutes with our easy-to-use resume builder!
Game Master Resume Examples
John Doe
Game Master
123 Main Street | Anytown, USA 99999 | Phone: (123) 456-7890 | Email: john.doe@email.com
I am an experienced Game Master with a deep passion for gaming and creating unique gaming experiences for players. I have over 5 years of experience in the gaming industry, working with both on- site and online games. I thrive in collaborative environments and have excellent communication and leadership skills. I am highly knowledgeable in gaming mechanics, game design, and gaming platforms. My extensive experience and knowledge make me a great asset to any game development team.
Core Skills:
Strong knowledge of game mechanics and game design
Excellent communication and leadership skills
Ability to troubleshoot issues and resolve conflicts
Proficient in various gaming platforms
Knowledge of game scripting and development
Professional Experience:
Game Master, Gaming Company, 2017- Present
Lead team of game moderators and assisted players with any technical or game- related issues
Created and updated game content for various gaming platforms
Reviewed game performance data to identify areas of improvement
Developed strategies for increasing user engagement
Game Developer, Gaming Company, 2015- 2017
Designed game mechanics and scripts for various platforms
Developed game assets, including character models, environments, and levels
Analyzed game metrics and identified areas of improvement
Collaborated with other developers to create innovative gaming experiences
Education:
Bachelor of Science in Computer Science, University of Location, 2012- 2015
Certified Game Developer, International Guild of Game Developers, 2016
Game Master Resume with No Experience
Enthusiastic and organized game master with great interpersonal skills and a passion for the gaming industry. Looking to use my skills to improve the quality of gaming experiences.
Skills
Exceptional problem- solving abilities
Superior communication skills
Exceptional customer service abilities
Ability to think creatively and innovatively
Ability to work in a fast- paced environment
Self- motivated with a strong work ethic
Proficient in Microsoft Office Suite
Familiar with HTML, CSS, and JavaScript
Responsibilities
Monitor and respond to customer inquiries
Resolve customer issues quickly and efficiently
Design and develop gaming experiences
Develop creative solutions to improve gaming quality
Troubleshoot game issues and identify areas for improvement
Write and update game documentation
Maintain game databases and related files
Game Master Resume with 2 Years of Experience
A highly motivated Game Master with two years of experience in the gaming industry. Possesses superb customer service and problem- solving skills, as well as excellent communication and interpersonal skills. Highly knowledgeable in game design, development, and operations. Skilled at managing and moderating player communities, and resolving conflicts between players. Ready to contribute to the overall success of the gaming organization by utilizing my experience and skills.
Core Skills:
Customer Service
Game Design
Game Development
Game Operations
Community Management
Conflict Resolution
Interpersonal Skills
Communication Skills
Responsibilities:
Assisted game developers in creating game content and developing game rules
Provided technical support and assistance to players in resolving game- related issues
Monitored player activity in various game servers and moderated player behavior
Assisted players in troubleshooting issues and resolving conflicts
Assisted in the development of new game designs and features
Maintained an up- to- date database of game rules and regulations
Planned and organized tournaments and events related to the game
Assisted players in understanding game mechanics and rules
Provided feedback and suggestions on game content and design
Game Master Resume with 5 Years of Experience
Driven and passionate Game Master with 5 years of experience in the gaming industry. An expert in content management, community engagement, and game development. Proven record of success in creating and maintaining a fun and engaging gaming environment for online and console players. Skilled in troubleshooting and problem- solving issues quickly, as well as providing customer service and support to players. A motivated team player that can work autonomously as well as collaboratively.
Core Skills:
Content Management
Community Engagement
Troubleshooting & Problem- Solving
Customer Service & Support
Game Development
Responsibilities:
Developed and implemented game content, rules, and rewards for online and console games
Facilitated in- game events to engage players and promote game features
Managed customer service inquiries related to gameplay and technical issues with a sense of urgency
Developed strategies to increase player retention and engagement
Monitored in- game activity and performance metrics to identify and address issues
Created and maintained a supportive and friendly environment for players to interact in
Game Master Resume with 7 Years of Experience
Experienced Game Master with 7 years of experience in the gaming industry. Proven track record of successfully managing customer service in game programs and providing a high level of customer support. Extensive knowledge of customer service theory, customer service techniques and customer service best practices. Possess a strong drive to exceed customer expectations and ensure customer satisfaction.
Core Skills:
Customer service
Ability to multi- task
Self- motivation
Problem solving
Attention to detail
Excellent communication skills
Excellent organizational skills
Responsibilities:
Identifying customer problems and helping them to resolve it
Working with customer support team to ensure customer satisfaction
Monitoring customer behavior and responding to inquiries
Developing customer service policies and procedures
Assisting customers with technical issues and setting up accounts
Developing and maintaining positive relationships with customers
Developing and implementing customer service training programs
Game Master Resume with 10 Years of Experience
Game Master with 10+ years of experience in providing customer service, overseeing game play, and managing projects. Proven ability to work collaboratively in a fast- paced environment and ensure that customer experience is exceptional. Possess a strong technical aptitude, excellent communication skills and the ability to handle any customer need.
Core Skills:
Proficient in game management software (e.g. Game Master Toolbox, World of Warcraft, Dungeons & Dragons)
Excellent customer service and communication skills
Strong knowledge of game industry
Highly organized and detail- oriented
Familiar with gaming hardware and software
Responsibilities:
Manage game operations, customer service, and game play
Develop and implement policies, procedures and processes
Provide customer support and troubleshoot any game- related issues
Monitor and maintain game servers and platforms
Analyze game performance and provide feedback and suggestions
Research and respond to customer feedback
Monitor online game forums and enforce game rules and regulations
Test game software and hardware for compatibility and performance
Game Master Resume with 15 Years of Experience
A highly- skilled and dedicated Game Master with 15 years of experience in the gaming industry. Extensive knowledge of gaming software and hardware, and a deep understanding of game design and development, as well as gaming industry trends. Dedicated to providing exceptional customer service, and adept in problem resolution, team collaboration and conflict resolution.
Core Skills:
Extensive experience in the gaming industry
Proficient in gaming software and hardware
Strong understanding of game design and development
Ability to provide excellent customer service
Excellent problem resolution and conflict resolution skills
Ability to work effectively in a team
Knowledge of gaming industry trends
Responsibilities:
Provide customer service and technical support to gaming clients
Assist in game design and development
Collaborate with gaming engineers to optimize gaming software
Develop and implement gaming strategies
Manage gaming operations, ensuring smooth and efficient operations
Troubleshoot gaming issues and resolve customer complaints
Monitor gaming industry trends and advise on appropriate strategies
Create and update gaming documentation and user manuals
In addition to this, be sure to check out our resume templates, resume formats, cover letter examples, job description, and career advice pages for more helpful tips and advice.
What should be included in a Game Master resume?
As a Game Master, you are an integral part of any game development team. Your role is to provide valuable insights into game elements, help create a cohesive gaming experience, and ensure that the game meets the standards of quality and creativity that the development team desires. In order to showcase your skills and experience, you should create a comprehensive Game Master resume.
Here are some elements to include:
Work experience: Include any professional experience related to game development, such as internships or volunteer work that you may have done. Also include any experience that you have that may be relevant to Game Mastership, such as programming or design.
Technical skills: Include any technical skills that you possess that may be useful for Game Mastership. This could include knowledge of game engines, programming languages (C++, JavaScript, etc.), or graphic design programs (Adobe Photoshop, etc.).
Education: If you have a degree in game development, include it. Even if you don't, include any education you may have that is related to game development, such as courses in game design or programming that you may have taken.
Relevant projects: Include any projects that you have worked on that may be relevant to Game Mastership. This could include game design projects, programming projects, or anything else related to game development.
Awards and recognition: If you have received any awards or recognition in the field of game development, include them. This could be awards from competitions or recognitions from publications or websites.
References: Include references from previous employers or from teachers who can vouch for your abilities.
By including these elements, you can create a comprehensive Game Master resume that will demonstrate your skills and experience. Good luck!
What is a good summary for a Game Master resume?
A good summary for a Game Master resume should emphasize your experience, education, and technical skills. Highlight your ability to manage teams, create detailed and engaging game content, and collaborate with other professionals. Showcase your proficiency in game design, production, and testing. Demonstrate your knowledge of game mechanics, rule sets, and coding. Emphasize your ability to stay organized and manage multiple tasks to ensure a successful gaming experience. Finally, ensure your Game Master resume summary highlights your passion for gaming and your enthusiasm to create and maintain the ultimate gaming experience.
What is a good objective for a Game Master resume?
A Game Master (GM) is responsible for overseeing the gaming experience for players in a variety of settings, including on-site, in-person, and virtual gaming. As a GM, your primary goal is to facilitate an enjoyable and engaging role-playing experience for players. When crafting your Game Master resume, it is important to emphasize the skills and attributes that make you successful in this role.
A good objective for a Game Master resume should include the following:
Ability to lead, coordinate, and facilitate group gaming sessions
Experienced in coaching players and providing feedback to help improve their game
Passion for creating and running immersive gaming experiences
Proficiency in using a range of gaming platforms, software, and tools
Excellent communication and problem-solving skills
Ability to stay calm and organized under pressure
How do you list Game Master skills on a resume?
When crafting a resume, one of the most important aspects to consider is how to properly list any skills, qualifications, and experiences related to being a Game Master. If you've worked as a Game Master in the past—or if it's a position you're actively looking for—it's important that you list your relevant skills and qualifications in a way that will capture the attention of potential employers. That's why we've put together this guide to help you make sure your resume stands out from the crowd.
When listing your Game Master skills on a resume, it's important to highlight your experience in the field. Here are some of the key skills to include on your resume:
Strong storytelling and improvising skills
Excellent communication and interpersonal skills
Ability to effectively lead a team
Ability to manage complex rules and game dynamics
Proficiency in game-specific software
Knowledge of gaming theory and design
Experience in creating and running campaigns
Ability to create engaging game experiences
Ability to think quickly and solve problems
These skills and qualifications should be listed on your resume in a way that makes them easy to identify and understand. In addition to listing your skills, you should also include any relevant experiences you have related to being a Game Master—for example, any games you've created or ran, or any workshops you've facilitated. It's important to make sure that your resume is up-to-date and includes any recent experiences you've had related to being a Game Master.
By taking the time to list your skills and experiences related to being a Game Master on your resume, you'll be sure to stand out from the crowd and make the best impression on potential employers.
What skills should I put on my resume for Game Master?
When writing a resume as a Game Master, it's important to highlight all of the skills you possess that make you a great fit for the position. Game Masters are responsible for providing a unique and enjoyable gaming experience for players, and employers will be looking for key skills that show you have the qualifications for the job. Here are the skills you should include on your resume to demonstrate your suitability for the role of a Game Master:
Ability to Create and Maintain Player Relationships: As a Game Master, you will need to be able to develop and maintain relationships with players, understand their individual needs, and ensure they have an enjoyable experience when playing. Include experiences such as customer service and training on your resume to demonstrate your ability to create and maintain relationships.
Excellent Communication Skills: A Game Master must have excellent communication skills in order to effectively manage players and explain game rules and objectives. Include examples on your resume of how you have communicated information in past roles, such as leading training sessions or giving presentations.
Attention to Detail: Game Masters must be able to pay close attention to detail when providing instructions or troubleshooting problems. Describe any experiences on your resume where you demonstrated your ability to pay close attention to detail, such as quality assurance roles or data entry positions.
Problem Solving Skills: As a Game Master, you must be able to quickly and effectively solve problems that arise during gameplay. Describe any problem solving experiences you've had in past roles, such as troubleshooting technical issues or resolving customer complaints.
Organization: Game Masters must be able to stay organized and manage multiple tasks at once. Include any experiences on your resume where you have demonstrated your organizational skills, such as leading a team or managing projects.
Including these skills on your resume will demonstrate to potential employers that you have the qualifications for the job of a Game Master. Showcase your experiences
Key takeaways for an Game Master resume
Game Masters are in charge of overseeing the operations of a gaming environment. They manage gaming resources, coordinate events, and ensure the overall success of a game. As such, it's important for Game Masters to have a well-crafted resume that showcases their abilities and experience. Here are some key takeaways for creating the perfect Game Master resume:
Highlight Your Qualifications: Make sure to include all relevant qualifications, such as certifications, experience, and other skills that make you unique. Be sure to list any specialties or unique skills that you possess that are applicable to the job.
Demonstrate Your Experience: Provide examples of previous experience such as managing a game, coordinating events, or managing resources.
Showcase Your Professionalism: Demonstrate your professionalism by including how you've gone above and beyond the expected duties of a Game Master.
Make Your Resume Interactive: Make your resume more interactive and memorable by including visuals, such as screenshots of your work or videos of gaming events you've managed.
Use Relevant Keywords: Ensure that your resume includes the keywords used by the employer in the job description. This will help your resume stand out and increase your chances of getting an interview.
By following these tips, you'll have a well-crafted resume that will help you stand out as an outstanding Game Master. Good luck!
Let us help you build
your Resume!
Make your resume more organized and attractive with our Resume Builder