Write here inWriting an effective game artist resume is a critical component of job search success. Having a professional and comprehensive resume is the key to landing a great job in the gaming industry. To help you create a resume that stands out, this guide will provide tips on how to write an effective resume, review examples of a well-crafted resume, and provide actionable advice on crafting your own winning resume. With this guide, you'll be on your way to having the perfect game artist resume in no time.
If you didn't find what you were looking for, be sure to check out our complete library of resume examples.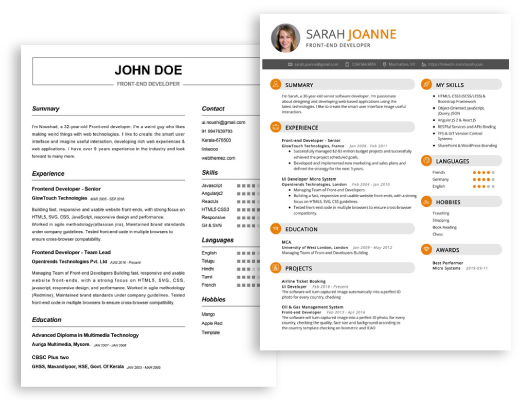 Start building your dream career today!
Create your professional resume in just 5 minutes with our easy-to-use resume builder!
Game Artist Resume Examples
John Doe
Game Artist
123 Main Street | Anytown, USA 99999 | Phone: (123) 456-7890 | Email: john.doe@email.com
I am a highly experienced and creative Game Artist, with extensive experience in the design, development, and deployment of gaming projects and assets. With a proven track record of producing high- quality visuals, I am well versed in a variety of game engines, programs, and platforms. My work has been featured in multiple award- winning games, and I am always looking for new opportunities to collaborate and create amazing visuals.
Core Skills:
Concept and visual development
3D modeling and texturing
UI/UX design
Motion graphics
2D animation
Rigging and animation
Scripting and coding
Game engine integration
Asset management
Professional Experience:
Senior Game Artist, XYZ Games (2014- Present)
Developed detailed 3D models and textures for game assets
Constructed 3D environment and props for games
Created animation, motion graphics, and UI designs for multiple projects
Implemented lighting, particle effects, and other special effects
Developed scripts, code, and game engine integration for projects
Collaborated with team to improve workflow and optimize assets
Education:
Bachelor of Arts in Computer Animation, ABC University, 2012
Game Artist Resume with No Experience
Recent college graduate with a degree in Fine Arts looking to break into the game artist field. Passionate about creating games, and eager to learn more about the game development process.
Skills
Creative and imaginative
Proficient in Adobe Photoshop and 2D animation
Excellent eye for detail
Strong organizational and time- management
Excellent verbal and written communication skills
Responsibilities
Design characters, backgrounds, objects, and other visual elements for games
Work with the game development team to create a cohesive and aesthetically pleasing gaming experience
Manage and prioritize tasks to meet deadlines
Ensure artwork meets quality standards and is consistent with the game's overall look and feel
Collaborate with other artists to ensure artwork fits within the game
Conceptualize ideas and create detailed sketches and illustrations
Research and stay up to date on other game artist's work and trends in the industry
Game Artist Resume with 2 Years of Experience
I am an experienced game artist proficient in creating 3D models, textures, and animations for a range of video games. I have two years of professional experience working in the game industry and am passionate about creating immersive and engaging game experiences. I have a strong understanding of game development processes and am well- versed in the use of 3D modeling, texturing, and animation software. My attention to detail and dedication to producing quality work ensures that I consistently deliver projects to a high standard.
Core Skills:
3D Modeling
Texturing
Animation
Lighting
Rendering
Creative Problem- Solving
Game Development Processes
Responsibilities:
Design 3D models for game characters and environments
Create textures for 3D models
Animate 3D models
Add lighting and rendering effects to 3D models
Use creative problem- solving skills to come up with innovative solutions to game development issues
Collaborate with game developers, artists, and other stakeholders to ensure game development processes are followed
Game Artist Resume with 5 Years of Experience
A seasoned game artist with over 5 years of solid experience in concept art, illustration, and UI/UX design for the interactive media industry. Highly creative, organized, and detail- oriented; adept at developing visually stunning and immersive game experience for a variety of platforms. Proven track record of creating art assets for a range of projects from AAA console games to casual mobile titles. Possesses excellent communication and teamwork skills, allowing for productive collaboration with artists and developers. Committed to using the latest tools and technologies to produce top- notch results.
Core Skills:
Concept Art
Illustration
Game Art Production
UI/UX Design
Asset Management
2D/3D Modeling
Rigging
Animation
Texture Mapping
3D Lighting
Game Engine Integration
Responsibilities:
Developed concept art and illustrations for characters, environment and UI/UX design elements
Created 3D models, rigging and animation for game characters and environment
Coordinated game asset production and collaborated with the art team to meet deadlines and ensure quality
Applied texture mapping and 3D lighting effects to characters and environments for realistic game visuals
Integrated 3D models and animations into game engine to create interactive experiences
Optimized art assets for multiple platforms including console, mobile, and web- based
Game Artist Resume with 7 Years of Experience
I am a highly experienced and creative game artist with seven years of experience in the game industry. I specialize in creating character and level models using a variety of modeling and texturing software, as well as creating concept art and UI designs for games. I have a strong understanding of game engine principles, as well as a good eye for color and composition. My skills include both 2D and 3D modeling, texturing, and animation. I have a keen eye for detail and am able to work efficiently and creatively in both a solo and team environment.
Core Skills:
3D Modeling and Texturing
2D Modeling and Texturing
Character Design
Level Design
Animation
Concept Art
UI Design
Game Engine Principles
Color and Composition
Responsibilities:
Developing 3D models, textures, and animations for characters and environments
Creating concept art and UI designs for games
Designing and creating levels for games
Implementing models, textures, and animation into the game engine
Optimizing 3D models, textures, and animations for gaming hardware platforms
Collaborating with game designers and developers to ensure the best user experience
Testing and troubleshooting game builds
Staying up to date on industry trends and techniques
Game Artist Resume with 10 Years of Experience
A highly experienced, creative, and detail- oriented game artist with 10 years of experience in the video game industry. Skilled in the creation of various game graphics and assets, including 3d models, textures, and animations. Possesses a deep understanding of user experience and the ability to communicate effectively in order to conceptualize and create assets that are highly functional and visually appealing. Committed to staying at the forefront of the industry by continuously learning and honing skills with the latest techniques and technologies.
Core Skills:
Strong technical foundation in 3D modeling and animation techniques
Proficiency with Adobe Photoshop, Maya, and other graphics and animation software
Ability to work collaboratively with other departments, including programming, design, and audio
Excellent understanding of user experience and game design principles
Strong storytelling and visual communication skills
Strong attention to detail
Responsibilities:
Creating high- quality 3D models, textures, and animations for characters, objects, and environments
Designing and creating promotional assets, such as logos, banners, and screenshots
Collaborating with other departments to ensure visuals meet the technical and creative specifications
Developing concepts and visual story elements for game levels, scenes, and characters
Creating storyboards and animatics for game scenes and cut- scenes
Testing game art assets for bugs and errors before release
Game Artist Resume with 15 Years of Experience
Dynamic, highly motivated and experienced game artist with 15 years of experience in game development, concept art, 3D modeling and animation, and UI/UX design. Proven success in creating visually stunning, creative, and innovative designs for games in a variety of genres. Skilled in a range of software such as Adobe Illustrator, Photoshop, 3D Studio Max, and Unity 3D. Passionate about creating engaging, immersive experiences for players and able to work both collaboratively and independently.
Core Skills:
2D and 3D art development
Animation and rigging
Modeling and texturing
Graphic design and UI/UX design
Software knowledge: Adobe Photoshop, Adobe Illustrator, 3D Studio Max, Unity 3D
Artistic concepts, color theory, and illustration
Understanding game design and development
Responsibilities:
Develop concept art, characters, environments, and game assets
Create high- quality 3D models, animating them, and creating textures
Design user interfaces, menus and HUDs
Create interactive prototypes and implement them into Unity 3D
Coordinate with game designers, developers, and artists
Provide feedback and assessments on other artists' work and help to define art direction
Participate in asset production planning and technical execution
In addition to this, be sure to check out our resume templates, resume formats, cover letter examples, job description, and career advice pages for more helpful tips and advice.
What should be included in a Game Artist resume?
The resume of a Game Artist is an important document for a job search. It's the first impression a potential employer will have of your work experience, skills, and qualifications. Here are some tips on what should be included in a Game Artist resume:
Education and Certifications: Include any degrees or certificates you have earned relating to game art, such as a Bachelor's degree in game design, a certificate in 3D modeling, or a game art and animation program.
Relevant Work Experience: Include any game art-related jobs you've had, including freelance work and contracting. List any special skills you used in these roles, such as animation, modeling, texturing, or illustration.
Technical Skills: List any software you are proficient with, such as Adobe Photoshop, Unity, Maya, 3ds Max, or ZBrush.
Portfolio: Include a link to your online portfolio, which should feature your best game art projects.
Professional References: Include a list of past employers or supervisors who can speak on your work experience and qualifications.
Additional Skills: Include any additional skills you have, such as knowledge of coding languages, storyboarding, or illustration.
By including these elements in your Game Artist resume, you can ensure that potential employers get a comprehensive overview of your experience and skills.
What is a good summary for a Game Artist resume?
A good summary for a Game Artist resume should showcase the most impressive and relevant skills and experience the individual has. This summary should highlight the individual's experience in creating immersive visuals, animation and special effects for video games. It should also demonstrate the individual's experience in using the latest technology and software tools to design, develop and produce digital artwork. Additionally, the summary should demonstrate the Game Artist's ability to work collaboratively with a team to create an engaging gaming experience. This summary should reflect the individual's creativity, technical skills and enthusiasm for game development.
What is a good objective for a Game Artist resume?
A game artist resume is an important document that outlines your skills and qualifications in the gaming industry. Creating a strong resume can help you stand out when applying for a job in the gaming industry. Here are some tips for writing an effective game artist resume objective:
Highlight your creativity: Showcase your creative skills and ability to think outside the box.
Demonstrate your technical proficiency: Demonstrate your technical expertise and any special skills that you have acquired in the gaming industry.
Focus on problem-solving skills: Showcase your ability to solve problems quickly and efficiently.
Showcase your portfolio: Include a portfolio of your work that is relevant to the job you are applying for.
Showcase your communication skills: A resume objective should also include your ability to communicate effectively with team members and clients.
By following these tips, you can create a strong resume objective that will help you stand out in the gaming industry. Keep in mind that a well-crafted resume objective can make the difference between getting an interview and not. So make sure to create a strong and clear objective that showcases your skills and qualifications.
How do you list Game Artist skills on a resume?
Game Artist skills are important to list on your resume if you're seeking a career in the gaming industry. Being able to showcase your experience and qualifications as a game artist can give you a competitive edge in the job market.
Your resume should include the following skills when listing your experience as a game artist:
Character Modeling: Demonstrate your experience creating 3D models of characters and creatures.
Texturing: Showcase how you can use your skills in texturing to create textures and materials for characters and environments.
Animation: Highlight your skill in creating animations for characters in a game.
Environment Modeling: Explain your ability to create 3D models of environments.
Lighting: Display your expertise in creating lighting to create atmosphere in a game.
Storyboarding: Point out your experience in creating storyboards for game designs.
Concept Art: Showcase your ability to create concept art for game designs.
Rigging: Demonstrate your experience in rigging characters and models for animation.
By including these skills on your resume, you can demonstrate your qualifications as a game artist and help your resume stand out.
What skills should I put on my resume for Game Artist?
Are you looking to switch careers and become a game artist? If so, you need to know what skills to highlight on your resume. Game artists play a crucial role in creating the graphics and artwork that make video games entertaining, immersive, and engaging. Showing potential employers that you have the necessary skills and abilities will give you the best chance of being hired.
Here are some skills to consider highlighting on your resume when applying for game artist positions:
Knowledge and experience with 3D art tools: Game artists use 3D art tools to create assets for the game. Include any experience you have with industry standard tools like Autodesk Maya, Autodesk 3ds Max, and Adobe Photoshop.
Knowledge of game engine systems: It is important for game artists to be familiar with game engines such as Unreal Engine, Unity, and CryEngine. Showcase your knowledge of game engines on your resume to demonstrate that you can create assets for the game engine.
Ability to develop 2D and 3D art assets: The ability to create both 2D and 3D art assets is a must-have skill for game artists. Showcase your experience creating art assets for characters, environments, and objects.
Understanding of game development cycles: Employers want to know that you understand the game development cycle and can create assets that adhere to the schedule. Showcase your experience creating assets for game development cycles and your understanding of the different stages of game development.
Strong drawing, painting, and sculpting skills: Basic drawing, painting, and sculpting skills are essential for game artists. Showcase your abilities in these areas on your resume.
Understanding of animation principles: Knowledge of animation principles such as timing and spacing, weight and balance, and forms and shapes will make you a more desirable candidate. Highlight any experience you have with animation principles on your resume.
Key takeaways for an Game Artist resume
If you are a game artist, you know how important it is to have a well-crafted resume. Your resume is often the first impression a potential employer or client has of you, so you want it to be as impressive as possible. Here are some key takeaways when crafting your game artist resume:
Showcase Your Skills: Your resume should not only list your skills, but also demonstrate and explain how you are using them. Show off the projects you've completed, the challenges you faced, and the successes you achieved.
Highlight Your Portfolio: Your portfolio is a great way to show employers your best work. Include links to your portfolio, showcase your best projects, and explain the details of how you created them.
Include Your Education: Game artists often need a degree in a related field, such as graphic design or animation. Make sure to include any relevant degrees and certifications that you have earned.
Use the Right Format: Your resume should be easy to read and clear to understand. Consider using bullet points and short paragraphs to make it easy to skim. Be sure to use a professional font, such as Arial or Times New Roman, and limit the number of fonts you use.
Use the Right Keywords: Include relevant keywords throughout your resume. This will help ensure that your resume is picked up in employer searches.
By keeping these key takeaways in mind, you can ensure that your game artist resume is as impressive as possible. Good luck!
Let us help you build
your Resume!
Make your resume more organized and attractive with our Resume Builder