If you're a freelance designer looking for a job, it's essential that you create a standout resume that highlights your skills and experience. Writing a great resume can be a daunting task, but with the right tips and guidance, it can be easier than you think. This guide will provide tips and advice on how to write a freelance designer resume, as well as examples of successful resumes that you can use as a starting point. With a little bit of work and creativity, your resume could be the key to your next dream job.
If you didn't find what you were looking for, be sure to check out our complete library of resume examples.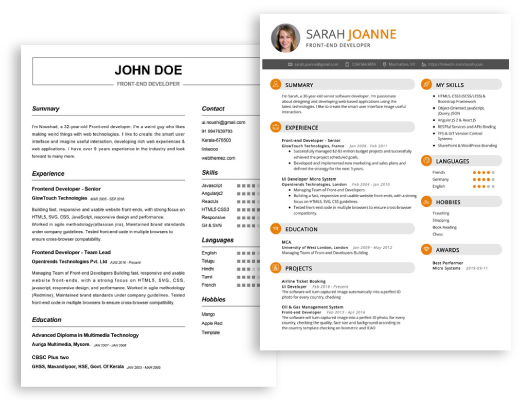 Start building your dream career today!
Create your professional resume in just 5 minutes with our easy-to-use resume builder!
Freelance Designer Resume Examples
John Doe
Freelance Designer
123 Main Street | Anytown, USA 99999 | Phone: (123) 456-7890 | Email: john.doe@email.com
Highly motivated, creative and dedicated Freelance Designer with over 10 years of experience creating visual designs for a wide range of clients. Possess excellent eye for detail and a flair for creating visuals with a clear, consistent, and cohesive message. Skilled in design software, web design, and UI/UX design, with a proven ability to bring a client's vision to life.
Core Skills:
Graphic Design
Web Design
UI/UX Design
Adobe Photoshop
Adobe Illustrator
Adobe InDesign
HTML and CSS
Typography
Professional Experience:
Freelance Designer, 2018- Present
Create visuals for a wide range of projects, including web design, UI/UX design, logo design, and branding
Develop designs according to clients' needs and specifications
Collaborate with clients to ensure visual elements are properly implemented
Ensure designs are cohesive and consistent with the client's message
Develop prototypes and mockups to demonstrate design concepts
Manage multiple projects simultaneously
Lead Designer, XYZ Design Co., 2015- 2018
Lead design projects for clients in the retail, hospitality, and technology industries
Created visuals for web design, logo design, and branding
Established and maintained relationships with clients
Implemented coding to ensure designs ran properly
Provided feedback and guidance to design team
Education:
Bachelor of Arts in Graphic Design, University of California, Berkeley, 2012
Freelance Designer Resume with No Experience
Recent graduate with a degree in Graphic Design looking to leverage creative and problem solving skills to make an impact as a Freelance Designer. Possess basic knowledge of Adobe Creative Suite, including InDesign, Photoshop, and Illustrator, as well as the ability to troubleshoot technical issues.
Skills:
Excellent written and verbal communication
Proficient in Adobe Creative Suite
Excellent problem solving and critical thinking skills
Highly organized and detail- oriented
Technologically savvy
Responsibilities:
Collaborating with clients to create projects that meet their needs
Designing and creating visually appealing layouts
Developing and implementing creative solutions to design challenges
Maintaining and organizing digital files
Managing multiple tasks and ensuring timely completion of projects
Creating and editing graphics for print material and websites
Providing technical assistance and troubleshooting for design software
Staying current with industry trends and design best practices
Freelance Designer Resume with 2 Years of Experience
Talented and experienced freelance designer, with two years of experience in creating web designs, logos, illustrations, and other graphic projects. Intuitive in the usage of graphic design tools and technologies, with excellent communication and problem- solving skills. A highly motivated individual with the ability to prioritize tasks efficiently and achieve goals.
Core Skills:
Advanced knowledge of Adobe Creative Suite, including Photoshop, Illustrator, and InDesign
Expertise in designing web and mobile applications
Skilled in creating and modifying logos, illustrations, and other graphic elements
Proficient in HTML, CSS, and JavaScript
Strong communication and interpersonal skills
Ability to work independently and collaborate with clients
Knowledge of web and user experience design principles
Responsibilities:
Developing and designing websites, applications, logos, and other graphic elements
Creating and modifying illustrations, logos, and other graphic elements
Implementing HTML, CSS, and JavaScript elements to enhance the functionality and usability of websites and applications
Working closely with clients to understand their needs and designing solutions that meet their specifications
Testing design solutions to ensure they meet the requirements of the client
Producing detailed sketches, designs, and digital prototypes
Troubleshooting technical issues and ensuring the design solutions are bug- free
Freelance Designer Resume with 5 Years of Experience
Creative and motivated Freelance Designer with 5 years of experience in designing and creating visually stunning and compelling graphics for a variety of clients. Possess a highly creative and professional attitude with a track record of success in delivering exceptional graphics on time and with an eye for detail. Possesses a good eye for color, form, and composition, as well as a passion for creating visually appealing graphics.
Core Skills:
Strong experience with designing and creating graphics
Proficient in Photoshop, Illustrator, and InDesign
Excellent knowledge of color, form, and composition
Able to take direction and feedback to ensure the highest quality product
Strong ability to meet deadlines
Excellent communication and interpersonal skills
Responsibilities:
Developing and creating visuals for clients in a variety of formats
Collaborating with clients to ensure that the design meets their needs and expectations
Conducting research to gather information on graphics needed for client projects
Providing feedback and input on the design and layout of the project
Managing multiple projects, ensuring timely completion
Suggesting improvements or modifications to existing designs as needed
Freelance Designer Resume with 7 Years of Experience
Accomplished freelance designer with 7 years of experience in creating digital and print designs. Possesses a deep understanding of design principles and marketing strategies to create eye- catching and effective designs that resonates with the target audience. Possesses an advanced skill set in a variety of design tools and software, as well as experience in coordinating with various stakeholders on projects. Experienced in delivering projects within the desired timeline and budget.
Core Skills:
Design & Illustration
Project Coordination
Marketing Strategies
Software & Tools
Client Relationship
Time & Budget Management
Responsibilities:
Developed cutting- edge designs for web and print projects based on client requirements
Coordinated with stakeholders to ensure smooth operation of projects
Sourcing appropriate images for designs
Developed marketing strategies for campaigns
Created visuals for digital campaigns
Managed client relationships to ensure customer satisfaction
Developed branding materials such as logos, banners, flyers, etc.
Ensured timely delivery of projects within the budget
Freelance Designer Resume with 10 Years of Experience
A talented and experienced Freelance Designer with 10 years of experience in the design industry. Highly skilled in creating innovative and unique designs while maintaining a high level of attention to detail. Possesses a comprehensive understanding of color theory, typography, and other design fundamentals. Works with clients to understand project requirements and design specifications. Has a proven track record of creating high- quality projects that meet their clients' needs.
Core Skills:
Graphic Design
Layout Design
Color Theory
Typography
Creative Problem Solving
Adobe Creative Suite
InDesign
Photoshop
Illustrator
Responsibilities:
Meeting with clients to discuss project objectives and design requirements
Creating custom graphic designs for various projects
Generating new ideas and concepts for design projects
Developing designs that adhere to client specifications and brand guidelines
Proofreading and editing design elements to ensure accuracy and quality
Producing web- friendly graphics and vector images
Maintaining accurate records of designs and related materials
Working with team members to ensure timely completion of design projects
Freelance Designer Resume with 15 Years of Experience
I am a highly creative and results- driven freelance graphic designer with over 15 years of experience in the design industry. Throughout my extensive career, I have consistently delivered unique, well- crafted digital designs tailored to the needs of individual clients. I am highly proficient in a wide range of design tools and software such as Adobe Photoshop, Adobe Illustrator and Adobe InDesign. I am also able to collaborate effectively with clients, team members, and various stakeholders.
Core Skills:
Extensive knowledge and experience in digital design
Strong collaboration and communication skills
Experienced in Adobe Photoshop, Adobe Illustrator and Adobe InDesign
Ability to adhere to tight deadlines
Creative and artistic eye for detail
Responsibilities:
Designing unique, well- crafted digital designs tailored to individual client's needs
Collaborating effectively with clients, team members, and various stakeholders
Developing innovative design concepts, graphics and layouts
Ensuring designs adhere to brand standards
Preparing rough drafts and presenting ideas
Revising designs according to feedback and other requirements
Meeting tight deadlines while maintaining high quality standards
In addition to this, be sure to check out our resume templates, resume formats, cover letter examples, job description, and career advice pages for more helpful tips and advice.
What should be included in a Freelance Designer resume?
When applying for a freelance designer role, an effective resume is key to getting an interview. A great resume should include the following components:
Summary: Start off your resume with a brief summary of your qualifications and relevant experience. This should be tailored to the specific freelance designer role that you are applying to.
Education: Include your highest degree of educational attainment, as well as any courses or certifications in design software or relevant experience that you have completed.
Experience: List out all of your professional experience in a chronological order, starting with the most recent. Include any freelance design work you have completed, as well as any relevant full-time and part-time jobs.
Software Knowledge: Highlight any software that you are proficient in, such as Adobe Creative Suite, Sketch, or other design software.
Portfolio: Include a link to your portfolio website or online portfolio, showcasing your best work.
References: Include the contact information for two to three professional references who have worked with or supervised you in the past.
By including this information in your resume, you can help demonstrate to potential employers that you are the ideal candidate for the freelance designer role.
What is a good summary for a Freelance Designer resume?
As a Freelance Designer, you need to have a resume that accurately reflects your skills and experience. A good summary for a Freelance Designer resume should include a brief overview of your work experience, design portfolio, and other relevant information. The summary should be concise and easy to read; highlighting your strongest skills, qualifications, and accomplishments. It should also include any relevant certifications or awards that may give you an edge over other applicants. Additionally, the summary should provide a basic understanding of the types of projects you typically take on, as well as your design style. Writing a good summary for a Freelance Designer resume will help ensure that your application is given the attention it deserves.
What is a good objective for a Freelance Designer resume?
A freelance designer resume should emphasize the skills, experience, and accomplishments that are relevant to the job that you are applying for. A good objective statement should reflect your goals and objectives and should be tailored to each job you apply for.
Here are some examples of good objectives for a freelance designer resume:
To use my design skills and experience to create innovative, aesthetically pleasing designs that meet and exceed client expectations
To provide excellent customer service and ensure that all designs are completed in a timely and accurate manner
To utilize my creative skills and knowledge to develop engaging, visually attractive designs that will captivate viewers
To use my experience in graphic design and layout to create high quality, professional presentations for clients
To collaborate with clients to develop and create unique, eye-catching designs that will achieve desired results
To utilize my experience in product branding and logo design to develop unique visual identities for companies or organizations
To contribute my design skills and expertise to a team environment where I can help to create and develop unique, visually appealing designs
To create compelling visuals that are consistent with brand standards and effectively communicate the desired message
To bring my expertise in web design and development to create user-friendly websites that will be engaging and visually appealing
To continually update my skills and knowledge in graphic design to meet the changing needs of the industry.
How do you list Freelance Designer skills on a resume?
Freelance designers are creative professionals who are self-employed and work on various design projects. They often need to showcase their skills to potential clients, and one of the best ways to do this is to list these skills on a resume. Here are some tips on how to list freelance designer skills on a resume.
Start by creating a separate section or subsection on your resume specifically for your freelance design skills. This will make it easier for employers to quickly find and review your skills.
List your most relevant and impressive skills first, such as your expertise in graphic design, web design, and UI/UX design.
Include your proficiency in programs like Adobe Creative Suite, such as Photoshop, Illustrator, and InDesign.
Describe your experience with different coding languages, such as HTML and CSS, if you are comfortable with them.
Highlight your creativity and demonstrate how it has been applied to past projects.
Showcase your understanding of color theory and how it can be used to create visually appealing designs.
Bring attention to your ability to work independently and manage multiple projects at the same time.
By providing a clear and concise representation of your freelance design skills, employers are more likely to be interested in hiring you for their projects and taking a chance on your services. Make sure to keep your list of skills updated as your experience and skill level grows.
What skills should I put on my resume for Freelance Designer?
For a freelance designer, having the right skills on your resume will be essential to your success. Not only will it help employers identify if you're a right fit for their job, but it will also showcase your expertise in the field and make you more attractive to potential employers. Here are some skills to consider including on your resume when you're a freelance designer:
Digital Design: Having strong digital design skills should be a top priority for freelance designers. This includes being proficient in using the latest software, such as Adobe Creative Suite, as well as being well-versed in colors, shapes, and typography.
Art Direction: As a freelance designer, you will likely be responsible for planning and executing projects. This requires having a good eye for art direction and being able to stay consistent with the project's overall look and feel.
Problem Solving: Good problem-solving skills are important for freelance designers, as they often have to come up with creative solutions to design problems. Being able to think outside the box and come up with interesting solutions is a valuable asset for any freelance designer.
Communication: A key skill for freelance designers is the ability to communicate effectively with clients and colleagues. This includes both verbal and written communication, as well as being able to confidently present ideas and designs.
Time Management: Freelance designers often juggle multiple projects at once, so having good time management skills is essential. Being able to manage your time effectively will help ensure that projects are completed on time and to the highest standard.
By highlighting these skills on your resume, you'll be able to demonstrate to employers that you have the skills and expertise they're looking for in a freelance designer.
Key takeaways for an Freelance Designer resume
Freelance designers need a resume that can effectively showcase their skills, experiences, and talents to potential clients. A well-crafted resume will demonstrate why a freelancer is the right fit for a project and set them apart from the competition. With the right details and format, a resume can be an invaluable tool in helping a freelancer get their foot in the door. Here are some key takeaways to consider when crafting a resume for a freelance designer:
Showcase Your Design Skills: Highlight specific design skills, such as software experiences, coding skills, and other technical know-how. Showcase your portfolio, with examples of past work and client testimonials.
Focus on Your Work Experiences: Include work experience that is relevant to design and the type of project you are trying to get. This may include internships, volunteer positions, and other related work.
Include Educational Background: Include any relevant educational experiences, such as courses, certifications, and degrees.
Highlight Professional Memberships: Mention any professional memberships or awards that you have earned.
Be Concise and Clear: Keep your resume to one or two pages, and make sure it is easy to read and clear. Use language that is easy to understand and avoid jargon.
Customize Your Resume: Customize your resume for each position you apply for, so that it is tailored to the job description and the requirements of the company.
By following these key takeaways, you can create an effective freelance designer resume that will help you get the job you want.
Let us help you build
your Resume!
Make your resume more organized and attractive with our Resume Builder