Every job seeker knows the importance of a well-crafted resume to secure an interview and eventual job offer. However, for those in the world of design, creating a resume can be more daunting. After all, a designer's resume should demonstrate not only their work experience, but also their specific skills and capabilities in graphic, web, and digital design. To help guide designers through the process of creating an effective resume, this article will provide tips, advice, and examples of how to craft a successful resume.
If you didn't find what you were looking for, be sure to check out our complete library of resume examples.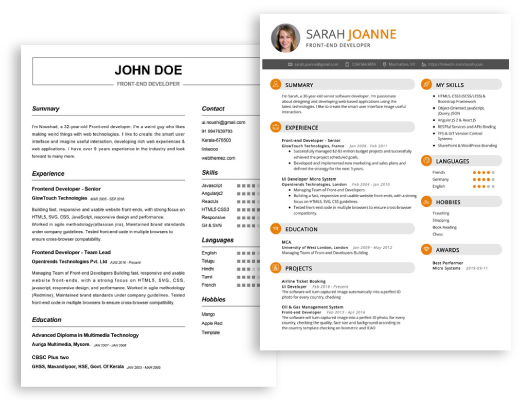 Start building your dream career today!
Create your professional resume in just 5 minutes with our easy-to-use resume builder!
Designer Resume Examples
John Doe
Designer
123 Main Street | Anytown, USA 99999 | Phone: (123) 456-7890 | Email: john.doe@email.com
A highly motivated and detail- oriented designer with over 6 years of experience in creating innovative designs for a variety of projects. Possesses a strong understanding of typography, color theory, and other design principles, as well as a thorough knowledge of the latest software and technologies. Committed to delivering projects on time and exceeding client expectations.
Core Skills:
Product Design
Brand Development
Typography
Photoshop
Illustrator
InDesign
UI/UX Design
Wireframing
Prototyping
Professional Experience:
Senior Designer, ABC Design Studio (2015 – Present)
Created and developed concepts for a wide range of digital and print media
Developed branding and visual identity solutions for clients
Collaborated closely with other departments to ensure project requirements are met
Handled all stages of design projects, from initial concepts to final delivery
Developed prototypes and wireframes for UI/UX design projects
Education:
Bachelor of Fine Arts in Graphic Design, XYZ University (2010 – 2015)
Designer Resume with No Experience
Recent design graduate with a passion for creating beautiful and user- friendly products. Good eye for detail and ability to work as part of a team. Seeking to apply my creativity and knowledge to a full- time design role.
Skills
Adobe Creative Suite: Photoshop, Illustrator, Sketch
Logo design
UX/UI design
Iterative design
Graphic design
Branding
Print design
Typography
Responsive design
HTML/CSS
Responsibilities
Create innovative and intuitive user interface designs
Develop beautiful and engaging designs for logos, web pages, and mobile apps
Collaborate with other designers, developers, and product managers to produce high- quality products
Refine existing designs to match changing needs and client expectations
Create detailed wireframes and user flows to effectively communicate product ideas
Remain up to date with the latest design trends and technologies
Designer Resume with 2 Years of Experience
An experienced and creative Designer with 2+ years of experience in the creative field. Possessing exceptional knowledge of Adobe Creative Suite, graphic design, and user interface design. Highly adept in developing innovative solutions to design problems, creating high- impact designs, and ensuring customer satisfaction.
Core Skills:
Creative problem solving
Adobe Creative Suite
Graphic design
User interface design
Interactive design
Print design
Illustration
Brand identity
Storyboarding
Photoshop
Responsibilities:
Develop innovative solutions to design problems
Create high- impact designs that meet customer needs
Design user interfaces and layouts for websites, apps, and other digital products
Create illustrations and graphics for various projects
Develop branding materials for clients
Create storyboards for video and animation projects
Produce print designs for promotional materials and marketing collateral
Collaborate with other designers, developers, and stakeholders to ensure customer satisfaction
Designer Resume with 5 Years of Experience
I am an experienced designer with 5+ years of successful experience in creating projects that achieve aesthetic, functional and cost goals. I have an excellent eye for detail and an understanding of how to plan, design and execute high- quality projects. I am an excellent communicator and work well with clients, colleagues and other professionals, and I am very passionate about creating projects that make an impact on people's lives.
Core Skills:
Creative Design
Graphic Design
Layout Design
Project Management
Communication
Interaction Design
Responsibilities:
Developing creative designs and layouts for projects
Producing concepts, sketches, and prototypes for projects
Developing and maintaining project budgets, timelines and deliverables
Ensuring projects meet established goals and standards
Collaborating with other team members to ensure projects are completed on time and on budget
Conducting research and working closely with clients to determine needs and preferences
Developing and maintaining strong relationships with clients and vendors
Providing creative direction and design feedback to team members
Designer Resume with 7 Years of Experience
A dedicated and organized professional with 7 years of experience in the design field, I have a proven track record of success in developing innovative designs that meet the unique needs of clients. With excellent communication and problem- solving abilities, I have been highly successful in creating digital media designs and executing marketing strategies for clients. My skills span the full range of digital design, from understanding of user interface design and user experience, to page layout and design, and graphic design.
Core Skills:
User Interface & User Experience Design
Graphic Design
Page Layout & Design
Adobe Creative Suite
Marketing Strategy
Project Management
Platform Development
Responsibilities:
Developing creative concepts for user interface and user experience designs.
Managing graphic design projects from conception to completion.
Creating page layouts and design elements for digital media.
Creating engaging visuals for websites, mobile apps, and other digital platforms.
Developing and executing marketing strategies for clients.
Managing multiple projects and ensuring deadlines are met.
Collaborating with other designers, developers, and stakeholders.
Designer Resume with 10 Years of Experience
A results driven professional with 10+ years of experience in design and multimedia production. Highly skilled in developing effective visual concepts for products, services, and events. Proven ability to present a vision that is accurately communicated to the clientele. Successful track record in meeting deadlines and exceeding expectations.
Core Skills:
Ability to create compelling visuals and multimedia elements
Experience in developing effective visual concepts to represent products, services, and events
Expert knowledge in Adobe Creative Suite
Skilled in creating creative marketing campaigns
Ability to effectively manage projects
Exceptional communication, problem solving, and organization skills
Responsibilities:
Developed and designed visuals and multimedia elements for products, services, and events
Developed creative marketing campaigns to help promote the brand
Collaborated with clients to ensure design vision is accurately communicated
Managed projects and met deadlines
Designed print materials such as brochures, flyers, banners, and posters
Created compelling visuals for websites, social media platforms, and other digital media platforms
Developed promotional materials for seminars, conferences, and other events
Designer Resume with 15 Years of Experience
With over 15 years of experience in the design industry, I have a wealth of knowledge in the development and implementation of creative concepts and materials. I am well- versed in all facets of the design process, from concept to production, and have the skills and abilities to design compelling visuals for a variety of applications. I am a creative problem solver and have a proven track record of developing effective designs that meet the client's needs.
Core Skills:
Expertise in Adobe Creative Suite (Photoshop, Illustrator, InDesign, etc.)
Proficiency in graphic design principles, layout, typography, and color theory
Ability to conceptualize and execute creative solutions
Excellent communication and organizational skills
Knowledge of UI/UX design
Expertise in print and web production process
Proven ability to work independently and collaboratively
Responsibilities:
Developing creative concepts that meet the client's needs
Designing visuals for print, web, and other materials
Collaborating with other designers, copywriters, and stakeholders on projects
Creating mockups and prototypes for user testing
Ensuring projects adhere to brand guidelines
Developing marketing materials, such as brochures, flyers, logos, and advertisements
Working with printers and vendors to ensure quality production of materials
In addition to this, be sure to check out our resume templates, resume formats, cover letter examples, job description, and career advice pages for more helpful tips and advice.
What should be included in a Designer resume?
A designer's resume is an important document as it serves as a record of their accomplishments and experience. It should accurately reflect their skills and experience in order to stand out from the competition. Here are some key elements that should be included in a designer's resume:
Education: Include any degrees or qualifications that the designer has earned. This could include a Bachelor's degree in design, a vocational or tech school program, or a certificate or diploma in a design-related program.
Experience: Include any relevant experience the designer may have had. This could include internships, volunteer work, or previous design-related jobs.
Skills: List any skills the designer has that are related to design. This could include Adobe Photoshop, Adobe Illustrator, Adobe InDesign, CAD software, 3D modeling software, video editing, coding, and other software that the designer may be proficient with.
Portfolio: Include a link to the designer's portfolio. This could be a link to a personal website or a link to a portfolio website such as Behance.
References: Include contact information for any references the designer may have, such as employers, mentors, or teachers.
Awards & Achievements: Include any awards or achievements the designer has received related to design. This could include awards from design competitions, awards from classes or workshops, or any other recognition they may have received for their creative work.
What is a good summary for a Designer resume?
A Designer resume should give a succinct and accurate summary of a job candidate's skills, experience, education, and relevant qualifications. It should capture an employer's attention, quickly and effectively conveying why the candidate is the ideal choice for the position. The resume should include a summary of objective, which outlines the job seeker's career goals, as well as relevant professional skills and experience. It should also list the job seeker's educational background, certifications, and any awards or accolades they may have received. When summarizing their professional and educational history, designers should focus on the projects or assignments they completed, emphasizing the techniques or technologies they used and how those experiences can contribute to their future job prospects. Finally, the resume should include any relevant links to a portfolio or other examples of the job seekers' work.
What is a good objective for a Designer resume?
A good objective for a designer resume should highlight the candidate's experience, technical skills, and creative abilities. The objective should also showcase the specific design field the candidate is interested in, such as web design, graphic design, or logo design. Here are some examples of effective objectives for a designer resume:
Experienced web designer seeking to utilize comprehensive skills in HTML, CSS, and JavaScript to create innovative and aesthetically pleasing websites.
Talented graphic artist with strong knowledge of Adobe Suite and vector graphics. Aiming to use creative talents to create appealing logos and images for clients.
Motivated logo designer with experience in sketching and illustration, as well as understanding of branding and typography. Seeking to leverage expertise in Adobe Photoshop to create powerful visuals and logos for businesses.
Proven interior designer looking to apply expertise in conceptual design, color theory, and materials selection to create unique and functional spaces.
How do you list Designer skills on a resume?
When writing your resume, it is essential to include a section that outlines your designer skills. This section should be customized to each job you are applying for to showcase your qualifications and help you stand out from the competition. Here are some tips to help you list your designer skills on your resume:
Make sure to include a section on your resume specifically dedicated to your design skills – this section should come right after your summary and before your experience section.
Tailor each skill you list to the job posting. Show the recruiter that you have what it takes to excel in the role by emphasizing the design skills they are looking for.
List your skills in bullet points so they are easy to read.
Designate certain categories for each skill set. For example, you can separate your skills into technical and creative categories.
Include hard skills, such as proficiency with software, as well as soft skills, such as collaboration and communication.
Use relevant keywords throughout your resume to ensure you are getting picked up by applicant tracking systems.
Focus on quality over quantity. Rather than trying to list every skill you have, focus on the ones the job posting is looking for.
By following these tips, you can make sure your designer skills are highlighted in the best way possible. Take the time to customize your resume to each job you are applying for and emphasize the relevant skills to stand out from the competition.
What skills should I put on my resume for Designer?
When it comes to crafting a resume as a Designer, it is important to highlight your skills and abilities in order to stand out in a competitive job market. To help you in this process, here are some top skills to include on your resume:
Graphic Design: As a Designer, you should be knowledgeable in the fundamentals of graphic design. This includes the principles of design, typography, color theory, branding, and layout.
Adobe Creative Suite: Demonstrating proficiency in Adobe Creative Suite programs such as Photoshop, Illustrator, and InDesign is essential for a Designer.
User Experience Design: User experience design is the process of creating products that provide meaningful and relevant experiences to users. Having knowledge and experience in this area will help you stand out.
HTML/CSS: As a Designer, it's important to have a working knowledge of HTML and CSS in order to create web designs that are visually appealing and user-friendly.
Creative Problem Solving: Designers must be able to think outside the box and come up with creative solutions to problems. Showcase this skill on your resume by providing examples of how you have used problem-solving tactics to design successful products.
Communication Skills: As a Designer, you will need to be able to effectively communicate your ideas and designs to a variety of stakeholders. Show your prospective employers that you have strong communication skills.
By showcasing these skills on your resume, you can set yourself apart from other applicants and show employers why you are the perfect fit for the role.
Key takeaways for an Designer resume
When you're applying for a design job, your resume is one of your most important tools. It should be both visually appealing and include the right information to make you stand out from the competition. Here are a few key takeaways to keep in mind when crafting your designer resume:
Highlight Your Skills: Make sure to emphasize any technical abilities, such as coding or design software, that can make you stand out from the competition. Additionally, be sure to showcase your creative side, such as any graphic design or art skills you possess.
Showcase Your Portfolio: Your portfolio will be one of the first things a potential employer looks at when assessing your candidacy. Make sure to include your best work, organized into categories within your portfolio, and link it directly to your resume.
Highlight Your Past Work: Include any past design or professional work that you've done, and make sure to link to it if possible. This will give potential employers an idea of the type of work you've done in the past and how you can apply those skills to the position you are applying for.
Let Your Personality Shine: Design is all about creativity, so make sure to let your personality shine through in your resume. Include any hobbies or interests that showcase your creative side, and don't be afraid to use fun colors, fonts, or graphics to make your resume stand out.
By following these key takeaways, you can create an eye-catching designer resume that will help you stand out from the competition and land your dream design job.
Let us help you build
your Resume!
Make your resume more organized and attractive with our Resume Builder