Creating a winning resume for a design manager position requires a specific set of skills and expertise. You must demonstrate proficiency in graphic design, typography, page layout and other areas of design. Additionally, you must be able to convey your experience in project management, creative direction, and other key areas. A great design manager resume should showcase your ability to lead and coordinate design teams while highlighting your experience in developing successful marketing strategies. This guide will help you create the perfect design manager resume with the help of a few design manager resume examples.
If you didn't find what you were looking for, be sure to check out our complete library of resume examples.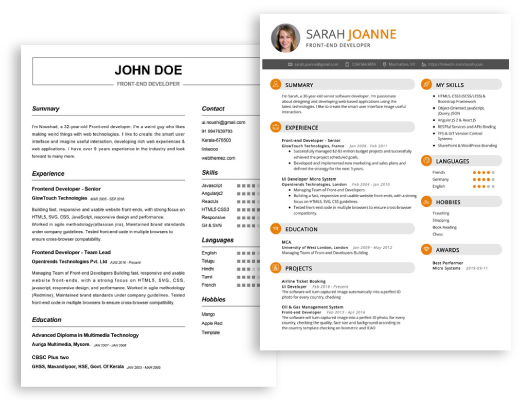 Start building your dream career today!
Create your professional resume in just 5 minutes with our easy-to-use resume builder!
Design Manager Resume Examples
John Doe
Design Manager
123 Main Street | Anytown, USA 99999 | Phone: (123) 456-7890 | Email: john.doe@email.com
Dedicated Design Manager with over 10 years of expertise in digital design and technology. Experienced in leading and motivating a multi- disciplinary design team in the development of digital products and services. Proven track record in DevOps, Agile methodologies, software design, and UX/UI design. Skilled in managing diverse stakeholders and delivering projects on time and on budget. Committed to delivering value- driven results in line with customer needs.
Core Skills:
Project Management
Software Design
DevOps
User Experience (UX)
User Interface (UI)
Agile Methodologies
Design Leadership
Team Building
Stakeholder Management
Budget Management
Professional Experience:
Design Manager, XYZ Corporation, June 2016 – Present
Managed product design teams of up to 12 members, including software engineers, UX/UI designers and product managers
Utilized Agile, Scrum and Kanban methodologies to ensure projects were completed on time and within budget
Developed DevOps processes to optimize product development and delivery
Created detailed project plans with milestones, goals and objectives
Managed stakeholders by providing clear communication and delivering value- driven results
Developed and implemented best practices for software design, UX/UI design and development
Senior Design Lead, ABC Corporation, October 2013 – June 2016
Led a design team of 8 members, including software engineers and UX/UI designers
Built strong relationships with stakeholders to ensure customer needs were met
Created detailed project plans, timelines and budgets to deliver projects on time
Developed and implemented DevOps processes to optimize product development and delivery
Ensured projects were completed using Agile, Scrum and Kanban methodologies
Design Manager Resume with No Experience
Highly organized and detail- oriented Design Manager with strong interpersonal skills and a passion for delivering creative solutions to complex design problems. Experienced in leading teams to meet tight deadlines and budgets.
Skills
Strong design and project management skills
Excellent communication and problem- solving abilities
Ability to manage multiple projects simultaneously
Proficient in Adobe Creative Suite and Autodesk design software
Knowledge of printing and production processes
Solid organizational and time management skills
Familiarity with web design and development
Responsibilities
Lead design team and provide guidance on creative projects
Develop and implement design standards and guidelines
Manage budgets and ensure projects are completed on time and within budget
Coordinate with external vendors and suppliers to ensure quality of services and materials
Assist in the design of marketing materials, websites, and other visual campaigns
Maintain and improve design quality, consistency, and brand identity
Research and analyze design trends and competitor design projects
Develop and manage design internships and other training opportunities
Design Manager Resume with 2 Years of Experience
Dynamic and motivated Design Manager with two years of experience in managing and leading design teams to produce impactful creative visuals. Well- versed in all aspects of design, creative content and marketing. Proven ability to manage projects from start to finish and provide creative direction. Adept at utilizing the latest technologies and trends to drive design projects and develop strategies to reach target audiences.
Core Skills:
Design Leadership
Creative Direction
Project Management
Graphic Design
Adobe Creative Suite
Branding and Identity
Visual Presentations
Presentation Design
Typography
Illustration
Storyboarding
Responsibilities:
Developed and implemented creative direction for design projects across all platforms
Oversaw design teams, managed timelines, and maintained budgets for all projects
Collaborated with internal stakeholders to ensure projects were delivered according to specification
Designed graphics and visuals for websites, PowerPoint presentations, logos, and other marketing collateral
Maintained brand standards, oversaw the development of logos, and maintained a library of brand resources
Researched and developed innovative design strategies to reach target audiences
Utilized the latest technologies and design trends to create engaging visuals
Worked with copywriters and other creatives to produce high- quality content for campaigns
Created storyboards, illustrations, and motion graphics to enhance visual presentations.
Design Manager Resume with 5 Years of Experience
Highly creative and technically skilled Design Manager with 5+ years of experience in leading design teams, creating innovative design concepts, and developing high- quality final products. Experienced in executing projects, monitoring team performance, and developing strategies for design processes. Proven record of designing and delivering successful products that meet customer needs. Possesses excellent communication, problem solving, and organizational skills.
Core Skills:
Leading Design Teams
Project Management
Design Process Development
Creative Problem- Solving
Client Relationship Management
Software and Technology
Budgeting and Cost- Control
Responsibilities:
Manage a team of 4- 5 design professionals, assigning tasks and monitoring performance
Develop and implement design processes to produce efficient and quality results
Lead design projects from start to finish, ensuring all deadlines are met
Work closely with clients to develop innovative design concepts that meet their needs
Create and review mock- ups and prototypes
Evaluate designs and provide feedback to design team
Track progress of projects and ensure projects stay within budget
Address any design related issues and support team with any technical inquiries
Utilize design software and technologies to ensure accuracy and quality of designs
Design Manager Resume with 7 Years of Experience
Adaptable and dedicated Design Manager with over 7 years of experience in supervising, leading, and managing a team of graphic designers, multimedia artists, and animators. Possess in- depth knowledge and experience in all aspects of the production process, from concept to completion. Adept in managing multiple projects and taking the initiative to create innovative visual designs that stand out. Possess a keen eye for detail and a creative flair for design.
Core Skills:
Project Management
Graphics Design
Creative Thinking
Animation
Leadership
Multimedia Design
Problem- Solving
Team Building
Responsibilities:
Designed and developed creative graphics, illustrations, and animations for various media outlets.
Managed the design team by assigning tasks and ensuring timely completion of projects.
Set up and managed the production workflow for all projects, from concept to delivery.
Developed quality assurance procedures to ensure accuracy and consistency of designs.
Created and maintained relationships with external vendors and clients.
Ensured compliance with internal and external design standards.
Provided mentorship and guidance to the design team and monitored their progress.
Developed budget plans and strategized cost- effective design solutions.
Design Manager Resume with 10 Years of Experience
A results- driven Design Manager with ten years of experience in the field creating innovative and high- quality design solutions. Highly skilled in managing design projects from inception to completion, with expertise in brand and visual identity, user experience design, motion graphics, and web design. Proven ability to conceive and execute creative strategies to maximize engagement and deliver results.
Core Skills:
Management of design projects
Brand and visual identity development
User experience design
Motion graphics
Web design
Design strategy
Creative problem- solving
Leadership
Team collaboration
Proficiency with Adobe Creative Suite
Responsibilities:
Leading and managing design teams to ensure successful completion of projects
Developing creative strategies and solutions to meet client objectives
Developing and maintaining brand and visual identity standards
Creating user experience designs for web and mobile applications
Developing motion graphic and interactive content
Creating wireframes, mockups, and prototypes
Analyzing data to optimize designs and user experience
Coordinating with other departments to ensure alignment of designs
Managing production and printing processes
Design Manager Resume with 15 Years of Experience
A highly experienced professional with over 15 years of experience as a Design Manager, with a passion for delivering creative strategies, campaigns and product designs that increase sales and visibility. Proven track record in product design, brand development, project management and creative direction. Possess exceptional organizational, problem solving and communication skills.
Core Skills:
Product Design
Marketing & Advertising
Strategy & Planning
Project Management
Creative Direction
Brand Development
Client Services
Team Leadership
Art Direction
Graphic Design
Responsibilities:
Initiating and developing creative concepts, designs and campaigns that meet marketing objectives and support client objectives
Leading the creative team and providing direction to ensure the highest quality of creative work
Managing and overseeing the design process from concept to finished product
Developing and maintaining client relationships and ensuring client satisfaction
Creating and executing project plans with detailed timelines and budget
Ensuring projects are completed on time and within budget
Working collaboratively with internal teams to identify target audiences and objectives
Identifying opportunities to enhance brand visibility
Developing and managing creative briefs and brand guidelines
Effectively communicating with internal teams, vendors, and clients
In addition to this, be sure to check out our resume templates, resume formats, cover letter examples, job description, and career advice pages for more helpful tips and advice.
What should be included in a Design Manager resume?
Having a comprehensive resume is essential for any Design Manager. A well-written resume allows employers to quickly understand your skills, experiences, and qualifications. When crafting a Design Manager resume, the following items should be included:
Professional Summary: A summary of your design skills and qualifications that highlights relevant experience and accomplishments.
Education: List your educational background, including any design degrees, certifications, or other technical training.
Work Experience: Include any previous design-related roles you have held, such as Graphic Designer, Web Designer, or UX/UI Designer. Describe the projects you worked on and any contribution you made to the success of the projects.
Technical Skills: List any design software, coding languages, and other technical skills you have mastered.
Professional Qualities: Include any soft skills that are beneficial in a design setting such as problem solving, collaboration, and attention to detail.
Portfolio: Include a link to your portfolio or samples of your work so employers can get a better idea of your design capabilities.
By including these items in your Design Manager resume, you will be able to create a comprehensive and professional resume that will help you stand out from the competition.
What is a good summary for a Design Manager resume?
A Design Manager resume should summarize professional experience, relevant qualifications, accomplishments, and technical skills in the field of design. It should demonstrate expertise in design processes and the ability to develop effective strategies and workflows. A good summary should highlight the candidate's ability to understand user needs, create innovative design solutions, and lead a team towards successful execution. Other relevant experience may include developing brand identities, creating marketing campaigns, and designing digital user interfaces. Additionally, the summary should demonstrate the candidate's ability to think strategically, analyze trends and data, as well as providing strong problem-solving and critical thinking skills. Ultimately, a well-written summary should showcase the candidate's design leadership capabilities and ability to drive successful design solutions.
What is a good objective for a Design Manager resume?
A Design Manager oversees the design, development, and implementation of design projects that align with the strategic objectives of a business. As such, a good objective for a Design Manager resume should focus on the skills and abilities that are essential to the role. Here are a few examples of objectives that could be used on a Design Manager resume:
To leverage my expertise in design and creativity to develop innovative and effective design solutions that meet the needs of the organization.
To effectively manage teams and ensure successful completion of design projects on time and within budget.
To lead the development and implementation of strategies for design, production, and quality assurance.
To identify and analyze customer needs and develop design solutions that meet those needs.
To utilize my experience and skills in design, research, and project management to create effective designs and strategies that are in line with the organization's mission and goals.
How do you list Design Manager skills on a resume?
The Design Manager plays a crucial role in any business as they are responsible for overseeing the design process from concept to completion. As such, it is important to highlight any applicable skills and experience related to this position on your resume. To ensure your resume stands out, try to include the following skills related to Design Management:
Creative Thinking: Design Managers must have a creative eye and be able to think outside the box to come up with innovative solutions.
Technical Knowledge: Design Managers must be able to use design software and have a strong understanding of design best practices.
Project Management: Design Managers must be able to manage projects from start to finish, including assigning tasks to team members, keeping track of timelines, and setting goals.
Communication: Design Managers must be able to communicate effectively with both internal and external stakeholders to ensure that projects are running smoothly and that everyone is on the same page.
Leadership: Design Managers must be effective leaders and be able to motivate their team to work to their fullest potential.
By listing these skills (and any others applicable to the Design Manager position) on your resume, you can demonstrate to potential employers that you have the skills and experience necessary to be successful in this role.
What skills should I put on my resume for Design Manager?
As a Design Manager, there are many important skills to showcase on your resume. To be considered for this role, you must demonstrate strong leadership, problem-solving, and communication skills, as well as a deep understanding of the design process. Here are some of the most important skills to include on your resume for a Design Manager role:
Strategic Thinking: A Design Manager must be able to think strategically and come up with creative solutions to design challenges. This skill involves being able to analyze data and come up with creative solutions to complex problems.
Project Management: Design Managers need to be able to manage complex design projects from start to finish. This involves strong organizational skills and the ability to effectively communicate with team members.
Technical Skills: Design Managers need to have an in-depth understanding of design software, such as Adobe Photoshop and Illustrator. Demonstrating proficiency in these programs is essential for securing a Design Manager role.
Lead and Manage Teams: It is important for Design Managers to be able to lead and manage teams of designers. This requires strong leadership skills, including the ability to motivate and inspire team members.
Creative Problem-Solving: Design Managers must be able to come up with creative solutions to complex design problems. This involves strong analytical and problem-solving skills.
By including these skills on your resume, you can demonstrate your suitability for the Design Manager role. With the right skills, you can pursue a successful career in design management.
Key takeaways for an Design Manager resume
Having a well-crafted resume is key if you're a design manager looking to maximize your chances of getting hired. No matter what your experience or field, there are some key takeaways you should keep in mind when crafting your resume.
Showcase Your Skills: A design manager resume should highlight your unique strengths and skills that demonstrate your expertise in the field. Include key areas like your portfolio, experience with design software, and any special skills or certifications that may be relevant.
Showcase Your Accomplishments: Make sure you emphasize your achievements and accomplishments. Include any awards or accolades you've achieved in the design field, as well as any noteworthy projects you've completed.
Highlight Your Achievements: Your design manager resume should also include all of the projects you've worked on and how they've been successful. Make sure to include the scope, budget, and timeline of each project as well as any special skills you used to complete it.
Be Specific: Be as specific as possible when describing your past experience. Include the name of the company or organization, specific responsibilities, and the results achieved.
Keep it Concise: Remember to keep your design manager resume concise and to the point. Stick to relevant information that makes the most impact and avoid including long, detailed descriptions or unnecessary information.
By following these key takeaways, you can make sure that your design manager resume stands out and helps you get the job you want.
Let us help you build
your Resume!
Make your resume more organized and attractive with our Resume Builder