Design internships are a great way for students to gain hands-on experience and apply their skills in a real-world setting. As such, the competition for internships is fierce and having a well-crafted resume is key to standing out from the crowd. In this blog post, we provide a comprehensive guide to help you write a standout resume for design internships. We'll cover topics such as which key components make up a successful design internship resume, how to write a compelling objective statement, what format and design choices to make, and more. We will also provide several real-world examples of successful resumes to help illustrate our points. With the help of this guide, you'll soon have a resume that will perfectly reflect your qualifications and help you land your dream design internship.
If you didn't find what you were looking for, be sure to check out our complete library of resume examples.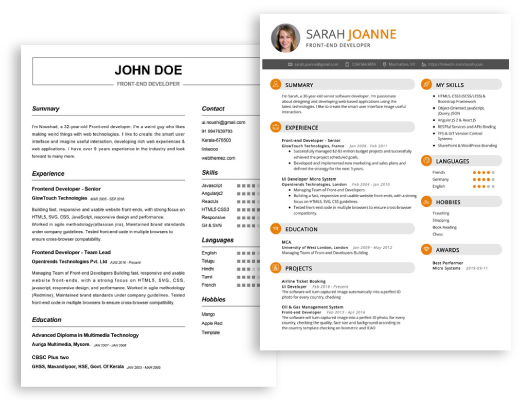 Start building your dream career today!
Create your professional resume in just 5 minutes with our easy-to-use resume builder!
Design Intern Resume Examples
John Doe
Design Intern
123 Main Street | Anytown, USA 99999 | Phone: (123) 456-7890 | Email: john.doe@email.com
Dynamic and organized Design Intern with a passion for creating engaging visuals and a commitment to staying on top of trends in the design field. Adept at developing creative concepts and designs for both digital and print media. Experienced in Adobe Creative Suite and Sketch.
Core Skills:
Adobe Creative Suite (Photoshop, InDesign, Illustrator)
Graphic Design
UX/UI Design
Web Design
Logo Design
Branding
Typography
Color Theory
Conceptualization
Sketch
Professional Experience:
Design Intern, ABC Corporation, July 2020- Present
Developed various designs for print and digital publications
Created logos, icons, and web graphics for multiple clients
Worked alongside the senior designer to create user interfaces for both mobile and desktop applications
Designed print materials such as business cards, flyers, and brochures for various campaigns
Helped in the development of digital assets such as icons, illustrations, and infographics
Education:
Bachelor of Arts in Graphic Design, XYZ University, August 2017- May 2021
Relevant Coursework: Branding, Typography, Color Theory, Creative Writing, Digital Imaging, User Experience Design
Design Intern Resume with No Experience
Highly motivated, organized, and creative design intern with a passion for graphic and web design and no experience in the field.
Eager to contribute my enthusiasm, strong communication skills, and ability to think outside the box to a design team.
Interested in pursuing a career in the creative industry and learning more about the creative process.
SKILLS
Proficient in design software such as Adobe Creative Cloud and Sketch.
Excellent communication and organizational skills.
A keen eye for detail and accuracy.
Ability to work independently and collaboratively in a team environment.
Excellent time management and multitasking skills.
Responsibilities
Assist in the design, development, and implementation of design projects.
Work with the design team to ensure accuracy and consistency in design projects.
Collaborate with other departments to ensure the project's successful completion.
Research and develop new ideas and concepts for the design team.
Create and maintain design documents for design projects.
Assist in the design and development of web pages.
Design Intern Resume with 2 Years of Experience
A highly motivated and result- driven Design Intern with 2+ years of work experience. Possesses a strong ability to create aesthetically pleasing designs, from logos, website designs, and packaging materials, to mobile applications and advertisements. Has in- depth knowledge of the Adobe Creative Suite, including Photoshop, Illustrator and InDesign, and is well- versed in HTML and CSS. Excellent communicator with the ability to manage multiple projects efficiently, while adhering to strict deadlines and budgets.
Core Skills:
Proficient in Adobe Creative Suite, including Photoshop, Illustrator and InDesign
Knowledge of HTML and CSS
Proficient in web design and development
Ability to create aesthetically pleasing designs
Excellent communication and interpersonal skills
Strong attention to detail
Ability to collaborate with teams
Responsibilities:
Developing and designing logos, advertisements, websites and other graphic materials
Creating and implementing design strategies and campaigns
Interfacing with clients and other stakeholders to ensure that designs meet their requirements and expectations
Writing and editing copy for design materials
Using Adobe Creative Suite to manipulate designs and text
Testing and validating designs for web and mobile platforms
Assisting in the development of design concepts for various projects
Design Intern Resume with 5 Years of Experience
With 5 years of experience in design internships, I am a highly creative and detail- oriented professional skilled in graphic design, branding, and advertising. I am comfortable working with stakeholders to establish design needs and collaborate to develop cohesive solutions. I have worked in both in- house and agency environments, which has enabled me to gain an appreciation for a variety of projects. I have a passion for problem- solving and take pride in the work I produce.
Core Skills:
Graphic Design
Branding
Advertising
Stakeholder Management
Project Management
Photoshop
Illustrator
Responsibilities:
Produced various designs, including logos, branding, and advertisements for several projects
Developed creative concepts and presentations to present to team members and clients
Managed project timelines and deadlines to ensure successful project completion
Collaborated with other departments to ensure that the design met their expectations
Maintained up- to- date knowledge of design trends, techniques, and software
Researched and identified potential markets to target in new campaigns
Created and edited graphics using Photoshop and Illustrator
Design Intern Resume with 7 Years of Experience
Seeking a Design Intern position in a creative and innovative environment where I can use my technical and creative skills to assist in projects and contribute to the company's success.Design Intern with 7 years of experience in graphic design, visual arts, and digital media. Proficient in the use of Photoshop, Illustrator, and InDesign. Able to create website designs, logos, flyers, brochures, and other related artwork. Talented in multitasking, problem solving, and communication skills. Enthusiastic about contributing to the success of the team and organization.
Core Skills:
Graphic Design
Digital Media Design
Web Design
Photoshop
Illustrator
InDesign
Multitasking
Problem- Solving
Communication
Responsibilities:
Developed graphics, logos, and artwork for web, print, and multimedia projects.
Created and managed digital design projects, ensuring design accuracy and quality.
Collaborated with team members and stakeholders to track timelines and deliverables.
Developed and maintained relationships with clients, vendors, and industry professionals.
Provided creative input during the concept development and design process.
Participated in project meetings and provided creative solutions to design challenges.
Developed and updated website content to ensure accuracy and consistency.
Edited graphics and photos for website design.
Tested and evaluated website functionality and user experience.
Design Intern Resume with 10 Years of Experience
John Smith is an experienced Design Intern with over 10 years of experience developing high- quality designs for clients. He has an eye for detail and is known for his ability to create stunning visuals that capture the attention of the intended audience. His skillset encompasses a wide range of design software, including Adobe Creative Suite and Sketch, as well as knowledge of typography and illustration principles. He is an effective communicator and highly organized in his approach to projects, ensuring that all deadlines and client requirements are met.
Core Skills:
Expertise in Adobe Creative Suite and Sketch
Knowledge of typography and illustration principles
Understanding of design principles and techniques
Highly organized and adept at multitasking
Excellent communication, collaboration and interpersonal skills
Ability to work independently and meet deadlines
Responsibilities:
Developing innovative and creative designs for clients on a variety of projects
Creating logos and other branding materials, including print and digital formats
Working with clients to understand their needs and provide design solutions
Executing design concepts according to client demands and meeting deadlines
Collaborating with other team members to ensure successful project completion
Maintaining current knowledge of design trends and practices
Design Intern Resume with 15 Years of Experience
Design Intern with over fifteen years of experience in the design field, leveraging a combination of creative, technical and business skills to create visually appealing, functional and impactful designs. Demonstrated ability to successfully collaborate with teams to ensure projects are completed within deadlines. Proven ability to create designs that accurately communicate intended messages while creating a unique story.
Core Skills:
Adobe Creative Suite
Logo Design
Page/Layout Design
Photo/Image Editing
Typography
Color Theory
Web Design
User Interface Design
Storyboard Design
Digital Illustration
Branding
HTML/CSS
Responsibilities:
Developed print and digital design materials such as web graphics, banners, brochures and newsletters
Developed storyboards for animation and video projects
Created logos, icons and typography compositions for various projects
Produced high quality visuals for various print and digital projects
Spearheaded design projects from concept to completion
Collaborated with external vendors to ensure high quality and timely delivery of projects
Managed multiple projects and met deadlines
Developed and maintained design standards, guidelines and templates
Worked closely with the sales and marketing teams to ensure visual materials effectively convey the desired message
In addition to this, be sure to check out our resume templates, resume formats, cover letter examples, job description, and career advice pages for more helpful tips and advice.
What should be included in a Design Intern resume?
As an intern in the design field, it is important to have a resume that highlights your skills, accomplishments, and qualifications. A design intern resume should contain the following sections/information in order to effectively showcase your talents and capabilities:
Personal Information: Include your name, contact information (email address, phone number, etc.), and location.
Summary: Provide a brief summary of your design experience and highlight your key strengths and skills.
Education: List the name of your college/university and any design programs you participated in.
Professional experience: List any work experience related to design, including internships, freelance projects, and design-related jobs.
Technical skills: List any software programs, design skills, and other technical skills you have acquired.
Work samples: Include a link or portfolio of any design projects you have worked on.
Awards/accolades: List any awards or recognitions you have received related to design.
Personal interests: Mention any hobbies or personal interests that are related to design.
By including all of these sections in your resume, you can create a comprehensive, well-rounded resume that will grab the attention of potential employers.
What is a good summary for a Design Intern resume?
A design intern resume should summarise a student's educational background, technical abilities, and relevant work experience. It should emphasize any skills related to design, such as software proficiency, creative problem-solving, and knowledge of design trends. It should also list any relevant coursework, internships, or volunteer experience. Finally, it should include any awards, recognitions, or extracurricular activities related to design. It should be written in a way that is professional and concise, focusing on the most important aspects of the student's skills and experience. A good design intern resume should show that the student is able to learn quickly, work well with others, and think creatively.
What is a good objective for a Design Intern resume?
A Design Intern resume should aim to highlight the qualifications, skills, and experience of the candidate to show that they are the ideal candidate for the role. As an intern, you may not have a vast amount of professional experience, but there are still ways to make your resume stand out from the competition. When crafting your objective statement, it should focus on the position you're applying for, the skills you bring to the table, and why you'd make a great fit for the team. Here are a few examples of good objectives for a Design Intern resume:
To secure the position of Design Intern with a company that values creativity and collaboration, offering exceptional design, organizational, and problem-solving skills.
To utilize my experience in product design, marketing and branding, and creative development to contribute to the success of a prestigious design firm.
To join a dynamic design team as a Design Intern and leverage my passion for user experience, graphic design, and concept development to create innovative and impactful designs.
To apply my expertise in web design and UX/UI principles to create engaging and intuitive digital experiences.
To gain valuable experience as a Design Intern and contribute my knowledge of Adobe Creative Suite and print production to the design team.
How do you list Design Intern skills on a resume?
When applying for a Design Intern position, you will want to highlight your skills and experience on your resume. It is important that your resume includes skills that are relevant to the position and showcase your talents as a designer. Here are some skills to consider listing on your resume when applying for a Design Intern position:
Knowledge of graphic design principles and techniques: Design Interns should have a good understanding of design principles and techniques, such as composition, color theory, typography, and layout.
Proficiency in design software: Most Design Internships will require the use of design software, such as Adobe Creative Suite (Photoshop, Illustrator, InDesign). It is important that you are proficient in the software and can show your technical skills.
Creative problem-solving: Design Interns should be creative problem-solvers, able to come up with unique solutions to design challenges.
Attention to detail: Design Interns must have an eye for detail and be able to catch mistakes in the design process.
Excellent communication skills: Design Interns should be able to communicate with coworkers, supervisors, and clients effectively.
Time management: Design Interns must be able to manage their time effectively and meet deadlines.
Including these skills on your resume can help demonstrate that you are a qualified candidate for a Design Intern position. Make sure to tailor your resume to the specific Design Intern position you're applying for, highlighting the skills and experience that make you the best fit for the job.
What skills should I put on my resume for Design Intern?
When applying for a design internship, there are certain skills that you should make sure to emphasize on your resume. Graphic design, web design, and video editing skills are all important to include. Additionally, you should highlight any relevant soft skills that are necessary for a successful design intern. Here are some of the most important skills to put on your resume for a design intern position:
Graphic Design: As a design intern, it is important to demonstrate a firm understanding of graphic design principles. Make sure to list any software programs you are proficient in, such as Adobe Photoshop, Adobe Illustrator, or InDesign.
Web Design: If the position requires any web design skills, make sure to mention your experience with HTML, CSS, and JavaScript. Additionally, any experience with content management systems like WordPress is important to include.
Video Editing: Demonstrating your skill with video editing software such as Adobe Premiere, Final Cut Pro, or After Effects is essential for many design internships.
Problem-Solving: Design internships require you to think critically and come up with creative solutions to problems. Highlight any problem-solving skills or experiences that you have that are relevant to the design field.
Communication Skills: Good communication skills are essential for any design role. Make sure to emphasize your ability to work with a team, present ideas, and collaborate effectively with others.
By emphasizing these key skills on your resume, you will be more likely to stand out and get noticed. With the right set of skills, you can be sure that you will be a great contender for the position.
Key takeaways for an Design Intern resume
When it comes to creating an effective design intern resume, there are certain key takeaways to keep in mind. As an intern, you'll need to highlight your design skills and knowledge, as well as showcase your ability to work collaboratively and effectively with a team. Here are some of the key takeaways to consider when creating your resume:
• Showcase your design skills: When describing your design experience on your resume, highlight any relevant technical skills you possess, such as experience with programs like Adobe Illustrator, Photoshop, and InDesign. Additionally, include specific design projects that you worked on and the results you achieved.
• Highlight your team experience: Showcase any team experience you may have, such as freelance collaborations or working with others in an academic setting. This will show employers that you are a team player and can collaborate effectively with others.
• Include internships and volunteer experience: If you've held any internships or volunteer positions, make sure to include them on your resume. This will show that you have a strong work ethic and understand the importance of dedication and hard work.
• Include your hard skills: Be sure to include any hard skills you may have developed, such as coding, HTML, or web design. This will show employers that you have the technical knowledge and experience needed to be successful in a design role.
• Utilize keywords: When creating your resume, be sure to use keywords that employers look for when searching for potential candidates. This will ensure that your resume stands out and is seen by the right people.
By utilizing these key takeaways, you can create an effective design intern resume that showcases your design skills, technical knowledge, and team experience. This will help make sure you get the attention of employers and stand out from the competition.
Let us help you build
your Resume!
Make your resume more organized and attractive with our Resume Builder