Are you a Design Director looking for a new job? Writing a resume can be a daunting task, but having a clear understanding of what to include, how to format it, and how to phrase content is key to getting noticed by potential employers. This guide will provide step-by-step guidance to break down the process of crafting a resume that showcases your talents and accomplishments. It will cover the most important elements to consider when creating a Design Director resume, such as the headline, resume summary, experience, skills, and education. This guide also provides detailed examples of resumes for a Design Director, so you can have a better understanding of how to structure your resume. With the help of this guide, you can create a resume that will capture the attention of hiring managers and give you the best chance of getting the job.
If you didn't find what you were looking for, be sure to check out our complete library of resume examples.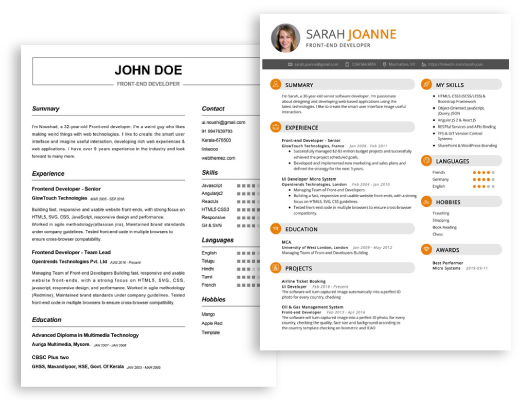 Start building your dream career today!
Create your professional resume in just 5 minutes with our easy-to-use resume builder!
Design Director Resume Examples
John Doe
Design Director
123 Main Street | Anytown, USA 99999 | Phone: (123) 456-7890 | Email: john.doe@email.com
I am an experienced Design Director with over 15 years of experience in the design and creative industries. I'm passionate about developing innovative designs and have a proven track record of achieving remarkable results. I'm a strong leader who offers a unique combination of creative and technical skills, as well as a deep understanding of the design process. I'm highly organized, driven and creative and I'm comfortable working with both clients and colleagues alike.
Core Skills:
Expertise in developing innovative design solutions
Knowledge of design principles, software and processes
Strong leadership and organizational skills
Excellent communication and problem- solving skills
Ability to manage multiple projects and meet deadlines
Proficient in Adobe Creative Suite, Sketch and other design tools
Professional Experience:
Creative Director, XYZ Corp, 2017- Present
Responsible for leading the design team in the development of innovative designs for a variety of projects
Managed the design process from concept to completion
Developed brand identity guidelines and managed the production of marketing materials
Collaborated with clients to create unique and engaging designs
Mentored junior designers and provided feedback on their projects
Education:
Bachelor of Fine Arts in Graphic Design, University of ABC, 2004
Design Director Resume with No Experience
Highly creative Design Director with an innovative mindset, a solid background in marketing, and no experience in the field. Exceptional ability to think out of the box and generate creative concepts to solve complex problems. A strong understanding of the design process and the ability to create campaigns and illustrations that engage customers and stakeholders alike.
Skills
Excellent understanding of the design process
Proficient in Adobe Creative Suite
Excellent communication and collaboration skills
Ability to manage multiple projects and prioritize tasks
Strong attention to detail
Knowledge of marketing, advertising, and digital media
Responsibilities
Develop effective design strategies for projects
Create innovative visuals that meet customer requirements
Manage a team of designers, illustrators, and copywriters
Coordinate with stakeholders to ensure that designs are on- brand and meet deadlines
Analyze customer data to optimize design solutions
Ensure that design standards are met and maintained
Provide feedback and guidance to junior designers and clients
Design Director Resume with 2 Years of Experience
I am a highly motivated and experienced Design Director with more than two years of experience in leading creative teams to develop engaging and innovative solutions. I have an exceptional eye for detail and a passion for creating designs that capture the attention of a target audience. I am capable of effectively using both online and offline tools to create engaging experiences, and I have an in- depth understanding of the creative process. I am a highly organized and reliable leader who is able to coordinate multiple tasks and keep stakeholders satisfied.
Core Skills:
Creative Direction
Visual Design
Graphic Design
Adobe Creative Suite
Brand Identity
Presentation Design
User Experience Design
Team Management
Project Management
Problem Solving
Responsibilities:
Developing visual design from concept to completion
Creating engaging visuals and designs for websites and mobile applications
Creating brand identities and logos for clients
Providing feedback and direction to creative teams
Leading brainstorming sessions to develop creative solutions
Developing presentations and pitching creative ideas to clients
Coordinating tasks and resources among creative teams
Managing deadlines and ensuring projects are delivered on time
Creating user experience designs that meet user needs
Analyzing user feedback and making adjustments to designs accordingly.
Design Director Resume with 5 Years of Experience
Design Director with 5+ years of experience in the design industry. Proven track record of leading and managing successful design initiatives in various industries. Possesses comprehensive knowledge of all aspects of the design process, from concept to delivery. Highly creative, detail- oriented, and adept at utilizing current trends and technologies in the design process.
Core Skills:
Creative and innovative design thinking
Team leadership and project management
Proficiency in computer- aided design (CAD) software
Advanced knowledge of graphic design principles
Excellent time management and organizational skills
Responsibilities:
Serve as the leader of the design team and develop strategies for design projects
Mentor and manage junior members of the design team
Collaborate with other departments to ensure design objectives are met
Develop detailed design plans and specifications
Create original designs in accordance with current trends and industry standards
Develop design presentations and coordinate design critiques
Ensure all design work is completed on time and within budget
Manage the design process, from concept to completion
Evaluate design concepts and offer feedback to the design team.
Design Director Resume with 7 Years of Experience
Highly experienced Design Director with 7 years of experience in creating user- friendly and visually appealing designs for large- scale projects. Adept at understanding client needs, developing project roadmaps and goals, and effectively leading a team of designers. Possesses an in- depth knowledge of design principles, color theory, typography, and a wide range of software including Adobe Photoshop, Illustrator and InDesign.
Core Skills:
Team Leadership
Project Management
Design Principles
Color Theory
Typography
Software Expertise
Creative Problem- Solving
Responsibilities:
Develop design concepts, graphics and layouts for internal projects
Lead and mentor a team of designers from concept to completion of projects
Collaborate with other departments to ensure all design requirements are met
Identify and evaluate existing design trends to keep up with the latest industry standards
Manage multiple projects and meet tight deadlines
Create compelling visual presentations for client pitches
Establish design guidelines, best practices and standards
Contribute to design strategy and direction across projects
Design Director Resume with 10 Years of Experience
Design Director with 10+ years of experience in managing a creative team, developing and executing design projects, and bringing ideas to life. Possesses a creative, yet structured approach to problem- solving, and has a passion for creating innovative and impactful solutions. Excellent communicator and team player, with the ability to work collaboratively to ensure successful project delivery.
Core Skills:
Creative and innovative design solutions
Visual communication and layout concepts
Brand development and maintenance
Project management and execution
Leadership and team collaboration
Problem solving and decision- making
Responsibilities:
Leading and managing a team of designers in the development of creative design solutions
Defining project and resource requirements, and allocating tasks to team members
Developing and delivering effective visual communications and layout concepts for various projects
Developing and maintaining brands to ensure consistency across all channels
Managing the execution of design projects from concept through to completion
Providing feedback to designers on the progress and quality of their work
Working collaboratively with other departments to ensure successful delivery of projects
Developing and implementing creative strategies to improve efficiency and productivity
Identifying opportunities for improvement and making suggestions
Analyzing market trends and competitors to ensure products remain competitive
Mentoring and coaching team members to help them reach their potential
Design Director Resume with 15 Years of Experience
Design Director with 15 years of experience in the design and marketing industry. Proven track record of success in delivering innovative projects from concept to completion. Adept at developing visuals, layouts, and concepts that communicate to target audiences. Skilled at leading design teams and coordinating schedules to ensure timely delivery.
Core Skills:
Creative Direction
User Experience Design
Graphic Design
Typography
Layout Design
Software Proficiency: Adobe Creative Suite, Sketch, InVision, Principle
Project Management
Team Leadership
Responsibilities:
Developing and executing innovative designs and visuals
Creating design concepts and layouts that adhere to brand standards
Leading and inspiring design teams to ensure timely delivery of projects
Establishing and managing project timelines, budgets, and deliverables
Managing design reviews and approvals from stakeholders
Collaborating with copywriters and marketing professionals to ensure accuracy of content
Consistently staying up- to- date with industry trends and technologies
Monitering and maintaining a high- level of quality across all projects
Spearheading the development of new visual content for use in print, web, and other mediums.
In addition to this, be sure to check out our resume templates, resume formats, cover letter examples, job description, and career advice pages for more helpful tips and advice.
What should be included in a Design Director resume?
A design director resume should include the following sections:
Professional Experience: This section should include a list of professional positions held in the past and the duties associated with each of them. It should also include the relevant skills and accomplishments that were achieved at each position.
Education: This section should include any college or university degrees, certificates, and certifications acquired, as well as any relevant training courses completed.
Technical Skills: This section should detail the candidate's technical skills that are relevant to the position. This could include programming languages, software applications, design techniques, and other technical proficiencies.
Portfolio: A portfolio of the candidate's work should be included to demonstrate their design capabilities and to give potential employers an idea of the type of design work that the candidate can do.
Awards and Recognition: This section should highlight any awards or recognition that the candidate has received for their work, as well as any publication credits or other acknowledgments.
Professional Organizations: This section should include any professional organizations that the candidate is a member of or has been involved with.
What is a good summary for a Design Director resume?
A Design Director is a creative leader who oversees the design and development of products or services. This professional should possess strong technical and creative skills, as well as sound knowledge of the latest trends in design and technology. A good summary for a Design Director resume should showcase an individual's ability to create unique and innovative visual solutions that meet the requirements of their clients. It should also highlight their ability to manage complex design projects and stay abreast of the latest developments in the field. Additionally, a summary should demonstrate the individual's leadership qualities, communication skills, and ability to collaborate effectively with other team members.
What is a good objective for a Design Director resume?
Blog Section:
When applying for a Design Director job, having an effective objective statement on your resume can make all the difference. A well-written design director resume objective should capture your key skills, accomplishments and career goals, and demonstrate why you would be the ideal choice for the role.
Here are some tips for crafting a strong design director resume objective:
-Highlight Your Qualifications: Show off your qualifications for the role by emphasizing your design experience, such as your knowledge of design software and your ability to lead a team.
-Focus on the Employer: Show that you're the best fit for the position by emphasizing achievement relevant to the employer's goals.
-Be Specific: Describe exactly what you're looking to do in the role, such as your vision for the design team and your plans for developing creative strategies.
-Be Concise: Your objective should be no more than two to three sentences long.
A good design director resume objective should be tailored to the job and demonstrate why you're the best candidate for the position. Show that you're the ideal fit for the role by highlighting your relevant skills and accomplishments. By doing so, you'll be sure to stand out from the competition and get your foot in the door.
How do you list Design Director skills on a resume?
A Design Director is a creative professional who is responsible for the overall visual aspects of a company's products or services. As a Design Director, you must have the right set of skills to ensure the success of the organization's design and image.
When creating a resume for a Design Director role, it is important to showcase your skills in order to be considered for a job. Here are some skills to consider including in your resume to demonstrate your qualifications for a Design Director position:
Excellent visual design skills: Design Directors must be able to create visually compelling designs that capture the company's vision and values.
Strong organizational and project management skills: Design Directors must be able to organize and manage multiple projects at once to ensure all design tasks are completed on time and within the budget.
Strong written and verbal communication skills: Design Directors must be able to effectively communicate their design ideas to stakeholders and team members.
Keen eye for detail: Design Directors must be able to spot even the smallest of design mistakes and be able to quickly and accurately address them.
Knowledge of current design trends and technologies: Design Directors must stay up-to-date on the latest design trends and technologies to ensure their designs are current and visually appealing.
Knowledge of Adobe Creative Suite: Design Directors should have a strong understanding of Adobe Creative Suite, as well as any other design software they may be required to use.
By including these skills on your resume, you can showcase your qualifications and experience as a Design Director to potential employers.
What skills should I put on my resume for Design Director?
Design directors are key players in the creative process, harmonizing the visions of art teams and executive stakeholders. If you're applying for a design director role, it's important to show employers you have the necessary skills to effectively lead creative teams. Here are some skills to include on your design director resume:
Technical Proficiency: Design directors must possess a deep understanding of digital tools and software, including Adobe Creative Suite, HTML5, CSS3, autodesk 3D Studio Max, Sketch, and other graphics programs.
Visual Design: Design directors should demonstrate a high level of visual design experience, including the ability to create logos, graphics, typography, illustrations, and layout design.
Project Management: Design directors must be able to manage multiple projects and team members, often with tight deadlines. Show employers you can handle the pressure by listing project management skills like time management, communication, task delegation, and problem-solving.
Collaboration: Collaboration is key for design directors as they manage creative teams and coordinate with executive stakeholders. Show employers you can work effectively with others by highlighting your abilities in teamwork, collaboration, and empathy.
Leadership: Design directors must have the ability to lead teams and motivate individual team members. Show employers you have the leadership skills to successfully drive the creative process by highlighting your experience with giving direction, developing strategies, and inspiring others.
Key takeaways for an Design Director resume
When it comes to crafting a resume for a Design Director position, there are a few key takeaways you should keep in mind. A Design Director resume should be organized, concise, and showcase your technical and creative design talents. Here are a few tips to consider when creating yours:
Utilize a modern, clean design: Start off by using a modern, visually appealing design that stands out and showcases your talents as a designer. A good way to do this is to use a two or three column layout and include relevant design work, skills, and accomplishments.
Highlight your experience: As a Design Director, you likely have a lot of experience in the design industry, so make sure to include it in your resume. Emphasize your experience with the relevant technologies, software, and design principles you've mastered.
Showcase your accomplishments: Your resume should include a section dedicated to your accomplishments as a Design Director. Include key projects, awards, and any other achievements that you're proud of.
Use keywords: In order to get past the automated applicant tracking systems many companies use, you should include relevant industry keywords that match the job description. Doing this will help ensure your resume is seen by the right people.
By following these key takeaways, you can create a Design Director resume that will help you stand out and land your dream job. Good luck!
Let us help you build
your Resume!
Make your resume more organized and attractive with our Resume Builder