The Creative Strategist role is a very sought after and important role in many businesses. It requires a very special skill set and a resume that stands out from the others. Writing a resume for this position can be daunting and it is important to make sure that you have all the necessary information and that it is presented in the most effective way. That is why this blog post will be your guide to writing a Creative Strategist resume that will captivate recruiters and hiring managers. It will include information on what to include in your resume as well as provide some real-life examples to help you get started.
If you didn't find what you were looking for, be sure to check out our complete library of resume examples.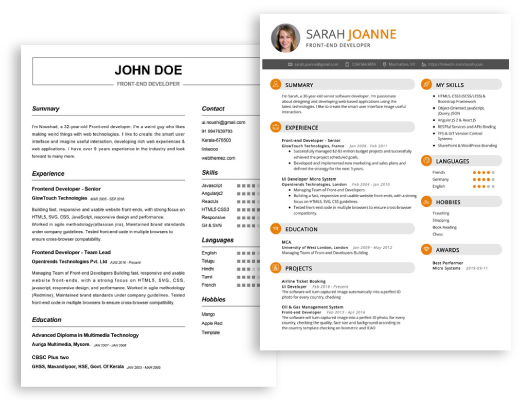 Start building your dream career today!
Create your professional resume in just 5 minutes with our easy-to-use resume builder!
Creative Strategist Resume Examples
John Doe
Creative Strategist
123 Main Street | Anytown, USA 99999 | Phone: (123) 456-7890 | Email: john.doe@email.com
I am a Creative Strategist with a passion for producing successful marketing campaigns. I have 5 years of experience in the creative field, and I am well versed in the latest digital marketing trends and technologies. My knowledge of consumer behavior and creativity, combined with my ability to develop innovative solutions, has enabled me to produce highly successful campaigns.
Core Skills:
Strong understanding of consumer behavior and marketing principles
Digital marketing experience, including SEO, SEM and social media
Ability to create and execute innovative and effective strategies
Excellent communication and problem- solving skills
Proficiency in Google AdWords and Microsoft Office
Professional Experience:
Creative Strategist, Creative Agency, 2020- Present
Develop and execute creative strategies for clients in various industries
Conduct market research and competitive analysis to identify customer needs and trends
Create and manage content for digital campaigns, including email, web and social media
Optimize campaigns for maximum reach and engagement
Monitor campaigns and adjust strategies as needed
Education:
B.A., Communications, University of Texas, 2016
Creative Strategist Resume with No Experience
A recent graduate with a degree in Creative Writing and Strategic Studies, eager to bring my enthusiasm and knowledge to a growing Creative Strategist role. Looking to learn from the best and contribute to a successful team.
Skills
Strong knowledge of research methods and data analysis
Excellent writing, editing and proofreading skills
Ability to generate creative strategies and solutions
Proficient in project management and organizational skills
Creative problem solving, troubleshooting and critical thinking
Excellent communication and presentation skills
Proficient in Microsoft Office Suite
Responsibilities
Develop creative strategies and solutions to meet client goals
Collaborate with creative and marketing teams to develop campaigns
Conduct research to gather consumer insights and trends
Analyze data to identify opportunities and areas for improvement
Create and implement projects plans to ensure successful implementation
Develop and execute creative strategies that are in line with the brand
Monitor and track campaigns to measure success and ROI
Keep up to date with the latest industry trends and best practices
Creative Strategist Resume with 2 Years of Experience
A Creative Strategist with 2 years of experience in developing innovative solutions to drive business growth. Skilled in concepting, copywriting, and project management, I am results- oriented and thrive in creative problem solving. I bring an analytical approach to creative that helps drive success in marketing and advertising.
Core Skills:
Strategic Thinking
Copywriting
Creative Problem- Solving
Project Management
Concept Development
Brand Management
Data Analysis
Collaborative Teamwork
Responsibilities:
Developing and executing strategic campaigns to drive brand awareness, improve user engagement, and increase web traffic
Conceptualizing, creating, and editing content to support digital campaigns
Analyzing data to measure success and inform future digital campaigns
Collaborating with internal teams to develop creative solutions to business challenges
Implementing project management systems and processes to ensure project completion on time and on budget
Monitoring the latest trends in digital marketing and advertising to ensure campaigns are up to date
Managing brand identity and messaging across digital channels
Creative Strategist Resume with 5 Years of Experience
Highly- effective professional with 5+ years of experience in generating creative and marketing strategies for a wide range of clients. Experienced in developing innovative campaigns, campaigns for clients to reach their goals. Skilled in analyzing customer data and creating targeted marketing campaigns that generate results. Proven ability to assess customer needs and develop strategies that meet or exceed expectations. Possess a passion for creating and executing plans and an expertise in developing creative campaigns.
Core Skills:
Campaign Development
Marketing Strategies
Creative Thinking
Analytical Skills
Customer Relationship Management
Brand Management
Data Analysis
Responsibilities:
Develop creative strategies and marketing plans to exceed customer expectations and drive customer loyalty
Analyze customer data to generate insights and create effective marketing campaigns
Manage client relationships and ensure effective communication between customers and the company
Develop brand strategies and campaigns to position clients as the preferred choice in their market
Assess customer needs and create innovative solutions to meet or exceed customer expectations
Work with stakeholders to ensure timely delivery of projects and campaigns
Creative Strategist Resume with 7 Years of Experience
A Creative Strategist with 7 years of experience in developing and executing effective marketing campaigns, including conducting in- depth market research, utilizing resources to create brand awareness and recognition, and managing projects from concept to completion. Experienced in developing and executing innovative ideas, and working with cross- functional teams to ensure project success. Highly organized and efficient in facilitating campaigns to engage and activate target audiences.
Core Skills:
Project Management
Marketing & Advertising
Research & Analysis
Creative Strategy
Budgeting & Financial Management
Client Relationship Management
Team Leadership
Responsibilities:
Managed the development and execution of marketing campaigns from concept to completion, including creating project timelines, assigning tasks, and managing resources
Conducted innovative research to understand target audiences and develop strategies to engage consumers
Developed and executed creative strategies to increase brand awareness and recognition
Utilized traditional and digital media channels to maximize reach and effectiveness of campaigns
Managed budgeting and allocated resources to ensure project success within cost constraints
Actively engaged with clients to identify new product opportunities and develop marketing plans
Collaborated with cross- functional teams to ensure successful implementation of campaigns
Provided leadership and guidance to project teams to ensure deadlines and objectives were met
Creative Strategist Resume with 10 Years of Experience
Creative Strategist with 10 years of experience in the marketing and advertising industries. Proven track record of creating innovative campaigns and staying on top of industry trends. Skilled in crafting compelling content and strategies that leverage emerging technologies. Experienced in developing collaborative relationships with clients, vendors, and colleagues. Highly organized and well- versed in the use of project management tools.
Core Skills:
Strategic planning
Content creation
Business development
Relationship building
Project management
Budgeting
Analytics
Digital marketing
Creative problem solving
Trend analysis
Responsibilities:
Develop creative strategies that drive engagement and conversions
Create compelling content to support marketing campaigns
Manage and monitor projects to ensure deliverables are met on time and within budget
Collaborate with clients, vendors, and colleagues to develop innovative solutions
Analyze industry trends to determine best course of action
Leverage emerging technologies and digital marketing initiatives to increase brand awareness
Develop and manage budgets to support projects
Monitor and report on campaign performance and provide actionable insights
Creative Strategist Resume with 15 Years of Experience
A creative strategist with 15 years of experience in conceptualizing and delivering innovative, impactful, and memorable campaigns across multiple platforms. Proven ability to lead and drive results across global markets, positively influencing customer engagement and brand loyalty. Skilled at developing focused strategies and building powerful teams.
Core Skills:
Leadership & Team Management
Strategic Planning
Creative Problem Solving
Cross- Platform Campaigns
Client Relationship Management
Budget & Resource Management
Responsibilities:
Developed and implemented creative strategies for global campaigns that delivered high levels of customer engagement
Lead diverse teams of creative professionals for projects with tight deadlines and budgets
Created and managed branding initiatives that drove consumer loyalty and brand recognition
Developed cross- platform campaigns that reached customers across multiple channels
Analyzed customer feedback and adjusted strategies accordingly to ensure customer satisfaction and business goals
Managed client relationships, ensuring expectations were met and exceeded
In addition to this, be sure to check out our resume templates, resume formats, cover letter examples, job description, and career advice pages for more helpful tips and advice.
What should be included in a Creative Strategist resume?
A Creative Strategist resume should showcase the individual's skills and experience in the creative and marketing fields. It should also highlight their ability to think strategically and come up with innovative solutions to complex problems. Here are some tips on what to include in a Creative Strategist resume:
Professional Summary: A brief summary of your professional experience, highlighting your creativity and strategic problem-solving skills.
Education: Detail your formal education, including any degrees, certifications, or other qualifications that are relevant to your role as a Creative Strategist.
Experience: List any relevant work experience that demonstrates your creative and strategic abilities. This could include freelance gigs, internships, or full-time positions.
Skills: Describe the creative and strategic skills you possess, such as brainstorming, marketing analysis, research, trend spotting, and social media management.
Portfolio: Include links to any relevant work you have done, such as website designs, PowerPoint presentations, or campaigns.
Awards/Recognition: If applicable, mention any awards or recognition you have received for your work.
Personal Interests: Adding a few personal interests to your resume can help to show potential employers your personality.
What is a good summary for a Creative Strategist resume?
A Creative Strategist resume should provide an overview of your key skills, abilities, and experiences that are relevant to the creative strategy role you are applying for. Your summary should explain how your past experiences have provided you with the skills and knowledge necessary to excel in the position. Additionally, you should highlight any achievements or awards that you have earned in the past that demonstrate your aptitude for creative strategy. If you have any industry related certifications, such as digital marketing or graphic design, make sure to include that information as well. Finally, your summary should showcase your most valuable traits in relation to the roles and responsibilities of a Creative Strategist. By giving a brief but comprehensive summary of your qualifications and professional experience, you can help employers quickly determine your suitability for the role.
What is a good objective for a Creative Strategist resume?
A creative strategist is a professional who develops creative strategies and campaigns for businesses. They have a wide range of skills that include marketing, design, copywriting, research, and analysis. As such, the objective on a creative strategist's resume should be tailored to reflect these skills and highlight their ability to effectively execute strategies.
Here are some examples of good objectives for a creative strategist resume:
To leverage my communication, problem-solving, and organizational skills to develop effective strategies and campaigns that help businesses reach their goals.
To utilize my expertise in marketing, design, copywriting, research, and analysis to create effective and successful campaigns.
To apply my knowledge of market trends and consumer behavior to develop innovative strategies that drive sales and engagement.
To provide innovative and creative solutions to businesses' marketing and communication needs.
To collaborate effectively with a team of designers, copywriters, and other professionals to execute successful campaigns.
By crafting an objective that reflects your skills and abilities, you can make sure that recruiters and potential employers know exactly what you have to offer. You can also make sure that your resume stands out and puts you in a good position to land an interview.
How do you list Creative Strategist skills on a resume?
A Creative Strategist is a specialist who combines creative and analytical abilities to develop strategic solutions for clients. A Creative Strategist produces creative campaigns that achieve clients' objectives, while also positioning a brand in a positive light. When listing Creative Strategist skills on a resume, it's important to highlight your technical know-how, marketing prowess, and creative abilities.
Here are some of the skills to list as a Creative Strategist:
Branding: Knowledge of how to create, develop, and manage a brand's identity and positioning.
Content creation: Ability to write engaging and persuasive content, including website copy, social media posts, and newsletters.
Research: Researching customer needs and preferences; Understanding brand competitors; Identifying trends in the market.
Digital marketing: Experience with SEO, PPC, email, and social media marketing.
Creative problem-solving: Coming up with innovative solutions to complex challenges.
Team collaboration: Working with other creatives, strategists, copywriters, designers, and developers.
Project management: Ability to develop strategy plans and monitor project progress.
By listing these skills on your resume, you will demonstrate to potential employers that you have the knowledge and expertise to develop successful strategies for their business. In addition, the skills you list will give employers an understanding of your capabilities and how they might fit into the company's strategy.
What skills should I put on my resume for Creative Strategist?
A creative strategist is a creative problem solver who turns a vision into reality. The job requires a diverse set of skills, from coming up with creative ideas to analysis, project management and evaluation. Here are some of the skills to consider including on your resume for a creative strategist role:
Creative Thinking: Creative strategists must be able to think outside of the box and come up with innovative solutions.
Research: Creative strategists must be able to conduct research and analyze data to understand the client's needs and goals.
Project Management: Creative strategists must be able to plan and manage projects from start to finish.
Interpersonal Skills: Creative strategists must be able to work with a variety of people and stakeholders and effectively communicate their ideas.
Evaluation: Creative strategists must be able to evaluate the success of their creative strategies and suggest areas for improvement.
Problem-Solving: Creative strategists must be able to identify problems and come up with creative solutions.
Adaptability: Creative strategists must be able to adjust quickly to changing trends and technologies.
Leadership: Creative strategists must be able to lead a team and guide them to a successful outcome.
Key takeaways for an Creative Strategist resume
As a Creative Strategist, it is essential to have a standout resume that not only showcases your skills and experience, but also highlights the value you bring to the table. A Creative Strategist resume should demonstrate your knowledge of the industry, ability to think outside the box, and your ability to create effective solutions for clients. Here are some key takeaways for crafting an impressive Creative Strategist resume:
Highlight Your Skills and Experience: Showcase your skills and experience in creative, strategic thinking, and problem-solving. Include examples of successful campaigns and projects you've been involved in, as well as any awards or recognitions you've earned. Demonstrate how your insight, experience, and creativity can help clients reach their goals.
Emphasize Your Creative Thinking: Focus on how you can provide creative solutions to complex problems. Showcase your brainstorming and problem-solving skills, as well as your ability to think out of the box.
Showcase Your Collaborative Skills: Highlight your ability to work in a team environment, and list any successful collaborations you've been involved in. Demonstrate your ability to work with a variety of stakeholders and to manage different personalities.
Use Data to Your Advantage: Use data to support your claims and show that you are results-oriented. Include numbers-driven examples to demonstrate the effectiveness of your campaigns and strategies.
Highlight Your Ability to Lead: Showcase your leadership abilities and the capacity to motivate others. Include any team management or supervisory experience you have, and focus on your ability to lead by example.
By following these key takeaways, you can create a strong and effective Creative Strategist resume. Remember to highlight your skills, experience, and leadership abilities, as well as your ability to think outside the box and provide creative solutions.
Let us help you build
your Resume!
Make your resume more organized and attractive with our Resume Builder