Resumes are an essential part of the job search process and a key factor for employers when making decisions about who to hire. As a creative producer, your resume needs to be both visually striking and content-rich. Writing a resume for the creative producer role can be tricky, as you need to showcase your skills and experience in an engaging and memorable manner. To help you get started, this guide provides tips on how to write a creative producer resume, along with examples to help bring your document to life.
If you didn't find what you were looking for, be sure to check out our complete library of resume examples.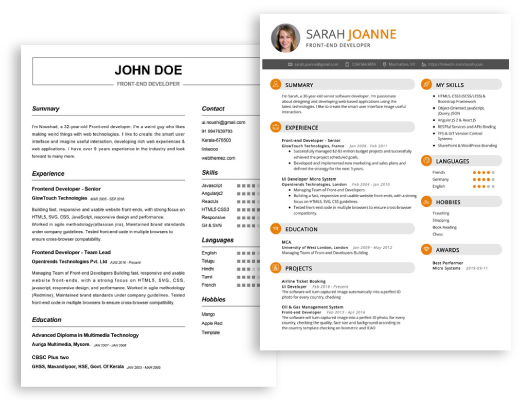 Start building your dream career today!
Create your professional resume in just 5 minutes with our easy-to-use resume builder!
Creative Producer Resume Examples
John Doe
Creative Producer
123 Main Street | Anytown, USA 99999 | Phone: (123) 456-7890 | Email: john.doe@email.com
Creative Producer with 7+ years of experience in the entertainment industry, specializing in events, live programming and video production. Experienced in developing creative event concepts, managing event production and team leadership. Skilled in utilizing creative thinking to ideate, design, plan and execute unique and successful events.
Core Skills:
Event Production
Creative Concept Development
Team Leadership
Budget Management
Video Production and Editing
Project Management
Communication
Professional Experience:
Live Events Producer, ABC Productions – Los Angeles, CA (2012 – 2019)
Oversaw the production and execution of large- scale events, including conferences, concerts and festivals
Developed creative concepts and ideas for event programming, including multi- media and live entertainment
Managed the production budget and held oversight of the planning process, from concept to completion
Led and coordinated the team of event staff, providing guidance and direction while managing workflow
Produced and edited video content for event marketing and promotional materials
Education:
Bachelor of Arts in Entertainment Production, University of Southern California, Los Angeles, CA (2009 – 2012)
Creative Producer Resume with No Experience
Hard- working and passionate creative producer with a desire to create impactful work. Possesses excellent communication and organization skills as well as an eagerness to learn and grow.
Skills
Strong communication and organization skills
Proven ability to manage multiple projects simultaneously
Ability to work independently and as part of a team
Proficient in Microsoft Office and Adobe Creative Suite
Excellent problem- solving and critical thinking skills
Responsibilities
Assist with the development of creative concepts and strategies
Assist with the preparation of presentations
Develop budgets and timelines for projects
Research and source new materials and technologies to innovate projects
Track progress and ensure that deadlines are met
Liaise with internal and external stakeholders to ensure smooth project execution
Participate in creative brainstorming sessions and ensure creative excellence
Develop and implement processes to ensure quality assurance
Oversee the execution of all aspects of production, including filming, editing, and post- production
Creative Producer Resume with 2 Years of Experience
Dynamic and results- oriented Creative Producer with two years of experience working in the entertainment industry. Possess a strong background in developing and producing a wide array of creative projects from conception to completion. Experienced in managing and overseeing all aspects of production, from pre- production to post- production. Highly skilled in coordinating with various stakeholders to ensure the successful delivery of projects on- time and within budget. Excellent communicator and team leader with the ability to uphold high standards of quality and creativity.
Core Skills:
Creative Project Management
Design and Production
Budgeting and Scheduling
Problem- Solving
Stakeholder Relationships
Communication and Leadership
Team Management
Quality Assurance
Responsibilities:
Managed the production of television commercials, radio spots, print ads, and digital campaigns.
Developed creative briefs, storyboards and budgets.
Coordinated with creative teams to ensure the successful completion of projects.
Established process and procedure for production, post- production and delivery.
Coordinated with external vendors to ensure timely delivery of materials and services.
Monitored progress of projects to ensure projects were completed on- time and within budget.
Developed relationships with internal and external stakeholders.
Ensured compliance with industry standards and regulations.
Managed and led a team of creative professionals.
Creative Producer Resume with 5 Years of Experience
Creative Producer with 5 years of experience in the media and entertainment industry. Proven track record of success in developing and executing high- quality projects, while staying within timeline and budget constraints. Experienced in managing creative teams and developing creative concepts to bring projects to life.
Core Skills:
Project management
Team leadership
Creative concept development
Budgeting
Timeline management
Vendor/Partner relations
Responsibilities:
Develop and manage project plan to ensure successful completion of multiple projects
Lead creative teams in concept development and implementation of projects
Manage budget to ensure projects are completed on time and within budget
Communicate with vendors and partners to ensure timely completion of tasks
Provide guidance and direction to ensure projects remain within scope and timeline
Maintain awareness of industry trends and developments to ensure projects are up- to- date and successful
Creative Producer Resume with 7 Years of Experience
I am a highly motivated Creative Producer with 7 years of experience in media production, content creation, and project management. With a proven track record of successful projects and content creation, I am confident in developing creative concepts, producing and delivering quality content on time and on budget. I possess strong communication and interpersonal skills that allow me to work collaboratively with cross- functional teams, internal stakeholders, and external partners. I am a creative problem- solver and strategic thinker with a keen ability to identify market trends and implement strategies to maximize the reach of our content.
Core Skills:
Project Management
Content Creation & Production
Strategic Planning
Creative Problem- Solving
Trend Identification & Analysis
Client & Partner Relations
Collaborative Teamwork
Budget & Timeline Management
Responsibilities:
Developing and executing innovative content strategies
Creating original content for various mediums
Coordinating with internal and external partners
Managing content production for multiple projects
Creating, checking and approving budgets and timelines
Tracking project progress and ensuring deliverables are met
Leading creative teams to deliver high- quality projects
Managing post- production processes and archiving content
Identifying market trends and creating strategies to capitalize on them
Collaborating with stakeholders to ensure successful project completion.
Creative Producer Resume with 10 Years of Experience
Highly motivated and organized Creative Producer with 10 years of experience in the entertainment industry. Experienced in producing and managing projects from concept development through to completion, while managing teams and budgets efficiently. Skilled communicator and negotiator, adept at problem- solving, establishing and maintaining relationships with both internal and external stakeholders. Excels at developing high- quality, entertaining content and overseeing the many details required to successfully launch new projects.
Core Skills:
Project management
Budgeting and scheduling
Product development
Creative direction
Post- production oversight
Team leadership
Client relations
Negotiation
Problem- solving
Communication
Responsibilities:
Developing creative concepts and storylines for television, film and digital media projects
Coordinating production activities, including planning and scheduling
Managing the budget for projects and ensuring timely completion within the allocated budget
Identifying and securing the necessary resources for production
Coordinating the work of a production team, including writers, directors, editors, animators and other professionals
Negotiating contracts with vendors and freelancers
Overseeing post- production activities and ensuring quality control
Liaising with clients to ensure projects meet their desired objectives
Monitoring crew performance, providing feedback and identifying areas of improvement
Ensuring that all relevant regulations and legal requirements are met.
Creative Producer Resume with 15 Years of Experience
Dynamic Creative Producer with 15 years of experience in the creative industry. Possesses a strong understanding of the creative process, as well as expertise in developing successful marketing campaigns. Skilled in working with teams of professionals to deliver projects that exceed client expectations. Proven track record in project management, budgeting, and timeline management. Skilled in working with internal and external stakeholders to ensure successful delivery of projects.
Core Skills:
Creative Process Knowledge
Marketing Campaign Development
Project Management
Budgeting
Timeline Management
Internal/External Stakeholder Management
Collaboration
Responsibilities:
Developing successful creative campaigns and strategies that meet client needs
Managing creative projects within budget and timeline constraints
Working with internal and external teams to ensure successful delivery of campaigns
Coordinating with stakeholders to ensure projects are meeting their requirements
Drafting creative briefs and project plans
Reviewing creative concepts to ensure they satisfy client objectives
Overseeing the development of creative assets and ensuring quality control
In addition to this, be sure to check out our resume templates, resume formats, cover letter examples, job description, and career advice pages for more helpful tips and advice.
What should be included in a Creative Producer resume?
A Creative Producer resume should include pertinent information about your production and creative skills, experiences, and achievements in the field of media and entertainment.
A well-crafted Creative Producer resume should include the following details:
Relevant Work Experience: Include any past creative producer positions you have held and the projects you have been involved in. Highlight the most successful and notable projects that demonstrate your talent and abilities.
Education: List the institutions you attended and the degrees, diplomas, or certifications you obtained.
Skills: List any software, hardware, and other technical skills you have. Focus on the technical skills that are applicable to creative production.
Awards and Accomplishments: Include any awards or accomplishments you have earned related to your work in this field.
Professional Memberships: List any professional organizations you are affiliated with that relate to the creative production industry.
References: Include the names and contact information for professional references that can speak to your capabilities as a Creative Producer.
By including the details above in your Creative Producer resume, you can ensure you are presenting yourself in the best possible light to potential employers.
What is a good summary for a Creative Producer resume?
A Creative Producer resume should be a detailed and comprehensive summary of the individual's skills and accomplishments. This summary should include all the relevant information about a person's education, experience, and qualifications for the role. It should also demonstrate how the individual has applied their creative and organizational skills to produce successful projects. A good Creative Producer resume should also list any awards won, additional certifications completed, and any other qualifications that could make the individual stand out from the competition. By highlighting the individual's experience and qualifications, the summary should convey the value the applicant can bring to the company.
What is a good objective for a Creative Producer resume?
A Creative Producer is a highly experienced professional with a diverse set of skills in the creative and technical aspects of media production. As such, crafting an effective objective for a Creative Producer resume is key to setting yourself apart from the competition. Here are some effective objectives for a Creative Producer resume:
To secure a position as a Creative Producer in a leading media company where I can utilize my knowledge of creative and technical production processes
To employ my experience in the creative industry to foster innovation and drive successful campaigns for clients
To be a part of a creative team that can create original content and deliver high quality results
To lead creative projects from start to finish with a focus on meeting budget and timeline requirements
To bring a unique perspective to production projects and ensure that they meet the company's standards of excellence
To develop new procedures and processes to increase efficiency and productivity within the production team
To use my knowledge of digital media production to create dynamic and compelling visual content
To collaborate with a diverse team of professionals to produce innovative and engaging content
To provide expert guidance to the production staff on all aspects of the creative process
To ensure the highest quality of production while staying within budget and timeframe constraints
How do you list Creative Producer skills on a resume?
Creative Producers are responsible for overseeing the production of creative projects, from concept to completion. As such, they must possess a unique combination of creative, technical, and organizational skills. Here is a list of skills that Creative Producers should set forth on their resumes in order to gain consideration for the role:
Project Management: Creative Producers must be able to manage projects from concept to completion, including managing timelines, budgets, and personnel.
Creative Thinking: Creative Producers must be able to come up with creative concepts, solve problems, and think outside the box.
Communication: Creative Producers must be able to effectively communicate and collaborate with clients, vendors, and members of their team.
Technical Skills: Creative Producers must have a good understanding of production technologies, including software, cameras, editing equipment, and other tools.
Negotiation Skills: Creative Producers must be able to negotiate contracts, fees, and other aspects of production.
Problem-Solving: Creative Producers must be able to identify and solve problems quickly and efficiently.
Organizational Skills: Creative Producers must be able to organize projects, manage workflow, and ensure deadlines are met.
By listing these skills on a resume, Creative Producers can show potential employers that they are well-equipped to carry out the duties of the role.
What skills should I put on my resume for Creative Producer?
Creative producers are responsible for managing the creative process of a project from inception to delivery. From developing creative concepts and writing pitches, to managing budgets and timelines, they must possess a wide range of skills. When creating your resume, it is important to highlight the skills that are most relevant to the role of a creative producer. Here are some important skills to include:
Leadership: Creative producers must be able to lead a team and manage workflow. Highlight any past experience that demonstrates your ability to lead projects and manage teams.
Organization: Creative producers must be able to create and manage budgets and timelines. Showcase any past experiences that demonstrate your organizational skills.
Communication: Creative producers must be able to communicate effectively with multiple stakeholders. List any experience you have in managing stakeholder relations and collaborating with different departments.
Creativity: Creative producers must possess the creativity needed to develop innovative concepts. Showcase your creative abilities by listing any awards or accolades you have won for your creative ideas.
Problem-solving: Creative producers must be able to identify and solve problems. Showcase any experience you have in troubleshooting and problem-solving.
Adaptability: Creative producers must possess the flexibility to adapt to changing conditions. Demonstrate your ability to adjust quickly to new tasks and environment.
By highlighting these skills on your resume, you will demonstrate that you are the perfect fit for a creative producer role. With the right skills, you will be well on your way to success.
Key takeaways for an Creative Producer resume
When crafting your creative producer resume, you want to highlight your skills and experience in a way that catches the attention of employers. By understanding the key takeaways that employers look for when they review creative producer resumes, you can make sure to include the most important information.
First and foremost, employers look for creative producers who are familiar with media production. This means having a deep understanding of the production process and the tools used to create media content. You should emphasize your experience with specific media software applications, and any experience you have with video, audio, or graphics production.
Second, employers want to know that you understand the creative process. You should illustrate how you work with a team of creatives to develop concepts, manage the timeline, and ensure the quality of the finished product.
Third, employers look for experience in managing digital content. This includes understanding how to maximize audience engagement with content, as well as digital marketing strategies.
Finally, employers want to see that you have the required technical skills. This includes proficiency in project management tools, as well as knowledge of digital platforms and coding.
By understanding the key takeaways for a creative producer resume, you can make sure to include the most important information and give yourself a better chance of landing the job. Showing employers that you understand the creative process, have experience managing digital content, and possess the required technical skills is essential when applying for a creative producer role.
Let us help you build
your Resume!
Make your resume more organized and attractive with our Resume Builder