Having a professionally written resume is essential for any 3D designer. Creating a resume that stands out from other applicants and highlights your skills and accomplishments in the 3D design industry is the key to success. Writing a great 3D designer resume is not a difficult task, but it requires time and effort. This guide provides an overview of the key elements and tips that should be included when writing a resume for a 3D designer position. It also includes examples of resumes that have been successful in helping 3D designers get hired. With these tips and examples, you will be well on your way to creating a strong and effective resume for your 3D design career.
If you didn't find what you were looking for, be sure to check out our complete library of resume examples.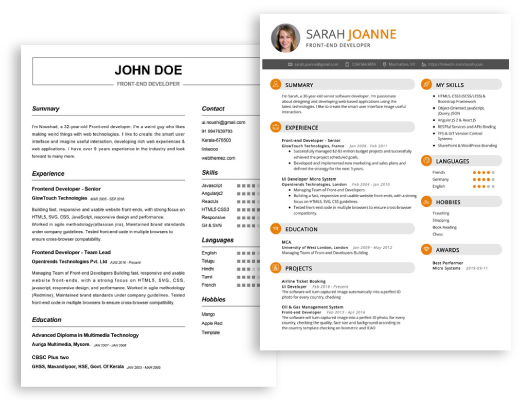 Start building your dream career today!
Create your professional resume in just 5 minutes with our easy-to-use resume builder!
3D Designer Resume Examples
John Doe
3D Designer
123 Main Street | Anytown, USA 99999 | Phone: (123) 456-7890 | Email: john.doe@email.com
I am an experienced 3D designer with a strong portfolio of work that showcases my creative vision and technical abilities. I have excellent skills in 3D modelling, lighting, texturing, rendering, design, and animation. I have a proven track record of creating high quality 3D visuals for clients in a variety of industries. I am highly organized, detail- oriented, and passionate about meeting the needs of my clients.
Core Skills:
3D Modelling
Lighting
Texturing
Rendering
Design
Animation
Professional Experience:
3D Designer, XYZ Company – 2017- 2020
Developed 3D models, animations, and lighting solutions for 3D visuals for clients in the entertainment industry.
Created and edited material textures to create realistic and appealing visuals.
Utilized a range of software such as 3ds Max, Maya, and Photoshop to create high- quality 3D visuals.
Collaborated with other 3D designers and engineers to ensure the successful completion of projects.
Education:
Bachelor of Arts in 3D Design, ABC University – 2013- 2017
Specialized in 3D modelling, lighting, texturing, rendering, and animation.
Developed a strong foundation in 3D design principles and the latest industry trends.
Completed a semester abroad studying 3D design at XYZ University in Spain.
3D Designer Resume with No Experience
Recent college graduate with strong interest in 3D Design. Possess strong analytical and graphic design skills. Proficient in the use of modern design software. Excellent eye for detail and aesthetic.
Skills:
Proficient in 3D Design Software such as Maya, 3D Studio Max, and ZBrush.
Deep understanding of color theory, composition, lighting, and shading techniques.
Strong ability to create and modify 3D objects, characters, and environments.
Proficient in Adobe Photoshop, Illustrator, and InDesign.
Ability to collaborate and communicate effectively with team members.
Excellent problem solving and critical thinking skills.
Responsibilities:
Develop 3D models, characters, and environments for use in gaming, entertainment, and advertising.
Create textures, materials, and shaders for objects, characters, and environments in 3D design.
Design and implement lighting, shadows, and reflections.
Create animations and motion graphics as needed.
Perform rendering, compositing, and post- production.
Participate in team meetings to discuss project progress and design ideas.
Identify and troubleshoot design problems with feedback from clients.
3D Designer Resume with 2 Years of Experience
I am a 3D Designer with two years of professional experience. I have a thorough understanding of 3D modeling, animation and visual effects, as well as a strong eye for composition, color and detail. I have worked on many projects with a wide range of clients, giving me the experience and exposure to create complex and sophisticated 3D designs which can bring a project to life. With my experience, I can work independently and collaborate effectively with other designers, artists and clients to create stunning 3D designs.
Core Skills:
3D modeling
Texturing
Lighting
Animation
Rendering
Compositing
Visual Effects
Rigging
Responsibilities:
Creating 3D models, textures and lighting for both static and animated images
Implementing and managing complex rigging for animating characters and objects
Coordinating with other designers, artists and clients to ensure the highest level of quality
Working with stakeholders to develop 3D designs and implement changes as requested
Ensuring projects meet deadlines and expectations
Troubleshooting technical and software issues as they arise.
3D Designer Resume with 5 Years of Experience
A passionate 3D designer with 5 years of experience in delivering innovative and creative solutions with a proven track record of meeting tight deadlines. Experienced in 3D modeling, rendering, animation, and texturing, I have a holistic understanding of the production process and I'm a problem solver. My skills are backed up by an ability to think conceptually and good understanding of the project briefs.
Core Skills:
3D modeling
Rendering
Animation
Texturing
Understanding of project briefs
Conceptual thinking
Problem solving
Responsibilities:
Developing 3D models using computer animation software
Rendering objects and creating realistic images
Animating objects and characters
Creating textures for objects and characters
Handling multiple projects at once
Adhering to project briefs
Producing high- quality work to tight deadlines
Working with clients and other designers to ensure the project's success
Using technical skills to create realistic and impressive 3D designs.
3D Designer Resume with 7 Years of Experience
I am a 3D Designer with over 7 years of experience in the 3D Design industry. My expertise include creating 3D models and animation, as well as understanding concept design and visual effects. I understand how to translate client needs and vision into reality, while adhering to timelines and budgets. I am highly organized and focused on meeting deadlines, while maintaining the quality of my work.
Core Skills:
3D Modeling
Animation
Concept Design
Visual Effects
Attention to Detail
Meeting Deadlines
Budgeting
Responsibilities:
Developing 3D models from concept designs
Creating realistic animations
Collaborating with clients to create accurate 3D designs
Ensuring high quality 3D concepts
Incorporating client feedback and making revisions
Meeting deadlines while keeping within budget constraints
Training and supervising junior 3D Designers
3D Designer Resume with 10 Years of Experience
A highly creative and experienced 3D Designer with 10 years of expertise in the design industry. Experienced in utilizing the latest 3D software and tools to create innovative and imaginative designs. Possesses exceptional skills in 3D modeling, motion design, and texturing, as well as knowledge of game engines, virtual reality, augmented reality, and sketching.
Core Skills:
Advanced 3D modeling
Motion design
Texturing
Game engine creation
Virtual reality
Augmented reality
Sketching
CGI production
Lighting
Rigging
Animation
Responsibilities:
Developing and creating innovative 3D designs.
Collaborating with team members to produce cutting- edge 3D designs.
Creating 3D models, animations, and characters.
Editing, animating, and texturing 3D content.
Integrating 3D elements with other media.
Creating and maintaining 3D design portfolios.
Creating original concepts and designs for 3D projects.
Researching and staying up to date on the latest software and technologies.
Troubleshooting and resolving technical issues.
Testing and optimizing 3D designs for quality assurance.
3D Designer Resume with 15 Years of Experience
With 15 years of experience in 3D Design, I have extensive knowledge and experience in the field. I have been involved in several projects, from 3D animated videos for marketing campaigns, to 3D modelling for video games. My expertise includes modelling, animation, and texturing. I have an eye for detail, meaning I can create designs with accuracy and precision. In addition, I have excellent communication and problem- solving skills which I use to ensure the timely completion of projects.
Core Skills:
3D Design
3D Modelling
Animation
Texturing
Communication
Problem Solving
Responsibilities:
Brainstorming and developing ideas for 3D projects
Creating and executing 3D designs with accuracy and precision
Working with a team of designers to create 3D designs
Designing video game characters and environments
Animating 3D designs to create videos
Troubleshooting any technical issues that may arise during the design process
Meeting project deadlines and ensuring client satisfaction
In addition to this, be sure to check out our resume templates, resume formats, cover letter examples, job description, and career advice pages for more helpful tips and advice.
What should be included in a 3D Designer resume?
A 3D Designer resume should include a comprehensive list of skills and qualifications that demonstrate the designer's unique ability to create 3D models, animation, and other digital media. To ensure employers have a full grasp of a designer's capabilities, the following points should be included:
Professional Experience: Description of the designer's past work experience, which should include the 3D software used, the size and scope of projects completed, and the impact the projects had.
Technical Skills: List of the 3D software programs that the designer is proficient in using, as well as other relevant software such as Adobe Creative Suite.
Education: Details of the designer's degree, diploma, or certificate in 3D design or related field.
Portfolio: Examples of the designer's 3D models and animation, ideally presented in a professional manner.
Awards and Honors: Any awards or recognition the designer has received for their work.
Digital Profiles: Links to the designer's online portfolio and social media accounts.
Overall, a 3D Designer resume should provide a comprehensive picture of the designer's unique capabilities and experience. By including the aforementioned points, employers can easily evaluate the designer's suitability for their project.
What is a good summary for a 3D Designer resume?
A good summary for a 3D Designer resume should emphasize the candidate's skills in 3D modeling, animation, and texturing. Additionally, the summary should demonstrate their experience in various 3D software programs, as well as their knowledge of the principles of 3D design. The summary should also highlight technical and artistic milestones that the candidate has achieved in their experience as a 3D designer. Finally, the summary should demonstrate their ability to work well in a team environment, and how they are capable of working independently.
What is a good objective for a 3D Designer resume?
A 3D Designer's resume objective is a concise statement that outlines the key skills, experience, and qualities a 3D Designer has to offer a potential employer. An effective objective should quickly demonstrate the candidate's ability to fulfill the 3D Designer job requirements. Here are some objectives to consider:
To leverage my experience in 3D design, animation, and texturing to create innovative and visually stunning designs.
To utilize my artistic knowledge in 3D graphics and animation to create projects that will exceed customer expectations.
To contribute my expertise in 3D modeling, rigging, and rendering to produce high-quality visuals for various projects.
To apply my knowledge of 3D design and animation software to create original artwork for video games and applications.
To utilize my background in 3D modeling, texturing, and animation to create immersive gaming experiences.
To use my experience in 3D design and animation to create visually stunning characters, environments, and effects for video games and other media.
To bring my strong skills in 3D design and animation to create engaging visuals for interactive projects.
To apply my knowledge of 3D design and animation techniques to create realistic and engaging virtual reality experiences.
How do you list 3D Designer skills on a resume?
When creating a resume, it is important to include your skills and abilities as a 3D Designer. Doing so can help give employers a better understanding of your capabilities and demonstrate the value you can bring to their team. Here are some tips on how to list 3D Designer skills on a resume:
Include a Skills section: A separate section of your resume should be dedicated to listing your skills as a 3D Designer. Make sure to clearly highlight the skills that make you a qualified designer, such as software proficiency, knowledge of animation techniques, and artistic skill.
Use specific examples: Whenever possible, use concrete examples to demonstrate your 3D Design skills. For example, rather than simply stating "I am proficient in Blender," you can specify which features you are most familiar with or how you have used the program to create 3D models in the past.
List any awards or recognition: If you have received any awards or recognition for your 3D Design work, make sure to list those in your resume. This can let employers know that your skills have been recognized by industry professionals.
By including the right information and making sure to emphasize your skills as a 3D Designer on your resume, you can increase your chances of getting noticed by potential employers.
What skills should I put on my resume for 3D Designer?
As a 3D Designer, it is important to showcase your skills on your resume in order to stand out from other applicants. A successful 3D Designer should be proficient in 3D software, have a strong aesthetic eye, and be able to work effectively with clients. Here are some skills that you should include on your resume for a 3D Designer:
3D Modeling: Demonstrate your proficiency in 3D modeling software such as 3ds Max, Maya, Blender, or Cinema 4D.
Texturing: Showcase your ability to create textured surfaces for 3D models with programs like Substance Painter or Mari.
Rigging: Demonstrate your knowledge of rigging, which is the process of creating a skeleton for 3D models that can be animated.
Lighting: Demonstrate your ability to create realistic lighting systems for 3D environments.
Shading: Showcase your knowledge of shading, which is the process of creating realistic surfaces on 3D models.
Animation: Showcase your ability to create realistic animations for 3D models.
Scripting: Demonstrate your proficiency with languages such as Python, C#, or JavaScript in order to create custom tools and scripts.
Concept Art: Showcase your ability to visualize 3D environments and characters through concept art drawings.
Drawing & Painting: Demonstrate your ability to draw and paint in order to create concept art and textures.
Client Management: Showcase your ability to collaborate and communicate effectively with clients.
Project Management: Demonstrate your knowledge of project management processes such as scheduling and budgeting.
Key takeaways for an 3D Designer resume
As more and more industries are embracing the use of 3D design technologies, there is an increasing demand for 3D designers. For those looking to land a job in this field, it is important to showcase their skills and experience in a way that will stand out and catch the attention of potential employers. A 3D designer resume should clearly demonstrate the individual's education, experience, and skillset.
When crafting a 3D designer resume, there are several key elements that should be included. First, it is important to highlight any relevant education or certifications that the individual has obtained. This could include any 3D design-related courses, software certifications, or industry specific certifications. Second, it is important to list any relevant experience that the individual has. This could include any freelance work, internships, or 3D design-specific jobs. Finally, the resume should feature the individual's skillset. This could include any software knowledge, technical abilities, or creative talents.
In addition to these elements, there are a few other aspects of a 3D designer resume that should not be overlooked. A portfolio of the individual's work should be included, as this will allow employers to view examples of the individual's skills and experience. It is also important to highlight any awards or recognition that the individual has received. Finally, it is important to showcase any strong references that the individual has, such as former employers, mentors, or colleagues.
By including these key elements, a 3D designer resume can stand out from the competition and help an individual land their dream job.
Let us help you build
your Resume!
Make your resume more organized and attractive with our Resume Builder