Writing a snowboard instructor resume is crucial if you are looking to secure a job in the industry. With the right resume, you can make an impression on a potential employer and set yourself up for success. This guide will provide useful tips and examples to help you create a standout resume that will show off your skills and experience. You will learn how to construct your resume, the key elements to include in it, and the best way to showcase your snowboard instructor abilities. By the end, you will have a professional resume ready to send off to your next employer.
If you didn't find what you were looking for, be sure to check out our complete library of resume examples.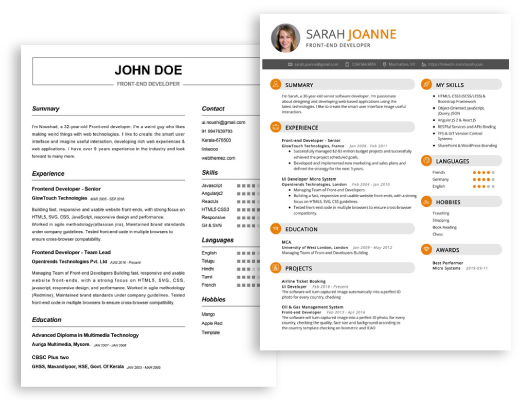 Start building your dream career today!
Create your professional resume in just 5 minutes with our easy-to-use resume builder!
Snowboard Instructor Resume Example
John Doe
Snowboard Instructor
123 Main Street | Anytown, USA 99999 | Phone: (123) 456-7890 | Email: john.doe@email.com
I am a professional snowboard instructor with 8 years of experience teaching beginner, intermediate, and advanced snowboarders. I have extensive experience working with a wide range of ages, from children to adults. I am passionate about teaching and have a great ability to break down the fundamentals and progress my students to the next level. I am an experienced rider and have a great ability to recognize and correct issues on the mountain. I have a professional and friendly approach, which has allowed me to build a great rapport with my students, parents, and coworkers alike.
Core Skills:
Effective instruction and teaching
Ability to break down fundamentals and progress students
Expertise in snowboarding and snowboard instruction
Professional and friendly demeanor
Solid understanding of snow and mountain safety
Ability to recognize and correct issues on the mountain
Excellent problem solving and communication skills
Professional Experience:
Snowboard Instructor, Snow Sports LLC, 2020 – Present
Responsible for teaching beginner, intermediate, and advanced snowboarders in a variety of age groups
Assist with the development of new lesson plans and instructional materials
Lead classroom sessions to introduce students to basic snowboard techniques
Monitor student progress and provide feedback to ensure optimal learning outcomes
Collaborate with co- instructors to create an enjoyable learning experience
Education:
Bachelor of Science in Recreation and Leisure Studies, North Carolina State University, 2015
Snowboard Instructor Resume with No Experience
Recent college graduate with a passion for snowboarding and teaching looking to begin a career as a Snowboard Instructor. Possess excellent communication and interpersonal skills, strong leadership abilities, and the ability to foster an enjoyable and safe learning environment.
Skills:
Exceptional interpersonal and communication skills
Ability to effectively instruct diverse groups
Strong organizational and time management skills
Knowledge of the fundamentals of snowboarding
Proficient in aptitude of teaching
Energetic and passionate about snowboarding
Ability to follow and enforce safety protocols
Responsibilities:
Assist in teaching snowboard classes and clinics
Organize and provide detailed instructions and demonstrations to students
Ensure safety of all students while on the slopes
Provide guidance, support, and motivation to students
Monitor student progress, provide feedback, and evaluate performance
Collaborate with colleagues to plan and develop lesson plans
Ensure proper use and maintenance of snowboard equipment
Follow all safety regulations and policies at all times
Snowboard Instructor Resume with 2 Years of Experience
Highly motivated snowboard instructor with two years of experience teaching snowboarding to students of all ages and experience levels. Experienced in teaching students in a safe and effective manner, while also creating an enjoyable and fun atmosphere. Possesses a deep knowledge of snowboard equipment, safety practices, and basic maintenance. Possesses the ability to effectively communicate with students and develop customized programs to meet their individual needs.
Core Skills:
Excellent communicator and relationship builder
Deep knowledge of snowboarding, safety products, and equipment
Effective time management and organizational abilities
Creative problem- solving skills
Ability to work in fast- paced, unpredictable environments
Responsibilities:
Instructed snowboarding lessons to students of all ages and experience levels
Demonstrated proper equipment set- up and use to students
Monitored student progress throughout lessons and provided personalized feedback
Maintained current knowledge of safety and instructional practices
Ensured safety of students by following safety protocols
Developed customized lesson plans according to students' skill level and needs
Evaluated student performance and provided practical advice and encouragement
Organized and conducted competitions and special events to increase student interest and participation
Snowboard Instructor Resume with 5 Years of Experience
Dedicated and enthusiastic Snowboard instructor with 5 years of experience teaching a range of students from beginners to experienced boarders. With a patient and encouraging approach, I have been able to successfully motivate and train my students to progress with their skills and confidence on the slopes. I am a certified snowboard instructor, I am also certified in first aid to ensure the safety of my students.
Core Skills:
Snowboard teaching (beginner to advanced)
Excellent communication and organizational skills
Strong knowledge of terrain and conditions
First Aid Certified
Responsibilities:
Provide high- quality snowboard instruction to a variety of students
Assess the skill levels and needs of each student
Develop and implement tailored snowboard lessons
Provide a safe and enjoyable learning environment
Encourage and motivate students
Communicate regularly with students, parents, and other instructors
Ensure all safety protocols are followed
Snowboard Instructor Resume with 7 Years of Experience
Experienced snowboard instructor with 7 years of teaching experience. Proven track record of providing quality snowboard instruction, while helping students reach their goals and achieve their highest level of snowboarding. Knowledgeable in teaching proper technique and form, while keeping students safe in a fun and engaging environment. Skilled in developing and utilizing innovative teaching methods for all levels of snowboard instruction.
Core Skills:
Snowboard Instruction
Risk Management
Professionalism
Patience
Safety Protocols
Adaptability
Communication
Organizational Skills
Responsibilities:
Provided instruction to a variety of skill levels, from beginner to advanced riders
Instructed snowboarders on proper technique and form
Developed instructional plans and lesson plans to accommodate different skill levels
Maintained proper safety protocols at all times
Trained students on physical and mental skills needed to progress in their snowboarding
Researched and implemented new teaching methods to enhance student's learning
Assisted with the organization of snowboard events
Developed and maintained positive relationships with students and their families
Snowboard Instructor Resume with 10 Years of Experience
Dynamic snowboard instructor with 10 years of experience in teaching snowboarders of all skill levels. Highly knowledgeable in snowboard technique, safety and terrain park management, with a demonstrated ability to keep classes safe and fun. Skilled in working with both adults and children.
Core Skills:
Snowboard instruction
Risk management
Terrain park maintenance
Safety protocols
Excellent communication
Ability to work with a variety of ages
Responsibilities:
Developed snowboard lesson plans for all levels including beginner, intermediate, and advanced snowboarders
Instructed a variety of classes including private and group lessons
Monitored student performance, progress, and safety
Provided assistance and advice to students on proper snowboard technique and safety
Maintained terrain park and ensured that all safety precautions are met
Demonstrated new skills and techniques to students
Ensured that all safety regulations and protocols are followed
Snowboard Instructor Resume with 15 Years of Experience
Experienced and knowledgeable Snowboard Instructor with 15 years of experience providing quality instruction to a variety of ages and skill levels. Possesses excellent communication, organizational, and problem- solving skills combined with an enthusiasm for helping others reach their full snowboarding potential. A well- rounded professional with a comprehensive understanding of snowboarding fundamentals and an ability to adapt to varying teaching styles.
Core Skills:
Technical expertise in snowboard safety, techniques, and maintenance
Knowledge of various terrain and snow conditions
Strong communication and organizational skills
Ability to convey complex concepts in a clear and concise manner
Patience and understanding when dealing with students
Ability to adjust teaching methods to accommodate different skill levels
Responsibilities:
Instruct students of all ages and experience levels in snowboarding safety, techniques, and maintenance
Provide daily maintenance and upkeep of snowboards, including waxing and sharpening
Maintain a safe and enjoyable learning environment for students
Demonstrate and explain proper equipment setup, balance, and stance
Implement a variety of teaching methods and techniques
Assess students' progress on an ongoing basis and provide feedback to maximize improvement
Provide 1:1 or group instruction as requested
In addition to this, be sure to check out our resume templates, resume formats, cover letter examples, job description, and career advice pages for more helpful tips and advice.
What should be included in a Snowboard Instructor resume?
When writing a snowboard instructor resume, it's important to include all relevant skills and experience that make you a qualified candidate for the job. Here are some of the key items to be sure to include:
Contact information: Be sure to include your full name, address, phone number, and email address.
Professional profile: Include a brief summary of your most relevant experience and qualifications.
List of certifications: Any certifications or qualifications you have for teaching snowboarding will give you a competitive edge in the job market.
Previous work experience: Include any past snowboard instruction or related experience.
Educational background: Provide information about your educational background, such as college degrees, diplomas, and certificates.
Technical skills: Demonstrate any technical skills you have related to the job, such as the ability to use snowboard-specific software or operating systems.
Other skills: Highlight any other skills that you have that may be of use when teaching snowboarding, such as leadership, problem solving, and customer service.
Professional references: Provide contact information for previous employers or people who can vouch for your experience and qualifications.
What is a good summary for a Snowboard Instructor resume?
A snowboard instructor needs a resume that quickly and clearly summarizes their experience in teaching and coaching both beginner and advanced snowboarders. The resume should highlight any certifications, special skills such as first aid and avalanche safety, and any other experience that would make them an ideal candidate for the job. It should also include any relevant education or certifications required for the job, such as certifications from the Professional Ski Instructors of America (PSIA) and American Avalanche Association (AAA). The resume should also include any relevant experience the instructor has in teaching and coaching, as well as any awards or accomplishments in the sport. A good summary for a snowboard instructor resume should also include any community involvement, such as working with local snowboarding clubs or other organizations, as well as any special skills and qualifications the instructor may have.
What is a good objective for a Snowboard Instructor resume?
When creating a resume for a snowboard instructor position, it's important to establish a clear career objective that gives potential employers a sense of your professional goals and the skills and experience you bring to the job. A well-crafted objective can help you stand out among the other applicants and prove that you're the right fit for the position.
Below are some good objectives for a snowboard instructor resume:
To obtain a snowboard instructor position at a top-level ski resort where I can utilize my expertise in snow safety, avalanche control, and teaching techniques to help students develop their skills.
To secure a challenging snowboard instructor position where I can use my leadership and organizational skills to create a safe and fun learning environment for beginner and advanced students.
To utilize my knowledge of snowboarding and outdoor safety to become a snowboard instructor and help students gain confidence in their abilities.
To obtain a snowboard instructor position at a ski resort and help students of all ages learn proper snowboarding techniques while having a safe and enjoyable experience.
Seeking a snowboard instructor position that will allow me to help students of all skill levels improve their snowboarding abilities and reach their goals.
How do you list Snowboard Instructor skills on a resume?
When listing Snowboard Instructor skills on a resume, it is important to summarize the knowledge and abilities that are key for success in the role. Here are some of the skills that can be included on a Snowboard Instructor resume:
Experience in snowboarding: Employers will want to know that you have experience in the sport, and a strong understanding of snowboarding principles and techniques.
Knowledge of safety protocols: Safety is paramount when instructing snowboarding, so it is important to have a comprehensive knowledge of safety protocols related to the sport.
Great customer service skills: As a Snowboard Instructor, you will be expected to provide excellent customer service to clients and be able to handle customer complaints appropriately.
Ability to work with a variety of age groups: Snowboard Instructors are often working with clients of all ages, so you should have the ability to adapt your teaching style and instruction methods to different age groups.
Patience and enthusiasm: Snowboarding can be a difficult sport to learn, so as a Snowboard Instructor it is important to be patient and enthusiastic when teaching clients.
Strong problem-solving skills: Instructors need to be able to think quickly and problem solve in the event of any unexpected situations.
Ability to work independently: Snowboard Instructors often have to work independently, so you should have the ability to take initiative and be a self-starter.
What skills should I put on my resume for Snowboard Instructor?
When applying for a snowboard instructor position, the most important part of your resume is showcasing your relevant ski and snowboard experience. Employers want to see that you have the necessary technical knowledge and expertise to teach others the sport.
Along with your experience, here are some other important skills to include on your resume:
Ski and Snowboard Technical Knowledge: You should be able to demonstrate your in-depth understanding of all aspects of skiing and snowboarding. Show that you have a comprehensive knowledge of skiing and snowboarding technique, terrain and snow conditions, safety protocols, and gear maintenance.
Communication: As a snowboarding instructor, you should have strong communication and interpersonal skills. You should be able to effectively give instruction and demonstrations, build positive relationships with clients, and handle any questions or challenges that may arise.
Customer Service: A snowboard instructor should have excellent customer service skills, including the ability to put clients at ease and provide a positive learning environment.
Outgoing and Enthusiastic: As an instructor, you need to be outgoing and enthusiastic about the sport and be able to maintain a positive attitude even when you are working long hours and in challenging weather conditions.
Adaptability: You should be able to adapt quickly to changing conditions, both on the slopes and in the classroom. You should be prepared to handle a variety of different students and be able to adjust your instructional methods to different learning styles.
By including these skills on your resume, you will be able to demonstrate to employers that you have the qualifications to be an effective and successful snowboarding instructor.
Key takeaways for an Snowboard Instructor resume
If you're interested in becoming a snowboard instructor, it's important to have a well-crafted resume that showcases your qualifications and experience. Having a resume that highlights your strengths and emphasizes your experience as an instructor is key to landing a job. Here are some key takeaways for an snowboard instructor resume:
Highlight Your Relevant Experience: Make sure to include all of your relevant experience when creating your resume, including any past jobs or volunteer work with snowboarders. This will give potential employers an idea of the type of instructor you are and the skills and expertise you bring to the table.
Outline Your Qualifications: Be sure to include any qualifications or certifications you may have in snowboarding. Listing your certifications and qualifications is a great way to showcase your expertise and demonstrate your commitment to the sport.
Showcase Your Knowledge of Safety Practices: Employers want to know that their instructors are knowledgeable about safety practices and can make sure their students are safe while on the slopes. Make sure to include any safety training you may have in your resume.
Emphasize Your Ability to Teach: Teaching experience is an important part of being a snowboard instructor, so make sure to highlight any teaching experience in your resume. Even if you don't have any formal teaching experience, list any volunteer work or mentoring you may have done.
Provide References: Providing references can help to strengthen your application and show potential employers that you are a responsible and trustworthy instructor. Make sure to include contact information for at least two references in your resume.
By following these key takeaways, you can create a comprehensive and effective resume that will help you get the job as a snowboard instructor. Having a well-crafted resume is the first step to landing the job, so make sure to take the time to make it stand out.
Let us help you build
your Resume!
Make your resume more organized and attractive with our Resume Builder