Gym teachers play an important role in educating students about physical health and well-being. As such, a well-written resume is essential for securing a position in this profession. A gym teacher resume should emphasize relevant skills, experience, and qualifications. This guide provides useful tips and examples to help prospective gym teachers create a professional, attention-grabbing resume. It explains how to highlight the unique skills that make you a strong candidate and how to tailor your resume to relevant job postings. With this guide, you'll be well-prepared to create a standout resume that will help you land your dream job.
If you didn't find what you were looking for, be sure to check out our complete library of resume examples.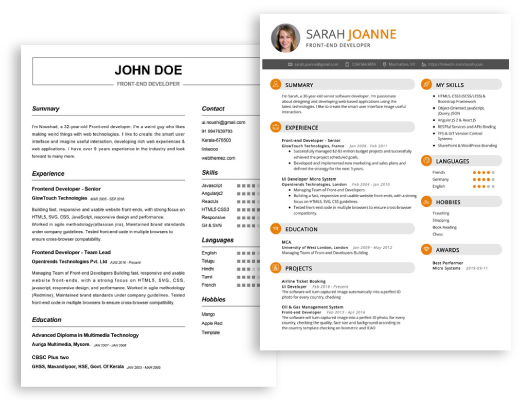 Start building your dream career today!
Create your professional resume in just 5 minutes with our easy-to-use resume builder!
Gym Teacher Resume Example
John Doe
Gym Teacher
123 Main Street | Anytown, USA 99999 | Phone: (123) 456-7890 | Email: john.doe@email.com
A passionate, experienced physical education teacher with a proven track record of success in teaching, coaching and leading teams. Possessing strong communication and interpersonal abilities to help foster a positive learning environment for students of all ages. Demonstrated ability to plan effective, unique and engaging curriculums for physical education classes to motivate students to achieve their fitness goals.
Core Skills
Fitness Education
Sport Rules and Regulations
Student Management
Mentoring and Coaching
Organizational Skills
Classroom Instruction
Facility and Equipment Maintenance
Safety Protocols
Professional Experience
Gym Teacher, ABC School – August 2017 – Present
Develop and implement physical education curriculum for elementary school students
Teach students proper stretching and warm- up techniques, safety protocols and sportsmanship
Organize and lead physical education activities, indoor and outdoor games
Monitor and evaluate student performance
Provide individualized instruction to help students reach their fitness goals
Physical Education Teacher, XYZ School – May 2013 – July 2017
Designed and implemented physical education curriculums for middle and high school students
Taught students proper stretching and warm- up techniques, safety protocols and sportsmanship
Organized and lead physical education activities, indoor and outdoor games
Coordinated tournaments, field trips and special events
Created and maintained a positive learning environment
Education
Bachelor's Degree in Physical Education, ABC University – 2012
Certified Physical Education Teacher, XYZ – 2015
Gym Teacher Resume with No Experience
Enthusiastic and detail- oriented individual looking to become a Gym Teacher with no experience. Possessing strong communication and interpersonal skills necessary to work with all kinds of people and handle any situation. Highly organized and able to motivate others to reach their fitness goals.
Skills
Fitness knowledge
Interpersonal skills
Organizational skills
Communication skills
Teamwork
Leadership
Customer service
Problem- solving
Responsibilities
Develop and implement fitness programs tailored to individual needs
Motivate and encourage students to reach their physical fitness goals
Demonstrate exercises to students and provide feedback
Enforce rules and regulations of the gym
Monitor students during exercise and provide guidance
Perform administrative duties such as keeping records of student progress
Create and maintain a safe environment for students to exercise in
Facilitate team building activities for students
Organize and facilitate special events and activities such as sports tournaments
Assist with the procurement of gym equipment and supplies
Gym Teacher Resume with 2 Years of Experience
Dedicated gym teacher with two years of experience teaching physical education to students of all ages. Highly experienced in developing lesson plans that engage learners, instill a passion for physical activity, and foster a safe learning environment. Proven track record of success in motivating students to reach their fullest potential.
Core Skills:
Developing and implementing physical education lesson plans
Identifying and assessing student needs
Administering assessments to evaluate student progress
Training and coaching students
Enforcing safety regulations
Leading physical activity sessions
Promoting physical fitness and wellness
Responsibilities:
Established goals and objectives for every physical education lesson
Planned and organized activities to introduce and teach new skills
Reviewed student performance to identify areas of improvement
Provided individual and group instruction to students
Assisted with the implementation of the physical education curriculum
Managed classrooms to ensure a safe environment
Provided feedback and guidance to motivate students
Created and maintained records of student performance and attendance
Gym Teacher Resume with 5 Years of Experience
Highly motivated and enthusiastic Gym Teacher with 5 years of experience managing a wide range of physical activities. Possesses an in- depth knowledge of the principles and practices of physical education, excellent teaching abilities, and a passion for helping students develop their skills and abilities. Proven track record in developing and delivering engaging classes and activities that promote physical, mental and emotional well- being.
Core Skills:
Developing engaging physical education classes and activities
Ensuring safe and enjoyable physical activity sessions
Knowledge of anatomy and physical fitness
Excellent knowledge of fitness techniques
Able to design fitness programs and exercise routines
Excellent communication and teaching skills
Proficient in health and nutrition education
Excellent organizational and time management skills
Responsibilities:
Monitoring and assessing student performance
Providing guidance and support to students
Creating and setting up fitness activities and drills
Developing lesson plans and activities for physical education
Ensuring a safe and healthy environment for students
Tracking and evaluating student progress
Organizing and leading team sports activities
Providing guidance and advice to student athletes
Organizing and leading field trips and outdoor activities
Creating an atmosphere that is conducive to learning and participation.
Gym Teacher Resume with 7 Years of Experience
Dynamic and passionate gym teacher with 7 years of experience in the field. Comfortable teaching a variety of activities, ranging from running to strength training. Highly knowledgeable in designing and implementing age- appropriate and challenging physical education lessons. Possesses excellent communication and interpersonal skills with the ability to engage and motivate students.
Core Skills:
Excellent knowledge of physical education
Specialized in designing and implementing physical education lessons
Advanced skill in creating and leading various physical activities
Outstanding ability to motivate and engage students
Ability to create a positive learning environment
Exceptional communication and interpersonal skills
Proficient in assessing and monitoring student's performance
Responsibilities:
Developing physical education lesson plans that were appropriate for the age and skill level of the students
Teaching and demonstrating physical activities that focused on aerobic endurance, coordination, flexibility, and strength
Evaluating students' performance and maintaining records of their progress
Enforcing safety protocols and maintaining discipline among students
Organizing and supervising students in recreational activities
Providing constructive feedback to students regarding their performance
Maintaining equipment and updating equipment inventory records
Gym Teacher Resume with 10 Years of Experience
I am an experienced gym teacher with 10 years in the field of physical education. I have a degree in exercise science, with certifications in physical education, health promotion, and first aid. I specialize in teaching children, adolescents and adults of all ages. I have taught both individual and team sports, as well as basic to advanced physical exercises. My specialties include basketball, soccer, volleyball, and weight training. I have experience supervising and organizing outdoor activities, as well as conducting fitness assessments. I have excellent communication skills, a passion for physical fitness, and a commitment to helping my students reach their fullest potential.
Core Skills:
Expert knowledge in physical education
Strong communication and teaching skills
Excellent organizational and problem- solving skills
Competent in designing and implementing fitness programs
Proficient in developing individual and team sports
Responsibilities:
Teach physical education classes to students of all ages
Supervise and organize outdoor activities
Design and implement physical fitness programs
Monitor student progress and provide feedback
Develop individual and team sports activities
Develop and implement health and safety protocols
Conduct fitness assessments for each student
Monitor student behavior and enforce safety rules
Educate students on the importance of physical exercise
Gym Teacher Resume with 15 Years of Experience
Motivated and enthusiastic gym teacher with 15 years of teaching experience. Proven ability to make physical education enjoyable and engaging for students of all ages and abilities. Skilled in designing age and ability appropriate activities, creating a safe and positive learning environment, and developing exercise programs for individuals and groups.
Core Skills
Physical Education Instruction
Sports & Fitness Instruction
Behavioral & Motivational Techniques
Classroom Management
Developing Effective Exercises
Flexibility Training
Strength & Resistance Training
First Aid & CPR Certified
Responsibilities
Develop and instruct physical education classes for elementary and middle school students
Plan lessons that meet the physical and developmental needs of all students
Teach a variety of physical education activities, including volleyball, basketball, soccer, and other team sports
Enforce school policies and regulations to ensure student safety
Encourage students to reach physical fitness goals
Organize and plan physical education programs for competitions and events
Assist in developing individualized exercise plans for students
Provide first- aid treatment to injured students
Maintain accurate student attendance records
Supervise students during physical activities and recess
Monitor student performance and offer feedback to help students improve their skills
Encourage active student participation in physical activities
Ensure that all equipment is in working condition
Instruct students on proper techniques for physical activities
In addition to this, be sure to check out our resume templates, resume formats, cover letter examples, job description, and career advice pages for more helpful tips and advice.
What should be included in a Gym Teacher resume?
Gym teachers are fitness professionals responsible for coaching and instructing physical education classes. To be successful, gym teachers need to be knowledgeable and passionate about physical fitness. When writing a gym teacher resume, there are a few key elements that should be included.
Education: List any relevant education and certifications related to physical education or gym teaching.
Teaching Experience: Include any previous teaching experience, such as physical education classes at a school or private gym.
Coaching Experience: Mention any past coaching experience, such as team coaching, recreational coaching, or personal training.
Physical Activity Knowledge: Demonstrate knowledge of physical activities, including proper technique and safety.
Communication Skills: Highlight communication skills, as gym teachers must be able to effectively communicate instructions to students.
Interpersonal Skills: Showcase your ability to interact with students and work in a team environment.
Classroom Management: Demonstrate experience in managing classrooms and creating lesson plans.
Leadership Skills: Showcase your ability to lead and motivate others, as well as problem solving skills.
By including these elements in a gym teacher resume, you can demonstrate your knowledge and experience in physical education.
What is a good summary for a Gym Teacher resume?
A successful Gym Teacher resume should highlight the candidate's knowledge of physical education and experience in developing and delivering lessons in a classroom setting. It should also demonstrate the candidate's ability to manage a class of students and motivate them to reach their physical and athletic goals. The ideal candidate should possess a Bachelor's degree in physical education or a related field, along with a current CPR/AED certification. Additionally, the candidate should have a strong understanding of safety protocols and demonstrate the ability to foster a positive learning environment for students.
What is a good objective for a Gym Teacher resume?
A gym teacher's resume should highlight the teacher's ability to effectively lead students in physical activity and health education. It should also give an overview of the teacher's background, experience, and qualifications. Here are some good objectives for a gym teacher's resume:
To secure a position as a gym teacher that allows me to leverage my knowledge and experience in the field
To use my passion for physical education and health promotion to create an engaging and enriching environment for students
To promote an active lifestyle in students by implementing activities and lessons that are both educational and fun
To build strong relationships with students and parents to create a supportive educational environment
To help students develop physical strength, coordination, and discipline while fostering lifelong love of physical activity
To motivate individual students to reach their fitness goals through positive reinforcement and guidance.
How do you list Gym Teacher skills on a resume?
When applying for a job as a gym teacher, you need to have a resume that stands out to potential employers. Along with an education background and any specialized certifications, you should also highlight the unique skills that make you an ideal candidate for the job. Here are some of the skills that should be highlighted on a gym teacher resume:
Physical Fitness: Gym teachers should have exceptional physical fitness and be knowledgeable about various exercises, stretching techniques, and proper form.
Instructional Skills: Gym teachers must be able to demonstrate and teach exercises and physical activities to students. They must be able to clearly explain instructions and demonstrate proper form to ensure students' safety.
Discipline: Gym teachers need to be able to maintain control during class and keep students on track. They must be able to enforce rules and regulations, as well as adhere to safety regulations.
Organizational Skills: Gym teachers must be able to manage a class of students, plan and organize activities, and keep track of attendance and grades.
Motivation: Gym teachers need to be able to motivate students to participate and stay active. They must be able to inspire students to stay engaged in physical activities and help them reach their goals.
By including these skills on your resume, you can show potential employers that you have the qualifications to be an effective gym teacher.
What skills should I put on my resume for Gym Teacher?
When writing a resume for a Gym Teacher position, it's important to include the right skills that employers look for. Here are some key skills to include on your resume:
Knowledge of Physical Education Principles: Gym teachers should have a strong understanding of the physical education field and be knowledgeable about physical education principles such as skill development, physical fitness and nutrition.
Teaching Ability: A gym teacher should be able to teach students of all ages, from pre-K to high school. Being able to plan, organize and instruct classes is essential for a successful gym teacher.
Communication: Gym teachers should be able to effectively communicate with students, parents and other staff members. Being able to explain ideas and instructions clearly and concisely is an important skill.
Organization: Being organized and able to manage multiple tasks is essential for gym teachers. Being able to keep track of student progress, paperwork and other duties is necessary.
Leadership: Gym teachers should be able to lead classes and activities in a professional and safe manner. Being able to set expectations, maintain order and motivate students is important.
Safety and First Aid: Gym teachers should be knowledgeable about safety and first aid. Being able to recognize potential injuries and administering first aid is a key skill.
By including these skills on your resume, you can show that you are the right candidate for the position.
Key takeaways for an Gym Teacher resume
When it comes to creating the perfect gym teacher resume, there are several key takeaways to keep in mind. The following tips can help you craft a powerful and effective resume that will help you stand out from the rest of the applicants and land you the job.
Highlight Your Education: Your education is key to being a successful gym teacher. Make sure you highlight your educational qualifications, such as your degree or certifications. Make sure to also include any additional training or certifications you may have, such as a First Aid or CPR certification.
Emphasize Your Experience: If you have previous experience as a gym teacher, make sure to emphasize it on your resume. Include details such as the length of time you were employed, the amount of students you taught, and any special programs or activities you created.
Showcase Your Skills: Gym teachers must have a wide range of skills to be successful. Make sure you list any skills that are relevant to the job, such as strength and conditioning, physical education, and sports coaching.
Demonstrate Your Leadership: As a gym teacher, you must be able to show leadership in the classroom. List any experiences that demonstrate your leadership capabilities, such as leading a team or training new gym teachers.
Show Your Passion: Gym teachers must have a passion for sports and physical activity. Showcase your enthusiasm for teaching and make sure to include any hobbies or interests that demonstrate your love of physical activity.
By following these key takeaways, you can create a successful resume that will help you stand out from the competition. So put in the time and effort to craft a resume that will showcase your qualifications and experience, and help you get the gym teacher job you've always wanted.
Let us help you build
your Resume!
Make your resume more organized and attractive with our Resume Builder