Are you looking to break into the gym management industry? Writing a great resume is an essential part of the job search process, and can make a huge difference in your job prospects. With the right information, you can put together a great gym manager resume that will help you stand out from the competition. This guide will provide you with the tips and advice you need to write a standout gym manager resume, as well as some examples to get you started.
If you didn't find what you were looking for, be sure to check out our complete library of resume examples.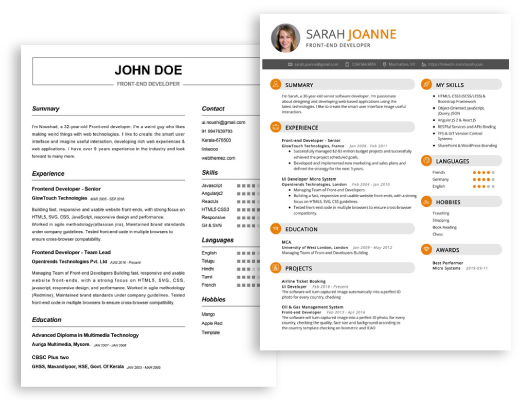 Start building your dream career today!
Create your professional resume in just 5 minutes with our easy-to-use resume builder!
Gym Manager Resume Example
John Doe
Gym Manager
123 Main Street | Anytown, USA 99999 | Phone: (123) 456-7890 | Email: john.doe@email.com
Motivated and energetic gym manager with five years of experience in the fitness industry. Skilled in customer relations, administrative operations, and marketing. Experienced in designing and implementing effective gym programs and services. Passionate about helping people achieve their fitness goals.
Core Skills:
Leadership
Customer Service
Administration
Project Management
Sales and Marketing
Communication
Professional Experience:
Gym Manager, Fit for Life
Developed creative strategies and systems for operating the gym efficiently and profitably.
Implemented cutting- edge marketing and promotional strategies to increase membership and profitability.
Scheduled and supervised staff, teaching classes, and providing personal training.
Developed working relationships with members, creating a welcoming and positive environment.
Handled customer inquiries and complaints, providing exceptional customer service.
Education:
Bachelor of Science in Exercise Science
University of California, Berkeley, 2014
Gym Manager Resume with No Experience
Motivated and enthusiastic recent college graduate with a passion for physical fitness and a desire to use my knowledge to help others develop their own fitness goals.
Solid organizational and communication skills, with the ability to provide a safe and effective workout environment for clients.
Proficient in the use of gym equipment, both manual and electronic, and able to provide effective instruction on their proper use.
Skills
Good customer service and interpersonal skills
Excellent time- management skills
Knowledge of fitness assessments and goal setting
Proficient in use of gym equipment
Ability to provide effective instructions
Ability to multitask
Strong work ethics
Ability to develop effective workout plans
Responsibilities
Greet and register gym members
Conduct fitness assessments and set goals for members
Instruct members on proper use of gym equipment
Maintain accurate records and files
Monitor members to ensure safety
Provide helpful advice and motivation to members
Ensure cleanliness of equipment and facility
Schedule maintenance for equipment as needed
Gym Manager Resume with 2 Years of Experience
Highly motivated and experienced Gym Manager with over two years of experience in the fitness industry. Proven track record of executing successful business strategies and managing large teams. Possesses an extensive knowledge of the fitness industry and a demonstrated ability to implement innovative marketing campaigns to increase revenue and customer engagement. Core competencies include operations management, team development, sales, and customer service.
Core Skills:
Operations Management
Team Development
Revenue Generation
Marketing & Sales
Customer Service
Public Relations
Responsibilities:
Developed and implemented successful business strategies to increase revenue and customer base
Managed daily operations of the gym and supervised team of staff members
Organized events and activities to promote the gym and increase customer engagement
Developed marketing campaigns to maximize visibility and sales
Responsible for hiring and training new staff, and conducting performance reviews
Provided excellent customer service to ensure customer satisfaction
Maintained inventory and orders supplies to ensure the gym is well- stocked and operational
Gym Manager Resume with 5 Years of Experience
I am a Gym Manager with 5 years of experience in the fitness industry. I have extensive knowledge in the areas of exercise science, customer service, and nutrition. I am passionate about providing excellent customer service and creating a fun and safe atmosphere for members to reach their fitness goals. My strong knowledge of fitness trends, the latest exercise techniques, and customer service skills make me an invaluable asset.
Core Skills:
Fitness Counseling
Fitness Program Design
Group Fitness Instruction
Outreach and Promotional Events
Customer Service
Nutrition
Exercise Science
Inventory Management
Responsibilities:
Developed and implemented fitness programs for members
Conducted individual fitness assessments and provided tailored programs to meet individual needs
Delivered group fitness classes and trained new instructors
Organized and managed outreach and promotional events
Provided excellent customer service and ensured customers had a positive experience
Managed inventory and equipment in the gym and ensured proper maintenance
Created nutritional plans for members and provided guidance and support
Assisted with tracking members' progress and evaluating effectiveness of programs
Gym Manager Resume with 7 Years of Experience
Highly organized and detail- oriented Gym Manager with 7+ years of experience managing a diverse team of staff, overseeing operations, and providing excellent customer service in order to drive membership growth and maximize profitability. Possesses first- rate problem- solving skills and a passion for the fitness industry. Excels at developing and maintaining relationships with clients, staff, and local businesses.
Core Skills:
Extensive knowledge of fitness industry regulations, health and safety standards, and customer service best practices
Exceptional leadership and communication skills
Outstanding organizational, multitasking, and time management abilities
Proficient in Microsoft Office Suite, Point of Sale systems, and gym management software
Responsibilities:
Develop and implement strategies to drive gym membership growth and achievement of sales targets
Oversee daily operations of gym including staffing, customer service, and maintenance of equipment and facilities
Monitor and order inventory of gym supplies to ensure adequate stock levels
Manage customer issues and inquiries in a timely and professional manner
Train and coach staff on customer service, sales techniques, and gym operations
Develop and manage marketing campaigns to promote gym services
Research and evaluate industry trends, regulations, and developments to ensure gym compliance
Coordinate with local businesses to develop partnerships and promotional opportunities
Create and manage annual budget to ensure resources are used efficiently
Gym Manager Resume with 10 Years of Experience
Highly experienced Gym Manager with 10+ years of experience in the health and fitness industry. Successfully developed, implemented, and managed all aspects of the gym operations. Demonstrated history of effective management, training, and interpersonal skills. Have a vast knowledge of health and fitness programs and protocol to ensure customer satisfaction and maximum safety.
Core Skills:
Excellent customer service
Management skills
Problem- solving abilities
Interpersonal communication
Financial management
MS Office knowledge
Staff development
Time management
Safety protocols
Health and fitness programs
Responsibilities:
Managed staff by providing guidance, training and mentoring
Directed staff in daily operations and monitored their performance
Conducted regular meetings with staff to discuss new strategies
Developed marketing strategies to promote gym services
Supervised daily operations of staff, equipment and facilities
Ensured customer satisfaction by providing excellent customer service
Resolved customer complaints and inquiries
Prepared financial reports and budgets to manage cash flow
Developed safety protocols and procedures to maximize safety
Negotiated with suppliers to purchase new equipment and services
Implemented health and fitness programs to ensure optimal results
Optimized staff scheduling to maintain a high level of service
Gym Manager Resume with 15 Years of Experience
Experienced Gym Manager with 15 years of experience managing gym operations, staff, finances, and customer service. Demonstrated success in creating and maintaining a positive atmosphere for gym members, implementing strategies for efficient customer service and creating profitable sales initiatives. Proven track record of developing and executing marketing strategies to increase overall gym membership. Possess excellent communication, problem- solving, and organizational skills.
Core Skills:
Staff Management
Finance Management
Marketing Strategies
Customer Service
Problem Solving
Organizational Skills
Responsibilities:
Managed daily operations of the gym, including the supervision of staff and customer service
Developed and implemented marketing and sales strategies to promote gym membership and overall gym success
Created and implemented customer service protocols to ensure efficient customer service
Managed financial operations, including payroll, budgeting, and forecasting
Monitored gym membership and maintained records of membership and customer data
Recruited and trained staff to ensure high levels of customer service
Organized and oversaw gym events and activities for members
In addition to this, be sure to check out our resume templates, resume formats, cover letter examples, job description, and career advice pages for more helpful tips and advice.
What should be included in a Gym Manager resume?
A Gym Manager resume should reflect an individual's unique experience, education and qualifications. It should include the following details to demonstrate the applicant's fitness industry knowledge, operations management abilities and customer service skills:
Professional Summary: Provide a brief summary of your experience, background and qualifications for a Gym Manager role.
Work Experience: List any relevant job roles in the fitness industry, such as gym instructor, personal trainer or receptionist. Include details such as the organisation, dates of employment and job responsibilities.
Education: List any relevant qualifications such as a degree in sport science, a personal training certificate or a first aid qualification.
Management Skills: Outline any experience in areas such as budgeting, staff management and event planning.
Customer Service: Demonstrate any experience in providing exceptional customer service.
Computer Skills: List any special software skills that could prove useful in a gym manager role.
Professional Certifications: List any additional certifications or memberships such as a membership to a fitness organisation or a certification in health and safety management.
Achievements: Include any awards or qualifications that demonstrate your success in the fitness industry.
What is a good summary for a Gym Manager resume?
A good summary for a Gym Manager resume should provide an overview of the candidate's experience in the industry, their key successes and accomplishments, and their areas of expertise. It should also outline the candidate's knowledge of industry trends and standards and the ability to develop and execute successful strategies. The summary should demonstrate the candidate's communication and organization skills, their ability to manage staff and operations, and their commitment to providing excellent customer service. Furthermore, the summary should highlight the candidate's enthusiasm and passion for fitness and helping others reach their fitness goals. With a strong summary, a Gym Manager resume can make a great first impression and stand out to employers.
What is a good objective for a Gym Manager resume?
A gym manager must be both experienced and organized, with a strong leadership and customer service mentality. The objective of a gym manager resume should be to demonstrate these qualities and show the potential employer how you are the ideal candidate for the job.
Here are some good objectives for a gym manager resume:
To use my leadership skills and knowledge of the fitness industry to effectively manage a team of employees and provide the best customer service to gym members.
To apply my organizational skills and attention to detail to develop and implement effective policies, procedures and programs that support the mission and vision of the gym.
To utilize my extensive training and development background to mentor and develop staff and help them reach their fullest potential.
To employ my experience in the gym setting to help create a safe and welcoming environment for guests and members alike.
To utilize my knowledge of equipment repairs and maintenance to ensure that the gym is properly maintained and that all safety protocols are followed.
To leverage my customer service experience to ensure that members and staff feel valued and respected.
How do you list Gym Manager skills on a resume?
When listing Gym Manager skills on a resume, it is important to emphasize the qualities that make you an ideal candidate for the position. These skills should include both soft skills such as customer service and communication, as well as hard skills such as facility maintenance and operations. Here are some of the key skills to highlight on your resume:
Customer Service: Gym Managers interact with customers on a daily basis, so excellent customer service skills are essential. This includes being an effective communicator, remaining courteous and friendly, and having a strong understanding of customer needs.
Facility Maintenance: Gym Managers must be able to maintain and operate the equipment in the gym. This includes cleaning, inspecting, and performing routine maintenance on the machines.
Safety and Security: Gym Managers must be able to enforce safety and security regulations to ensure the safety of all patrons. This includes monitoring the gym and responding to any emergency situations.
Operations Management: Gym Managers are responsible for overseeing the day-to-day operations of the gym. This includes scheduling staff, managing finances, and ensuring that the gym meets all regulations and standards.
Leadership: Gym Managers must be able to lead, motivate, and inspire their staff in order to ensure the success of the gym. This includes setting team goals and expectations, providing feedback and support, and fostering a positive work environment.
By highlighting these key skills on your resume, you can demonstrate to potential employers that you are an ideal candidate for the position. With the right Gym Manager skills, you can be sure to make a great impression and stand out amongst other applicants.
What skills should I put on my resume for Gym Manager?
As a gym manager, there are certain skills you need to possess to be successful in the role. When creating your resume, it is important to highlight these skills so employers can identify your qualifications quickly and easily. Here are some of the key skills you should put on your resume for gym manager:
Leadership: Gym managers must be able to lead and motivate staff to deliver the highest quality of customer service. They must also be able to develop and implement effective strategies to improve the gym's overall performance.
Organizational Skills: Gym managers must be organized and able to manage multiple tasks simultaneously. They should be able to create and maintain accurate records, plan and prioritize tasks, and manage the budget.
Customer Service: Gym managers must be committed to providing excellent customer service. They should be able to handle customer complaints in a professional manner and ensure that customers' needs are being met.
Knowledge of Health and Fitness: Gym managers should have a comprehensive understanding of health and fitness principles, such as the correct use of equipment, proper form for exercises, and nutrition information.
Communication: Gym managers must be able to communicate effectively with their staff, customers, and vendors. They should be able to clearly articulate their ideas and effectively provide feedback.
By including these skills on your resume for gym manager, you can demonstrate to employers that you have the necessary qualifications for the job. With the right skills and experience, you can make yourself stand out from other candidates and secure your place as the next gym manager.
Key takeaways for an Gym Manager resume
When creating a resume for a job as a gym manager, it is important to include key takeaways in order to stand out to potential employers. Here are some key takeaways to include in a gym manager resume:
1) Demonstrate leadership skills: As a gym manager, it is important to demonstrate strong leadership skills. Highlight any experiences you have had that showcase your ability to lead a team or take charge of a situation.
2) Highlight communication skills: As a gym manager, you need to be able to effectively communicate with your staff, customers, and vendors. Include examples of any communication skills you have developed in previous roles.
3) Showcase budgeting and financial experience: Gym managers must be able to manage budgets and financial operations. Include examples of any budgeting or financial experience you have had, in order to demonstrate that you are familiar with these concepts.
4) Demonstrate customer service skills: As a gym manager, you will be interacting with customers on a daily basis. Include any experiences you have had in the customer service industry that demonstrate your ability to provide excellent service.
5) Highlight fitness knowledge: Gym managers need to be knowledgeable about fitness, nutrition, and exercise. Include any certifications or training you have had in these areas, as this will demonstrate your knowledge to potential employers.
Including these key takeaways in a gym manager resume can help you stand out to employers and increase your chances of getting the job.
Let us help you build
your Resume!
Make your resume more organized and attractive with our Resume Builder