Are you looking to apply for a welding engineer position? Writing a resume can be challenging if you don't know what to include. To make it easier, we've created this guide with welding engineer resume writing tips and examples. This guide will walk you through the resume writing process, from formatting and content to keywords and more. By the end of this guide, you'll have an effective and impressive resume that will help you stand out from the competition.
If you didn't find what you were looking for, be sure to check out our complete library of resume examples.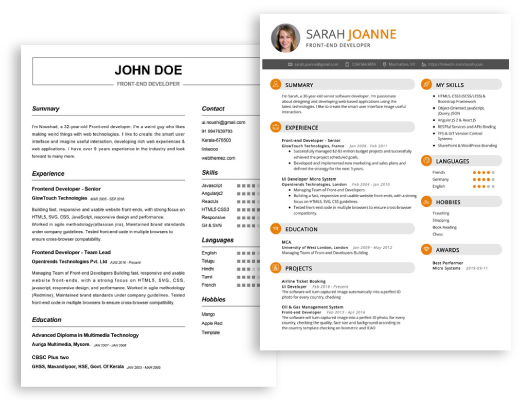 Start building your dream career today!
Create your professional resume in just 5 minutes with our easy-to-use resume builder!
Welding Engineer Resume Examples
John Doe
Welding Engineer
123 Main Street | Anytown, USA 99999 | Phone: (123) 456-7890 | Email: john.doe@email.com
Dynamic and results- oriented Welding Engineer with more than 10 years of experience in the engineering field. I possess strong technical understanding in welding, metal fabrication and related technologies as well as exceptional leadership and problem- solving skills. My experience as a Welding Engineer has enabled me to develop a solid understanding of the construction and engineering processes. I am focused on providing innovative solutions to complex problems and strive to maximize operational efficiency.
Core Skills:
Welding Fabrication
CAD/CAM Design
Project Management
Troubleshooting & Repair
Quality Control & Testing
Metallurgy & Material Science
Safety Regulations & Practices
Professional Experience:
Welding Engineer, XYZ Company, 2017 – Present
Responsible for creating engineering drawings and technical documents related to welding
Developed and implemented welding processes and procedures to ensure safety and quality
Developed custom welding tools and jigs to facilitate production
Provided technical support and training to welding staff
Inspected welding work to ensure it met all quality standards
Education:
Bachelor of Science in Welding Engineering, University of ABC, 2012 – 2017
Welding Engineer Resume with No Experience
Recent engineering graduate with a strong interest in welding engineering, dedicated to continuous learning and improvement of welding processes. Seeking to leverage educational and hands- on experience to apply in a welding engineering role.
Skills
Comprehensive engineering knowledge and understanding of welding processes
Strong problem- solving and analytical skills
Attention to detail and accuracy
Ability to read, interpret, and utilize engineering drawings and welding symbols
Knowledge of metallurgy and ability to identify various metals
Proficient in AutoCAD and SolidWorks
Excellent written and verbal communication
Responsibilities
Support and review engineering documents, operational issues, and welding procedures
Monitor and inspect welding processes for quality assurance
Maintain welding equipment and ensure compliance with safety regulations
Develop and implement best practices for welding processes
Provide technical support to welding teams and ensure proper operation of equipment
Evaluate new welding technologies and materials and recommend modifications
Welding Engineer Resume with 2 Years of Experience
I am an experienced and well rounded Welding Engineer with 2 years of experience in the industry. I possess a deep understanding of welding best practices, quality control and safety protocols. I am also highly skilled in a variety of welding processes and methods, including MIG, TIG, oxy- fuel, plasma cutting, and soldering. I am a team player and strive to ensure the highest quality of work is produced in a safe and timely manner.
Core Skills:
Proficient in MIG, TIG, oxy- fuel, plasma cutting, and soldering
Skilled in best practices, quality control, and safety protocols
Knowledgeable in welding materials and processes
Excellent communication and problem- solving skills
Great ability to multitask and prioritize tasks
Responsibilities:
Prepare materials for welding, including cutting and pre- heating
Perform welding and assembly operations as per welding specifications
Perform inspections of welds to ensure quality and safety standards are met
Troubleshoot welding equipment issues and resolve them quickly and efficiently
Provide technical assistance to welding technicians and other personnel
Monitor welding tools and equipment for proper functioning and maintenance
Review and approve welding procedures and reports
Welding Engineer Resume with 5 Years of Experience
Diligent Welding Engineer with 5 years of experience in the fabrication, construction, and maintenance of welded products. Expertise in welding techniques, materials and equipment, quality control and inspection. Proven record of success in increasing production efficiency through creative problem- solving and implementing process improvements. Possess excellent ability in fabricating, welding and managing the welding operation.
Core Skills:
Welding Techniques
Materials & Equipment
Quality Control & Inspection
Fabrication
Production Efficiency
Problem- solving
Process Improvements
Responsibilities:
Inspected, tested and evaluated welded products to meet welding codes and standards.
Identified defects, determined root causes and implemented corrective action.
Resolved welding discrepancies and fine- tuned welding parameters to optimize weld quality.
Developed and maintained welding procedures and welding specifications.
Planned and directed welding activities, supervised welding personnel.
Maintained and improved welding processes that met customer and company requirements.
Performed regular maintenance on welding equipment and identified/resolved related issues.
Welding Engineer Resume with 7 Years of Experience
Highly skilled and experienced Welding Engineer with 7 years of experience in the engineering field. Skilled in working with different types of welding equipment and techniques to complete various welding and fabrication projects. Possesses excellent communication and organizational skills. Has the ability to read and interpret manufacturing drawings and blueprints. Proficient in operating various welding and cutting equipment and machines. Possesses strong problem- solving and troubleshooting skills.
Core Skills:
Welding Processes
Fabrication
Welding Equipment
Machining
Manufacturing Drawings
Blueprints
Troubleshooting
Problem Solving
Communication
Organization
Responsibilities:
Performed welding operations on various materials and components, such as steel and aluminum.
Operated different welding, cutting and fabrication equipment and machines.
Performed welding, cutting and grinding operations according to specifications.
Carried out inspections on the finished products to ensure the quality standards.
Created and maintained blueprints and manufacturing drawings.
Suggested modifications to the welding process and equipment to improve efficiency and quality.
Ensured the safe use of welding equipment and materials.
Troubleshooted problems with welding equipment and processes.
Ensured all safety procedures were followed at all times.
Welding Engineer Resume with 10 Years of Experience
Experienced welding engineer with 10 years of experience in the manufacturing and engineering industry. I have a strong technical understanding and experience of welding and working with metals, combined with a broad knowledge of engineering principles and product design. I have experience in the development, implementation and optimization of welding processes. I have excellent communication skills, and am able to communicate technical concepts to a variety of stakeholders in a clear and concise manner.
Core Skills:
Welding Processes
Metal Working
Engineering Principles
Product Design
Project Management
Quality Assurance
Documentation
Troubleshooting
Responsibilities:
Develop and implement welding processes and metalworking processes.
Design and improve welding machines, fixtures and tooling.
Analyze welding problems, suggest solutions and resolve them.
Ensure the quality of the welding process and its end products.
Write technical documents and reports.
Monitor production processes to ensure they meet quality requirements.
Perform maintenance and repairs on welding machines and equipment.
Liaise with other departments and stakeholders to ensure project deadlines are met.
Train and mentor junior engineers and technicians.
Welding Engineer Resume with 15 Years of Experience
A certified welding engineer with 15 years of experience in the manufacturing industry, specializing in weld quality assurance, welding safety and process engineering. Highly knowledgeable in metallurgy, welding processes and equipment, and the development of welding procedures and manuals. Experienced in working with a wide range of alloys, materials, and welding techniques to meet customer, code, and regulatory requirements. Ability to work well with teams to ensure on- time delivery of quality parts and services while maintaining budget and safety standards.
Core Skills:
Weld Quality Assurance
Welding Processes and Equipment
Welding Safety
Metallurgy
Welding Procedures and Manuals
Ability to Work with Teams
Strong Communication and Document Preparation Skills
Responsibilities:
Develop and maintain welding procedures and manuals for quality assurance and safety.
Ensure welding procedures are compliant with code and regulatory requirements.
Monitor welding quality and safety standards, and provide necessary corrective actions.
Provide technical support for welding operations and equipment maintenance.
Conduct tests and inspections of welds to ensure quality.
Ensure all welding operations are compliant with safety regulations.
Train and supervise welding personnel.
Provide timely reports on welding operations and quality assurance activities.
Conduct research on welding processes and materials to identify cost savings and improve production efficiency.
Develop and implement welding solutions to meet customer needs and specifications.
In addition to this, be sure to check out our resume templates, resume formats, cover letter examples, job description, and career advice pages for more helpful tips and advice.
What should be included in a Welding Engineer resume?
A welding engineer should have a comprehensive resume that highlights their unique skill set and qualifications. A welding engineer is a skilled professional who is responsible for the planning, designing, and building of welded structures. Their work is essential in the fabrication of structures used in a wide variety of industries and settings.
To ensure that potential employers can see the breadth of their experience, welding engineers should include the following items on their resume:
Education: Be sure to include details about any welding-related education, such as certificates and degrees from vocational schools, community colleges, and universities.
Experience: Include any relevant welding experience, such as the types of welding processes you've used, and any industry-specific experience you have.
Technical Skills: Detail your technical skills, such as your knowledge of welding codes and standards, and any computer-aided design (CAD) software you have experience with.
Safety: Showcase your safety knowledge by including any safety certifications and safety courses you've completed.
Projects: List any large-scale welding projects you've worked on, such as bridges or pipelines. Include details about your role and responsibilities, as well as any awards or recognitions you received.
By including all of these items, welding engineers can ensure their resumes show potential employers the full scope of their experience and skills. This will make it easier for employers to see why you are the perfect candidate for the job.
What is a good summary for a Welding Engineer resume?
A Welding Engineer resume should include a well-crafted summary that demonstrates the candidate's experience in the field, their commitment to quality welding standards, and their ability to work as part of a team. The summary should highlight the candidate's education, certifications, and any relevant experience in welding engineering. It should also showcase their technical knowledge and their ability to develop and execute successful welding plans. Finally, the summary should outline the candidate's willingness to work hard to achieve the best results and the impact they have had on previous team members and the company.
What is a good objective for a Welding Engineer resume?
A welding engineer is an experienced metalworker who specializes in welding, brazing, and soldering. When writing a welding engineer resume, it is important to have a specific objective statement that clearly defines your goals and expresses your qualifications to employers. A well-crafted objective statement can make the difference between a good and a great resume. Here are a few examples of good welding engineer resume objectives:
To utilize my extensive experience in welding, brazing, and soldering to join metals and other materials together in a safe and efficient manner.
To seek a position as a welding engineer that utilizes my strong knowledge of welding processes and techniques as well as my problem-solving skills.
To obtain a welding engineer position in a leading organization where I can apply my experience in welding, brazing, and soldering to solve complex problems.
To leverage my expertise in welding, brazing, and soldering to help create innovative solutions for clients.
To join an innovative organization as a welding engineer and work with a team to develop new welding processes and techniques.
Overall, a good objective for a welding engineer resume should be tailored to the job description and should highlight your qualifications as a metalworking professional. By crafting an objective statement that defines your goals and showcases your strengths, you can make your resume stand out and increase your chances of landing your dream job.
How do you list Welding Engineer skills on a resume?
When crafting a resume as a Welding Engineer, it is essential to showcase your skills that are relevant to the job you are applying for. Here are a few tips and tricks to ensure your resume is highlighting the necessary skills for the role:
Highlight the technical skills you possess. These could include welding techniques, blueprint reading, and quality assurance techniques.
Demonstrate your knowledge of welding equipment and safety regulations. Showcase any certifications or licenses you may have that are related to welding operations.
If you have any additional knowledge or certifications in related areas such as mechanical engineering or electrical engineering, make sure to include these as well.
Make sure to list any experience you have working in a team environment or with other engineers as this can be beneficial to a welding engineer role.
Showcase your ability to be a problem solver by highlighting any engineering challenges you have solved in the past.
By including all the necessary welding engineering skills on your resume, you can ensure that you are highlighting your abilities to potential employers. With the right mix of technical abilities, problem solving skills, and relevant certifications, you can ensure that you have the best chance of getting hired for the job.
What skills should I put on my resume for Welding Engineer?
When applying for a welding engineering job, it is important to make sure that your resume reflects the education and experience necessary to qualify you for the position. In addition to your education, certifications, and work experience, there are certain skills that should be included on your resume to make sure you stand out from other applicants.
Welding Experience: Your resume should emphasize your welding experience. Any experience you have with welding in the past should be highlighted. Include the type of welding you performed, the length of time you were employed, and any certifications you earned.
Knowledge of Safety Standards: Welding can be a dangerous job and employers will be looking for evidence of your knowledge of safety standards for welding. Include any safety courses you have taken and any certifications you hold in welding safety.
Technical Expertise: As a welding engineer, you will be responsible for developing safe and efficient welding methods. Include any specialized skills or knowledge you have in your resume to demonstrate your technical expertise.
Problem Solving: Employers will want to know that you have the ability to think critically and solve problems. Think of examples from your previous work experience that demonstrate your problem solving skills.
Leadership: Welding engineering is a highly collaborative job, so employers will be looking for evidence of your ability to lead a team of welders. Include any experience you have in leading teams or developing new processes.
By including these skills on your resume, you will show employers that you have the qualifications necessary to be a successful welding engineer.
Key takeaways for an Welding Engineer resume
Welding engineers play an integral role in the design and fabrication of metal structures and components. As a welding engineer, your resume should showcase your knowledge of welding techniques and processes, as well as your ability to troubleshoot welding issues.
If you're applying for a welding engineer position, here are some key takeaways to include in your resume:
Extensive experience in welding both ferrous and non-ferrous metals, along with a keen understanding of how the welding process works.
A comprehensive knowledge of welding codes and standards, along with the ability to interpret and use them in the design of welding projects.
Expertise in various welding techniques, including arc welding, resistance welding, and gas welding.
Proficiency in welding machines, tools, and equipment, such as plasma torches, MIG welders, and TIG welders.
The ability to read and interpret blueprints and schematics.
Experience with metallurgical principles and their application in the welding process.
The ability to develop welding procedures and inspect parts for conformance to quality standards.
The ability to troubleshoot welding issues and resolve them in a timely manner.
Excellent communication and problem-solving skills.
By highlighting these key takeaways in your resume, you'll be better equipped to land the welding engineer position you're applying for.
Let us help you build
your Resume!
Make your resume more organized and attractive with our Resume Builder