Writing a resume for a VP of Engineering position can often be a daunting task. It's crucial to create a resume that highlights your technical and managerial skills, while also showcasing your experience and accomplishments. To make sure your resume stands out, it's important to include specific accomplishments, and also to emphasize any relevant certifications or certifications that you hold. This guide provides tips on how to craft a resume for a VP of Engineering position, including what information should be included, as well as examples of successful VP of Engineering resumes. By using these tips and examples, you can create an effective resume that puts your best foot forward and helps you land the job you want.
If you didn't find what you were looking for, be sure to check out our complete library of resume examples.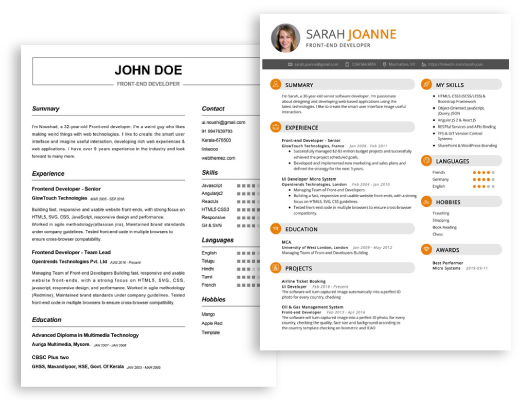 Start building your dream career today!
Create your professional resume in just 5 minutes with our easy-to-use resume builder!
Vp Of Engineering Resume Examples
John Doe
Vp Of Engineering
123 Main Street | Anytown, USA 99999 | Phone: (123) 456-7890 | Email: john.doe@email.com
I am a highly experienced Vp Of Engineering with a passion for technology. I have been working in the engineering field for more than 10 years, leading teams and developing products. With a background in engineering and product development, I have the technical expertise to develop and manage the engineering operations of an organization. I am also highly organized and have the ability to coordinate multiple projects and tasks simultaneously.
Core Skills:
Knowledge of engineering principles and processes
Highly skilled in leading technical teams
Experienced in managing projects and meeting deadlines
Expertise in creating and managing engineering budgets
Ability to implement new engineering processes
Excellent written and verbal communication
Proficient in developing products and making insights into customer needs
Professional Experience:
VP Of Engineering, ABC Company (2017 – present)
Overseeing the engineering operations of the company and leading a team of engineers
Developing new engineering processes and procedures to meet company objectives
Managing and coordinating multiple projects at once while meeting deadlines
Developing and managing engineering budgets
Working closely with other departments to ensure a successful product launch
Creating insights into customer needs and developing products accordingly
Engineering Manager, XYZ Company (2013 – 2017)
Leading a team of engineers and ensuring completion of projects according to customer demands
Developing and implementing engineering processes to meet customer demands
Coordinating multiple projects and ensuring timely completion
Making sure engineers comply with quality control and safety standards
Budgeting for engineering and project management activities
Participating in customer meetings and making presentations
Education:
B.S. in Engineering, University of Technology (2009)
Vp Of Engineering Resume with No Experience
Recent college graduate eager to utilize strong organizational, time management, and problem- solving skills in a VP of Engineering role. Able to work effectively with teams and develop strong customer relationships. Well versed in emerging technology trends, project management, and data analysis.
Skills
Project Management
Software Engineering
Leadership
Data Analysis
Problem- Solving
Organizational Skills
Team Collaboration
Time Management
Responsibilities
Develop and implement engineering strategies and objectives to meet customer needs and corporate goals.
Lead and collaborate with engineering teams for product development and improvement.
Monitor and evaluate project progress and accomplishments.
Assess customer feedback and develop solutions to improve customer satisfaction.
Analyze customer data to identify customer trends and insights.
Develop and maintain relationships with vendors and partners.
Ensure engineering processes and procedures are followed.
Vp Of Engineering Resume with 2 Years of Experience
A highly motivated and experienced Vp of Engineering with 2 years of experience in providing strategic guidance to a development team in the creation of innovative, robust, and reliable technology solutions. With a passion for problem solving, I have a proven track record of successfully leading teams to achieve company objectives while maintaining a high degree of technical innovation. My skills include strategic planning, risk management, communication, and technical management, and I have a strong ability to coordinate and facilitate the development process while meeting deadlines.
Core Skills:
Strategic Planning
Risk Management
Communication
Technical Management
Project Leadership
Adaptability
Team Leadership
Responsibilities:
Develop technical strategies and plans for the engineering team in alignment with the company's overall objectives
Evaluate and recommend technology solutions and products that meet the company's requirements
Monitor and assess the quality of engineering projects to ensure they are meeting deadlines and quality standards
Lead, guide, and motivate the engineering team in the development process
Manage resources, budgets, and timelines to ensure projects are completed on schedule and within budget
Identify and solve technical problems throughout the development lifecycle
Track and report project status to upper management and stakeholders
Work with the sales and marketing teams to ensure customer satisfaction and product success
Vp Of Engineering Resume with 5 Years of Experience
Dynamic and experienced Engineering VP with 5 years of experience leading teams and driving innovation within the engineering sector. A strong record of success in developing and managing engineering projects, including overseeing design, development, and production processes. Expertise in developing and executing strategies to optimize engineering processes and maximize results. Possess excellent organizational, administrative, and communication skills.
Core Skills:
Project Management
Strategic Planning
Risk Management
Process Optimization
Team Leadership
Problem Solving
Engineering Design and Development
Responsibilities:
Developed, managed, and tracked all engineering projects from design to production
Responsible for creating and implementing strategies for engineering projects and processes
Collaborated with executives to develop strategies to increase project efficiency
Ensured adherence to safety regulations and quality standards throughout all processes
Managed a team of engineers, overseeing their work and providing feedback
Collaborated with other departments to ensure project success
Coordinated with vendors to ensure the availability of materials and supplies
Analyzed data and metrics to identify areas of improvement and opportunities for growth
Developed and implemented processes to improve cost savings and maximize resources.
Vp Of Engineering Resume with 7 Years of Experience
A highly experienced and competent VP of Engineering with over 7 years of experience in developing, managing, and delivering complex engineering projects. Proven track record of designing and implementing innovative systems, processes, and solutions that deliver tangible results on a global scale. Skilled in strategic planning, problem- solving, and team- building, with a passion for developing and deploying high- performance engineering products.
Core Skills:
Strategic planning and execution
Leadership and team management
Process and operational improvement
Project management and execution
Engineering development and design
Risk assessment and mitigation
Data analysis and reporting
Stakeholder and client management
Responsibilities:
Develop and implement innovative engineering solutions to improve operational processes, drive business growth, and meet customer needs
Lead, mentor, and manage a team of engineers, ensuring team members are equipped to achieve project goals
Collaborate with stakeholders and clients to define project objectives and deliverables
Oversee the development, testing, and deployment of engineering products, ensuring quality assurance and customer satisfaction
Provide technical guidance, training, and support to team members
Conduct risk assessments and develop strategies to minimize risks
Create and analyze detailed reports to identify trends, problems, and areas for improvement
Vp Of Engineering Resume with 10 Years of Experience
A highly experienced and self- motivated Vp Of Engineering with 10 years of experience in management, product development, and engineering. Highly knowledgeable in leading teams, developing strategies, and evaluating results. A strong leader and communicator who is able to quickly identify and resolve complex engineering problems while staying on budget and on time.
Core Skills:
Team Leadership
Strategic Planning
Product Development
Project Management
Problem Solving
Software Design
Data Analysis
Cost Control
Process Improvement
Quality Assurance
Responsibilities:
Leading engineering teams to develop, test and launch new products
Developing strategies for the development of products and services
Managing design and development projects from conception to completion
Analyzing data to evaluate the success of products and services
Ensuring engineering processes are followed and ensuring quality of products
Identifying, troubleshooting, and resolving complex engineering problems
Managing costs and staying on budget and schedule
Conducting regular team meetings to review progress, identify risks, and discuss solutions
Developing and implementing process improvements to increase efficiency and quality
Vp Of Engineering Resume with 15 Years of Experience
A highly experienced and driven V.P. of Engineering with 15+ years of experience in designing, developing, and implementing innovative products and solutions. Proven track record of designing and managing large- scale engineering projects while developing and inspiring teams, providing technical guidance, and balancing competing priorities and resources. Possesses a deep understanding of engineering processes, regulations and standards, as well as a technology background that includes software, hardware, and embedded systems.
Core Skills:
Engineering Design & Management
Software & Hardware Solutions
Embedded Systems
Team Leadership & Development
Project Management
Regulations & Standards
Strategic Planning
Data Analysis & Troubleshooting
Process Improvement & Optimization
Responsibilities:
Lead and manage all engineering activities, ensuring engineering projects are completed on time, on budget, and in compliance with all regulations and standards.
Produce detailed project plans and assign tasks to team members, monitor progress and collaborate with other departments and stakeholders to ensure successful project execution.
Implement standard engineering processes, procedures and guidelines to ensure quality, customer satisfaction and compliance.
Identify areas of improvement and develop strategies to improve efficiency, reduce costs and eliminate potential risks.
Mentor and develop engineering teams by providing technical guidance, training, and leadership.
Research and evaluate new technologies and products to ensure the team remains competitive and current.
Analyze reports and data to identify trends and patterns, uncovering opportunities and potential issues.
Provide technical presentations and updates to internal and external stakeholders.
In addition to this, be sure to check out our resume templates, resume formats, cover letter examples, job description, and career advice pages for more helpful tips and advice.
What should be included in a Vp Of Engineering resume?
The VP of Engineering is a critical role for any organization, as they are responsible for managing the engineering team, ensuring their projects stay on track, and providing creative leadership for their projects. As a result, VP of Engineering resumes must include certain key components that showcase their expertise in the field.
Summary: A brief summary of the VP of Engineering's qualifications, experience, and value they bring to the organization.
Education: An overview of the VP of Engineering's educational background, including any degrees or certifications they may have.
Professional Experience: A list of the VP of Engineering's past roles, with an emphasis on their successes and achievements in those roles.
Projects: A list of any major projects the VP of Engineering has worked on, with an emphasis on the ones they had a major role in leading.
Technical Skills: Proficiency in any engineering-related technology, such as software engineering, computer programming, or hardware engineering.
Leadership Skills: Demonstrated success leading teams and managing complex engineering projects.
Problem-Solving Skills: Proven abilities to identify and solve complex engineering problems.
Communication Skills: Ability to effectively communicate with engineers and other technical teams.
With these components included in the VP of Engineering resume, potential employers can quickly gain an understanding of the candidate's skill set and experience, and how they could add value to their organization.
What is a good summary for a Vp Of Engineering resume?
A VP of Engineering is responsible for overseeing the engineering and technical operations of a company. In order to be successful in this role, a VP of Engineering must possess strong leadership skills, effective communication capabilities, excellent technical knowledge, and a deep understanding of engineering principles.
When crafting a resume in this field, it is important to showcase these skills, knowledge, and qualifications. An effective summary section should highlight your experience in the engineering sector, detail your technical capabilities, and demonstrate your ability to lead and manage teams. Additionally, mentioning any relevant certifications and awards can also be beneficial.
By creating a comprehensive and informative summary for your VP of Engineering resume, you can demonstrate to potential employers why you are the ideal candidate for the role.
What is a good objective for a Vp Of Engineering resume?
A Vice President of Engineering is a key executive responsible for leading an engineering organization. As such, the VP of Engineering must have a comprehensive understanding of the engineering process, the ability to lead a team of engineers, and the experience to execute strategic initiatives. When writing a VP of Engineering resume, the objective should focus on the candidate's leadership experience, technical expertise, and understanding of the engineering process.
Here are some examples of objectives that VP of Engineering Candidates can use for their resume:
Demonstrate expertise in leading large, engineering organizations and developing innovative engineering solutions.
Utilize strong technical knowledge and skills to build and execute strategic initiatives that maximize efficiency and optimize performance.
Apply extensive managerial experience to lead a team of engineers, ensuring projects are delivered on-time and within budget.
Leverage established relationships with key stakeholders to ensure the successful implementation of engineering projects.
Foster an environment of collaboration and innovation while guiding the team to meet deadlines and achieve goals.
How do you list Vp Of Engineering skills on a resume?
One of the most important roles in any engineering department is the VP of Engineering. A successful VP of Engineering should be highly experienced and knowledgeable in the field, as well as able to manage personnel, resources, and budgets. When listing your VP of Engineering skills on your resume, it's important to emphasize your technical knowledge as well as your managerial and leadership skills. Here are some example skills to list on a VP of Engineering resume:
Extensive engineering experience and expertise
Proven track record of successful project management
Ability to develop and manage budgets and resources
Leadership and interpersonal skills
Ability to identify and assess engineering challenges
Expertise in the implementation of innovative solutions
Ability to develop and maintain relationships with stakeholders
Ability to effectively delegate tasks and ensure the successful completion of projects
Expertise in research and development of new technologies and products
Knowledge of industry regulations and standards
What skills should I put on my resume for Vp Of Engineering?
As the Vice President of Engineering, you are responsible for setting and executing the engineering strategy for your organization, so it's important to highlight the right skills on your resume. Here are some of the key skills to consider including:
Technical Expertise: You should highlight your technical background, and any experience in developing and executing complex engineering projects. Additionally, emphasize any experience leading a technical team, such as your success in recruiting and training team members.
Leadership Qualities: As VP of Engineering, you'll need to be a strong leader who can motivate and inspire their teams. Be sure to list any leadership roles you've held, such as leading large-scale projects or managing teams.
Communication Skills: You'll need to be an effective communicator in order to collaborate with other teams and executives. Make sure to include any experience with presenting complex technical concepts to various audiences, as well as any success in managing customer relations.
Strategic Thinking: As VP of Engineering, you'll need to have a strategic mindset and be able to think ahead. List any successes you've had in developing innovative solutions or setting long-term objectives.
Project Management: As the head of the engineering team, you'll need to be able to manage projects from start to finish. Be sure to include any experience you have overseeing projects, managing resources, and meeting deadlines.
Problem-Solving: Finally, emphasize any experience you have in identifying and solving complex technical issues. This could include any success you've had in leading problem-solving sessions or developing creative solutions.
By highlighting these skills on your resume, you can demonstrate to potential employers that you have the experience and ability to lead successful engineering teams.
Key takeaways for an Vp Of Engineering resume
The VP of Engineering role is a vital role in any organization, leading the engineering team and driving innovation. Your resume is your opportunity to showcase your technical abilities and experience. Whether you're a seasoned professional or just starting out, there are certain key takeaways to keep in mind when crafting your VP of Engineering resume.
Highlight your technical skills: When applying for a VP of Engineering role, it's essential to emphasize your experience and technical expertise. Make sure to include a comprehensive list of your technical skills, experiences and roles, such as software development, hardware design, project management and system architecture.
Showcase your leadership abilities: As VP of Engineering, you'll be leading a team and likely be responsible for the development of new products or services. It's important to showcase your ability to lead, motivate and manage. Be sure to include any previous leadership roles, team initiatives you've led and successes you've achieved.
Demonstrate success metrics: Many VP of Engineering roles require metrics-driven performance. Showcase your ability to measure and improve performance with tangible metrics. Include any past successes and qualitative metrics you've achieved, such as cost savings or improved customer satisfaction.
Focus on the future: While it's important to demonstrate your past successes, you should also emphasize your forward-looking vision. Demonstrate your ability to think strategically and develop innovative solutions to improve the organization's engineering processes and systems.
By highlighting your technical abilities, leadership skills, success metrics and forward-looking vision, you will be able to craft a compelling VP of Engineering resume that will help you stand out from the competition.
Let us help you build
your Resume!
Make your resume more organized and attractive with our Resume Builder