A UI (User Interface) engineer is responsible for creating the look and feel of any application or website. Their work involves designing visual elements, such as menus, buttons, and graphics, as well as developing underlying code. As a result, a UI engineer must be able to demonstrate their knowledge of both design and development in their resume. This guide provides tips and examples to help UI engineers create a resume that will showcase their unique skillset and experience.
If you didn't find what you were looking for, be sure to check out our complete library of resume examples.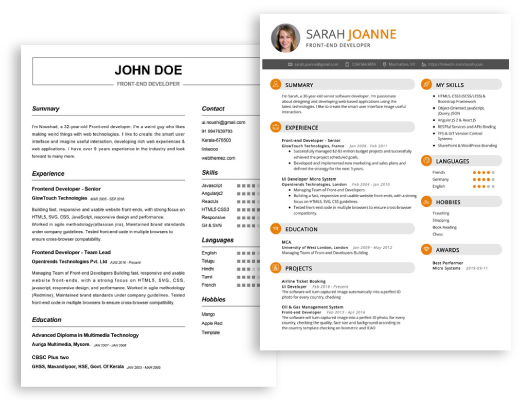 Start building your dream career today!
Create your professional resume in just 5 minutes with our easy-to-use resume builder!
Ui Engineer Resume Examples
John Doe
Ui Engineer
123 Main Street | Anytown, USA 99999 | Phone: (123) 456-7890 | Email: john.doe@email.com
I am a UI Engineer with 8 years of experience in the software industry. My expertise lies in developing web and mobile applications using HTML5, CSS3, JavaScript, and React.js, as well as utilizing databases such as MongoDB and MySQL. I have a deep understanding of user experience and have designed user interfaces for numerous projects. I am a team player and have effectively coordinated with developers and designers to ensure successful product launches. I have a Bachelor's degree in Software Engineering and am eager to continue my professional growth
Core Skills:
HTML5/CSS3
JavaScript
React.js
MongoDB/MySQL
User Experience Design
Software Engineering
Product Launches
Team Coordination
Professional Experience:
UI Engineer, ABC Corporation
Developed web and mobile applications using HTML5, CSS3, JavaScript and React.js
Created user interfaces for various projects using advanced UX/UI design
Collaborated with designers, developers and other team members to ensure successful product launches
Implemented software engineering processes and best practices to ensure quality products
UI Developer, XYZ Corporation
Designed and developed user interfaces for multiple web and mobile applications
Utilized HTML5, CSS3, JavaScript and React.js to create robust front- end solutions
Leveraged MongoDB and MySQL databases for data storage and retrieval
Ensured quality of end products by leveraging software engineering best practices
Education:
Bachelor of Science in Software Engineering, University of California
Ui Engineer Resume with No Experience
Recent Computer Science graduate with an eagerness to learn and an interest in UI engineering. I possess an analytical mindset and creative problem- solving skills; looking for a role in the industry to further my knowledge and experience.
Skills
Proficient in HTML, CSS and JavaScript
Knowledge of Web Development Frameworks
Understanding of User Interface/Experience (UX/UI) principles
Excellent Teamwork and Communication Skills
Proficient in Microsoft Office Suite
Responsibilities
Assisting with the design, development, and implementation of web user interface designs
Creating user interface prototypes using HTML and CSS
Collaborating with design teams to ensure a consistent user interface
Ensuring the user interface is accessible and optimized for a variety of devices
Testing user interface components to ensure their accuracy and functionality
Ui Engineer Resume with 2 Years of Experience
Highly motivated and experienced UI Engineer with two years of professional experience in web design and development. Skilled at creating user- friendly interfaces and developing efficient frontend code. Proven success designing intuitive, high- performance websites, web applications, and mobile apps. Committed to creating innovative digital solutions to meet customer needs.
Core Skills:
HTML5 and CSS3
JavaScript and jQuery
Cross- browser and platform compatibility
Adobe Creative Suite and Sketch
Web accessibility and usability
Responsive design principles
Version control systems
Agile development
User interface design
Responsibilities:
Developed and enhanced user interface designs with HTML5, CSS3, and JavaScript
Produced high- quality visuals for websites, web applications, and mobile apps
Ensured cross- browser and platform compatibility for web interfaces
Evaluated user feedback to improve the user experience
Collaborated with product, design, and development teams to build and maintain websites
Followed Agile development methodology and best practices
Applied web accessibility and usability standards to create accessible websites
Monitored website performance and used techniques to optimize loading speed
Maintained version control systems to keep track of changes to the website code
Troubleshot and resolved browser compatibility issues
Ui Engineer Resume with 5 Years of Experience
A seasoned UI Engineer with more than 5 years of experience developing user interfaces and web applications. Expert in using HTML, CSS, JavaScript and a wide range of development tools and frameworks. Highly skilled in UI/UX architecture, coding, debugging and optimization to ensure seamless user experience. A team player with an analytical mindset, excellent problem- solving skills and attention to details.
Core Skills:
HTML
CSS
JavaScript
User Interface Design
Web Application Development
Debugging
Optimization
Responsive Web Design
Responsibilities:
Collaborated with designers and developers to create visually appealing user interfaces that meet usability and accessibility requirements.
Developed reusable components and implemented custom designs.
Developed and maintained web applications using HTML, CSS, JavaScript and AJAX.
Optimized web interfaces for faster loading and improved user experience.
Resolved cross- browser compatibility issues.
Developed secure, stable, and highly scalable web applications.
Debugged, tested and monitored web applications to identify and fix bugs.
Implemented user- friendly navigation and search functions.
Ui Engineer Resume with 7 Years of Experience
An experienced UI Engineer with 7 years experience in developing user interfaces for web, mobile, and desktop applications. Skilled in HTML, CSS, JavaScript, and AngularJS, as well as experience in working with different teams and platforms. Committed to developing high- quality, engaging user experiences that generate business results.
Core Skills:
HTML
CSS
JavaScript
AngularJS
UX Design
Responsive Design
Team Collaboration
Responsibilities:
Creating user interfaces for web and mobile applications
Designing and developing with HTML, CSS, JavaScript, and AngularJS
Ensuring customer satisfaction and usability
Optimizing user interfaces for scalability and performance
Collaborating with cross- functional teams to ensure successful implementations
Testing and debugging user interfaces for potential problems
Analyzing user experience to improve usability
Developing documentation and presentations for user interfaces
Ui Engineer Resume with 10 Years of Experience
Highly experienced UI Engineer with 10+ years of experience in developing user interfaces for web- based applications. Professional expertise in HTML, CSS, JavaScript, jQuery and Bootstrap. Hands- on experience in developing responsive designs for web and mobile applications. Skilled in creating prototypes for a better user experience and solving complex business problems. Proven ability to work in a fast- paced environment.
Core Skills:
HTML
CSS
JavaScript
jQuery
Bootstrap
Responsive Design
Prototyping
Problem Solving
Fast- paced Environment
Responsibilities:
Developed user interfaces for web and mobile apps.
Created prototypes for testing and feedback.
Implemented responsive designs for web and mobile applications.
Utilized HTML, CSS, JavaScript, jQuery and Bootstrap to create user- friendly experiences.
Developed custom coding solutions to solve complex business problems.
Optimized performance of user interfaces and troubleshooted issues.
Researched and implemented new technologies to improve user experience.
Ui Engineer Resume with 15 Years of Experience
UI Engineer with 15 years of experience in designing and developing user interfaces for multiple web and mobile applications. Skilled at HTML, CSS, JavaScript, Analytics, and Cross- Browser Compatibility. Experienced in working on various client projects and a proficient problem solver. Adept at collaborating with other teams and developers in order to ensure effective communication and successful implementation of projects.
Core Skills:
HTML
CSS
JavaScript
Analytics
Cross- Browser Compatibility
Problem Solving
Collaboration
Client Project Management
Responsibilities:
Developed user- friendly interfaces and ensured optimization on multiple web and mobile platforms.
Created clean and responsive design components using HTML and CSS.
Ensured cross- browser compatibility on all major browsers.
Integrated analytics and tracking into applications.
Worked with other teams to ensure successful implementation of projects.
Resolved issues and provided technical support to customers.
Developed, tested, and deployed applications in accordance with project timelines.
Utilized JavaScript to create interactive user experiences.
Conducted usability testing and improved user experience.
In addition to this, be sure to check out our resume templates, resume formats, cover letter examples, job description, and career advice pages for more helpful tips and advice.
What should be included in a Ui Engineer resume?
When creating a resume for a UI Engineer, it's important to include all of the necessary components that demonstrate your qualifications and experience. This includes technical skills, past projects and experience, and relevant educational background. Here are the key components to include in a UI Engineer resume:
Professional Summary: A brief summary that highlights your skills and experience in UI engineering.
Technical Skills: List your core technical skills and any relevant software development experience, such as HTML, CSS, JavaScript, React, Angular, Vue, and any other relevant programming languages.
Project Experience: Include past project experience with context and detail. Describe any challenges you overcame and the impact of your work.
Education: Include any relevant educational background, such as a degree in computer science or related field.
Awards and Acknowledgements: List any awards or recognition you have received for your work.
Certifications: List any certifications or courses you have completed related to UI engineering.
Professional Organizations: Include any professional organizations or societies you are a member of.
By including all of these components, you can create a comprehensive and impactful resume that highlights your skills and experience as a UI Engineer.
What is a good summary for a Ui Engineer resume?
A UI Engineer is a software engineer who specializes in user interface (UI) design, development, and testing. As a UI Engineer, you are responsible for creating websites, applications, and software that are visually appealing, easy to use, and responsive. Your resume should showcase your understanding of UI design principles, your ability to develop UI designs, and your experience with coding languages such as HTML, CSS, JavaScript, and more. A good summary for a UI Engineer resume should emphasize your knowledge of design principles, your ability to work with a team, and your experience with coding languages. Additionally, your summary should list any relevant certifications or awards, as well as any experience in product testing or UI automation. Lastly, make sure to highlight any areas of expertise that set you apart from other UI Engineers.
What is a good objective for a Ui Engineer resume?
A UI Engineer resume should have a clear objective that outlines the candidate's experience and qualifications for the role. An effective objective should focus on the candidate's ability to design user-friendly interfaces with an emphasis on usability and accessibility. Additionally, a good objective should highlight the candidate's experience in coding, developing, and testing UI applications.
Demonstrate expertise in developing rich and interactive user interfaces with modern technology
Create aesthetically pleasing and easy-to-use UI designs with maximum usability
Utilize best practices in UI development, coding, and testing
Collaborate with teams to ensure design and development goals are met
Maintain and modify current UI applications to ensure optimal performance and user experience
Ensure accessibility and usability of UI designs for all users
Remain up-to-date on current trends in UI design and technology
How do you list Ui Engineer skills on a resume?
When writing a resume for a UI Engineer position, it's important to highlight the skills that are relevant to the job. Here are some of the most important skills to include in your resume:
User Interface Design: UI Engineers should have a strong knowledge of UX/UI design principles and techniques, including wireframing, prototyping, and user-testing.
HTML/CSS/JavaScript: Knowledge of HTML, CSS, and JavaScript is essential for UI Engineers. Your resume should demonstrate your ability to develop responsive and accessible user interfaces.
Programming Languages: UI Engineers should have a strong understanding of web development programming languages such as Python, Ruby, PHP, and Node.js.
Software Development Lifecycle: A UI Engineer should be able to demonstrate an understanding of the software development lifecycle and have experience in creating software applications from concept to completion.
Database Design: UI Engineers must have a working knowledge of database design principles and techniques.
Project Management: Demonstrating the ability to manage multiple projects and coordinate with other stakeholders is important for successful UI Engineers.
By including these skills on your resume, you'll be able to show employers that you have the experience and knowledge necessary to be successful in a UI Engineer role.
What skills should I put on my resume for Ui Engineer?
When applying for a position as a UI engineer, a resume should accurately reflect the skills and qualifications needed for the position. UI engineers must have strong technical, creative, and communication skills. Below is a list of skills that should be included on a UI engineer resume:
HTML/CSS: UI engineers need to be familiar with both HTML and CSS in order to create and modify webpages.
JavaScript: UI engineers need to be proficient in JavaScript in order to create interactive webpages.
UX Design: UI engineers should have a strong understanding of user experience (UX) principles and how to create a user-friendly interface.
Graphic Design: UI engineers must be skilled in graphic design in order to create visually appealing webpages.
Mobile Development: UI engineers need to understand how to develop apps and websites for mobile devices.
Testing: UI engineers need to be able to test websites and apps to ensure they are functioning properly.
Problem-Solving: UI engineers need to be able to identify and troubleshoot any issues that may arise.
Teamwork: UI engineers must be able to work effectively with other members of the development team.
Communication: UI engineers must be able to communicate effectively with their clients and stakeholders.
Key takeaways for an Ui Engineer resume
When creating a resume for a UI Engineer role, there are several important points to keep in mind. These key takeaways will help ensure you craft an effective resume which highlights your skills and experiences, creating the best impression possible.
First and foremost, focus on the specific skills you possess which are relevant to the role you are applying for. Emphasize your technical expertise in the areas of UI design and development, such as HTML programming, CSS styling and JavaScript coding. Additionally, showcase your knowledge of user experience (UX) principles, user interface (UI) design patterns and software engineering best practices.
Make sure to include a list of projects you have worked on to demonstrate the depth of your experience. Include details such as the technologies used, the timeline of the project and the impact it had. Be sure to highlight any successes or accomplishments related to the projects.
Provide examples of any collaborative projects you have done, and outline the role you played in the project. Demonstrate your ability to collaborate effectively and efficiently with other engineers, designers, developers and other stakeholders.
Finally, make sure to include any certifications or awards you have received related to UI development or engineering. This will showcase your commitment to staying up-to-date with the latest industry trends and standards.
By following these key takeaways, you will create a strong, compelling resume which highlights your expertise in UI engineering. Good luck!
Let us help you build
your Resume!
Make your resume more organized and attractive with our Resume Builder