Writing a resume as a tooling engineer requires knowledge of the roles and industry as well as the ability to highlight special skills and show progression in one's career. A successful tooling engineer resume should provide a potential employer with enough information to express interest in the candidate, while still being concise and to the point. In this guide, you will find helpful advice on how to craft a tooling engineer resume that not only accurately reflects your qualifications and experience, but also stands out from the competition. It also includes example resumes and tips for formatting and optimizing your resume for the job search process.
If you didn't find what you were looking for, be sure to check out our complete library of resume examples.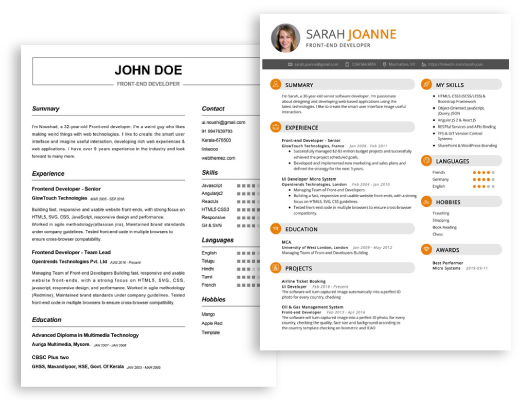 Start building your dream career today!
Create your professional resume in just 5 minutes with our easy-to-use resume builder!
Tooling Engineer Resume Examples
John Doe
Tooling Engineer
123 Main Street | Anytown, USA 99999 | Phone: (123) 456-7890 | Email: john.doe@email.com
As a Tooling Engineer, I have seven years of experience in the manufacturing industry. I am highly knowledgeable in the production processes and practices within the tooling industry, and have a strong understanding of CNC machining, tool and die making, CAD/CAM systems, and metrology. My experience has given me the ability to successfully manage projects, troubleshoot process issues, and maintain and repair tools. I am also well- versed in safety and quality standards, and have an excellent eye for detail.
Core Skills:
CNC Machining
CAD/CAM Systems
Metrology
Tool and Die Making
Project Management
Troubleshooting
Quality and Safety Standards
Tool Repair and Maintenance
Manufacturing Processes and Practices
Professional Experience:
Tooling Engineer, ABC Corporation, 2014- present
Plan and develop tooling for new and existing products
Monitor and troubleshoot tooling processes and systems
Design and build fixtures for production lines
Maintain and repair tools and machines
Develop and implement quality and safety standards
Keep records and perform data analysis
Tool and Die Maker, XYZ Corporation, 2009- 2014
Operate CNC machines to create tool and die components
Set up and program CAD/CAM systems
Modify existing tools and dies to improve processes
Ensure accuracy and quality of finished products
Education:
Bachelor's Degree in Manufacturing Engineering, University of Technology, 2009
Tooling Engineer Resume with No Experience
Recent college graduate with a Bachelor's degree in Mechanical Engineering, seeking to apply knowledge of designing and manufacturing tooling components to a Tooling Engineer role. Passionate about improving the efficiency of production processes through the implementation of innovative technologies.
Skills
Strong knowledge of tooling design principles and fabrication methods
Computer- aided design (CAD) experience
Familiarity with CNC machining, robotic welding, and assembly processes
Excellent problem- solving and troubleshooting skills
Excellent written and verbal communication skills
Responsibilities
Design jigs, fixtures, and tooling for manufacturing processes
Analyze and recommend improvements to existing processes to increase quality and efficiency
Develop and document test procedures for new and current tooling
Create CAD drawings for tooling components
Monitor and inspect tooling processes for accuracy and quality
Collaborate with other departments to ensure adherence to quality standards and timelines
Tooling Engineer Resume with 2 Years of Experience
A highly motivated and resourceful Tooling Engineer with 2 years of experience in the manufacturing industry. Proven ability to design, develop, and modify complex tooling systems to improve functionality and product quality. Experienced in working with materials such as plastic, metal, and rubber, and formulating processes and procedures to ensure product consistency. Skilled in troubleshooting and problem solving when issues arise.
Core Skills:
Tooling Design
Process Development
Troubleshooting
Quality Control
Materials Selection
Problem Solving
Responsibilities:
Developed tooling systems to improve product quality while decreasing production costs.
Developed and implemented processes and procedures designed to promote product consistency.
Researched and selected materials best suited for each application.
Troubleshot and solved design or production issues.
Monitored and inspected tooling to ensure it meets quality standards.
Assisted in the training of new employees regarding tooling design and use.
Tooling Engineer Resume with 5 Years of Experience
Driven Tooling Engineer with a passion for problem- solving and over 5 years of experience in the industry. Skilled in the design and development of new products and processes as well as maintenance of existing systems and operations. Adept at utilizing a variety of materials and technologies to create efficient tooling for several industries, including automotive and manufacturing. Specialized in automating new and existing processes and monitoring production performance to ensure quality and accuracy.
Core Skills:
Design and Development of New Products and Processes
Maintenance of Existing Systems and Operations
Utilization of Various Materials and Technologies
Automation of Processes
Monitoring of Production Performance
Ensuring Quality and Accuracy
Responsibilities:
Developed and implemented tooling plans to meet customer requirements and improve system performance.
Designed and tested new tooling systems to optimize production efficiency and cost- effectiveness.
Evaluated existing tooling systems to identify areas of improvement and develop solutions.
Performed regular maintenance and repair of tooling systems to ensure optimal performance.
Conducted regular inspections of the tooling systems to detect any potential issues.
Collaborated with other departments to ensure smooth operation of the tooling systems.
Developed and implemented safety procedures for use with tooling systems.
Trained personnel in the proper use of the tooling systems.
Monitored production performance and identified areas of improvement.
Tooling Engineer Resume with 7 Years of Experience
Experienced Tooling Engineer with 7 years of experience in the automotive industry. High- level expertise in designing, developing, and operating complex tooling systems. Demonstrated ability to investigate and implement advanced methods of tooling optimization. Proven record of successful projects, meeting deadlines, and working collaboratively to drive results.
Core Skills:
Tooling Design
Engineering Processes
Process Optimization
Project Management
Advanced Troubleshooting
Problem Solving
Resource Management
Responsibilities:
Responsible for designing and developing tooling systems for various automotive components.
Collaborated with cross- functional teams to develop complex tooling systems that meet quality and cost requirements.
Utilized AutoCAD, CATIA, and other software tools to develop detailed tooling designs.
Performed detailed analysis of tooling systems in order to identify and resolve any potential problems.
Monitored and tested tooling components to ensure performance and accuracy.
Provided technical support to operations teams in order to optimize tooling performance.
Troubleshot process issues and implemented corrective actions to solve problems.
Evaluated tooling designs and identified opportunities for improvement.
Developed and maintained project schedules, budgets, and timelines.
Tooling Engineer Resume with 10 Years of Experience
Tooling Engineer with 10 years of experience in design, construction, and fabrication of tooling and molds. Skilled in providing tooling solutions to increase production capacity, improve product quality, and reduce manufacturing costs. Demonstrates a history of completing projects on time, on budget, and in accordance with established quality standards.
Core Skills:
Tooling Design
Cost Estimation
Process Planning
CAD/CAM
Fixture Design and Manufacturing
Machine Design
Optimization and Troubleshooting
Production Support
Inspection and Quality Control
Responsibilities:
Developed and designed tooling, molds, and fixtures for various components and products.
Analyzed customer drawings for tooling requirements and provided cost estimation for tooling and fixtures.
Designed tooling and fixtures for each product using CAD/CAM software.
Monitored and maintained the tooling and fixture inventory.
Developed process plans for each product and managed the process plan documentation.
Designed and developed machines and equipment for production and testing.
Optimized production lines through process improvement and troubleshooting.
Provided production support, inspection, and quality control of tooling and fixtures.
Tooling Engineer Resume with 15 Years of Experience
Seasoned Tooling Engineer with 15 years of experience in the field of tooling engineering in the automotive industry. Extensive knowledge of tooling design, assembly process, cost control, and quality assurance. Proven success in meeting deadlines on time, as well as managing multiple tasks simultaneously. Excellent problem solving, analytical, and decision making skills.
Core Skills:
Tooling Design
Tooling Assembly Process
Cost Control
Quality Assurance
Problem Solving
Analytical Skills
Decision Making
Time Management
Responsibilities:
Develop tooling drawings and plans to meet customer requirements and company standards
Collaborate with other departments to ensure that the tooling design meets customer specifications
Create tooling schedules and designs to ensure the timely manufacture of parts
Monitor and improve tooling performance to guarantee the highest quality products
Analyze tooling costs to improve cost effectiveness and efficiency
Maintain records of tooling designs and changes
Inspect tooling to ensure compliance with customer specifications and company standards
Provide technical support to other departments, such as engineering and production
Train and develop personnel in tooling operations and safety procedures
In addition to this, be sure to check out our resume templates, resume formats, cover letter examples, job description, and career advice pages for more helpful tips and advice.
What should be included in a Tooling Engineer resume?
When it comes to applying for a job as a Tooling Engineer, you'll want to make sure your resume stands out to employers. To make sure your resume is as strong as possible, here are some of the key elements that should be included:
Education: Make sure to include any relevant educational degrees or certifications you have obtained in the field of tooling engineering.
Work Experience: Include any relevant work experience you have in tooling engineering, such as any positions you have held or projects you have worked on.
Technical Skills: Demonstrate any technical skills you have related to tooling engineering, such as knowledge of computer-aided design software or familiarity with various tooling techniques.
Soft Skills: Demonstrate any soft skills that are applicable to the position, such as problem-solving and communication abilities.
Other Qualifications: List any other qualifications you may have that could be relevant, such as safety and quality certifications.
By including these elements in your resume, you'll be able to show prospective employers that you are well-qualified for the position and demonstrate why you would be a great candidate.
What is a good summary for a Tooling Engineer resume?
A Tooling Engineer resume should include a summary of your qualifications and experience relevant to the position. Your summary should highlight your expertise in tooling engineering, as well as any other applicable areas of engineering. This summary should also include any specific experience you may have with the latest tooling technology or processes in the industry. Additionally, it's important to mention any other skills or experience you may have that would be an asset to the company. Finally, include a few lines explaining why you are the best candidate for the position. This summary should be concise and to the point, as it is often the first thing employers read on a resume.
What is a good objective for a Tooling Engineer resume?
bulletA Tooling Engineer resume should include an objective that focuses on the skills and abilities needed to excel in the role. The right objective will help employers quickly identify the value the candidate can bring to their company.
Here is a good objective for a Tooling Engineer resume:
An experienced Tooling Engineer seeking to utilize proven skills in CAD software and mechanical engineering to design and develop efficient tooling systems for a top-tier organization.
Proven ability to identify and solve problems related to tooling design, tooling analysis, and troubleshooting existing tooling systems.
Experienced in creating and maintaining accurate documentation for tooling systems and in interpreting complex technical data.
Possess excellent organizational, communication, and leadership skills.
Committed to increasing efficiency and accuracy of tooling systems to drive excellent products and solutions.
How do you list Tooling Engineer skills on a resume?
When creating a resume for a Tooling Engineer position, it is important to list out skills and qualifications that demonstrate your ability to fulfill the role. It is important to be as specific as possible when listing out your skills and qualifications. Here are some tips for how to effectively list Tooling Engineer skills on a resume:
Provide a summary at the top of your resume outlining your experience and expertise in tooling engineering.
List out specific knowledge and experience related to the design and development of tooling and fixtures, as well as their maintenance.
Demonstrate experience in assembling, inspecting, and testing tooling and fixtures.
Highlight any experience with CAD/CAM software, such as AutoCAD, Inventor, CATIA, and Pro/ENGINEER.
Showcase understanding of programming and machine setup for CNC machines and robotics.
Include any experience with injection molding machines and 3D printing.
Detail any experience with machining processes, such as milling, drilling, and lathe work.
Showcase problem solving and troubleshooting skills.
Detail communication skills and any experience working with stakeholders.
By demonstrating these Tooling Engineer skills on your resume, you will be able to showcase your qualifications and knowledge to employers. It is important to be as specific and detailed as possible when listing out your skills, as this will help employers determine if you are the right candidate for the job.
What skills should I put on my resume for Tooling Engineer?
As a tooling engineer, there are several key skills that you should include on your resume to demonstrate your qualifications for the position. These skills include:
Analytical Skills: Tooling engineers must be able to analyze complex data and come up with effective solutions for tooling designs. They must be able to identify problems and develop strategies to solve them.
CAD/CAM Software Proficiency: Tooling engineers must be proficient in using computer-aided design (CAD) and computer-aided manufacturing (CAM) software to create tooling designs.
Manufacturing Process Knowledge: Tooling engineers need to understand the various manufacturing processes and how they affect the tooling design.
Troubleshooting Ability: Tooling engineers need to be able to troubleshoot any issues that arise in the design, construction, or implementation of a tooling system.
Cost Analysis: Tooling engineers must be able to analyze the cost of a design and determine if the design can be cost-effective and still meet the requirements.
Attention to Detail: Tooling engineers must be able to pay close attention to detail and make sure all components of a tooling system meet the requirements.
By demonstrating your ability to utilize these skills, you can effectively show employers that you are well-suited for the role of a tooling engineer.
Key takeaways for an Tooling Engineer resume
When it comes to writing a resume for a tooling engineer, there are many key takeaways that should be taken into consideration. A tooling engineer is responsible for designing, constructing, and maintaining a variety of tools and machines used in industrial production. As such, a resume should showcase the individual's knowledge and experience in this field.
First and foremost, the resume should highlight the candidate's experience with all types of tooling and machining, including the ability to design, build, and maintain different types of tools and machines. It should also describe any experience the candidate has working with CAD/CAM software, as well as any other relevant technological tools. Additionally, the resume should include a list of the different types of tooling and machining the candidate is familiar with.
The resume should also list the candidate's professional certifications and education. This is especially important for tooling engineers, as many employers require this type of certification. It should also list any awards or honors the candidate has received in their job.
Finally, the resume should include a list of references, as well as a summary of the candidate's work experience. This will give a potential employer an idea of the individual's capabilities and worth to the company.
By following these key takeaways, any tooling engineer can create a successful resume that will stand out to potential employers.
Let us help you build
your Resume!
Make your resume more organized and attractive with our Resume Builder