Writing a resume as a Testing Manager is a crucial part of the job search process. A well-crafted resume can make the difference between success and failure in getting a job, and it's important to get it right. This guide provides tips and advice on how to craft the perfect Testing Manager resume, and includes examples of resumes that have been successfully used by Testing Managers to land interviews. Whether you're a seasoned professional or just getting started in the field, this guide will provide you with the resources you need to create a resume that accurately highlights your experience and skills.
If you didn't find what you were looking for, be sure to check out our complete library of resume examples.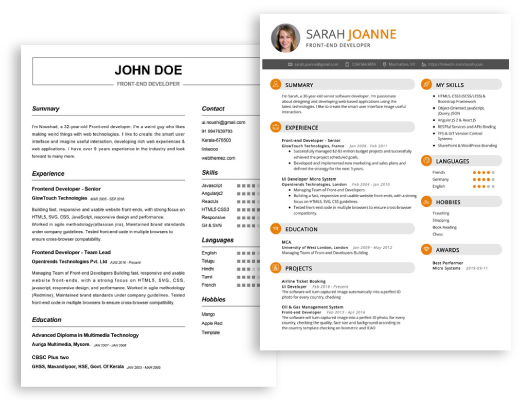 Start building your dream career today!
Create your professional resume in just 5 minutes with our easy-to-use resume builder!
Testing Manager Resume Examples
John Doe
Testing Manager
123 Main Street | Anytown, USA 99999 | Phone: (123) 456-7890 | Email: john.doe@email.com
Dynamic and results- oriented Testing Manager with 10+ years of experience in the software industry. Proven track record of successful project management, team leadership, and client- focused problem- solving. Adept at developing innovative solutions and strategizing effective test plans. Experienced in driving integration, automation, and performance testing while maintaining high- quality standards.
Core Skills:
Project and Team Management
Software Testing
Integration and Automation
Quality Assurance
Client Relations
Problem- Solving
Risk Assessment
Database Management
Professional Experience:
Testing Manager, ABC Solutions – New York, NY
Managed team of 10+ software testers and developed testing plans for projects
Ensured integration, automation, and performance testing met quality standards
Developed innovative solutions to improve testing process and reporting
Maintained strong relationships with clients to ensure successful project completion
Conducted risk assessments and identified areas of improvement
Analyzed project data, resources, and timelines for accurate reporting
Testing Analyst, XYZ Solutions – New York, NY
Assisted with integration and automation testing and quality assurance
Developed, documented, and tracked test plans and results
Briefed team on changes and updates in software and testing process
Performed database management to support testing
Education:
Bachelor of Science in Software Engineering, ABC University – New York, NY
Testing Manager Resume with No Experience
Recent college graduate with strong analytical and problem- solving skills and an aptitude for quickly learning new technologies. Seeking entry- level position as a Testing Manager to contribute technical knowledge, creativity and collaborative abilities to the success of the company.
Skills:
Software testing
Data analysis
Quality assurance
Technical writing
Troubleshooting
System development
Risk management
Responsibilities:
Develop and maintain test plans, test cases, and test scripts
Design and execute manual and automated tests
Identify and document software defects
Document test results and communicate findings to stakeholders
Implement and monitor bug tracking systems
Develop, maintain, and execute regression tests
Analyze system requirements, prioritize tasks, and develop test strategies
Develop test plans and define acceptance criteria
Monitor and track quality assurance metrics
Create test reports and presentations to stakeholders
Collaborate with other team members to ensure quality standards are met
Troubleshoot software issues and develop effective solutions
Testing Manager Resume with 2 Years of Experience
As a highly experienced Testing Manager with more than two years of experience, I have a comprehensive understanding of the fundamentals of successful software testing. I have a deep knowledge of test management tools and processes, as well as an expertise in creating efficient test plans and schedules. I am a solutions- oriented individual with a strong sense of team spirit and a passion for problem- solving. My interpersonal and communication skills have enabled me to work effectively with developers, stakeholders and customers. I am adept at creating detailed test cases and analyzing complex data sets to ensure that our software solutions meet the highest standards of quality.
Core Skills:
Test Management Tools
Test Planning
Data Analysis
Requirements Analysis
Software Debugging
Test Execution
Risk Mitigation
Software Quality Assurance
Software Release Management
Project Management
Responsibilities:
Develop and implement test plans, strategies, test cases and test scripts to ensure software quality
Analyze and assess the performance of software solutions against specifications
Define test objectives and ensure that they are met
Perform manual and automated testing, debug and troubleshoot software issues
Identify and document bugs in bug tracking applications such as JIRA
Review and analyze test results and report to stakeholders
Plan and develop test scenarios to ensure that software solutions meet requirements
Monitor progress and provide regular status updates to the development team
Provide technical assistance to other team members to resolve software issues
Testing Manager Resume with 5 Years of Experience
Highly motivated and experienced Testing Manager with 5 years of experience in leading the design, development, execution, and maintenance of automated and manual test cases. Experienced in developing and optimizing test plans and test strategies to ensure quality delivery of products. Skilled in coaching, mentoring and motivating teams to deliver high- quality results and quickly resolving customer complaints.
Core Skills:
Automated Testing
Manual Testing
Test Case Design
Debugging
Test Plan Development
Quality Assurance
Problem Solving
Team Management
Project Management
Software Development
Responsibilities:
Developed custom test cases and plans to ensure quality delivery of products.
Advised and mentored team members on software testing best practices and debugging techniques.
Performed manual and automated testing to validate product features.
Identified problems and provided solutions to effectively resolve customer complaints.
Developed and implemented test strategies for software development projects.
Led and managed teams to ensure timely completion of project milestones.
Monitored and evaluated product performance to identify areas for improvement.
Designed and maintained test environment for efficient testing purposes.
Coordinated with development teams to ensure product meets quality standards.
Testing Manager Resume with 7 Years of Experience
A highly organized and detail- oriented professional with 7 years of experience in software testing and project management. Proven track record of managing software testing projects and developing new testing strategies for successful product delivery. Possess excellent problem solving and communication skills with the ability to effectively collaborate with stakeholders and development teams.
Core Skills:
Software Testing
Test Case Design and Execution
Defect Analysis and Reporting
Project Management
Software Quality Assurance
Test Automation
Requirement Analysis
Regression and Performance Testing
Responsibilities:
Developing, implementing, and executing test plans, test cases, and test scenarios.
Creating comprehensive test matrices and ensuring all test cases pass.
Developing and maintaining automated test scripts using various automation tools.
Identifying and reporting defects in the software and communicating the same to development teams.
Monitored and reported on the progress of each project and ensured they meet objectives.
Analyzing test results and developing effective strategies to improve software quality.
Providing guidance and support to developers and testers to ensure test objectives are met.
Reviewing and validating product requirements and ensuring requirements are properly tested.
Developing and managing test documentation, including test plans, user manuals, and test reports.
Testing Manager Resume with 10 Years of Experience
A knowledgeable and experienced Testing Manager with 10 years of experience in software quality assurance and testing. Proven ability to develop, implement, and maintain software testing strategies and processes. Skilled in designing test scripts, developing test plans, and creating testing scenarios. Excellent problem solving and communication skills. Experienced in working with complex software applications, systems, and databases. Highly motivated and organized individual with a commitment to excellence.
Core Skills:
Software Quality Assurance
Test Script Design
Software Testing
Test Plan Development
Test Scenarios Creation
Systems and Database Testing
Problem Solving
Communication
Responsibilities:
Develop and implement software testing strategies
Design test scripts to verify the quality of software applications
Develop test plans based on system specifications
Create test scenarios to identify and troubleshoot errors
Conduct system and database testing to ensure accuracy
Analyze system requirements and technical specifications
Identify and document software defects
Track and report on software testing progress
Develop and update software testing procedures
Testing Manager Resume with 15 Years of Experience
Over 15 years of experience as a Testing Manager in the IT industry, I have a proven record of successfully deploying applications, delivering end- to- end test solutions and managing complex projects. My hands- on expertise in project management and quality assurance has allowed me to successfully develop and manage cross- functional teams. With my extensive knowledge of programming languages, testing methodologies and software development, I am well- versed in all areas of software engineering and project management. I am an innovative and strategic leader, with a proven ability to identify and resolve challenging issues in a timely and cost- effective manner.
Core Skills:
Project management
Quality assurance
Software development
Programming languages
Testing methodologies
Cross- functional team management
Problem- solving
Strategic planning
Responsibilities:
Manage software development projects and ensure on- time delivery of high quality applications
Develop and implement test strategies, plans and procedures
Identify and report issues, risks and dependencies
Collaborate with cross- functional teams to ensure seamless integration of applications
Manage team of engineers and testers to ensure on- time and on- budget completion
Analyze and optimize web applications and other systems
Design and develop automated test frameworks and scripts
Monitor test environment and modify as necessary to ensure quality performance
Conduct unit tests and system tests to ensure quality standards are met.
In addition to this, be sure to check out our resume templates, resume formats, cover letter examples, job description, and career advice pages for more helpful tips and advice.
What should be included in a Testing Manager resume?
A Testing Manager is responsible for creating and executing test plans and managing complex projects. They develop and implement quality assurance standards, and review system requirements for completeness, accuracy, and adherence to standards. When crafting a resume for a Testing Manager position, it should include the following:
Relevant professional experience: List all prior test management positions and include the key responsibilities, accomplishments, and technologies used for each.
Education: Include any degrees, certifications, and/or relevant training that is applicable to the role.
Technical skills: List any software and languages related to testing that you are proficient in.
Problem solving skills: Showcase any projects that you have solved or any processes that you have improved.
Communication skills: Demonstrate any collaborative projects that you have worked on and any presentations that you have given.
Team management experience: Showcase any team management roles that you have held, such as leading and mentoring.
Leadership experience: Highlight any previous leadership roles and any projects that you have successfully completed.
Time management skills: Showcase any processes that you have implemented to maximize efficiency.
What is a good summary for a Testing Manager resume?
A testing manager is responsible for overseeing the testing process for a variety of software applications or systems. They manage the team of testers and ensure the accuracy and quality of all tests. A good summary for a testing manager resume should highlight the individual's experience in the software/systems testing field as well as their ability to lead and coordinate teams of testers. It should also detail the individual's expertise in test planning, execution, and analysis, and their expertise in adopting and maintaining effective testing standards and practices. The summary should also demonstrate their capabilities in problem-solving, automation, and debugging. Lastly, the summary should demonstrate the individual's capacity to successfully manage multiple projects and tasks simultaneously.
What is a good objective for a Testing Manager resume?
A Testing Manager resume should include an objective that outlines the applicant's career goals and desired role. A good objective should be carefully crafted to highlight the skills, qualifications, and experience that makes the applicant the ideal candidate for the position. Here are some objectives that can be used in a Testing Manager resume:
To secure a Testing Manager position that allows me to leverage my expertise in test automation and software development to effectively implement Quality Assurance practices to ensure high quality product delivery
Seeking a challenging role as a Testing Manager, utilizing my knowledge of software development and testing methodologies to promote and ensure quality
Looking for a Testing Manager role to apply my experience in managing software test teams and developing robust test automation solutions.
To obtain a Testing Manager position that will allow me to utilize my experience in testing and automation to develop innovative solutions and improve the team's efficiency
Aiming to contribute to the success of a company as a Testing Manager by using my expertise in software testing and test automation to promote quality and efficient delivery of products and services.
How do you list Testing Manager skills on a resume?
When drafting a resume for a Testing Manager position, it is important to highlight the skills that make you an ideal candidate for the role. To effectively list your Testing Manager skills on your resume, use the following tips.
Include skills related to testing strategy: Start by including skills related to your ability to plan and execute testing strategies. Make sure to emphasize your ability to analyze and optimize testing processes, create test plans, and develop and maintain testing documentation.
Describe your technical proficiency: As a Testing Manager, you must be able to use various software and tools to perform testing tasks and develop automated tests. Make sure to list the software, programming languages, and other tools you are proficient in.
Highlight your problem-solving abilities: Testing Managers must be able to identify software problems and provide solutions. Showcase your problem-solving abilities by describing how you've identified and resolved issues in the past.
Demonstrate your leadership skills: As a Testing Manager, you will be responsible for leading a team of testers. Make sure to include leadership skills such as project management, team management, and team building on your resume.
By highlighting these key Testing Manager skills, you can make your resume stand out from the competition and increase your chances of landing the job.
What skills should I put on my resume for Testing Manager?
If you're a Testing Manager, you want to make sure your resume showcases your skills, talents, and accomplishments. A great resume will communicate to potential employers that you have the qualifications and experience necessary to be successful in the role. So, what skills should you include to make your resume stand out?
Technical Knowledge: It's important to have a strong understanding of the software and applications used in testing, such as programming languages, testing frameworks, debugging tools, and automation.
Project Management: As a Testing Manager, you need to be able to manage multiple projects and teams at once. This includes setting deadlines, assigning tasks, and monitoring progress.
Communication: You need to be able to communicate effectively with stakeholders, developers, and other team members.
Problem Solving: You need to be able to quickly identify and solve problems during the testing process.
Leadership: You need to be able to lead and motivate your team to get the job done.
Quality Assurance: You need to have a strong understanding of quality assurance principles and techniques, such as writing test plans and creating test cases.
By making sure these skills are prominently featured on your resume, you'll be sure to demonstrate to potential employers that you have the qualifications necessary to be an effective Testing Manager.
Key takeaways for an Testing Manager resume
A Testing Manager resume should highlight a candidate's technical expertise, testing methodology knowledge, and leadership capabilities. Here are some key takeaways to keep in mind when creating your resume:
Highlight technical expertise: Make sure to emphasize your technical knowledge and expertise in software testing. Include any certifications or qualifications that you have along with the specific technologies and tools you are proficient in.
Quantify your results: Showcase your testing methodology knowledge and experience by highlighting any successes you have had in the past. Include specific metrics, such as how many bugs you identified and resolved, how many tests you ran, how quickly you implemented new processes, etc.
Demonstrate leadership: Showcase your experience in leading teams and projects. Highlight any complex projects you have managed, and any successful initiatives you have implemented.
Showcase soft skills: A Testing Manager is a leader and a mentor, so make sure to emphasize your communication and interpersonal skills. Include any relevant experience in training, coaching, and mentoring.
Include professional development: Highlight any professional development activities that you have undertaken, such as attending conferences or workshops, taking part in industry events, or taking certification courses.
By following these key takeaways, you can ensure that your Testing Manager resume is the best it can be. Good luck!
Let us help you build
your Resume!
Make your resume more organized and attractive with our Resume Builder